Peach Blueberry Cobbler is always a favorite but made in the slow cooker?! It's never been easier or more delicious.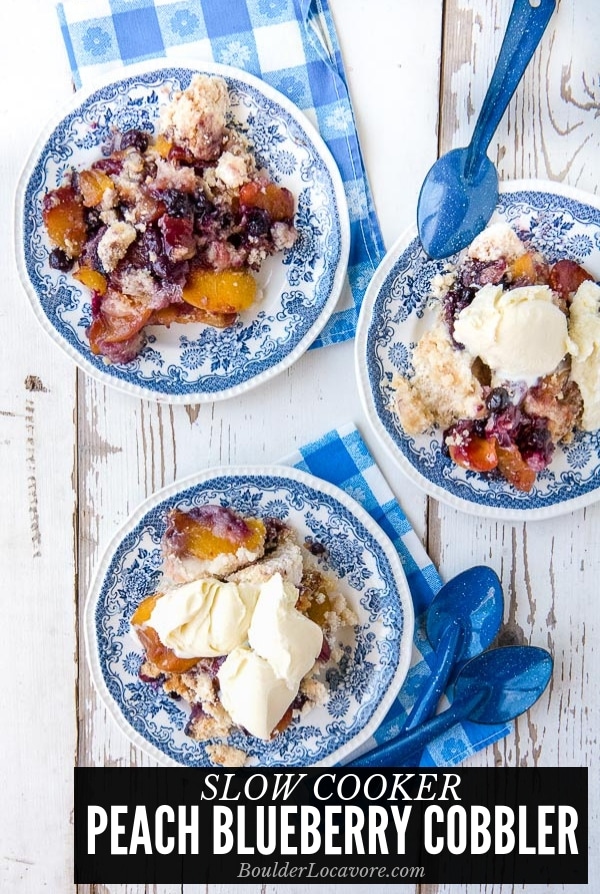 Summer is the perfect time to dive into relaxed, unpretentious Americana desserts to feed a family or a crowd.
With nothing fussy in the preparation, there is no wonder cobblers are a favorite.
What is Peach Blueberry Cobbler?
Cobblers are a relaxed, easy dessert designed to feature fresh fruit of the season.
Ripe, juicy fruits, lightly sweetened and covered with a cakey topping? What's not to love?
Peach Blueberry Cobbler is always a favorite. It doesn't get better than making it in the slow cooker!
Never made dessert in the slow cooker? Now is the time to change that.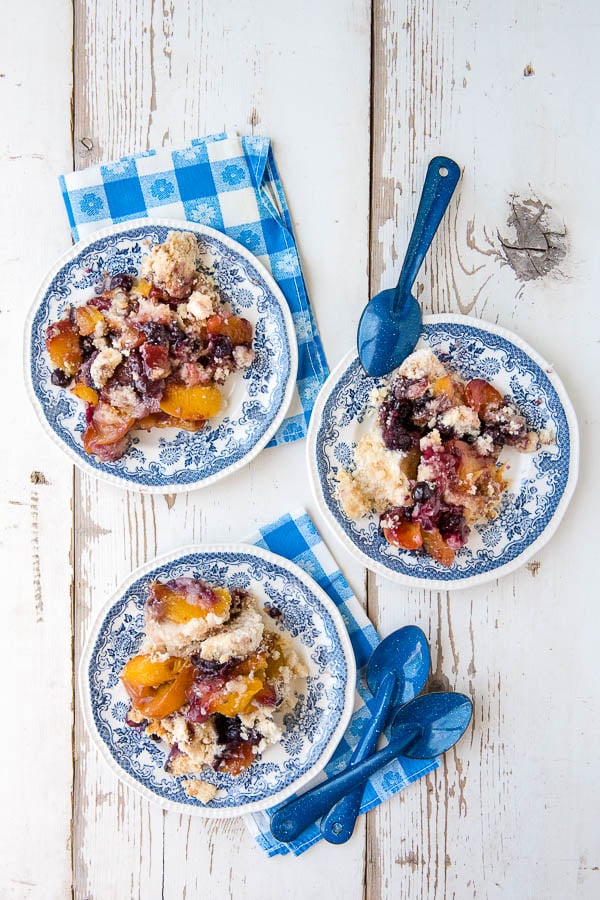 Peach Blueberry Cobbler – in the Slow Cooker!
Slow Cookers are not just for savory recipes AND not just for winter!
What could be better than NOT turning on the oven in the heat of summer but still baking a mouthwatering, rustic dessert?
A Crockpot Cobbler is an easy, delicious dessert anytime of the year.
Pro Tip for Making a Crockpot Cobbler
The beauty of slow cooking is the little moisture required in the recipe and no evaporation.
That can affect a recipe like cobbler by making the dough sticky.
PRO TIP: I add a paper towel underneath the lid for a portion of the cooking which soaks up some of the condensation, leaving the cobbler topping closer to what one would experience when it's cooked in the oven (though it doesn't have the same crispness).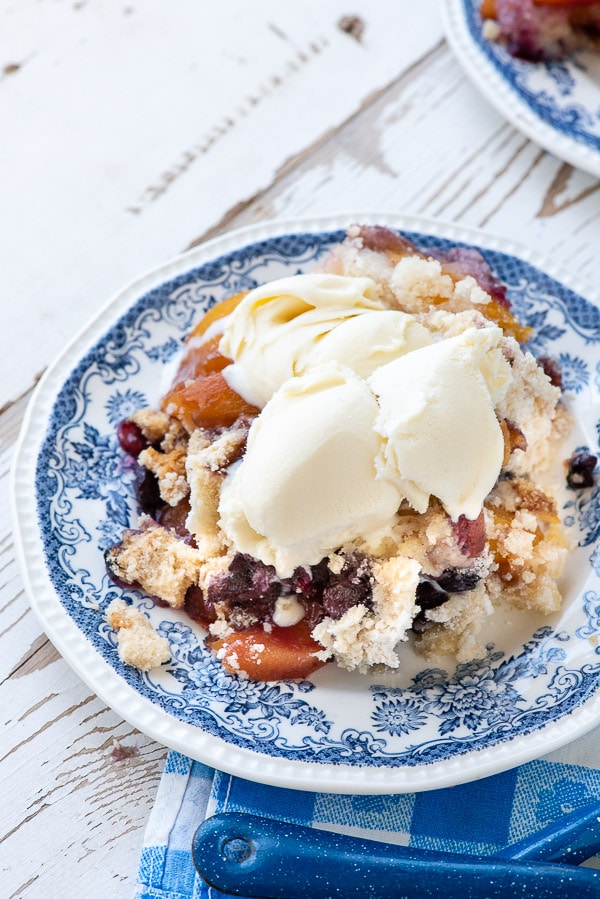 Recipe Ingredients
The ingredients are simple in this cobbler recipe:
Peach slices (fresh or frozen and thawed)
Blueberries (fresh or frozen and thawed)
Cornstarch
Light Brown Sugar
1-15.25 ounce Vanilla Cake Mix
Cinnamon
Nutmeg
Unsalted Butter
Cake Mix Shortcut
Instead of creating the traditional lightly sweetened biscuit topping I substituted an unprepared cake mix.
This simplifies the recipe preparation as well as turning the cobbler into a sweeter more cake-like dessert.
After making this peach blueberry cobbler the first time, I learned that the cake mix topping approach is a tried and trusted Boy Scout method when making a cobbler in a Dutch oven on cook outs.
Though the cooking methods differ, that seemed like a pretty good endorsement to me!
This cobbler does not disappoint!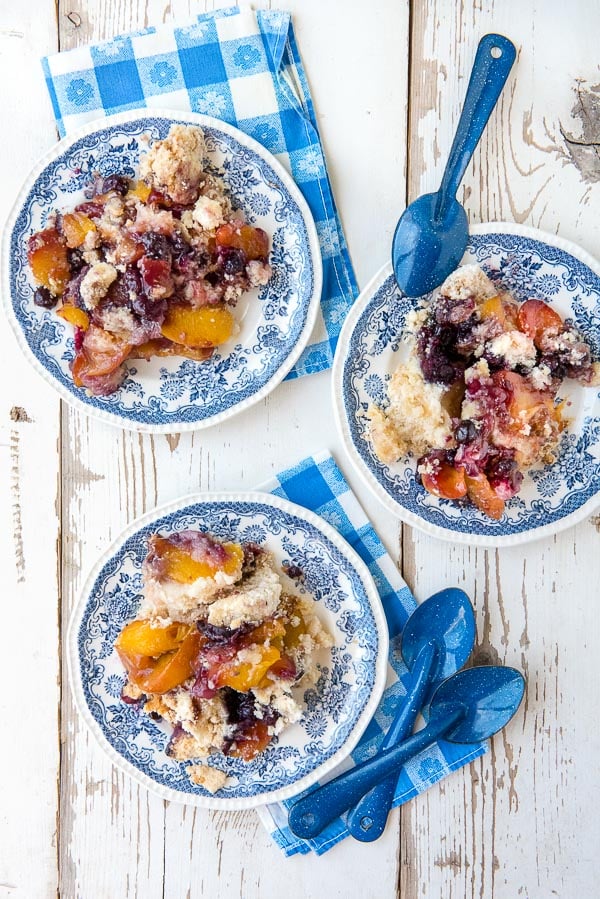 Any Vanilla Cake Mix Works!
The trick with this slow cooker cobbler is the weight of the cake mix. A regular 15.25 ounce cake mix is the norm.
If you select a cake mix that is NOT that weight, be sure to weight the mix on a kitchen scale until is equals 15.25 ounces!
Make it Gluten-Free!
Gluten-free cake mixes work great! Just follow the instructions above to ensure to use 15.25 ounces of cake mix (see the recipe card below for the gluten-free brand I used).
Use Fresh or Frozen/Thawed Fruit
Another beauty of this recipe is that it is delicious with fresh summer fruit OR frozen and thawed fruit.
The Peach Blueberry Cobbler recipe isn't just for summer! Enjoy it all year long.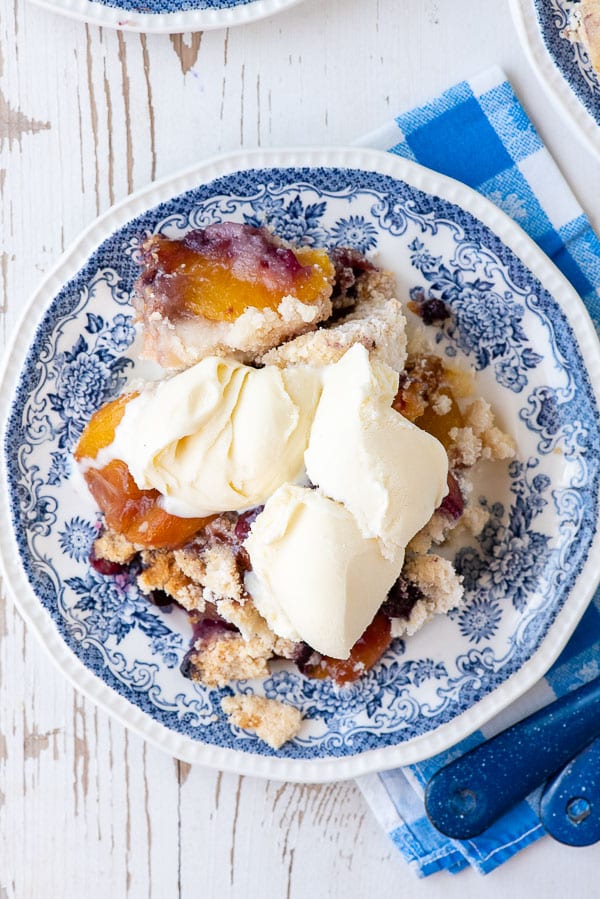 More Recipes You'll Love!