Moist, tender perfectly seared Skillet Chicken is delicious with the flavors of apple cider, cranberries and apple slices. The wholesome ingredients make an easy dinner recipe that's fast to make!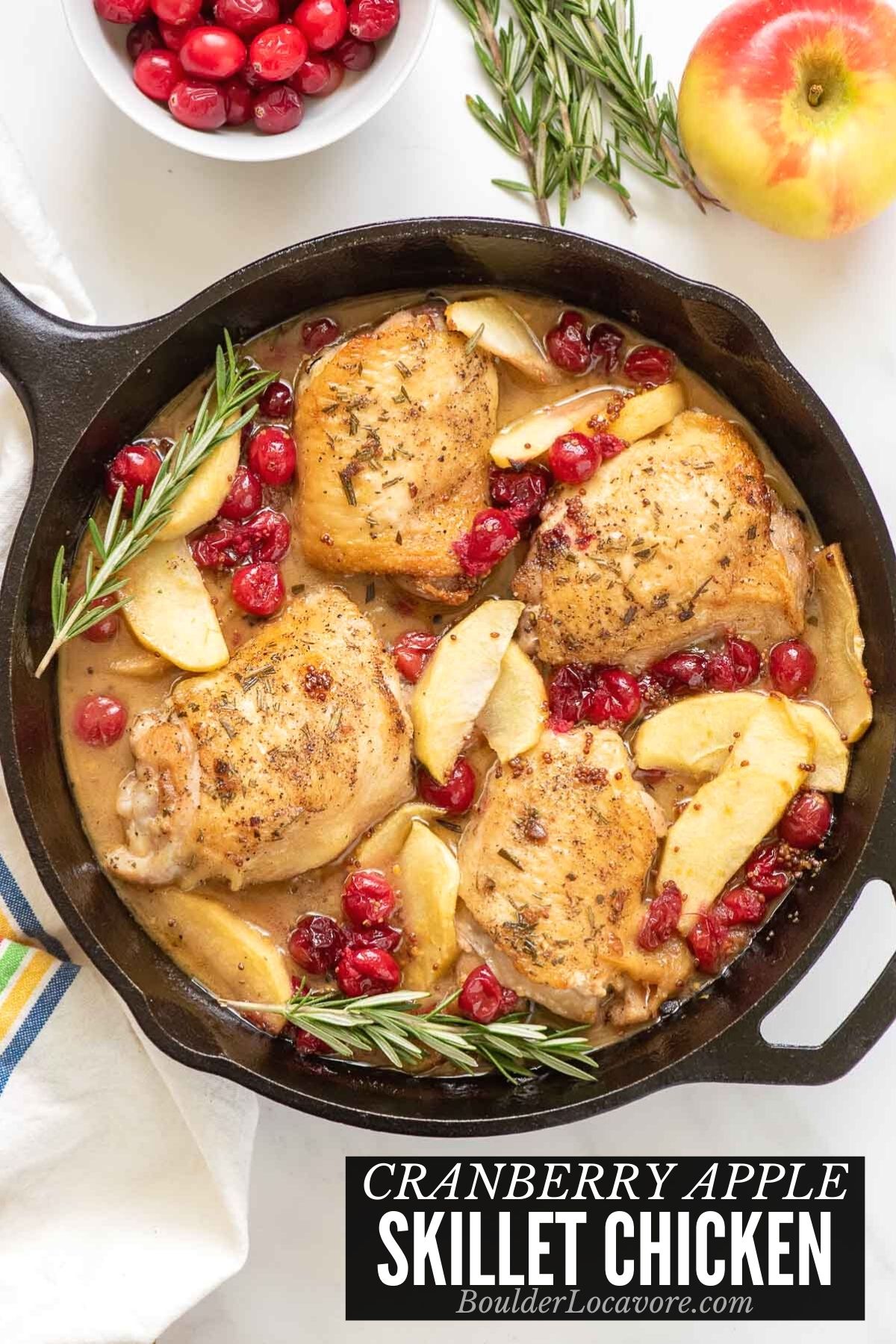 If you love roasted chicken, this chicken skillet recipe is for you!
The pan seared chicken has golden brown skin and is such an easy chicken recipe.
This delicious recipe finishes in the oven for layers of flavor.
This sweet and savory, quick and easy recipe is always a favorite! Perfect for a weeknight dinner.
Recipe Ingredients + Notes
Chicken Thighs. This recipe uses bone-in skin-on chicken thighs. They stay moist and juicy when cooked. The bone and skin give the chicken more flavor too.
Seasonings. Salt, pepper, fresh rosemary, garlic clove. They add great flavor to the chicken before searing.
Chicken Broth and Apple Cider. These two savory and sweet liquids combine to keep the chicken moist and flavorful. You can even use homemade apple cider!
Cranberries. Fresh or frozen and thawed cranberries can be used for this recipe.
Apple. A fresh apples cooked beautifully with the chicken thighs. Serve it up on top for more enjoyable flavor.
Light Brown Sugar. Brown sugar gives a hint of caramelized sweetness to the chicken skillet.
Country Mustard. Country mustard is a grainy mustard that has a rustic texture and delicious homey mustard flavor. It adds a wonderful contrast to the sweeter flavors in the recipe.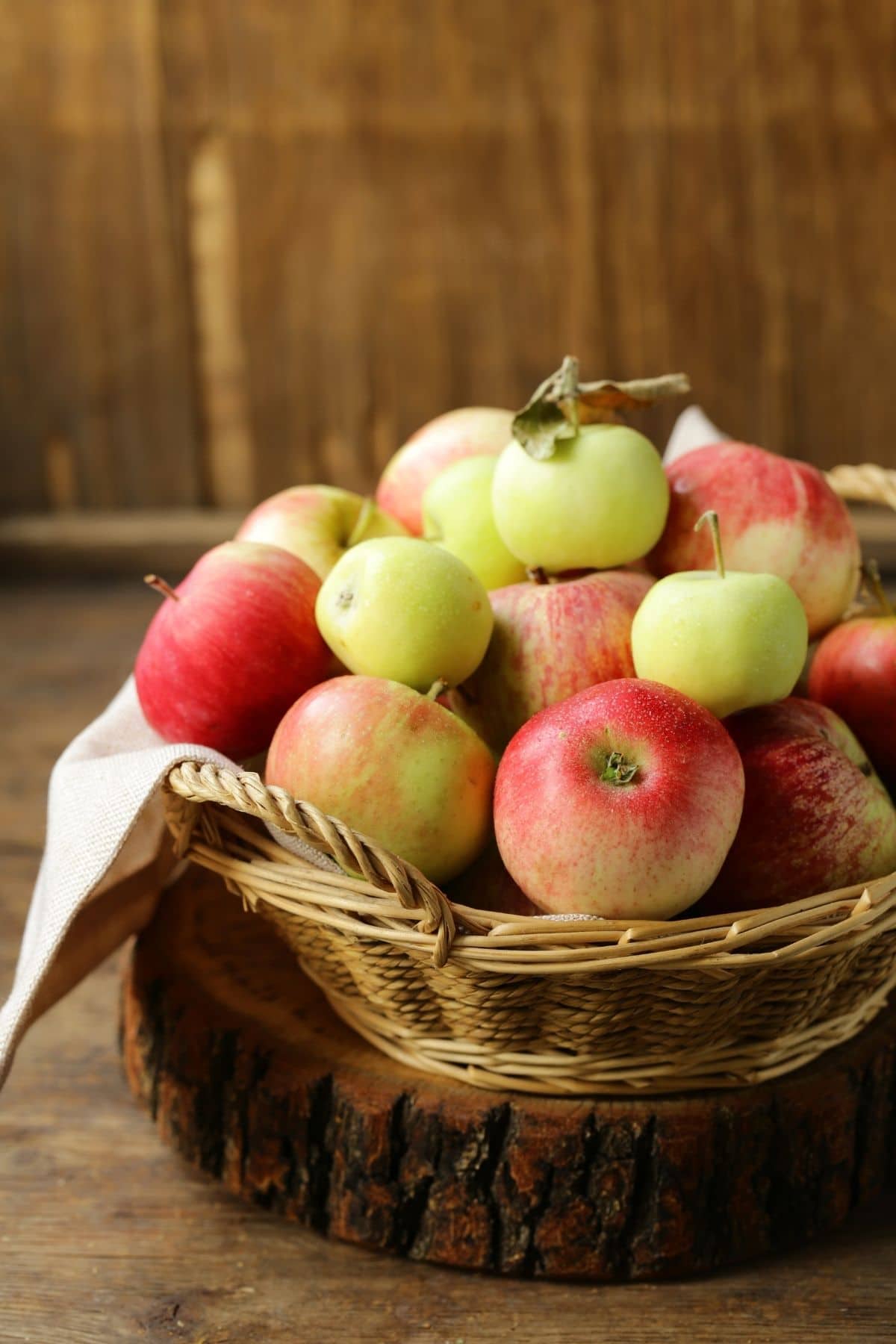 A Note on Chicken Thigh size
The recipe calls for 2 pounds of chicken thighs, which normally would be 4-6 thighs depending on the individual size.
I've found I'm getting massively large chicken thighs in my grocery orders recently. The larger the thigh the longer the cooking time.
Here are some Pro Tips for best results:
Use similar size chicken thighs so they will all cook in the same amount of time.
To check for doneness use the internal temperature of the chicken. It should reach 165 degrees F to be considered 'cooked'.
If using larger thighs begin to check for doneness at the time suggested in the recipe. Extend the time monitoring closely, as needed to fully cook the chicken.
When Can You Buy fresh Cranberries?
Fresh cranberries in the United States are harvested in the fall. You can find them in grocery stores from September through January usually.
When fresh berries aren't available frozen berries are and work well for this recipe.
I actually buy extra bags each fall and freeze them myself. The recipe in the photo was made with thawed home-frozen cranberries.
What type of Apple Should I use?
Go for an apple with big flavor. I love Honeycrisp apples for their flavor and texture. They won't become mushy when cooked.
For more ideas check our suggestions for best baking apples.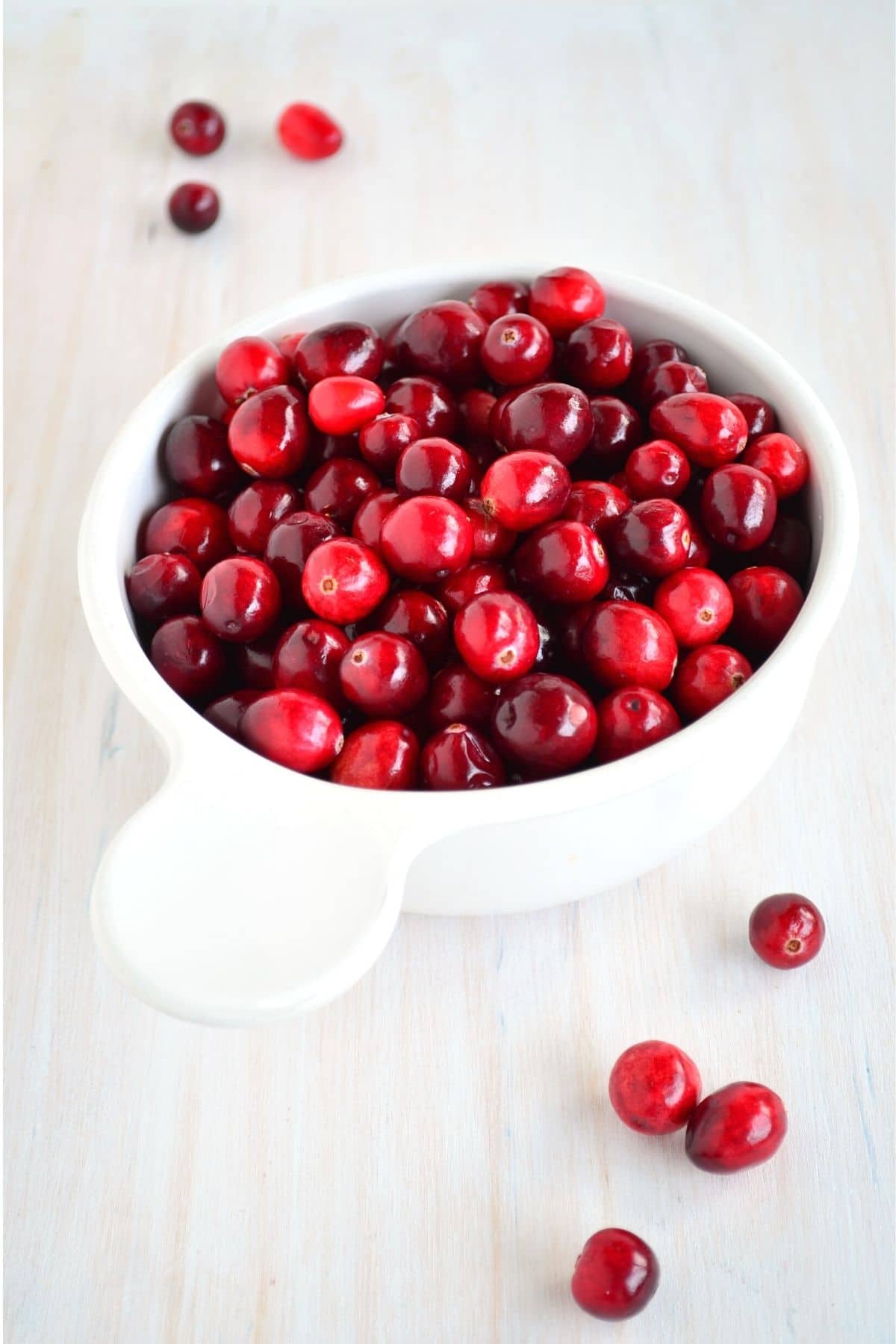 What Skillet to Use?
A large heavy oven proof skillet is the best choice for this recipe. It cooks partially on the stove top then finishes in the oven.
Using a cast iron skillet is a great choice. I find the chicken skin does not stick as much as in a thinner skillet. It also distributes heat well.
A Dutch oven is another good option.
How to Make it – Step-by-Step
Preheat the oven to 400 degrees F.
Season and Sear the Chicken Thighs. Lightly salt and pepper the chicken. Combine 1 tablespoon olive oil, the rosemary and garlic in a small bowl. Brush onto both sides of the chicken.
Add the remaining olive oil into a large cast iron skillet or Dutch oven over medium high heat.
Cook the chicken skin side down for 5 minutes. Flip over and cook 5 more minutes. Remove chicken from the pan.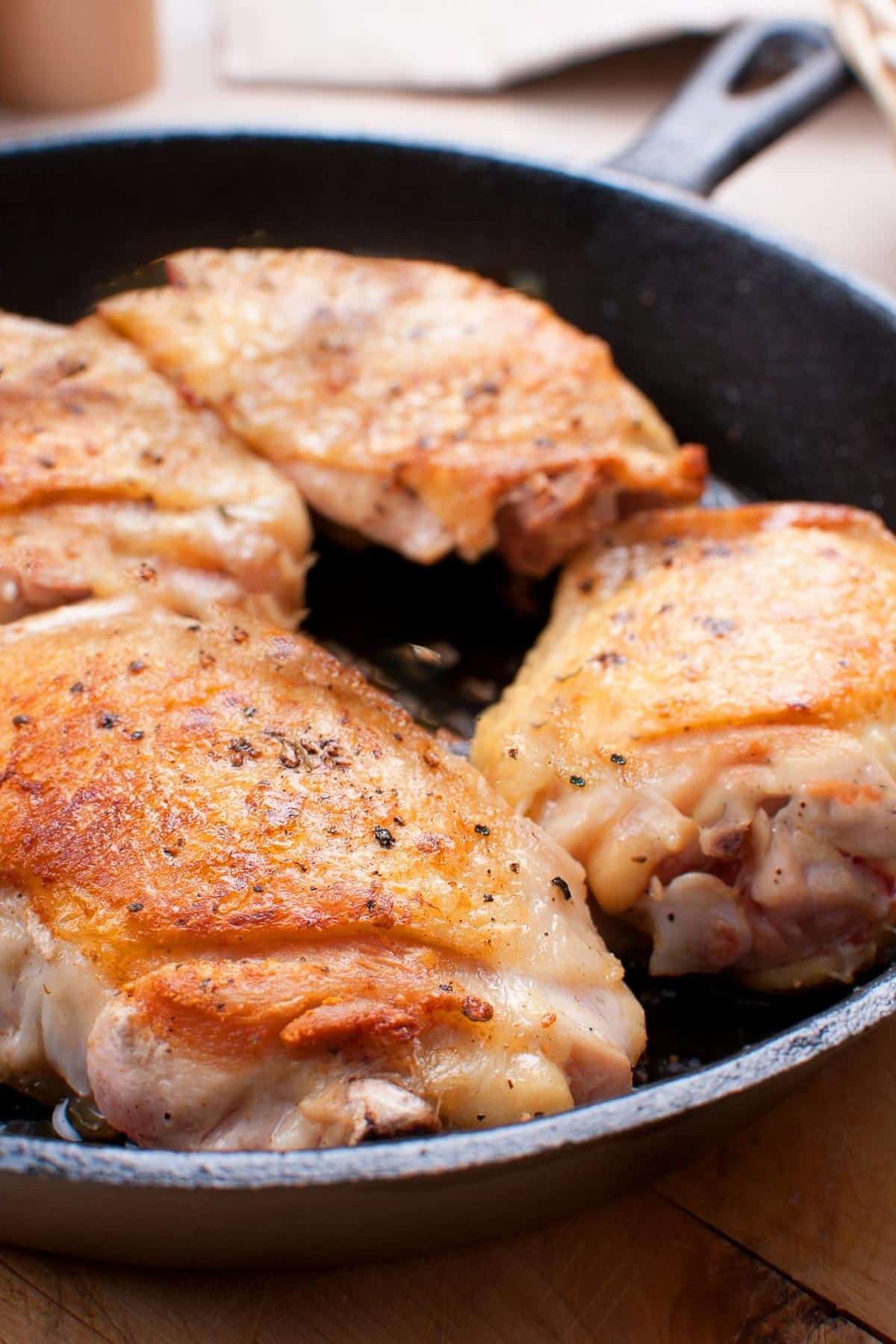 Adding the rest of the ingredients. Combine the cranberries, apple slices, brown sugar and mustard in a small bowl. Toss to coat the fruit.
Combine the chicken stock and apple cider.
Reduce the heat to medium. Slowly pour the liquids into the pan. Scrape up any browned bits sticking to the pan with a spatula. Remove pan from heat.
Add chicken back to the pan, skin side up. Spoon on the cranberry apple mixture.
Bake in the oven for 20-25 minutes until the chicken reaches 165 degrees internal temperature.
Remove from heat and allow to rest a few minutes before serving.
What to Serve with it
This hearty dish is perfect with potatoes. Here are some of our favorites:
Storing Leftovers
Store in a sealed container in the refrigerator for up to 3 days.
Reheat in the microwave.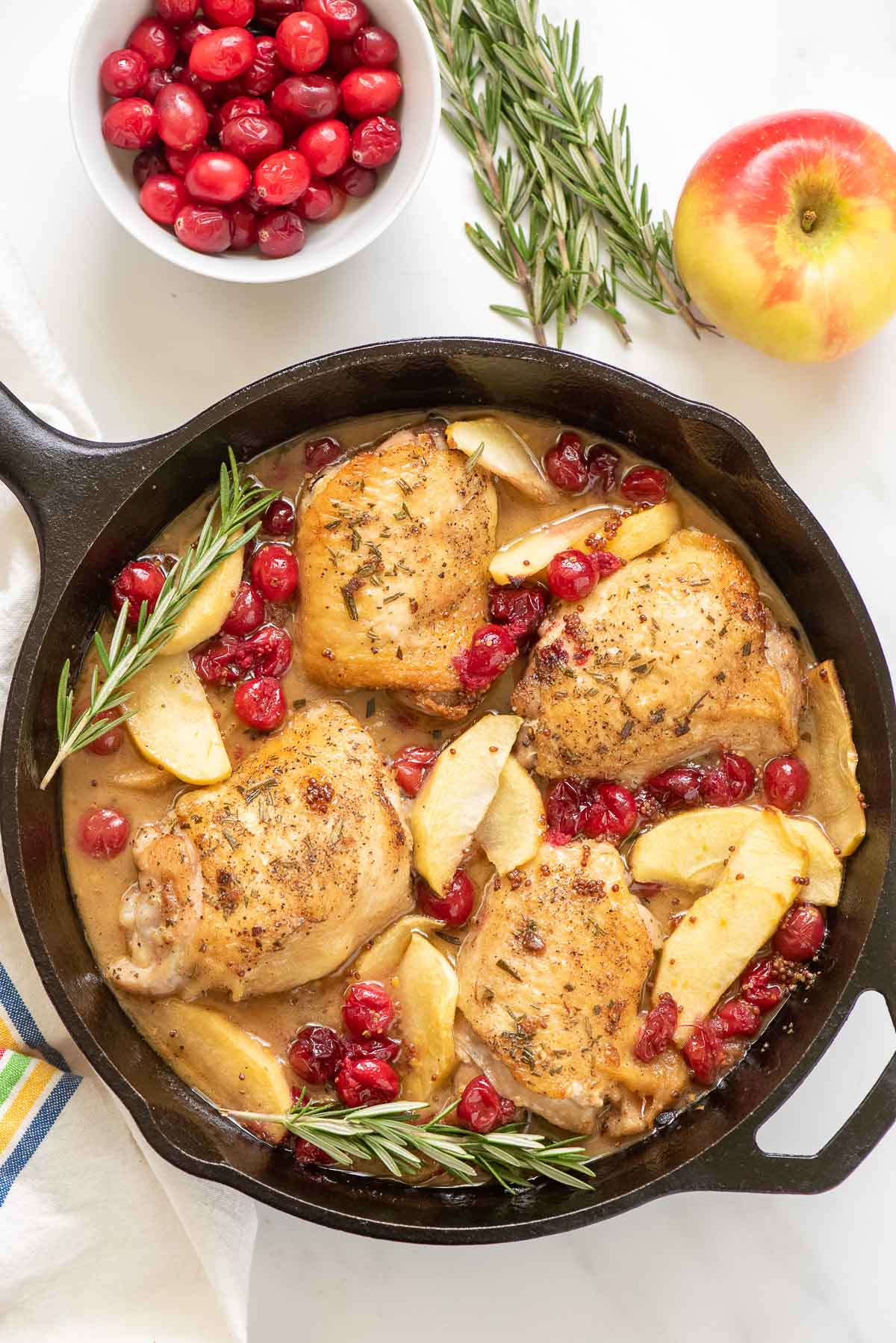 Try these Recipes too!
Did you make it? Please RATE THE RECIPE below!
Please SUBSCRIBE and FOLLOW ME on FACEBOOK , TWITTER , INSTAGRAM and PINTEREST !