Summer dessert doesn't get simpler or cuter than panna cotta made in canning jars. The only thing better than homemade panna cotta is Strawberry Jam Panna Cotta, served in portable jars. This summer dessert recipe is great for any summer outing!
Thank you Tate+Lyle® Sugars for sponsoring this post. Head to your local retailer to make your own creation with Tate+Lyle®!
Summer Dessert Season
There is nothing I love more than settling into summer. Long lazy days and balmy nights staying up late lingering over a great grilled meal with friends. The out of doors becomes another room of the house with dining al fresco for any meal of the day. To me summer is the epitome of relaxation. Everything moves more slowly and the opportunity for outdoor fun and a delicious summer dessert is endless.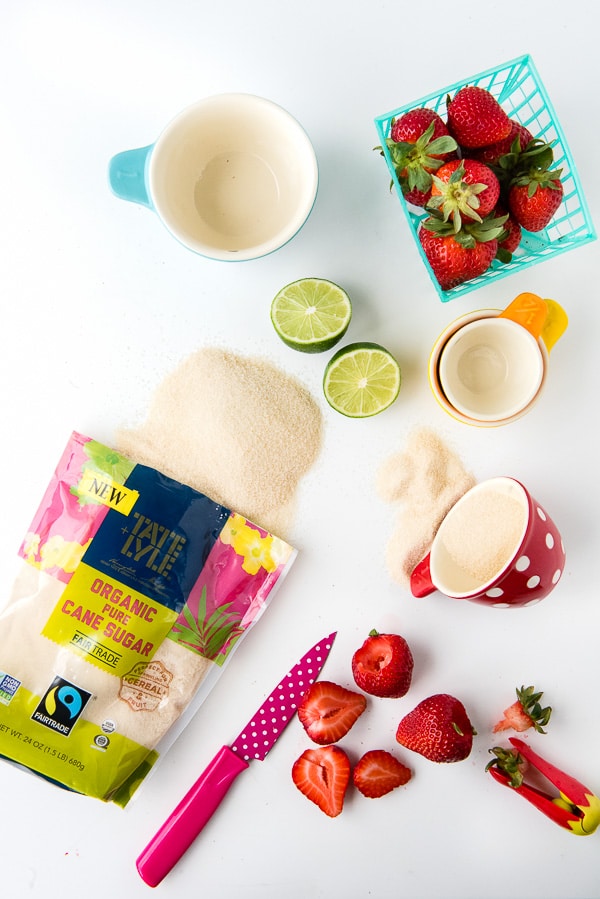 In a seasonal climate such as Colorado summers brings Farmer's Markets bursting at the seams with fresh vegetables and produce. I just can't get enough of summer fruit in particular. A favorite seasonal outing of mine is to go berry picking, then make some delicious summer desserts with it. Strawberry pie, blueberry cobbler, and raspberry-vanilla sugar cookies are among my favorites.
Having lived in California, where berry picking is easily available, I was surprised to find it's not as common in Colorado. I was determined to find somewhere to berry pick and after some sleuthing, did find a few local farms.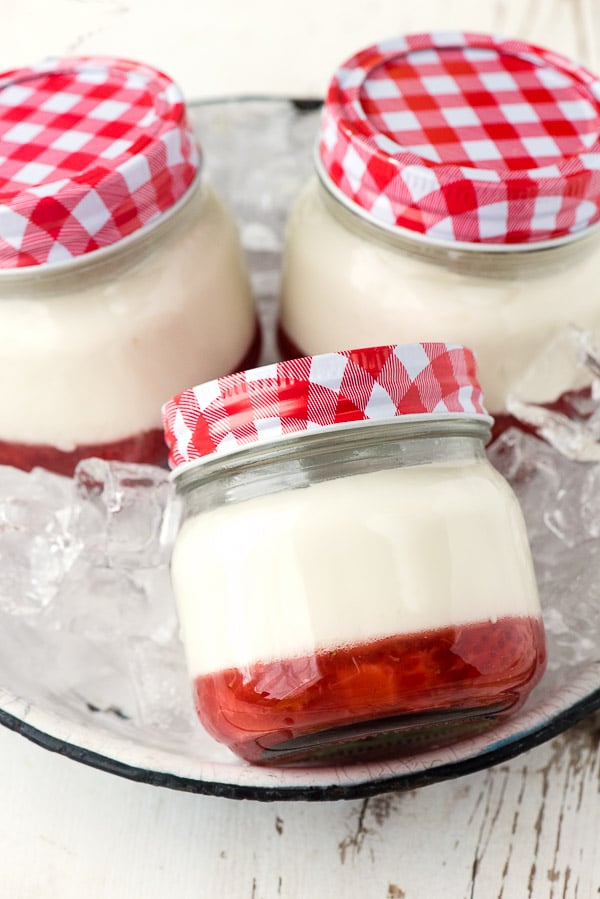 There is truly nothing better than the flavor of a freshly picked ripe strawberry. To me they are the quintessential flavor of summer. I'm excited to partner with Tate+Lyle® Sugars to create a fun summer dessert that is perfect for grilling parties, picnicking or just hanging out.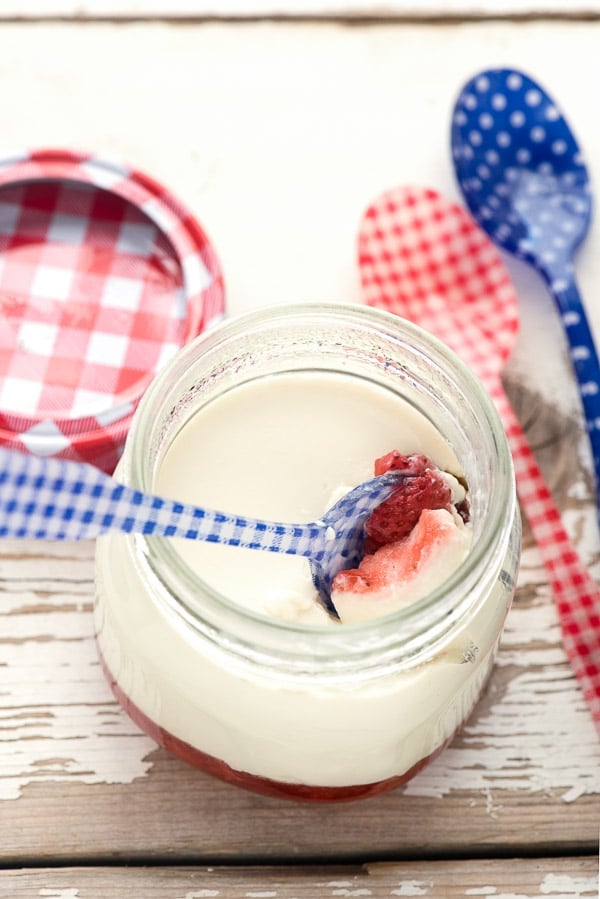 I love the sun-kissed flavor of Tate+Lyle® Sugars and knew Tate+Lyle® Organic Pure Cane Sugar would be perfect for the Strawberry Jam Panna Cotta summer desserts. It is lightly refined with a slight touch of molasses in the blonde-colored sugar crystals making it a wonderful complement to summer flavors. Tate+Lyle® Sugars are also certified organic and Fairtrade certified, providing fair prices and opportunities for smaller-scale sugarcane farmers (which I love). You can locate Tate+Lyle® Sugars near you in the sweetener aisle at Walmart and other stores.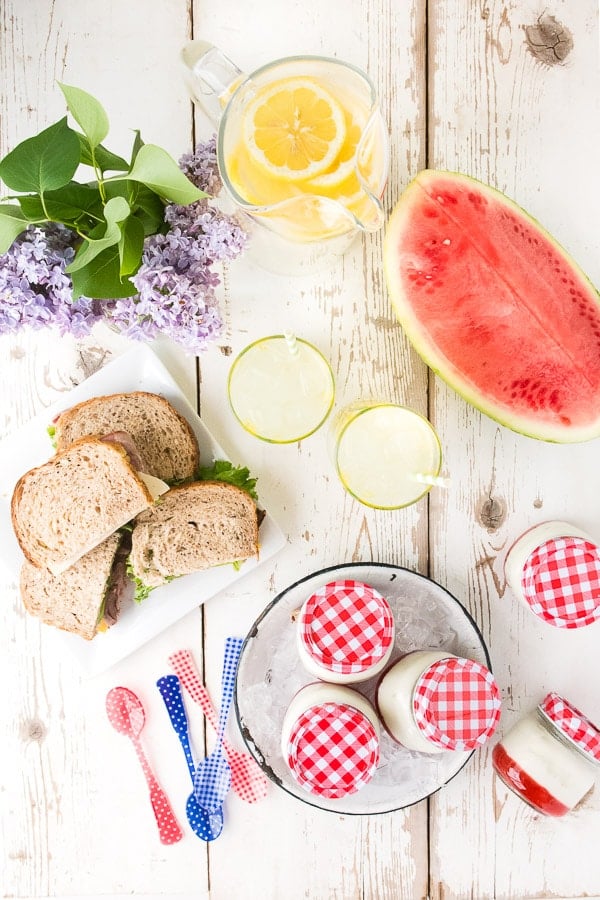 Portable Summer Dessert: Strawberry Jam Panna Cotta
This Strawberry Jam Panna Cotta recipe is simple to make and definitely tastes like summer. Made in individual jars, it can be served at a fun summer grilling get together as well as easily transported to a picnic or gathering. It is a creamy, sweet treat that is refreshing in summer heat and unlike fussier desserts, this dessert doesn't demand special attention.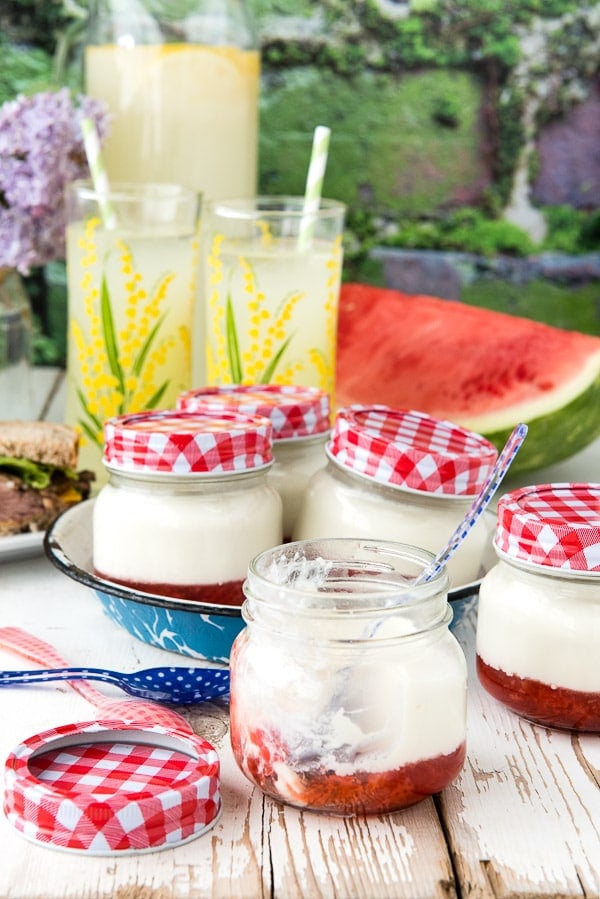 Summer Strawberry Panna Cotta Serving Suggestions:
Strawberry Jam Panna Cotta is easy to serve:
Store the prepared jars of panna cotta in the refrigerator until ready to serve.
Serve at room temperature or chilled.
I assure you, summer dessert never tasted so good! If you don't have enough jam jars to make the desserts in, you'll want to buy some 1/2 pint wide mouth canning jars.
Recipe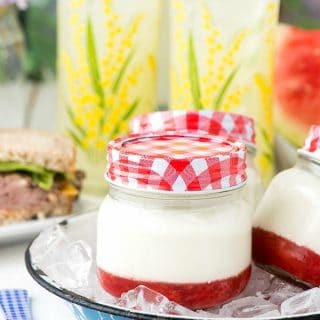 Ingredients
Ingredients for Quick Strawberry Jam:
1

envelope Unflavored Gelatin

½

cup

Water

1

pint

fresh hulled and chopped Strawberries

(approximately 2 ¼ cups)

4

to 6 tablespoons Tate+Lyle® Organic Pure Cane Sugar

2

tablespoons

Lime Juice

1 ½

tablespoons

St. Germain liqueur

(optional)
Ingredients for Panna Cotta:
2

packets Unflavored Gelatin

2

cups

Heavy Whipping Cream

2

cups

Half and Half

1

cup

Tate+Lyle® Organic Pure Cane Sugar

1

teaspoon

Vanilla Extract
Instructions
Instructions for Quick Strawberry Jam:
Pour the water into a medium saucepan. Sprinkle the envelop of gelatin and allow to sit for 1 minute.

Turn the burner onto low heat, and stirring often, allow the gelatin to melt (approximately 3-4 minutes).

Add the strawberries, 4 tablespoons of sugar and the lime juice. Increase the heat to medium and bring the mixture to a boil. Taste the mixture for sweetness and add more sugar by the tablespoon as needed. Allow to boil for 10 minutes, stirring periodically and smashing the strawberries. Note: if a less chunky jam is desired, use and immersion blender to puree some of the jam at the end before adding to the jars.

Remove from heat, stir in the St. Germain liqueur if using and pour ¼ cup of the jam into each jar. Allow to cool slightly, cover the top of the jars lightly with plastic wrap and then place in the refrigerator to fully set (approximately 1 hour).
Instructions for Panna Cotta:
Remove the jars with the strawberry jam from the refrigerator and set out at room temperature.

In a small mixing bowl combine ¼ cup plus 2 tablespoons warm water and the 2 packets of gelatin. Stir just to wet the gelatin. Set aside.

In a large saucepan over low heat combine the cream, half and half and sugar. Stir until the sugar has dissolved.

Add the gelatin and continue to stir to incorporate the gelatin. If the gelatin is solid, raise the heat slightly (medium-low) and whisk the mixture until the gelatin has dissolved. Remove from heat.

Add the vanilla extract and allow the panna cotta to cool slightly (do not pour hot liquid into the jars). Divide evenly between the jam jars. Seal and place back into the refrigerator to fully set (2-3 hours). Tip: placing jars on a small baking sheet will help stabilize the jars in the refrigerator.
Nutrition
Calories:
415
kcal
|
Carbohydrates:
35
g
|
Protein:
3
g
|
Fat:
29
g
|
Saturated Fat:
18
g
|
Cholesterol:
103
mg
|
Sodium:
49
mg
|
Potassium:
213
mg
|
Fiber:
1
g
|
Sugar:
29
g
|
Vitamin A:
1095
IU
|
Vitamin C:
36.8
mg
|
Calcium:
112
mg
|
Iron:
0.3
mg