Spicy Baked Pork Chops with Brussels Sprouts and Sweet Potatoes is a one pan recipe that cooks in 30 minutes! A spicy-sweet rub and overnight marinating make this a favorite sheet pan recipe.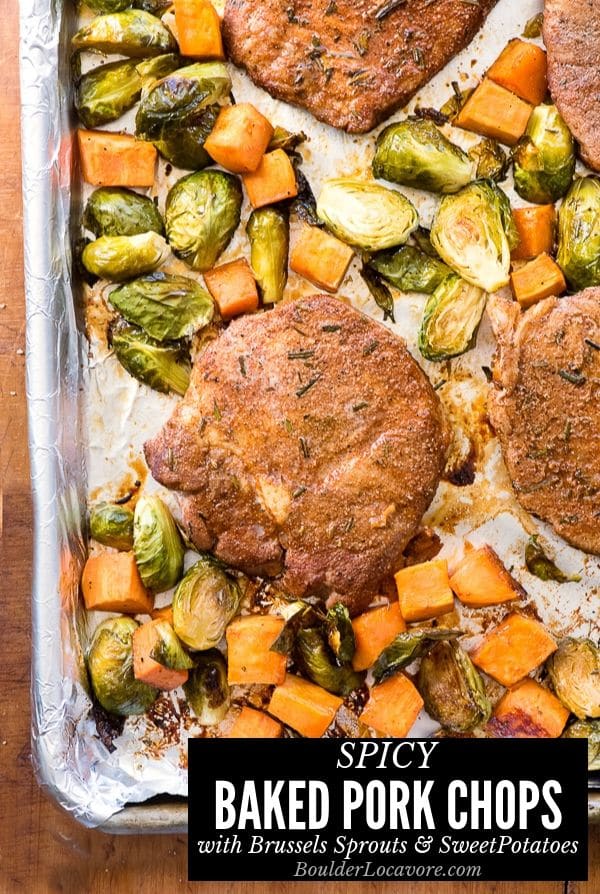 Do you love spicy bold flavors and an easy dinner recipe that cooks in 30 minutes? This Baked Pork Chop recipe if for you!
A perfect sheet pan recipe with marinated pork chops, sweet potatoes and Brussels sprouts that all cook together.
Dinner has never been easier, faster or more delicious!
Baked pork chops in the oven are such an easy dinner recipe. Usually people think of pan-frying pork chops but this is far easier.
Boneless Pork Chops
Boneless Pork Chops stay moist when cooking due to the 1-inch thick cut pork chops.
Bone-in pork chops are usually thinner and can get tough in texture if over cooked. In my experience boneless pork chops cook like a dream.
They are cut from a boneless pork loin roast which is another wonderful, easy cut of meat to prepare.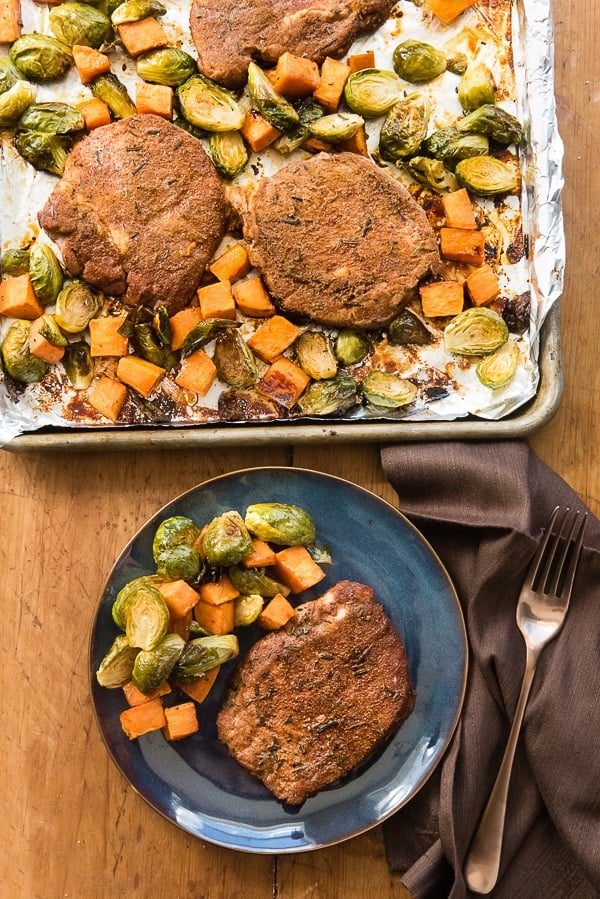 Baked Pork Chop recipe Ingredients
The main ingredients in this sheet pan recipe are spices.
Spicy, warming and sweet flavors that make an irresistible earthy sauce for this meal.
All the ingredients for these oven baked pork chops are easy to find at most grocery stores!
Smoked Paprika (not Hot Smoked)
Garlic Salt
Cayenne Pepper
Chili Powder
Light Brown Sugar
fresh Rosemary
Kosher Salt
Black Pepper
Olive Oil
Apple Cider Vinegar
Boneless Center-Cut Pork Loin Chops
Brussels Sprouts
Sweet Potatoes or Yams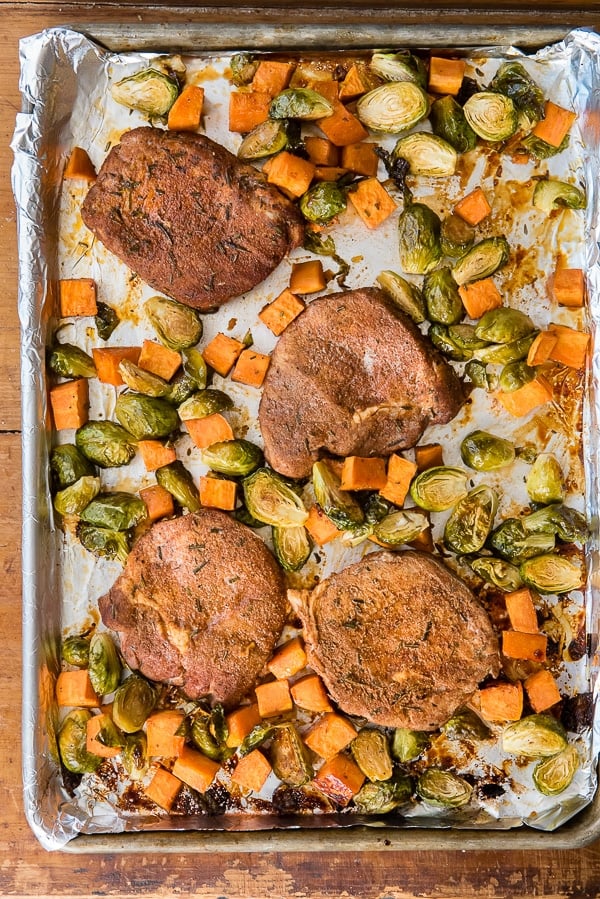 How to Make Baked Pork Chops – Step by Step
The main ingredients in this sheet pan recipe are spices.
Spicy, warming and sweet flavors that make an irresistible earthy sauce for this meal.
All the ingredients are easy to find at most grocery stores!
Making the baked pork chops is an easy recipe made in two parts:
Coating the pork chops with a spice rub the night before cooking

Assembling the sheet pan recipe to cook
Dividing the recipe into two preparation steps makes it fast and easy.
For a detailed printable recipe refer to the recipe card at the end of the post.
Night before cooking
Line a small rimmed baking sheet with plastic wrap.

In a large bowl combine: smoked paprika, garlic salt, cayenne pepper, chili powder, brown sugar, rosemary, salt and pepper.

In a second bowl add 2 tablespoons olive oil.

Dip each pork chop into the olive oil; massage to coat.

Place into the spices and rub to coat. Place onto prepared pan.

Repeat with all pork chops. Cover and refrigerate overnight.
Preparation and Cooking
Preheat oven to 400 degrees.

Line a large rimmed baking sheet with foil (dull side facing up). Remove the pork chops from the refrigerator.

Combine: apple cider vinegar, remaining brown sugar, rosemary, salt, pepper and olive oil. Whisk to fully combine.

Toss the Brussels sprouts and sweet potatoes in the sauce. Spread onto the prepared pan in a single layer.

Place in preheated oven for 15 minutes.

Toss the vegetables, move to add the pork chops to the pan. Cook for 10 minutes.

Flip pork chops over and cook 5 additional minutes.

Using an instant read thermometer and remove pork chops when they reach an internal temperature of 145 degrees.

Allow the pork chops to rest for 5 minutes (the temperature will continue to rise as they rest).

Serve immediately.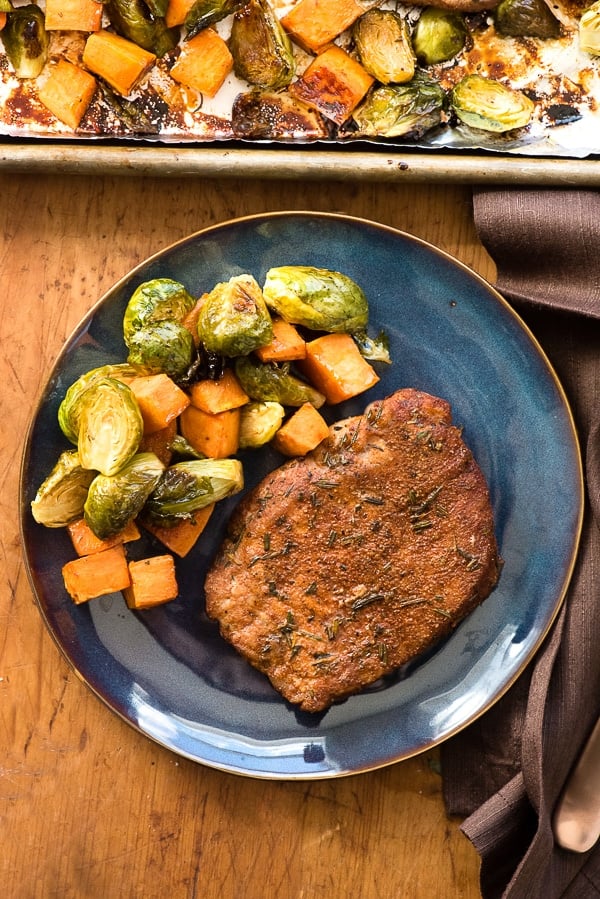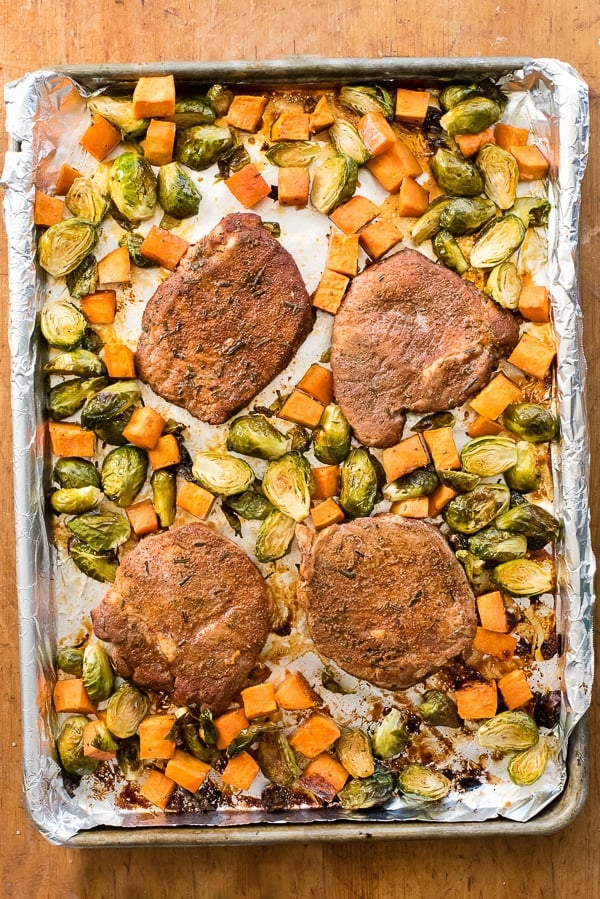 PRO TIPS For Extra Fast DINNER PREParation
There are a few tricks in this recipe that help make it a fast one pan meal. Easy enough to make any night of the week.
Two Part Preparation
Creating a spice rub for the pork chops, coating them and refrigerating them overnight maximizes the flavor.
It also shortens the time to prepare the recipe.
Pulling together the vegetables and cooking the sheet pan recipe is fast on the day of cooking!
Prepare Vegetables Ahead of Time
Prepping the Brussels sprouts and sweet potatoes can also be done the night before.
After preparing them, refrigerate them, seal them each in their own container.
Making the Vegetable Marinade
Instead of whisking together the marinade for the vegetables combine all ingredients to a small jar. Seal and shake to combine.
They can be combined the night before and stored in the refrigerator until using.
These easy time saving steps make it extra fast prepare and cook the recipe.
Bring Chilled Items to Room Temperature Before Cooking
If you do this bring all the ingredients to room temperature before cooking.
While the oven preheats, pull the pork chops and vegetables (and marinade) out onto the counter. They'll all be ready to cook when the oven is at temperature.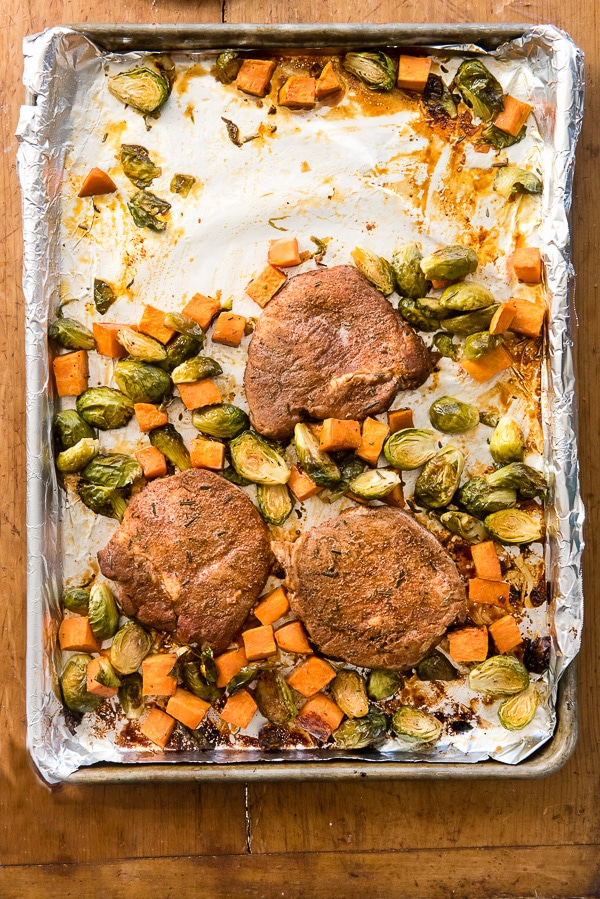 More Delicious Easy Dinner Pork Recipes
Did you make it? Please RATE THE RECIPE below!
Please SUBSCRIBE and FOLLOW ME on FACEBOOK , TWITTER , INSTAGRAM and PINTEREST!
Originally published: March 9, 2017
Spicy Baked Pork Chops are fast and easy to make with a spicy-sweet sauce!