Easy Pumpkin French Toast Casserole drizzled in homemade Maple Praline Sauce is like having dessert for breakfast. And why not?! It's so easy to make in the Instant Pot. A perfect fall weekend or holiday morning recipe.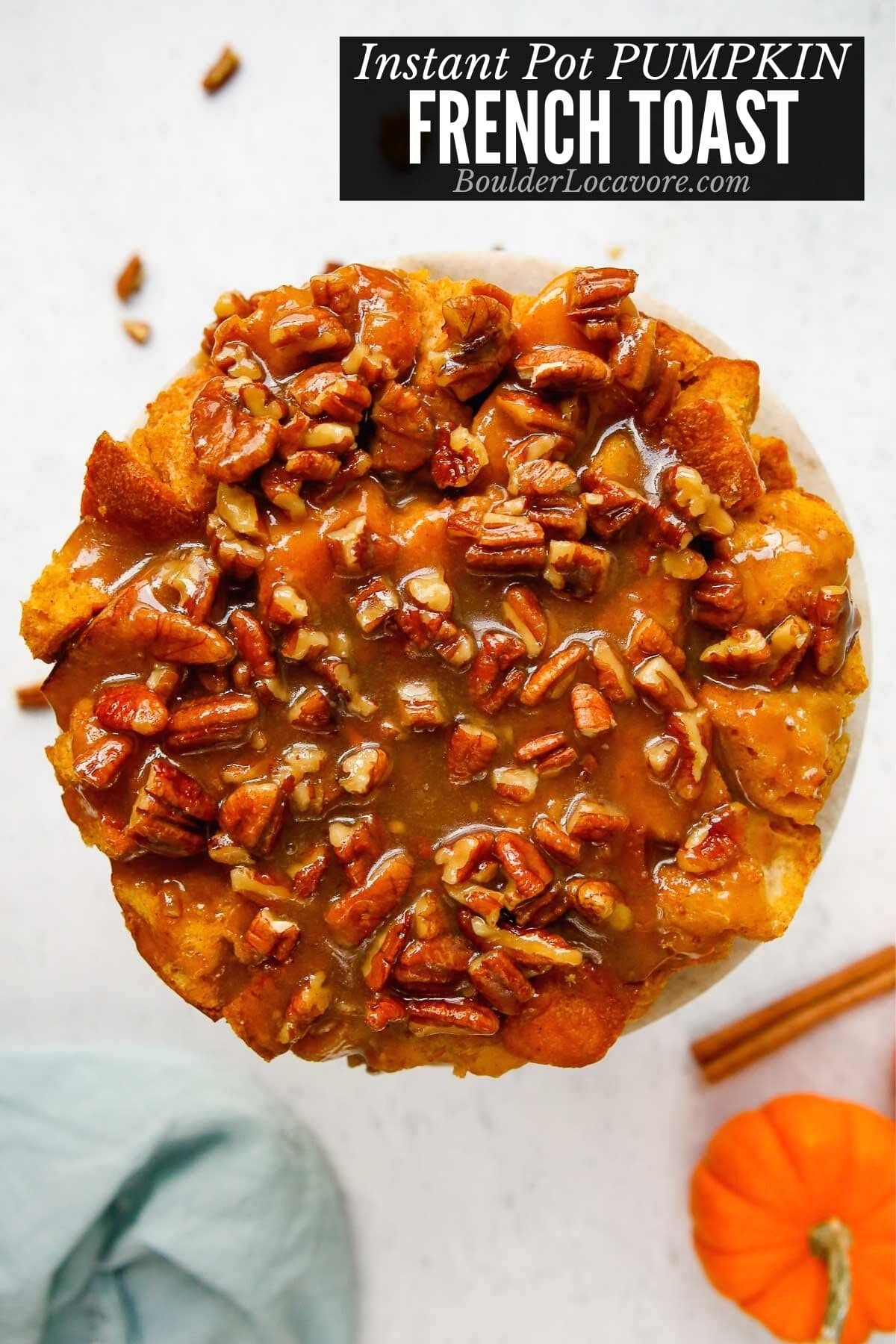 If you love French Toast but don't want to spend the time making it, you'll love this recipe!
Especially if you enjoy a breakfast casserole. Making breakfast recipes in the Instant Pot is a win.
You can do something else while it does the work.
And in the case of this recipe, it makes a soft, sweet, delicious fall-flavored breakfast.
Just the right amount of pumpkin for a hint of flavor and gorgeous color.
The Maple Praline Sauce is buttery maple pecan sauce is out of this world delicious.
You'll want to make this every day and definitely for special occasions.
Pumpkin French Toast Casserole
If you've only made the classic breakfast recipe over the stove top, a slice of bread at a time, you'll love it casserole form.
All the key ingredients are combined to cook together into a gathering-size recipe.
Perfect to slice and serve without toiling over the stove.
In this case it all goes into the Instant Pot to pressure cook so it's even easier!
It's made in a 7-inch pan so might seem small. But the rich flavors make even a small serving satisfying.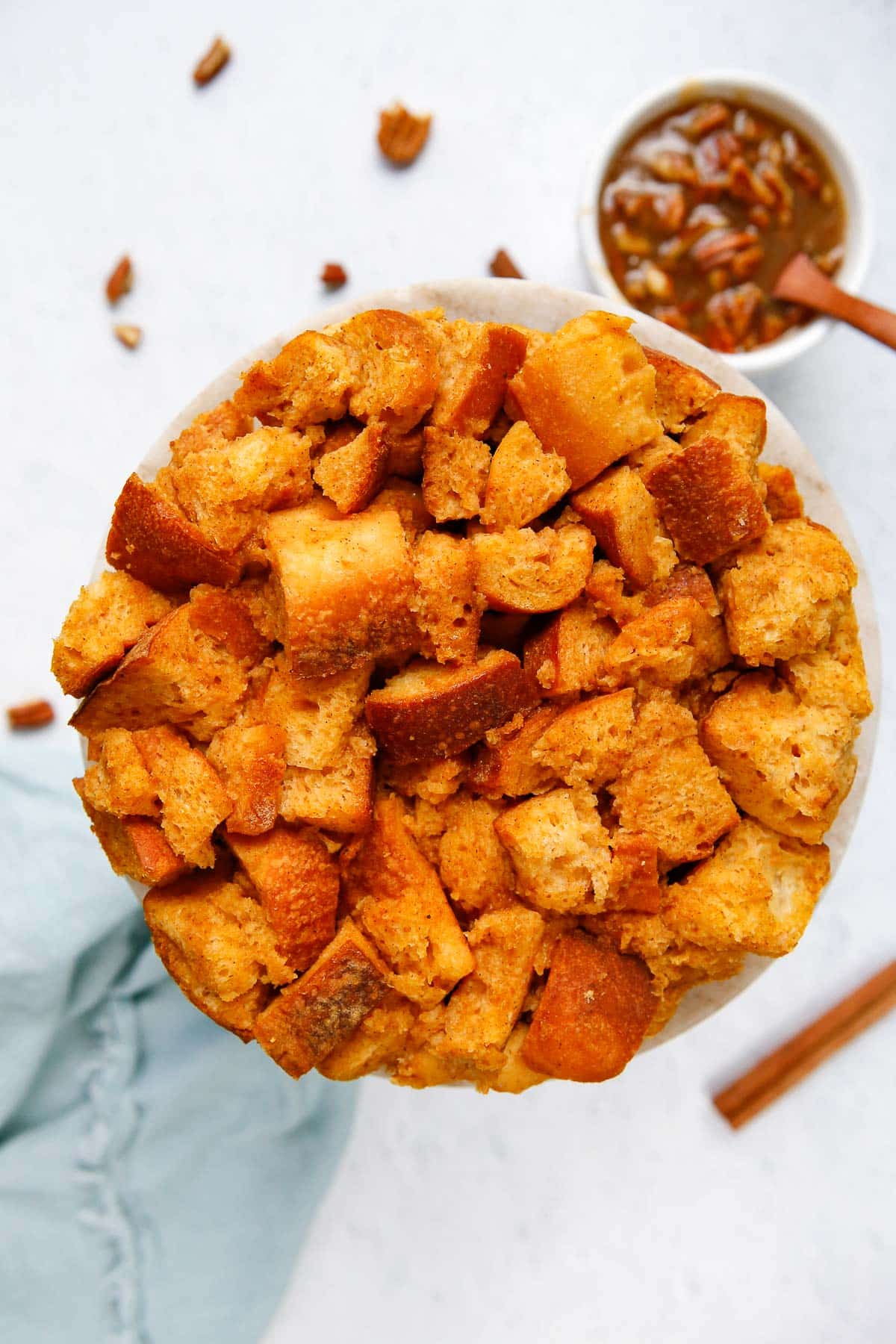 Recipe Ingredients + Notes
French Bread. Using French bread that is a day old or slightly stale soaks up the pumpkin-egg mixture better for a perfect custardy end result. Either regular or gluten-free bread can be used. We've tested it with both!
Eggs. A key part of the pumpkin mixture to create a wonderful texture. It helps bind the bread together when it cooks as well.
Heavy Whipping Cream. Used in both the casserole and the sauce for a rich consistency.
Vanilla Extract. Adds flavor.
Granulated Sugar and Light Brown Sugar. Both types of sugar are used in the French toast. Brown sugar is used in the praline sauce too. The combination makes a caramel-y sweetness.
Pumpkin Puree. Either store bought or homemade pumpkin puree can be used.
Pumpkin Pie Spice. This blend of warming spices gives the classic pumpkin pie flavor to the Instant Pot casserole.
Unsalted Butter. It is what makes the sauce so delicious!
Maple Syrup. Sweetens and gives a slight maple flavor to the praline sauce.
Salt. A bit of salt creates a contrast to the sweet flavors, pumping them up without making the sauce salty.
Pecans. Chopped pecans are the star of the praline sauce. They add a perfect flavor to this wonderful breakfast recipe.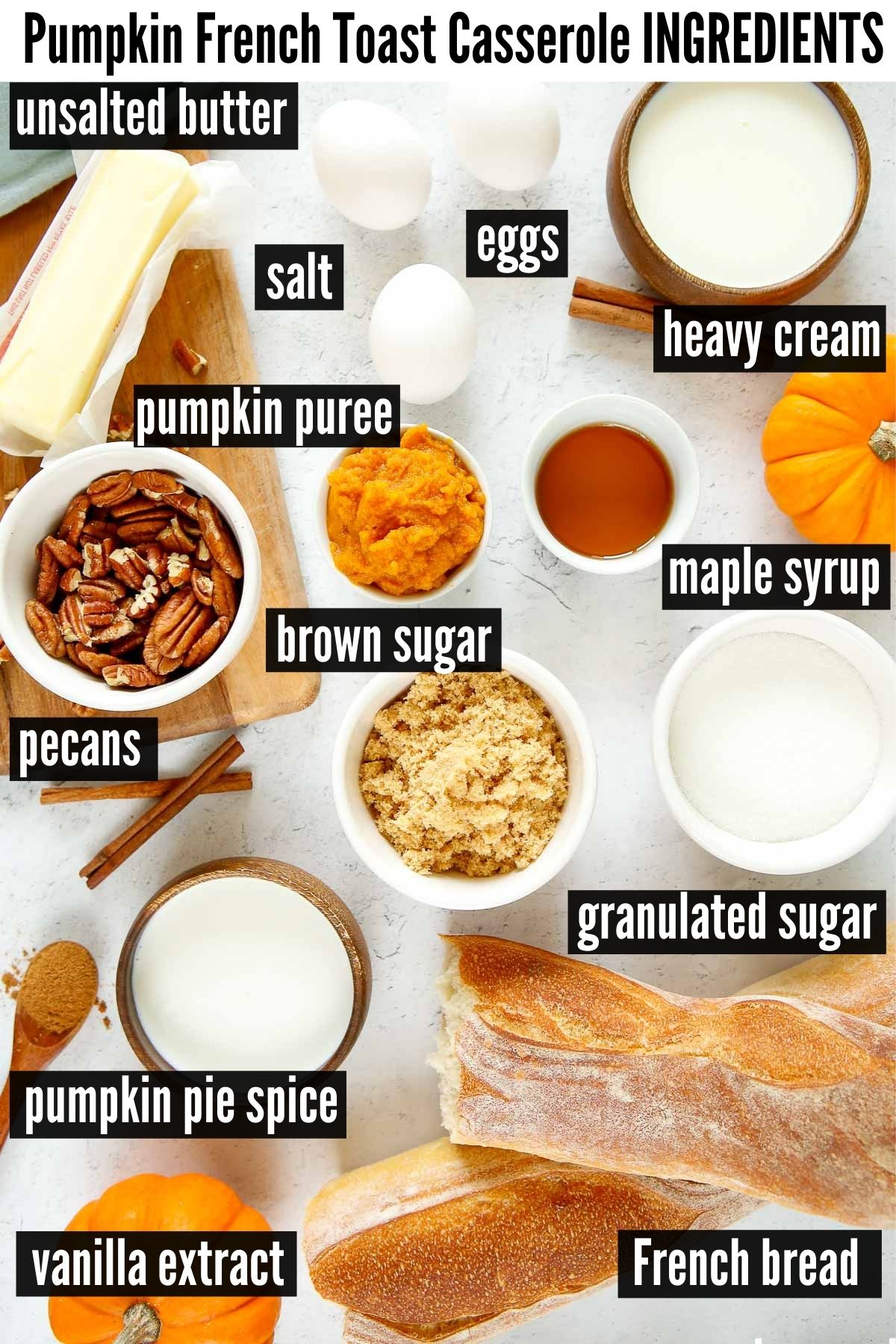 Required Supplies
7-inch springform pan. This allows easy freeing of the casserole after cooking to slice and serve.
How to Make it – Step-by-Step
STEP 1. Making the French Toast.
In a large bowl whisk together the eggs, heavy cream, vanilla extract, granulated sugar, brown sugar, pumpkin puree and pumpkin pie spice (photos 1-3).
Combine the pumpkin mixture with the bread cubes (photo 4-5). Press the bread into the mixture and allow to sit for 5 minutes (photo 6).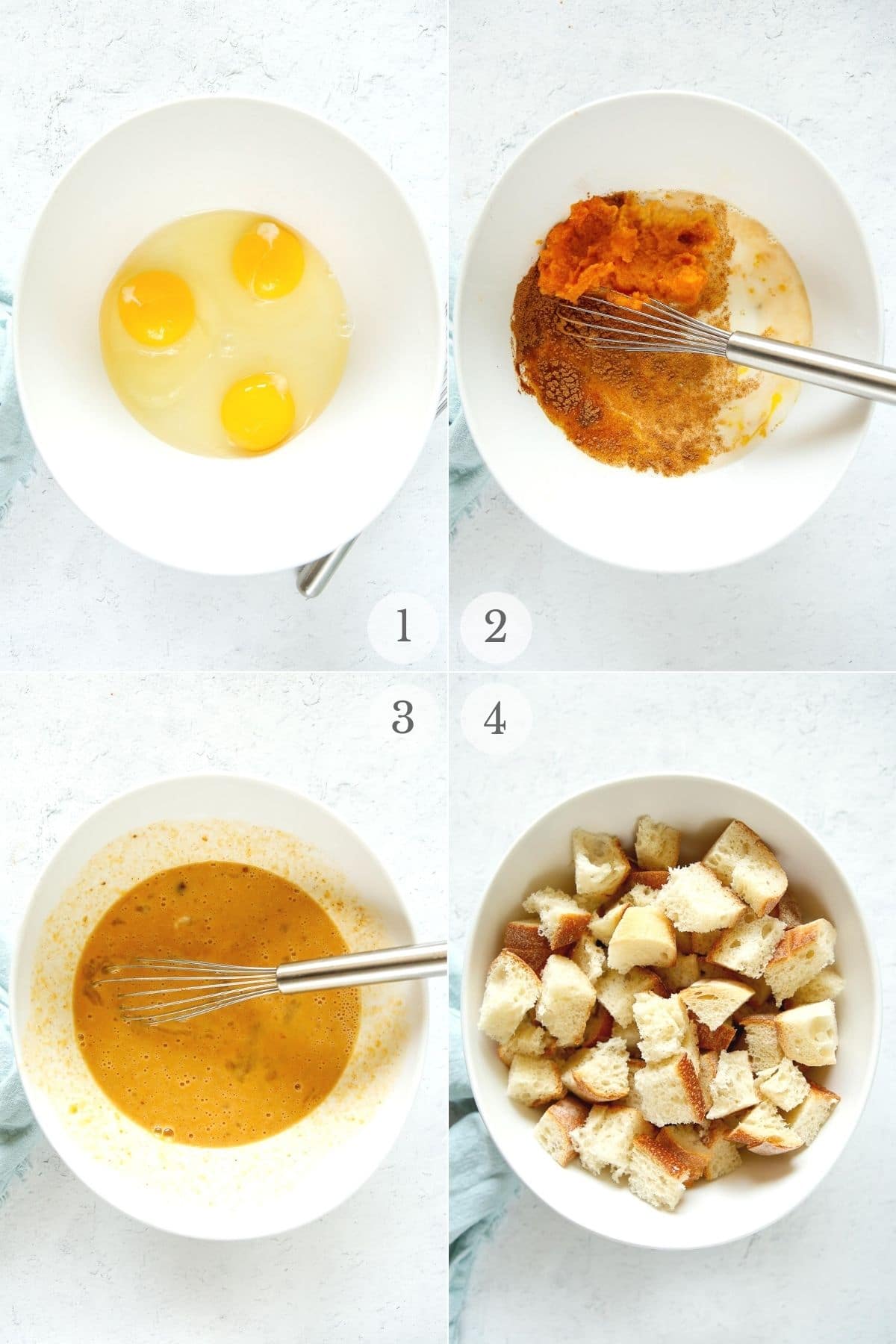 STEP 2. Cooking the Pumpkin French Toast Casserole.
Spoon the mixture into a greased 7-inch springform pan (photo 8). Double wrap the top with foil (photo 9).
OPTIONAL: line the bottom of the springform pan with a circle of parchment paper for easy transfer to a serving plate (photo 7).
Pour 1 cup of water into the Instant Pot. Place the pan on the trivet in the Instant Pot (photo 10).
Cook on HIGH PRESSURE for 40 minutes. After cooking perform a QUICK RELEASE.
Remove the foil and allow the French toast to cool for 20 minutes (photos 11-12).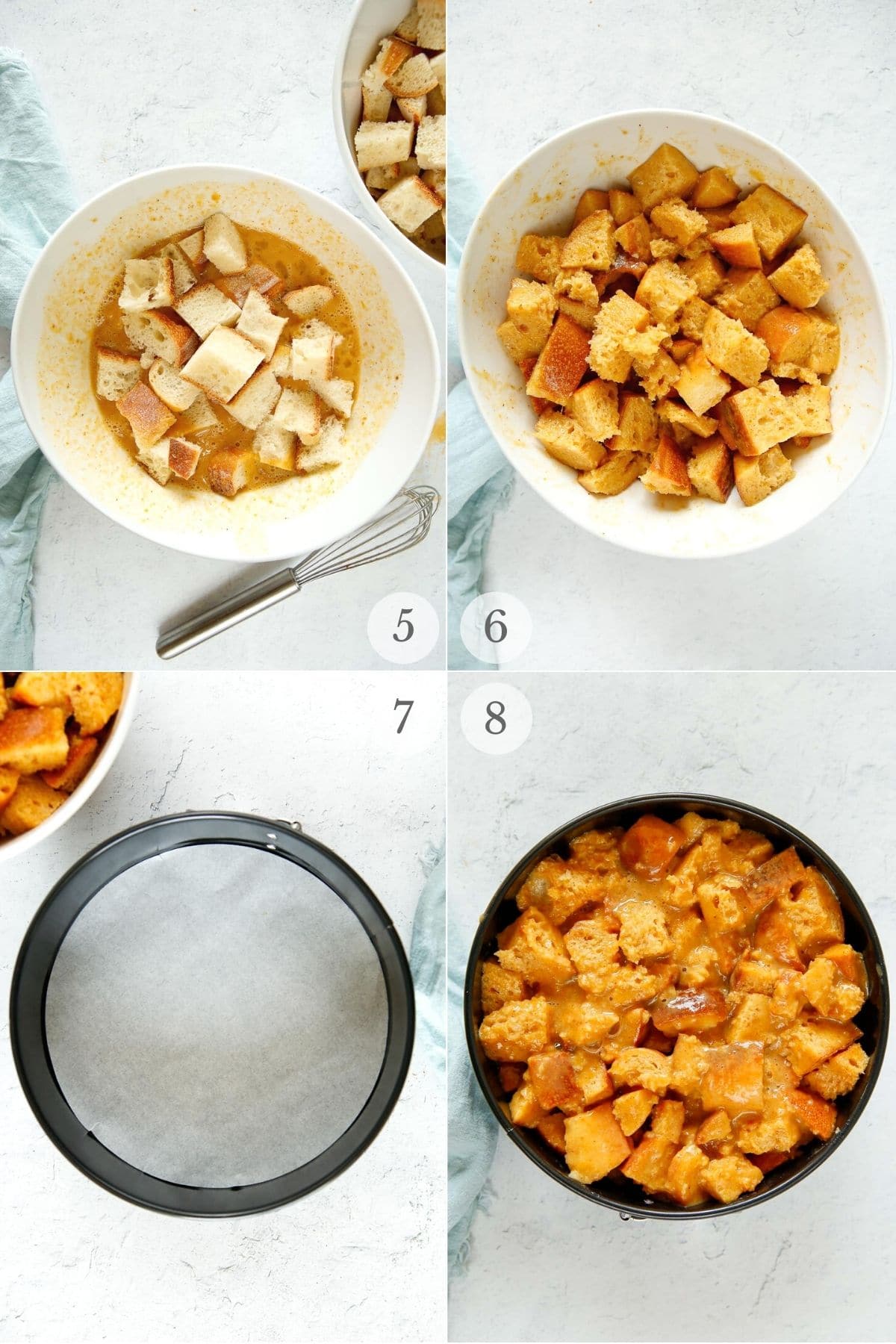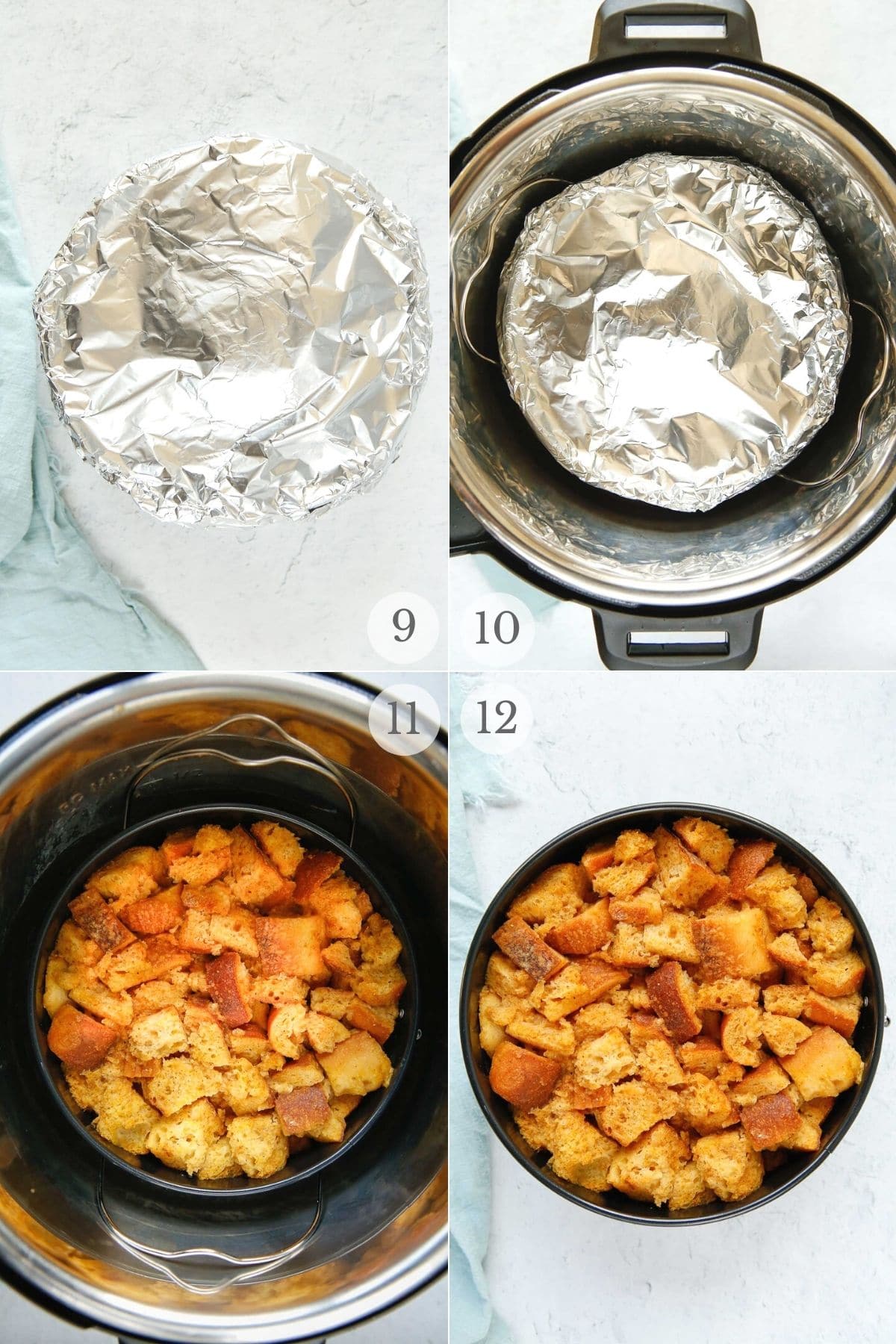 STEP 3. Making the Maple Praline Sauce.
While it's cooling, make the sauce.
In a medium saucepan combine the sauce ingredients: brown sugar, unsalted butter, heavy cream, maple syrup, vanilla extract, and salt (photo 13-14). Simmer for 4-6 minutes.
Add the chopped pecans (photos 15-16).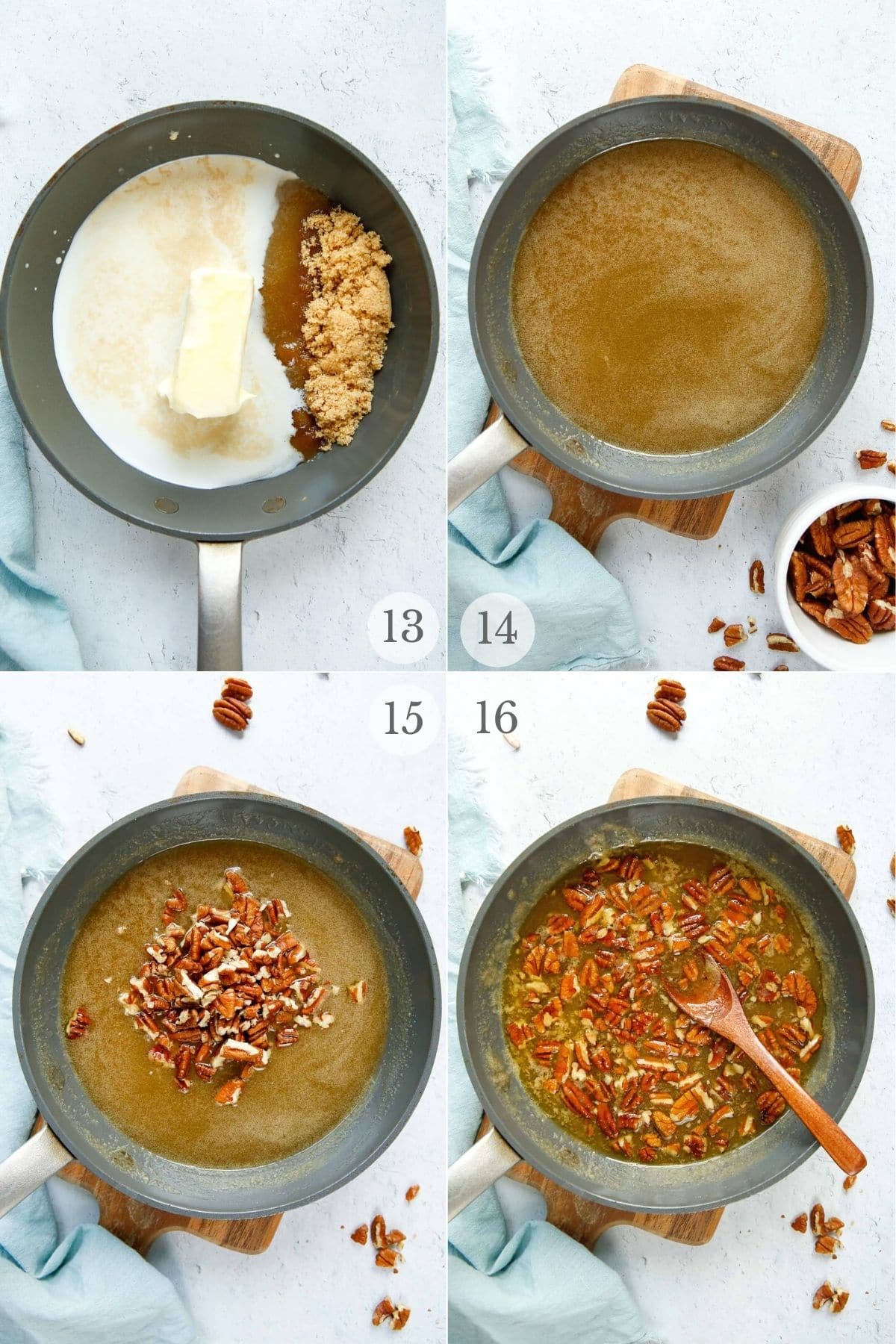 STEP 4. Serving it.
After the pumpkin breakfast casserole has cooled, cut into 6 servings. Place on plates and spoon the maple pecan sauce over the top. Serve warm.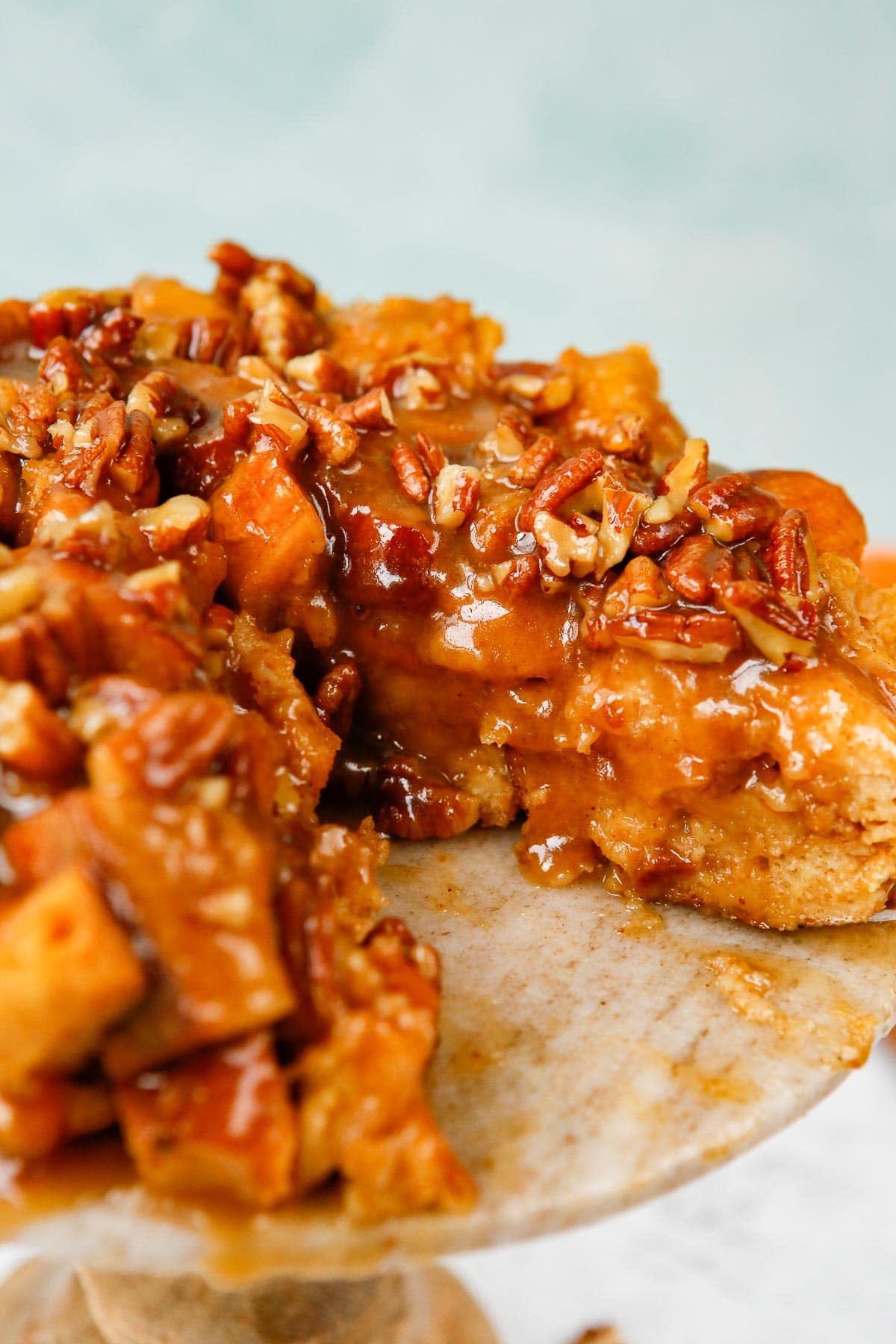 Tried and Tested Recipe
We've tested this recipe with each regular French bread and gluten-free French bread. Fantastic results from both.
Pro Tips
Use a homemade foil sling. Lowering a pan into the Instant Pot isn't difficult. However removing it after cooking can be tricky.
You can buy a silicon sling but it's also easy to make one with foil.
Fold a 20-inch piece of foil in thirds.
Put the pan in the middle of the sling and lower it into the Instant Pot.
Do not remove the sling; let it stay during cooking.
Use it to lift the pan out after cooking.
Use stale bread. It's the only time someone will tell you to use old ingredients for a recipe. Dry stale bread will better soak up the egg mixture for a perfect French toast.
Storing Leftovers
Store in a sealed container in the refrigerator for up to 2 days. Rewarm over low heat (30% to 40%) in the mircrowave before eating.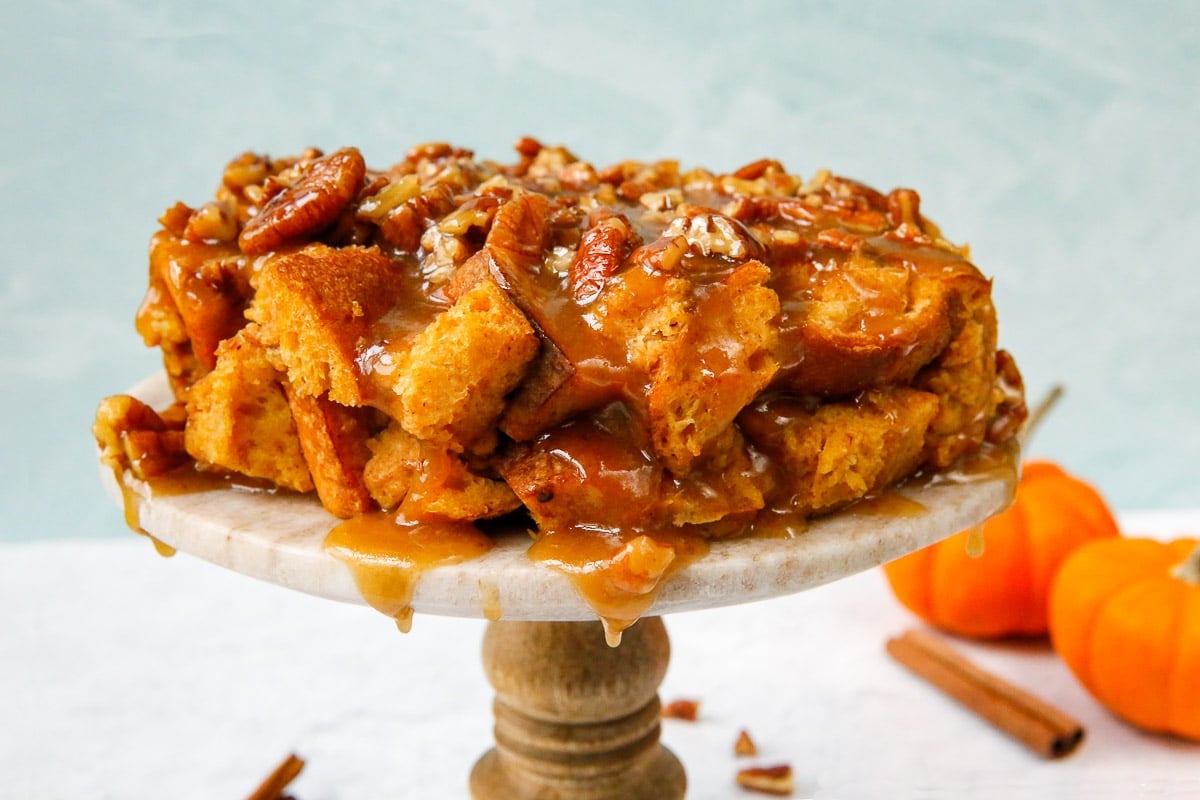 More Recipes You'll Love!
Did you make it? Please RATE THE RECIPE below!
Please SUBSCRIBE and FOLLOW ME on FACEBOOK , TWITTER , INSTAGRAM and PINTEREST !