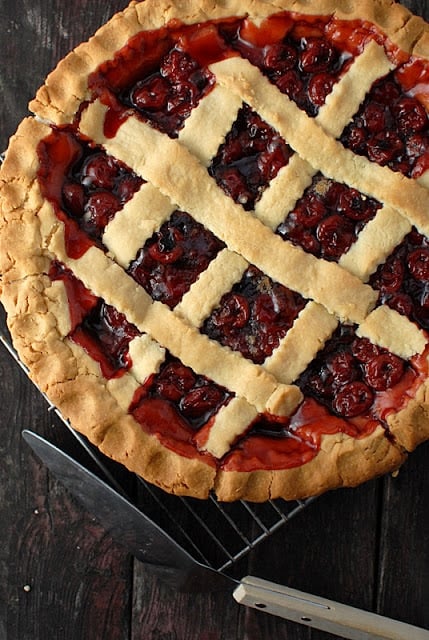 If I were a superhero 'Pie Prowess' would not be my super power. I like pie. To me it has a gentle sensibility to it that is often overlooked for sexier desserts like Chocolate Decadence or Molten Lava Cake. Pie doesn't need any of those bells or whistles. It is simple, straight forward and can hold its own against the most gastronomically fussy confections.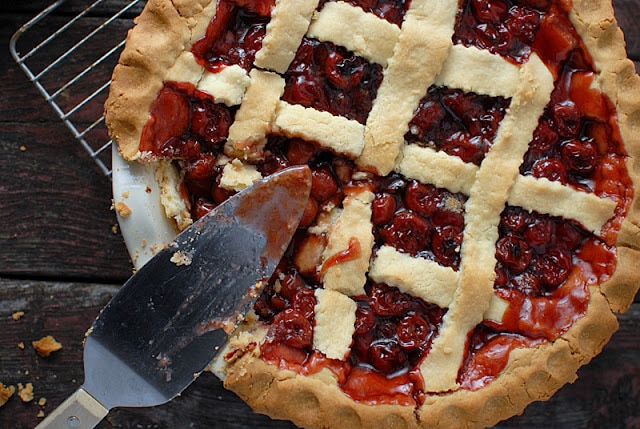 I've made pies, not a lot of pies, but I've made them. I am however more of a Tomboy Baker, not bearing the precise execution to produce the gasp-inspiring perfection as one would expect of 'Martha'. I have not made two crust pies or pies with a woven top crust so I ventured into uncharted waters with this recipe. When asking my family if they'd like Cherry Pie or Cherry Cake (both vintage recipes I've not made) for President's Day I got a resounding 'cherry pie' request. When one thinks of our early Presidents I agree that cherry pie springs to mind.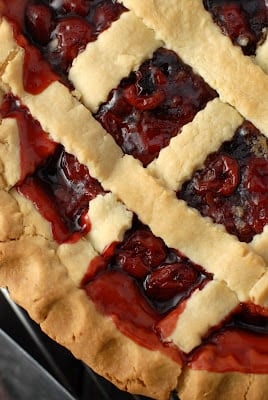 I found a recipe called President's Birthday Cherry Pie in my grandmother's recipe box. Liking to coordinate my desserts to my national holidays, it seemed complete destiny. For me President's Day and the corresponding three day holiday always feels like a beckoning of spring. In Colorado we rarely have a traditional spring. In fact in the decade I've lived here I can only remember one.
Typically we ping pong between flirty warmth and a soggy dump of snow until it all gives way to summer. We rarely enjoy balmy breezes, or the building warmth assuring summer will come. No taking time to gaze on the nubile growth of the new season (more likely holding our breath that the late snow does knock out the blooms and consequently the promise of summer fruit on our tender trees). Despite all that, I choose to believe spring WILL come, in its own time, and I will secretly bid it welcome this weekend with my Cherry Pie.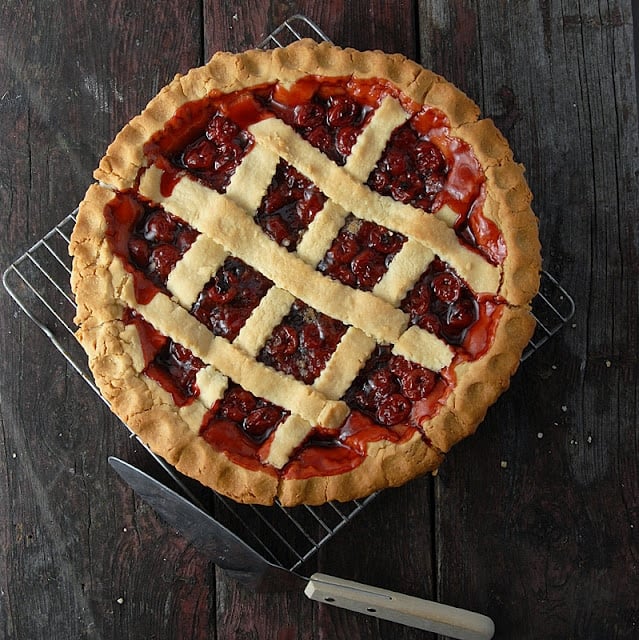 I must insert this pie is completely delicious. The flavors perfectly combine to give center stage to the tartness of the cherries that act to pique the palate without a pucker. I fell in love with the pie as it exited the oven with browned crust strips and bubbling, ruby-red cherries. I waited about 13.5 minutes before cutting the first piece, anxious to take photos and taste it. I realized the pie needed a moment to compose itself as the beautiful piece steamily relaxed on the plate. It was fantastic though when I allowed the pie to fully cool and gel, the subsequent pieces were primly intact.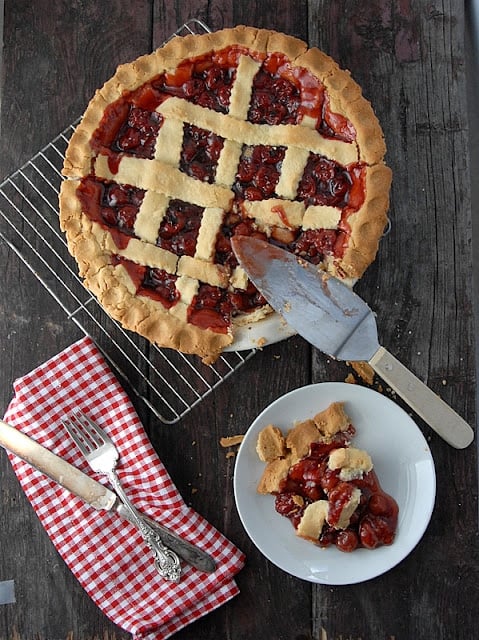 The original recipe was for a regular 9 inch pie pan. I set my sights on a particular deep dish pan I have so will offer adaptations for both types of pie pans. Being my first woven a pie top I felt like I was playing Jenga and once I successfully laid down 6 strips of crust atop the pie, I chickened out at the idea of doing anymore. I also did not weave mine for fear of breaking the strips. I was satisfied my pie might not win a beauty contest but is a 'Pie for the People'. Please, pie experts, weave your magic on your pie and think of me!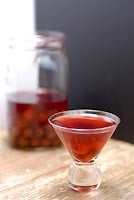 For a President's Day drink dating back to George Washington, check out Cherry Bounce and make your own!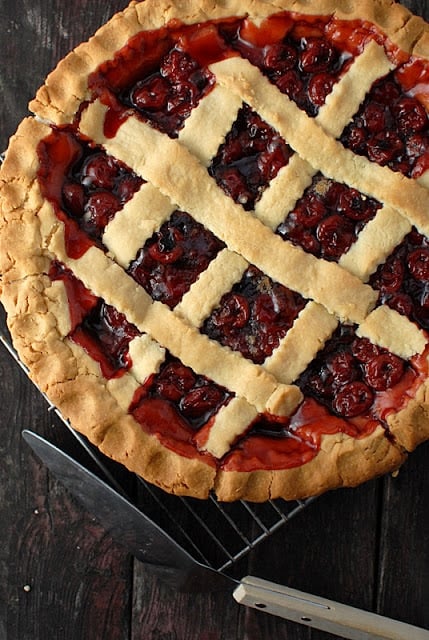 My Favorite Pie Crust recipe
I use Butter Pie Crust when making this cherry pie recipe.
It's an EASY recipe that creates a buttery flaky crust every time.
The recipe creates 2 pie crusts so is perfect for this pie.
Recipe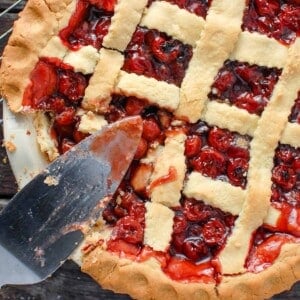 Ingredients
Ingredients (Deep Dish version):
3

cans

(16 ounces/can; about 3 cups)* pitted tart/pie cherries

½

cup

liquid from drained cherries**

½

cup

granulated sugar

½

cup

light brown sugar

3

tablespoons

arrowroot starch or cornstarch

Heaping ¼ teaspoon ground cinnamon

1/8

plus 1/16 teaspoon almond extract

1

tablespoon

butter

cut into very small pieces to dot on pie

Pastry for double crust 9 inch deep dish pie

(gluten free or regular)
Ingredients (Standard Pie):
2

cans

(16 ounces/can)* pitted tart/pie cherries

1/3

cup

liquid from drained cherries**

1/3

cup

granulated sugar

1/3

cup

light brown sugar

2 1/2

tablespoons

arrowroot starch or cornstarch

¼

teaspoon

ground cinnamon

1/8

teaspoon

almond extract

1

tablespoon

butter

, cut into very small pieces to dot on pie

Pastry for double crust 9 inch regular pie

(gluten free or regular)
Instructions
Preheat oven to 425 degrees.

Drain cherries reserving ½ cup liquid for a deep dish pie or 1/3 cup liquid for regular pie. Place both cherries and liquid into a large saucepan.

Stir in granulated sugar, brown sugar, arrowroot or cornstarch, cinnamon and almond extract. Cook over medium-low heat until sugar is fully dissolved. Simmer for an additional minute and set aside.

Prepare the pastry crust fitting one crust into the pie pan. Roll out the second crust and cut into ½ inch wide strips.

Pour cherry mixture into pie crust, dot with butter and weave pastry strips on top of the filling.

Bake at 425 degrees for 15 minutes. Lower the temperature to 350 degrees and bake an additional 35 to 40 minutes until pie is brown and bubbly.

Cool completely (if you can wait!) and serve.
Notes
*should you wish to use frozen pie cherries use the same volume thawed.
**if using frozen thawed cherries add the required volume of diluted cherry juice as a replacement for the liquid from canned, drained cherries.
Nutrition
Calories:
128
kcal
|
Carbohydrates:
28
g
|
Protein:
0
g
|
Fat:
1
g
|
Saturated Fat:
0
g
|
Cholesterol:
3
mg
|
Sodium:
16
mg
|
Potassium:
18
mg
|
Fiber:
0
g
|
Sugar:
25
g
|
Vitamin A:
45
IU
|
Calcium:
11
mg
|
Iron:
0.1
mg