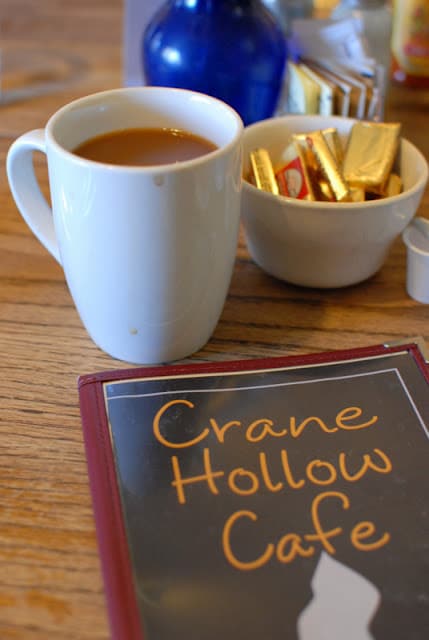 North of Boulder as the crow flies, on the western outskirts of Longmont, lies the small farming/ranching town of Hygiene (the name referring to a time when it housed a sanitarium for tuberculosis patients.) The town itself hovers around a three way stop sign with a handful of businesses nested together for quick access. It is unquestionably rural in the way urbanites crave to visit. An authentic burg riding the wave of changing times, staying true to its roots and those of the generations who have lived, farmed and ranched there.
I have not visited Hygiene for a good long while. When a friend and foodie comrade-in-arms mentioned some changes in Hygiene she'd ambled upon, we decided a field trip was in order. We met at the Crane Hollow Cafe (is there a more charming name for an eatery?) for breakfast on a more than blustery day. Despite my hair almost being ripped from my head for the gusts and certainly covering my eyes, I did not miss the completely breathtaking view of the snow covered Rockies in the distance. Hygiene allows the perfect vantage point to remind one why we live in this visual paradise.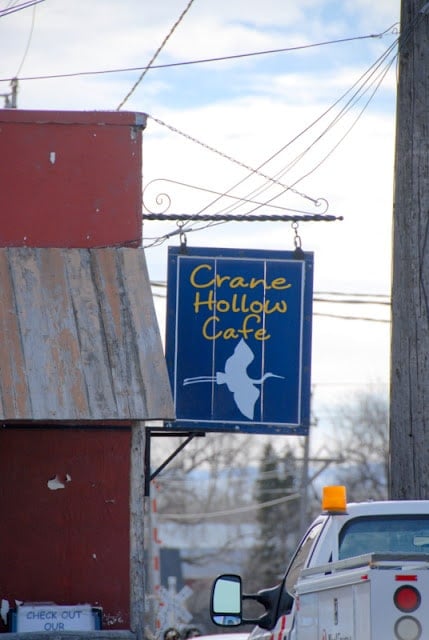 I blew into the front room of the café featuring a few tall tables, the espresso station, bakery cabinets showing off delectable homemade goods, and command central for the restaurant; all in a room with a very sunny disposition. A few morning patrons were situated with their coffee and newspaper. The restaurant staff was poised to greet us and welcome us for the morning.
We were seated in the main dining area of wooden tables, mismatched chairs, miniature Mason jar salt and pepper shakers and dainty bouquets of flowers on every table. Art from the local art gallery next door adorned the wall with Western themes, oil paintings of fruit and kitchen aprons in vintage western prints made for a cozy, relaxed feel. There was a large community table with small groups coming and going during our long stay. Some who seemed to know each other, some politely chatting for the first time. It definitely had the feel of a local hangout but welcoming to newcomers and those just passing through such as the masses of cyclists on the weekends. It's a place for everyone.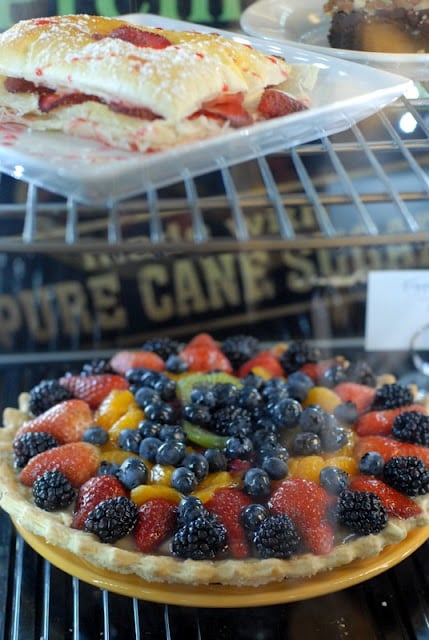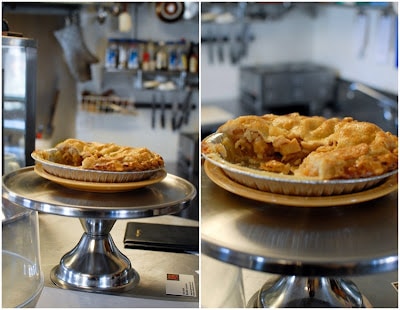 When I was looking up the hours on Yelp I noted every review was positive. Very quickly it was clear why. It felt by merely being there we were brought into the fold with Ellen our server and the other patrons. Rumor has it if you go early in the morning the cowboy-ranchers are all there for breakfast, their pick-up trucks lining the front of the cafe with farm dogs in the back. The back patio, with perhaps the best view in the county, opens up with the warmer weather. You feel you are touching something historic that is firmly in the now with homemade fresh food featuring local sourcing from Toohey farm when in season and Farmer Toohey working at bit at the café in the off season.
The current owners have been at the helm for about six months. They are committed to local, seasonal and freshly made food. They offer breakfast and lunch daily with breakfast served all day on Sundays. Twice weekly on Tuesday and Thursdays they offer 'Dinner to Go' from 4:00 to 7:00 p.m. At the 3 way stop outside the café they post what their specials are for the day and people can pop in to buy them. They have homemade pie, espresso drinks, fresh soups and daily specials and are known for their Pork Green Chili Stew.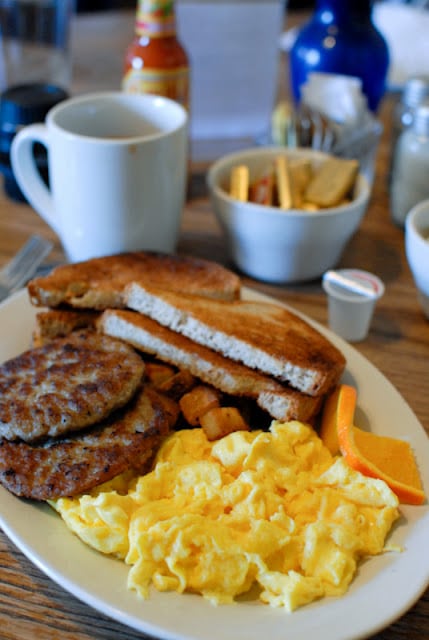 I would have loved to try the Green Chili Stew for breakfast though it has gluten (which is pretty standard; though I have it on good account from my companion it's delicious) but settled on the Rancher's Special (2 cage free eggs, home fries, toast, with bacon, sausage patties or vegetarian sausage patties). I ordered my eggs scrambled and as I was adapting to take the gluten-filled toast away Ellen offered gluten free toast as an alternative. I was thrilled and the meal was perfect. They offer several types of bread and are nimble with alternatives for any needs or desires.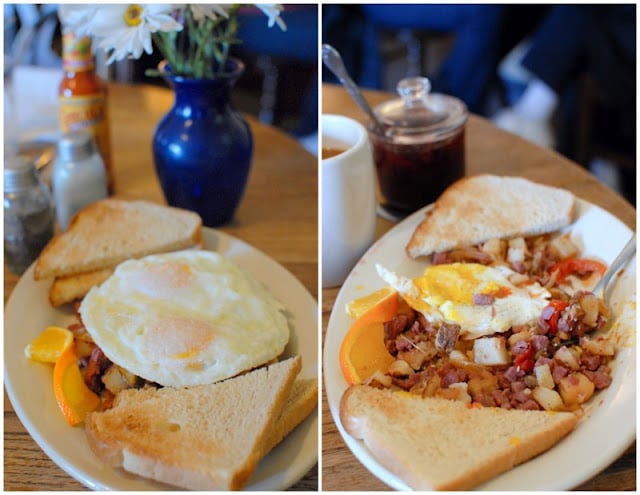 My companion enjoyed the Harvest Corned Beef Hash, a beautiful hash of corned beef, potato, roasted red pepper and onions, covered by 2 cage free fried eggs and toast. The coffee never stopped being warmed, water being filled and check-ins for any other needs.
Their menu offers a wonderful balance between more traditional breakfast and lunch options, entrees with Mexican food flair, and more contemporary offerings. At the bottom of their menu they state "We strive to use fresh, minimally-processed ingredients and we buy locally whenever possible. Thank you for supporting a small business". What else do you need? You won't be disappointed.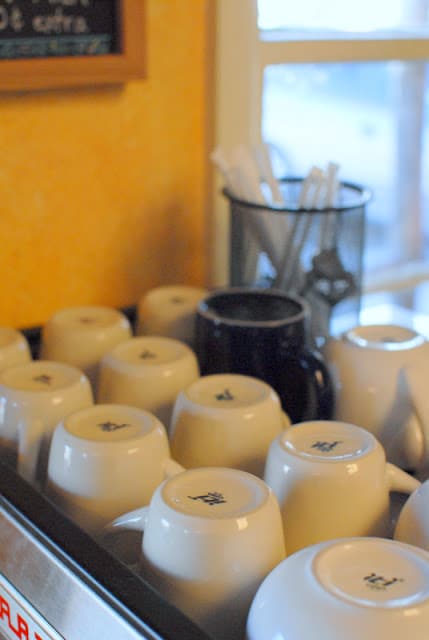 Crane Hollow Café is situated in close proximity to local hiking, fishing, and cycling making it a perfect spot for a bite to eat before or after an outing.
Crane Hollow Café: 7504 Hygiene Rd, Longmont, CO. 303.776.1551
Breakfast: Monday-Saturday 7:00 -11:00; Sunday 8:00 -2:00
Lunch: Monday – Saturday 11:00 – 2:00 (Breakfast served all day on Sunday; see above)
Dinner To Go: Tuesday and Thursday 4:00-7:00