Whether celebrating Memorial Day, Fourth of July or another patriotic holiday, serving Patriotic Red White and Blue Recipes (all gluten-free) makes the occasion feel extra festive! Many are so easy they shouldn't even be called a 'recipe'!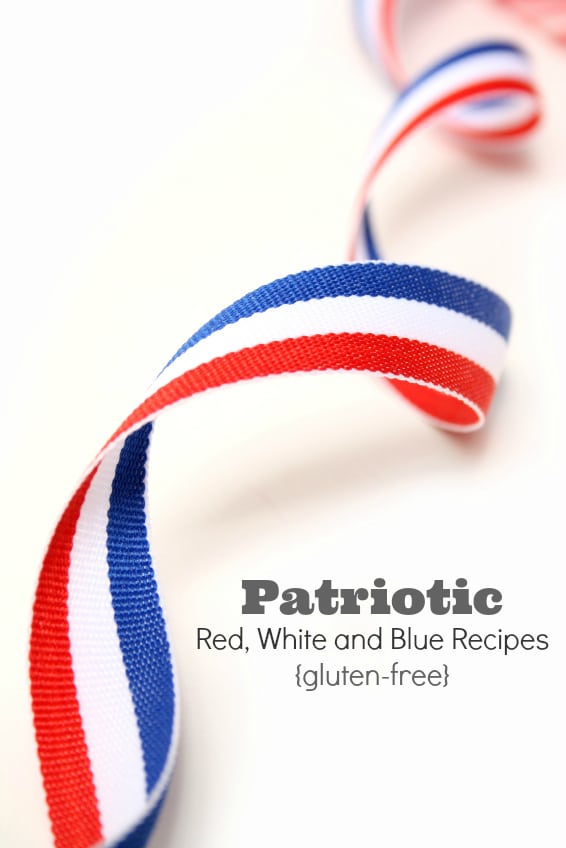 Jumping on the themed bandwagon for holidays makes them all the more fun to me. With Memorial Day being the gateway to summer as well as a time to reflect and celebrate our military, rounding up some fun and easy Patriotic Red White and Blue Recipes is a must. It's also a perfect time to welcome the abundance of fresh seasonal berries in lighter desserts. I've rounded up some to share with you today to enjoy your holiday weekend!
American Flag Fruit Cookie Dessert Pizza is about as patriotic as it gets! A chewy sugar cookie crust (made from a mix) is covered with a tangy 'frosting' and delicious fresh strawberry slices and blueberries.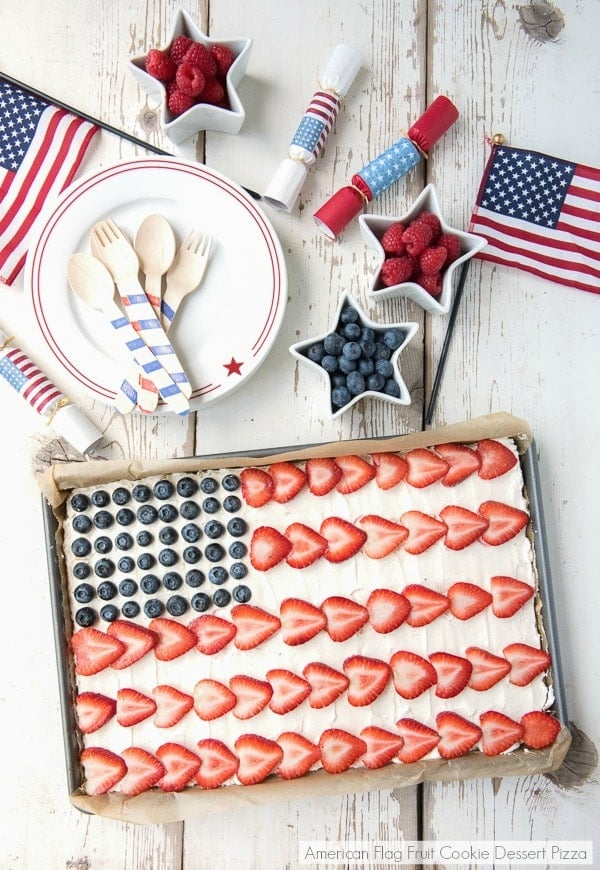 Layered desserts in jars have a casual feel and also are easily portable! Easy Red, White and Blue Trifles and filled with light and airy angel food cake, whipped cream and berries.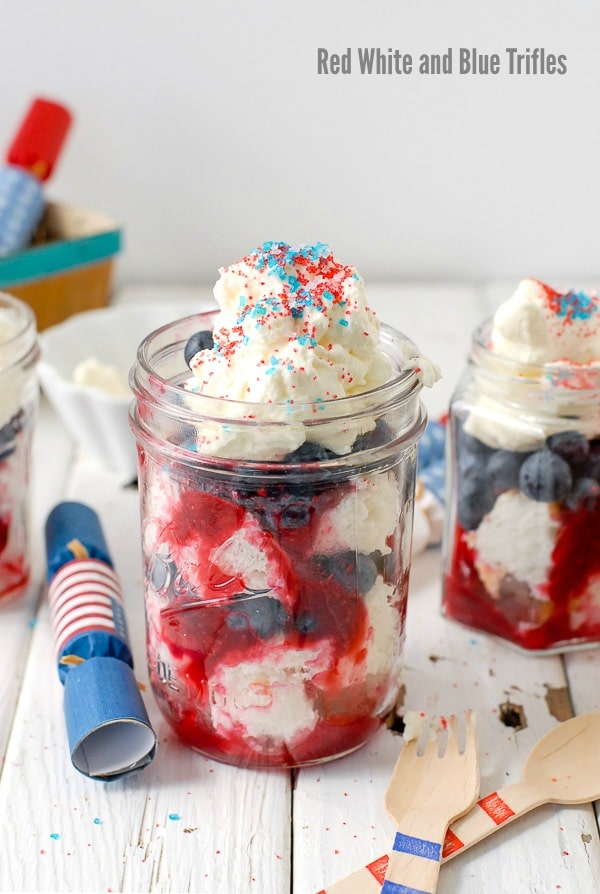 I love an easy breakfast when having overnight guests especially on a busy holiday weekend. Overnight Red, White and Blue French Toast Breakfast Casserole is bursting with great flavors including cream cheese, jam and berries. WARNING: if you serve this you are guaranteed to have return visitors every patriotic holiday!
Cherry Blueberry Cloud Pie (no bake) is another simple dessert which can be made with a prepared pie crust or one from scratch, light, fluffy no bake filling topped with cherries and blueberries.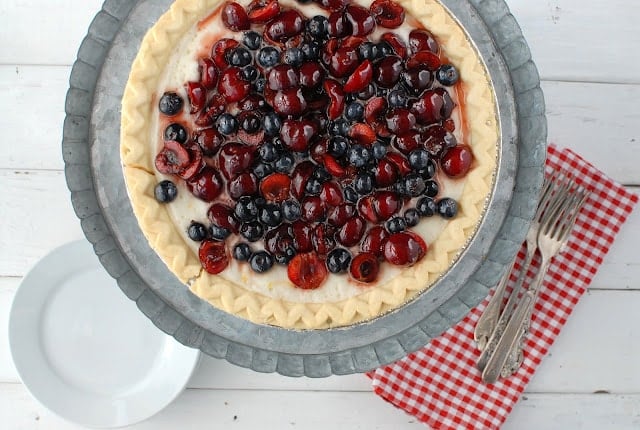 All American Berry Buttermilk Shortcake is a dessert I can't wait to make for Memorial Day and Fourth of July. Sweet, homemade gluten-free shortcake biscuits are filled with freshly whipped cream, blueberries and strawberries. A perfect dessert to kick off summertime.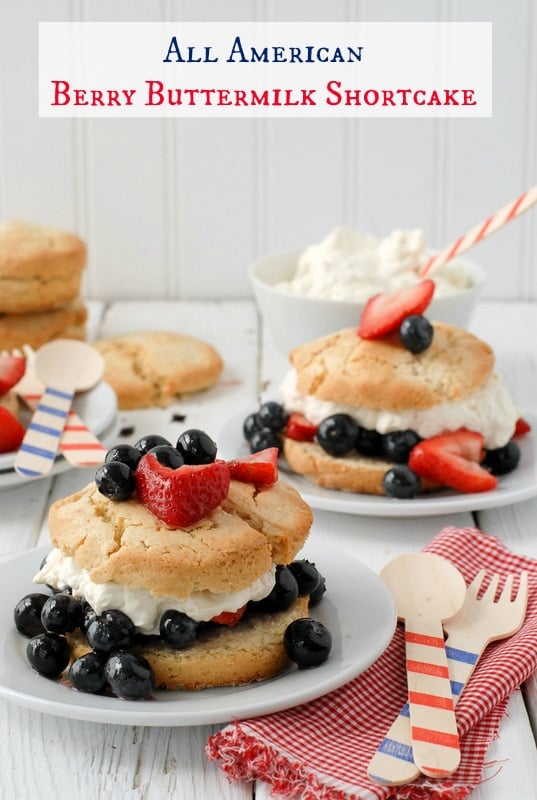 There is not an easier way to deliver the red, white and blue theme to the dinner table than with Patriotic Fruit Salads. This selection of salads includes watermelon cut like stars and other fun combinations that take mere minutes to prepare. It also includes a list of fruit ideas for each color.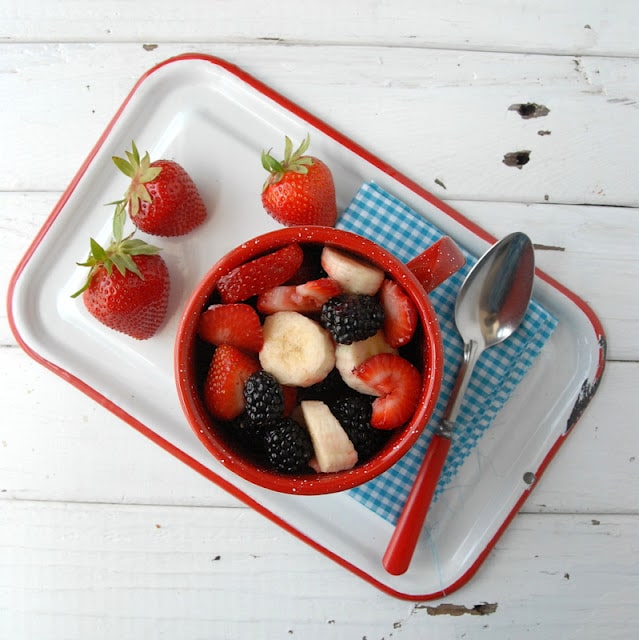 These dairy-free Patriotic Smoothie Popsicles are so fun to make! Using my favorite vintage style popscile mold with wooden sticks for an old school feel, an easy smoothie mix creates a fun layered dessert.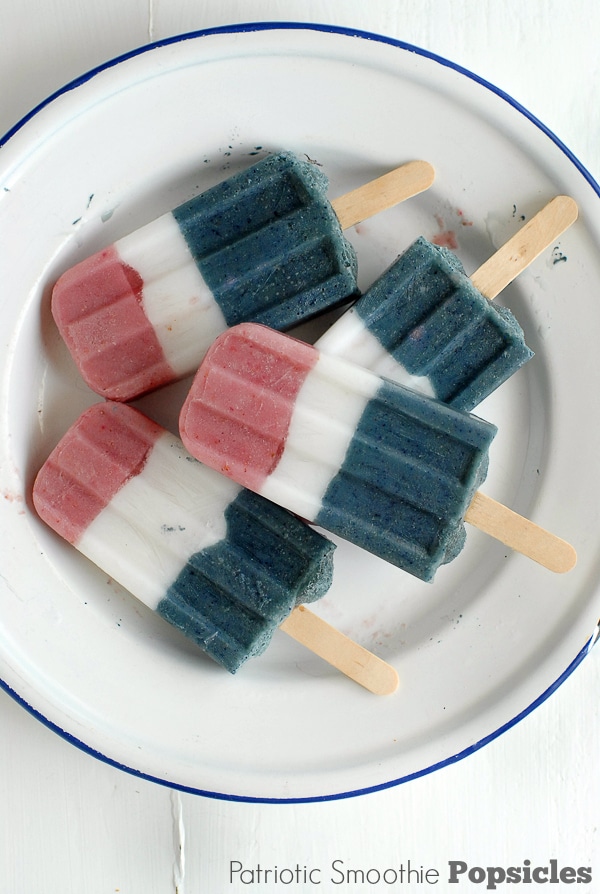 Beat the heat with Red White and Blue Sports Drink Rocket Popsicles! They are pretty and replace electrolytes lost on a hot 4th of July!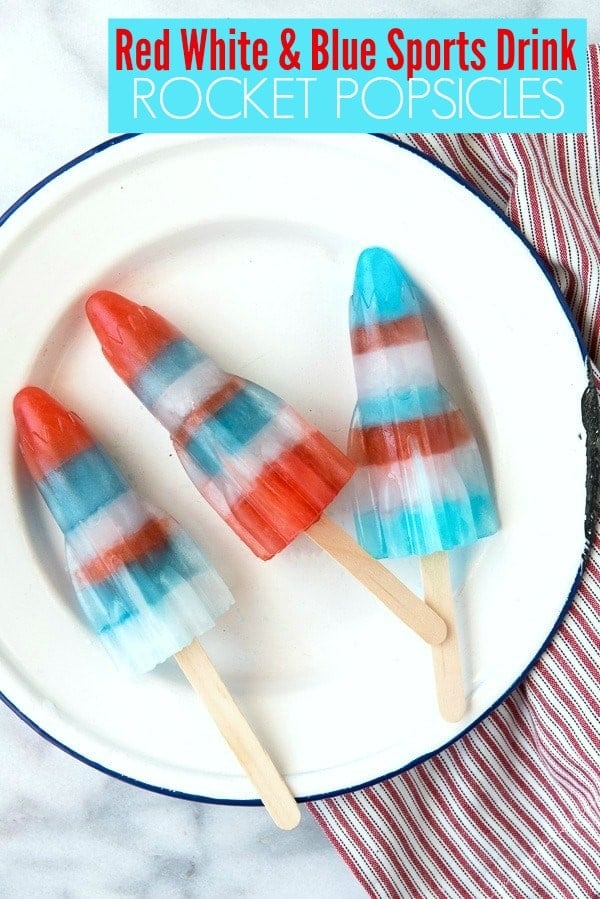 Fun and wacky Red White and Blue Cake is an easy box cake mix HACK anyone can do (can be gluten-free or gluten mix used). Step by step photos illustrate how to get a fun red white and blue pattern everyone will love. No two slices are the same.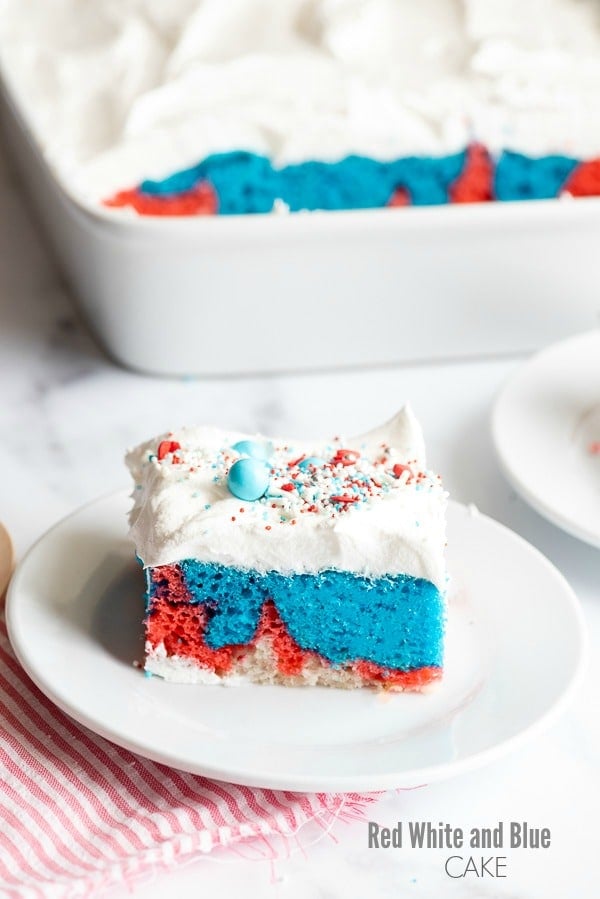 Jello isn't for kids and everyone will love this red, white and blue Star Spangled Layered Finger Jello. You can hold it with your hand or eat it with a fork! Refreshing for summer.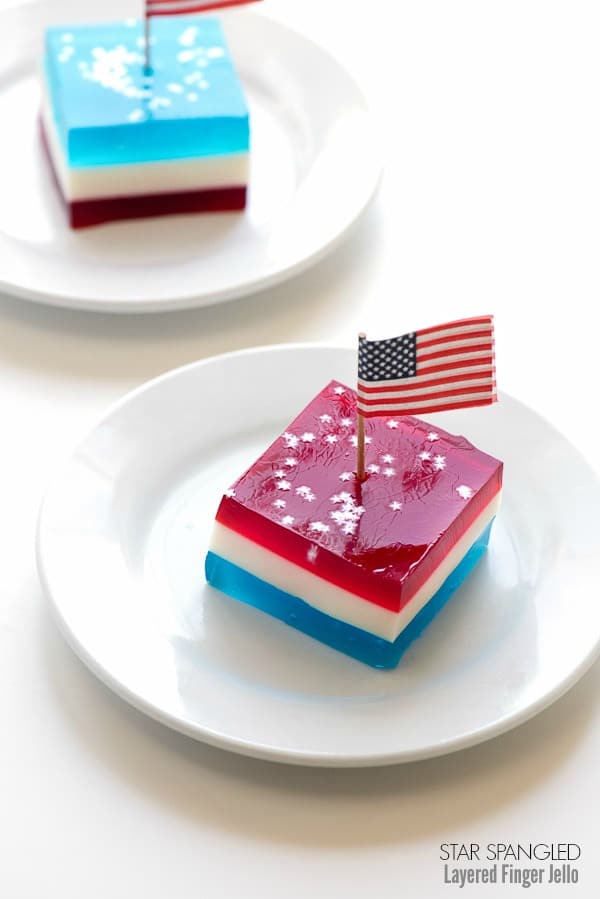 These fantastic red white and blue layered drinks are from blogging friend Katrina of In Katrina's Kitchen. Her blog is full of fantastic creations not to be missed!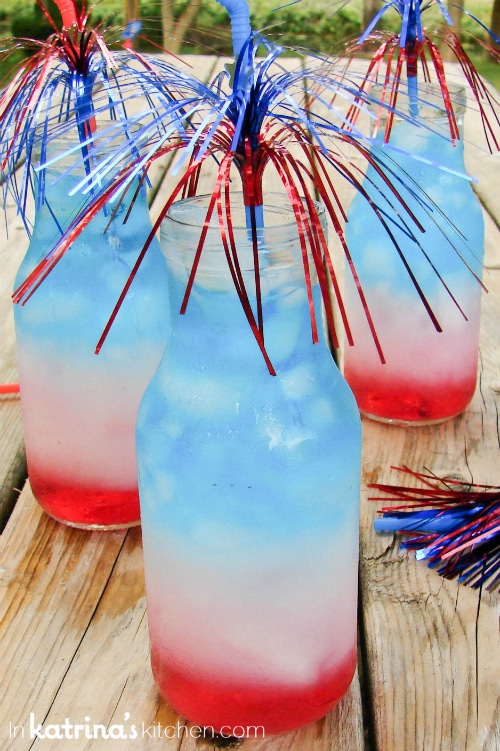 Another eye-catching treat for the holiday are these Triple Berry Smoothies from In Katrinia's Kitchen. What a fun way to start the day!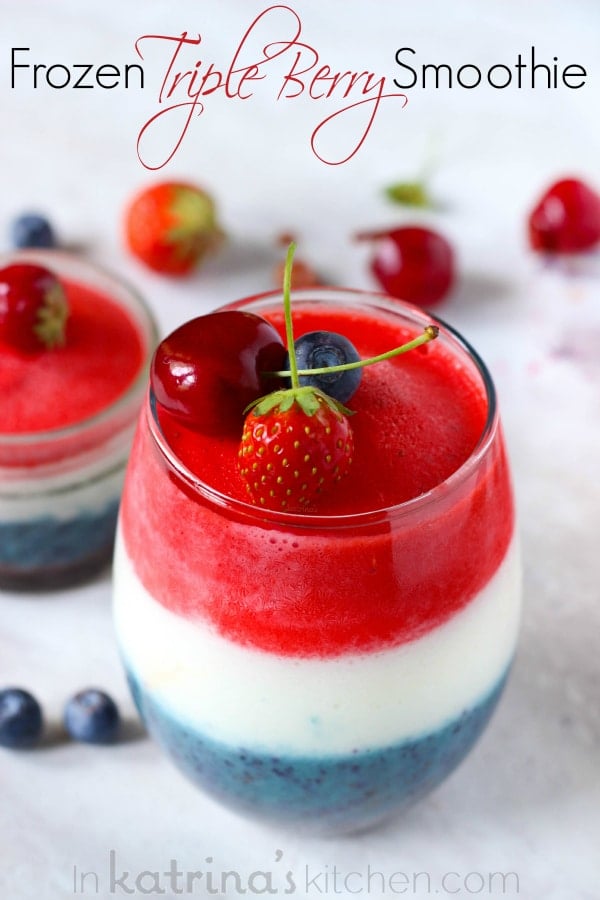 Sometimes the presentation is all that is needed to make a meal festive. I love these simply prepared fruit cones reminiscent of County Fairs. Easy instructions allow you to create a fun display of the healthiest patriotic food available.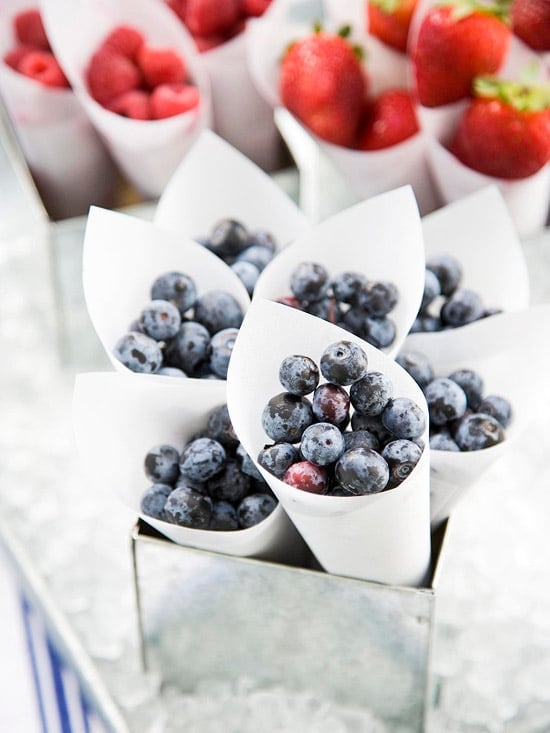 Festive red, white and blue serving caddies will make any table patriotic. A fun, easy craft from Better Homes and Gardens.