Olive Oil Ice Cream with Peach Ripple is a light and fruity ice cream recipe. This frozen treat tastes like summer! The olive oil adds a creamy texture and only the slightest hint of flavor that completely compliments the peaches in the best way.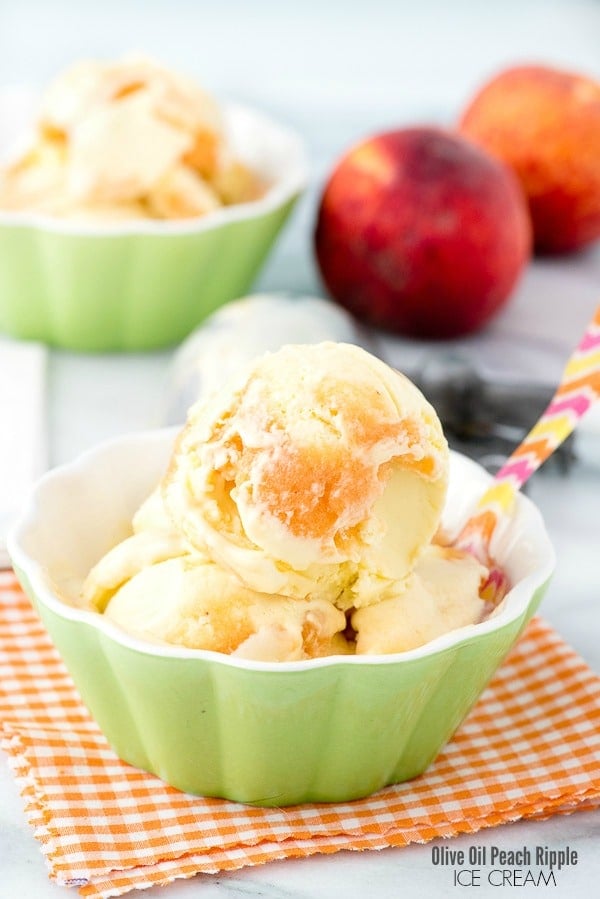 This delicious summertime recipe is sponsored by Sprouts. All opinions are my own.
Wait, wait, wait! I'm sure in reading Olive Oil Ice Cream with Peach Ripple you have your noses wrinkled and are about one nanosecond from closing this blog post to head over for something less scary like Best Hummingbird Cake or Taco Meatloaf. Before I share the back story, I want to say I think this may be the best ice cream I've ever made. Seriously.
When I first started Boulder Locavore it took me awhile to really hone down what to focus on. Originally if it had to do with food it was fair game to blog about. However, I realized I really loved creating unique recipes especially with seasonal ingredients.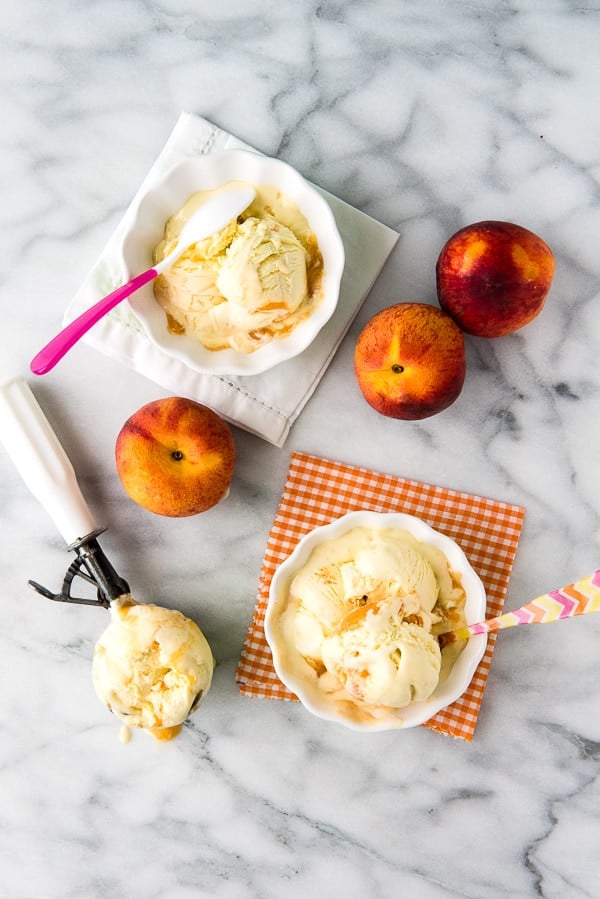 Before I landed there firmly I thought it would be super fun to try to make all the ice cream recipes in David Lebovitz's 'The Perfect Scoop'. I don't remember why but it just seemed fun. My expanding waistline eventually put the brakes on trying to do the whole book but what I learned in the meantime was how to make ice cream. It gave me a platform to begin to experiment with unusual ingredients always with great results.
Quality Olive Oil for the Best Olive Oil Ice Cream
When my friends at Sprouts Market contacted me asking if I'd like to work with them to create a recipe with their Sprouts Signature Olive Oil, I jumped at the chance, loving to find inspiration through an ingredient as I mentioned before. The first thing that popped to mind was to make Olive Oil Ice Cream, and being almost summer peaches seemed a fun thing to ripple through it. Thus Olive Oil Ice Cream with Peach Ripple was born. Trust me, you want to keep reading!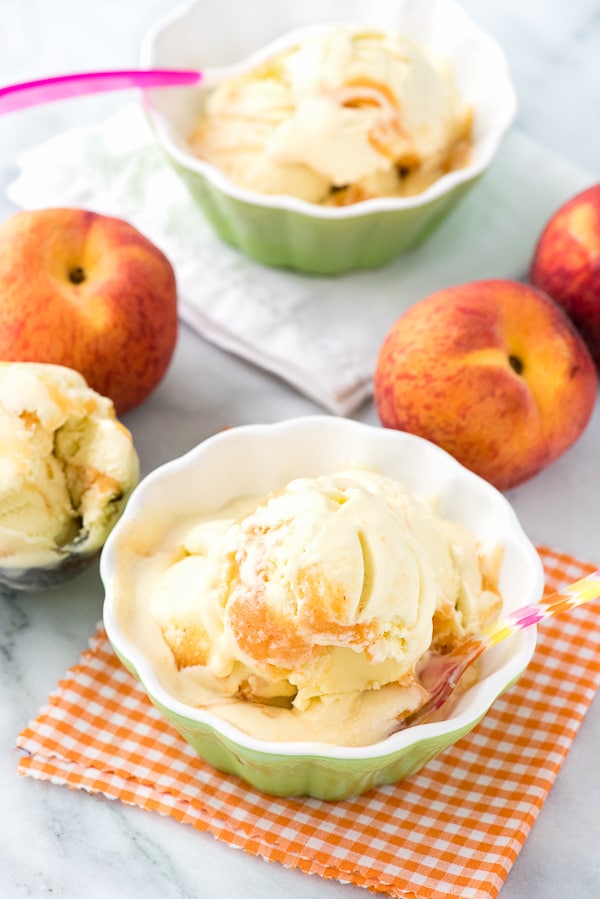 Having not tasted the olive oil, I was hoping it was a fruity variety (which it is!). Olive oil bears a range of flavors from very fruity to almost peppery with heavy olive taste. As you can imagine the latter would not be a great ice cream.
After making and tasting the olive oil ice cream base made with the Sprouts signature olive oil, I was over the moon. It truly was the best ice cream base I can recall making. The fruitiness of the olive oil almost makes it taste like peaches even before adding the ripple. Of course with that woven it, a favorite new summer dessert was born. Olive oil ice cream with peach ripple is creamy with flavors of vanilla, peach and a light note of olive oil that makes it interesting and fun!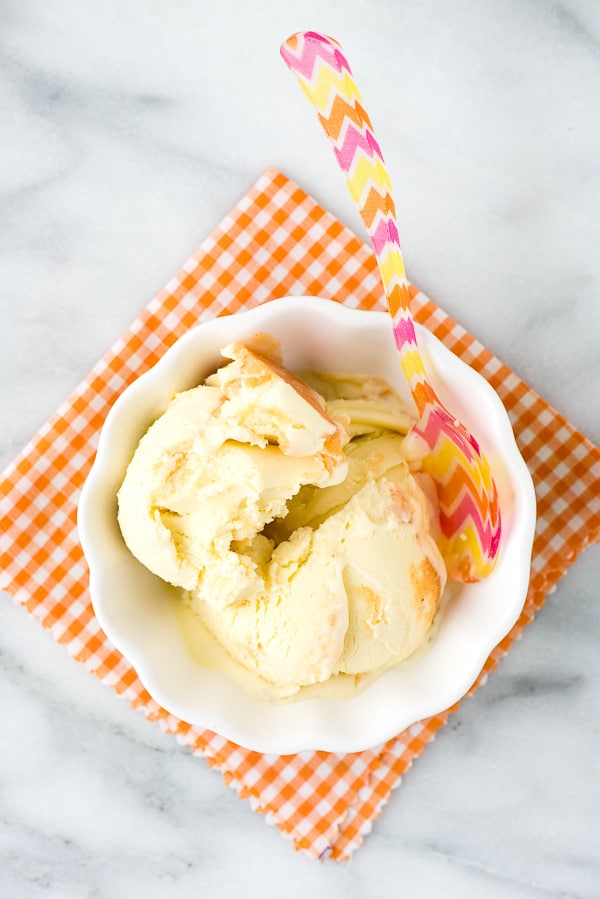 I'm often emailed about is what type of ice cream maker I use. I have had a Cuisinart 1 1/2 quart ice cream makerfor a number of years and love it! It is very simple to use.
Recipe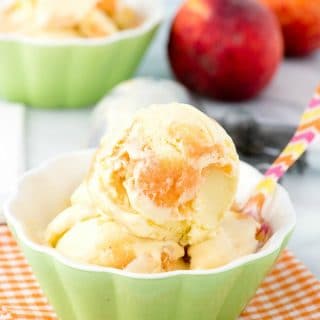 Olive Oil Ice Cream with Peach Ripple
This fruity ice cream tastes like summer. Using light flavored olive oil works best!
Print
Save Recipe
Recipe Saved!
Pin
Rate
Servings:
12
1/2 cup servings (1 1/2 quarts ice cream total)
Ingredients
Ingredients for Olive Oil Ice Cream:
1 ¼

cups

Heavy Whipping Cream

4

Egg Yolks

1 ½

cups

Whole Milk

½

cup

Granulated Sugar

Pinch Kosher Salt

½

cup

Sprouts Signature Extra Virgin Olive Oil
Ingredients for Peach Ripple:
1 ½

cups

peeled Peach slices

(frozen and thawed or fresh)

¼

cup

Granulated Sugar

1

teaspoon

Lemon Juice
Instructions
Instructions for Olive Oil Ice Cream:
Create an ice bath by adding ice to a large mixing bowl. Set a medium size heatproof mixing bowl inside the larger mixing bowl on top of the ice. Pour the cream into the medium mixing bowl and set a fine sieve/strainer on top of the bowl.

In another medium mixing bowl, whisk the egg yolks together.

In a medium saucepan combine the milk, sugar and salt. Heat over low to medium heat, stirring constantly just until the sugar dissolves (a few minutes).

Slowly pour the milk mixture into the egg yolks, whisking constantly to combine and to prevent the yolks from cooking. Return the mixture to the saucepan and place back on the stove over medium-low heat.

Stir the mixture constantly with a heatproof silicon spoon or spatula until it thickens and coats the spoon/spatula (approximately 10 minutes). Pour the mixture through the sieve allowing it to drain into the cream below. Scrape the inside of the sieve to force the mixture through and the outside to release any clinging to the sieve.

Vigorously whisk the olive oil into the cream until the mixture if fully combined. Allow the mixture to cool in the ice bath. Once cooled slightly, place into a jar or container, seal and place in the refrigerator until fully cooled or overnight.

Process the ice cream base through an ice cream maker per the manufacturer's instructions. It will still be soft when done.
Instructions for Peach Ripple:
Puree peaches, sugar and lemon juice in a blender or food processor. Allow to sit 10 minutes or until the sugar totally dissolves.
Assembling the Olive Oil Ice Cream with Peach Ripple:
After the ice cream has processed through the ice cream maker, drizzle some of the peach ripple into the bottom of a freezer safe container. Add some of the ice cream on top and layer again with a drizzle of peach ripple. Continue until the ice cream has all been transferred into the container and drizzle the top with peach ripple. Note: there may be extra peach ripple which can be used as a sauce over the ice cream or in other recipe such as a smoothie. Cover and place in the freezer to full freeze (a few hours or overnight). Extra peach ripple maybe be store sealed in the refrigerator for up to a week.
Nutrition
Calories:
258
kcal
|
Carbohydrates:
16
g
|
Protein:
2
g
|
Fat:
20
g
|
Saturated Fat:
8
g
|
Cholesterol:
102
mg
|
Sodium:
25
mg
|
Potassium:
101
mg
|
Fiber:
0
g
|
Sugar:
15
g
|
Vitamin A:
565
IU
|
Vitamin C:
1.6
mg
|
Calcium:
59
mg
|
Iron:
0.3
mg