Don't wait four years to try this citrusy gin martini Leap Year Cocktail. Any cocktail responsible for 'more marriage proposals than any other cocktail' has to be tried at least once!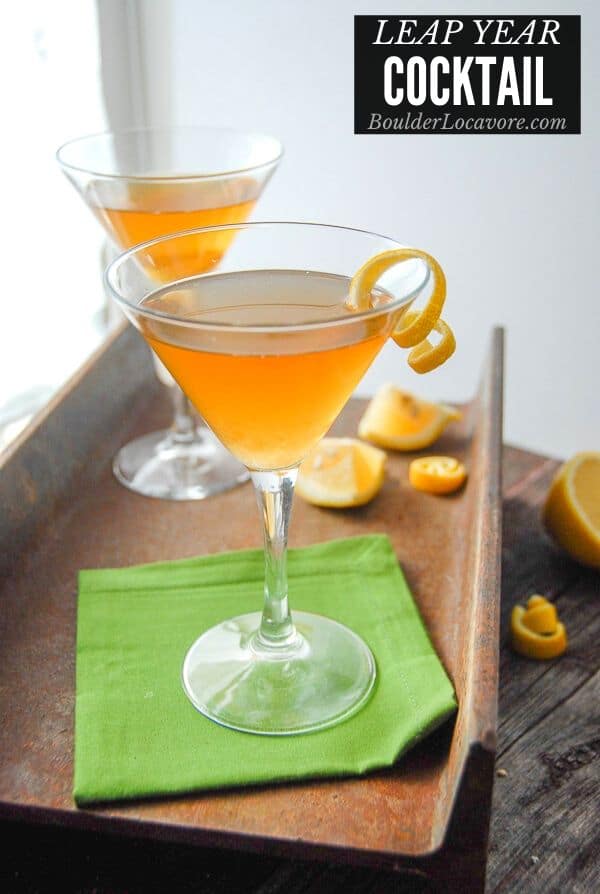 Once every four years Leap Year pops up with little fanfare for the rare February 29th.
There are several traditions, superstitions and beliefs about this extra day.
AND it turns out, a celebratory Leap Year cocktail!
This boozy gin sipper can be enjoyed anytime AND is supposedly responsible for numerous marriage proposals!
I am always interested in food customs surrounding holidays of all kinds.
Leap Year is not technically a holiday but frankly anything that only happens every four years must have some honorary 'cousin of a holiday' status at a minimum.
How did the Leap Year Tradition start?
The origins of Leap Year date back to ancient Egypt when it was discovered the solar and man made calendars did not line up.
The Romans instituted February 29 as a leap day.
Though that was fine tuned in the 16th century with the Gregorian calendar to be more formulaic establishing it every 4 years.
Why is it Called 'Leap Year'?
The reason it is called Leap Year has to do historically with English law not recognizing it as a legal day for business.
Therefore it is 'leapt over' with business transactions to occur on February 28 or March 1.
Leap Year Food and Drink
My first point of interest is always what the food customs are of a holiday.
In all my research I found there are definitely some social customs but really no special food for Leap Year.
There is however a special cocktail shared below.
Social Customs & Superstitions
In the British Isles it is like a matrimonial Sadie Hawkins day where women are 'allowed' to ask men to marry them.
Scotland
In Scotland, Queen Margaret instituted a fine for any man declining such a proposal by a woman.
A kiss, pair of gloves or a silk dress (I also read there may have been a large 'punishment').
I read something bleak about how it was a coveted day for women concerned they'd be 'left on the shelf'; ug.
In Scotland it's also considered bad luck for a child to be born on February 29.
Apparently they feel the same about Leap Year and livestock.
The Scottish proverb "Leap year was ne'er a good sheep year" says it all.
Greece
Supposedly in Greece it is seen to be bad luck to have a wedding in a Leap Year.
Italy
In Italy Leap Year superstition cautions not planning special activities or weddings.
With proverbs stating leap year is a 'doom year' (translated) claiming in the leap year women are 'erratic'.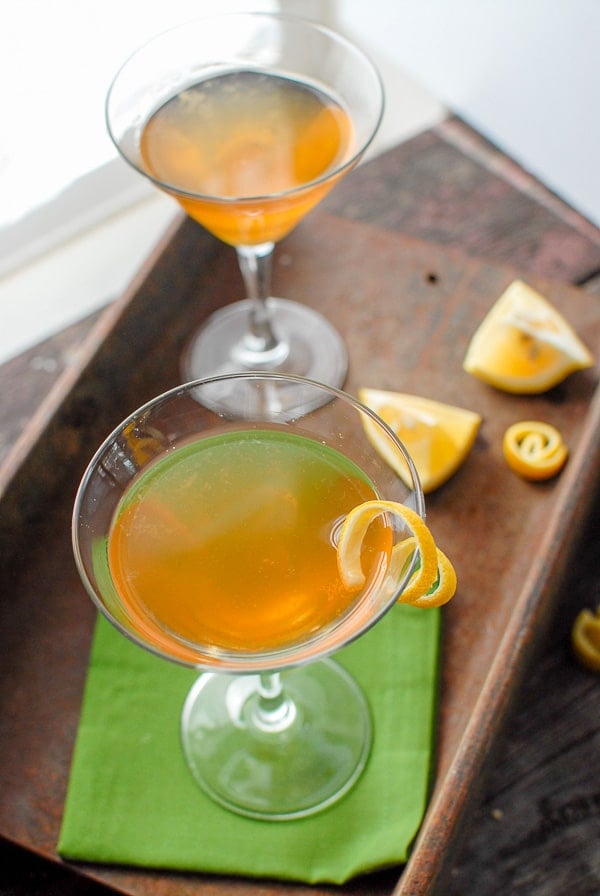 February 19th Birthday Club
If you were fortunate to be born on February 29th you'll want to join the Honor Society of Leap Year Babies.
Leap baby Raenell Dawn started a birthday club that now has over 11,000 online members.
You'll find loads of information and activities on the website along with Raenell's chronicling of her Leap Birthdays.
Leap Year Cocktail
Despite not uncovering any food customs, I did find a cocktail.
It originates back to Harry Craddock who was the bartender at the famous Savoy Hotel in London.
He is said to have developed this cocktail for a Leap Year celebration in 1928.
"It is said to have been responsible for more proposals than any other cocktail that has ever been mixed" – The Savoy Cocktail Book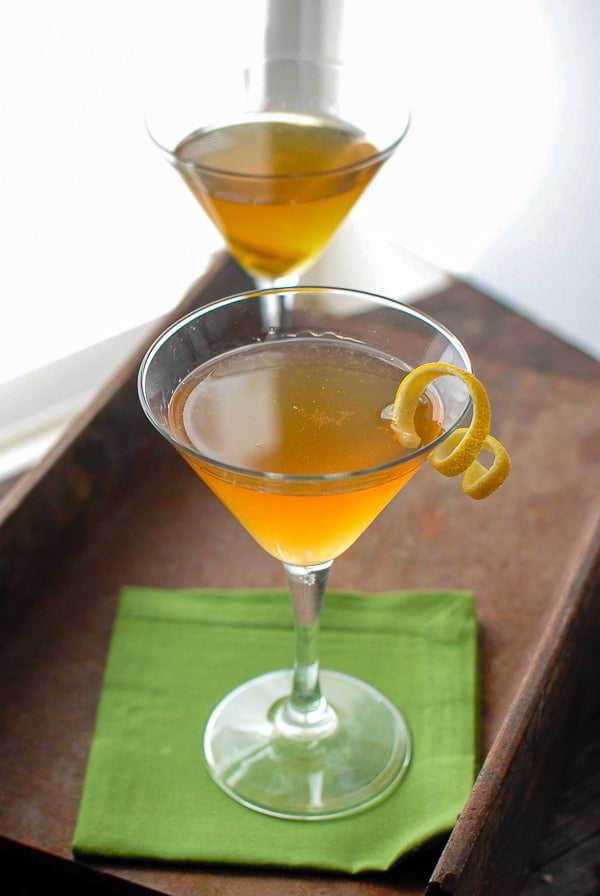 Gin Martini Cocktail ingredients
Gin
Grand Marnier (orange liqueur)
Sweet Vermouth
Lemon Juice
Use Fresh Lemon Juice
The flavor of fresh lemon juice IS different than bottled lemon juice.
It's worth a few minutes to squeeze half a lemon for the 'dash' needed.
I use a hand held lemon juicer typically though for the amount needed hand squeezing will work too.
Perfect Cocktail Garnish: Lemon Spirals
The original cocktail recipe calls for a squeeze of lemon peel on top of the cocktail.
My favorite cocktail garnish, both for looks and for that squeeze are Lemon Spirals.
They are easy to make, always pack a visual punch and are perfect to squeeze.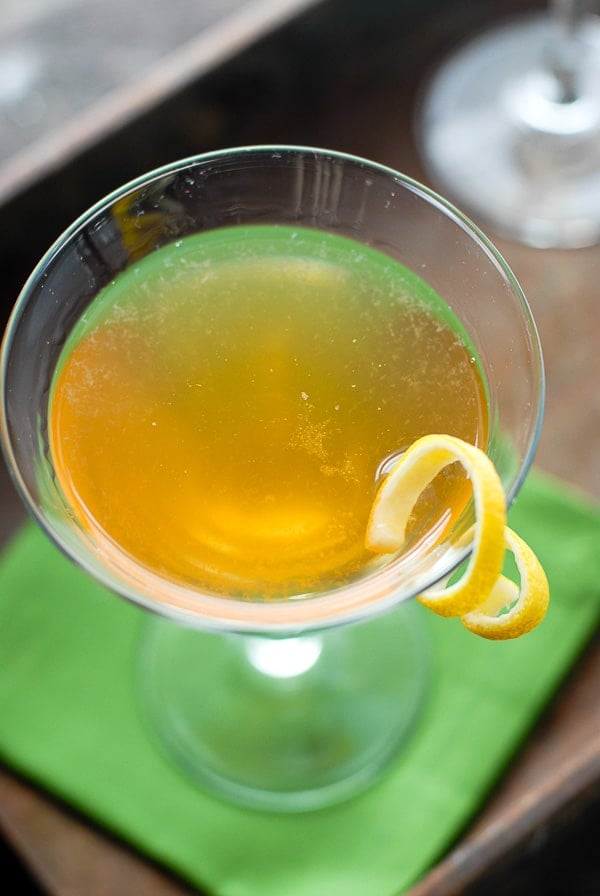 Did you make it? Please RATE THE RECIPE below!
Please SUBSCRIBE and FOLLOW ME on FACEBOOK , TWITTER , INSTAGRAM and PINTEREST !
Recipe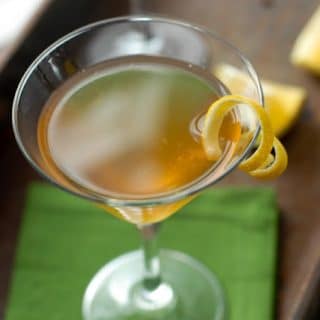 Leap Year cocktail
One should approach this cocktail slowly like a large, stealthy wild cat stalking the only prey it's seen for weeks. Pounce too quickly and you'll be sorry. Think of this as a brightly flavored martini, not to be taken lightly; lest you be knocked out until the Leap Year! It's very tasty….and forte!
Print
Save Recipe
Recipe Saved!
Pin
Rate
Ingredients
2

ounces

Gin

½

ounce

Grand Marnier

½

ounce

Sweet Vermouth

¼

ounce

freshly squeezed lemon juice

Garnish: Lemon spiral
Instructions
Combine all ingredients in a shaker with ice.

Shake, and pour into a chilled cocktail glass.
Notes
Adapted from Harry Craddock's 'The Savoy Cocktail Book'.
Nutrition
Calories:
188
kcal
|
Carbohydrates:
6
g
|
Protein:
1
g
|
Fat:
1
g
|
Saturated Fat:
1
g
|
Sodium:
2
mg
|
Sugar:
5
g
|
Vitamin C:
3
mg
This citrusy Gin Martini is perfect to celebrate February 29th or any other day!
Originally published: February 29, 2012