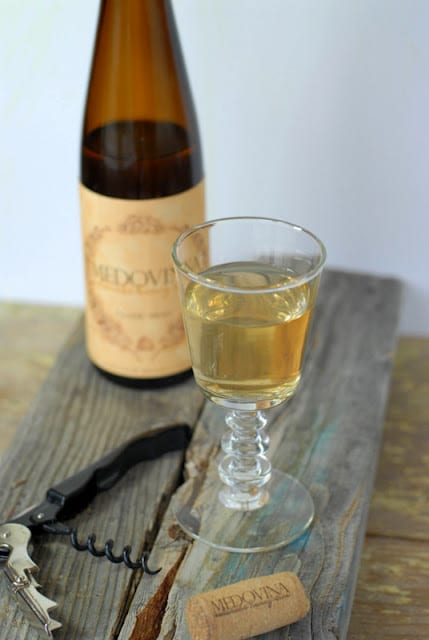 Admittedly when hearing references to mead (honey wine) in the past I immediately imagined guys in medieval garb slugging it down at a pub you'd imagine from a historical movie set.

Turns out I'm not totally off the mark as it dates back to 7000 BC.

It is said it was Aristotle's favorite beverage.
Fortunately for me I did not need to seek a local Renaissance Faire to learn more.

A mutual friend introduced me to Mark Beran of Medovina, a local mead craft vintner.

Mark is an equally passionate bee keeper so he is involved with all aspects of the mead process start to finish.

I had the opportunity to visit him in Niwot Colorado, to see his property and operation.

It was nothing less than fascinating.
Mark is a deep thinker; it's apparent in any topic you might broach.

He does not skim the intellectual surface of things but rather applies warm, thoughtful wisdom to everything he touches.

This ex engineer-cum surfer-cum bee keeper has a gift which was apparent in our chat about bees.

He seems to have a magical knack of falling into new sources of bee colonies.

When other beekeepers are struggling to keep colonies going, Mark is happening into rogue swarms needing a home.

He is a true ambassador for bees and frankly I think they know it.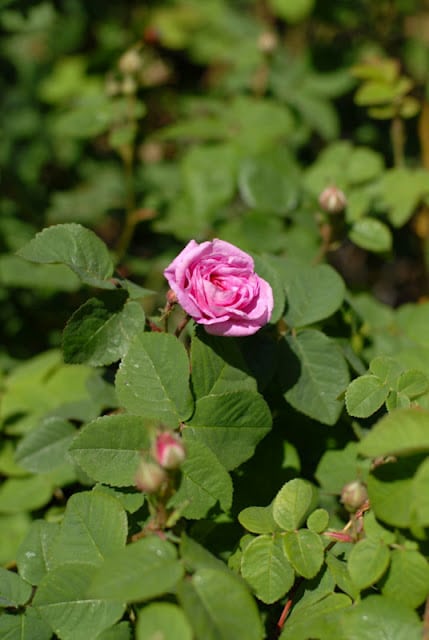 Mark is located in a beautiful established neighborhood in Niwot full of towering trees and sprawling vegetation making it clear it has been there awhile.

He has rambling rose bushes which bloom a few weeks of the year when Mark makes quick work of gathering petals for one variety of his mead.

You can also find raspberry bushes there where in the mid summer berries are gathered for another variety of Mead.

The bees love these bushes and were happily pollinating when I visited.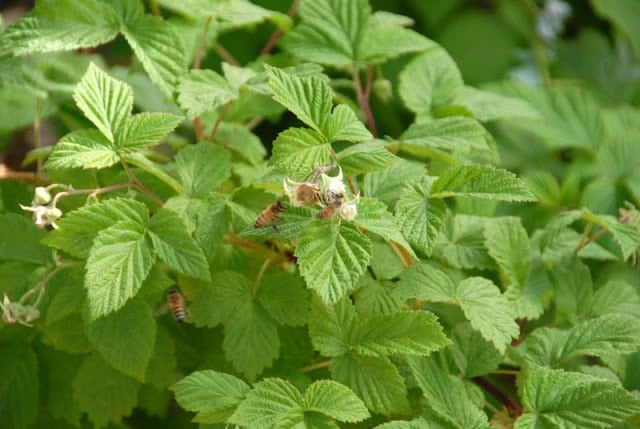 Sheepishly I must admit, though I too learned about bees in elementary school and know about pollination, it was not until a few years ago when speaking to a farmer about the mysterious hive collapse phenomenon across the U.S. that is hit me like a ton of bricks that these creatures are the backbone of agriculture. Without bees pollinating everything there would be no crops. None. At all. It gave me a totally new appreciation for them.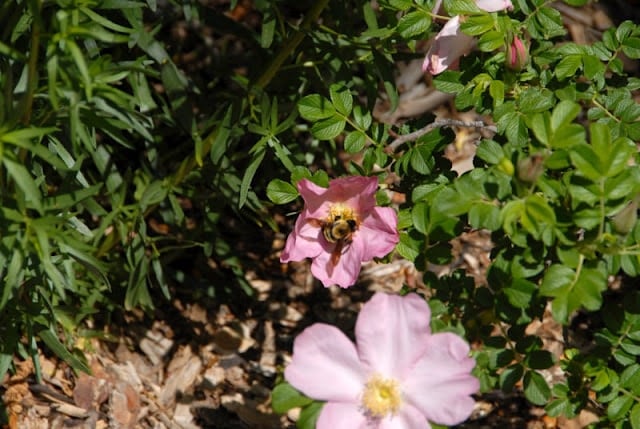 The notably larger Bumble Bee is a totally different species, a solitary underground dweller, and an indicator of a fertile eco system
Mark houses several hives both on his property and other areas around Boulder County.

Each location bears different plants in the environment which all in turn flavor the honey differently.

Even on the opposite sides of Mark's base property he notices a taste difference.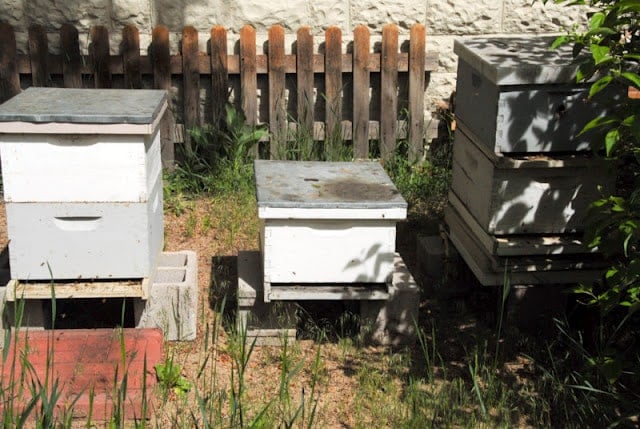 When looking through my pages and pages of notes, all meaty with information, trying to decide what points to relate it struck me how deeply Mark is dedicated to his craft of bee keeping.

Everything he shared was substantial.

Here are merely some highlights that attracted my attention in particular:
·
Bees will travel up to 3 miles for pollen though generally only fly as far are required to meet their needs
·
When identifying a nectar source, a bee will return to communicate with the hive about its location through a circular dance performed on an axis denoting the angle from the hive the source can be found.

The number of turns in the dance denotes the distance.
·
Bees use a magnetic field for navigation.
·
(This made me take note feeling some humans might learn from this…)

A bee's behavior is only about the colony.

Though having individual and specific jobs, all their efforts are to support the community of the colony never about the individual bee.

The colony is a living organism.
Mark related a story of finding two fighting queen bees.

One was an older queen who'd run an established colony for him.

The other a new girl on the scene he had purchased for $50 who had basically dethroned the elder.

He knew the elder would not be able to rule the roost with the young blood afoot.

Mark held the elder queen bee in his hand, contemplating her fate, as she walked around on his open palm.

We the listening audience felt sure she was going to sting him, determining her own fate as bees die once they have stung a human (their stingers are build to sting other insects; their stinger gets stuck in our skin, pulling it out, killing the bee).

The queen then did the most miraculous thing you would not even find on Animal Planet; she began to lay eggs in his hand.

Mark took this for the determining sign it was and built a new colony just for her.

This solved the problem and both colonies have now flourished.

(The guy is a 'Bee Whisperer', I'm sure of it.)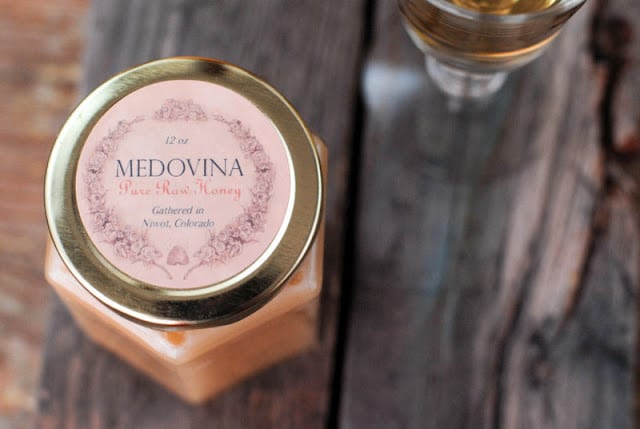 Some of Medovina's whipped honey I purchased last fall along with honey filled truffles!
With a robust appreciation for all bees do and how they conduct themselves, we turned focus to the making of the mead.

On his property Mark has a lovely building dedicated to making mead and hosting tastings.

We began in his elegant tasting kitchen viewing a fabulous labeling machine he'd made from surf rack parts and other odds and ends.

It ingeniously places the wine labels on the bottles in precise fashion and cost him about $50 to make (vs. several thousand to purchase something comparable).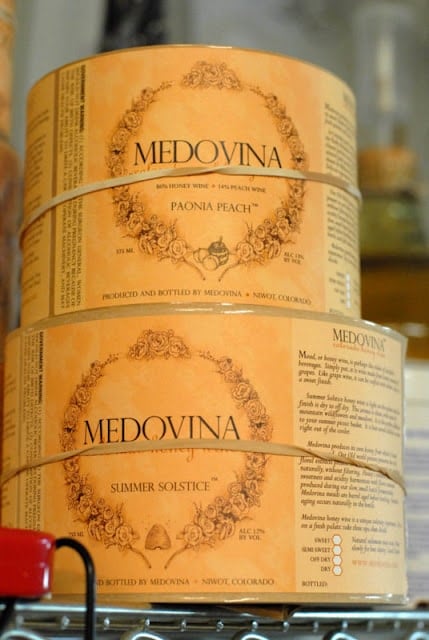 We made our way into the small, neat meadery.

Mead is best made slow and cold.

It takes about one year to be ready (

the

fastest it can be made is 2-3 months).

Mark harvests the honey once a year as well.
The process is simple (not implying it is not artful as well).

Warm water is mixed with the honey (which is about 40% sugar).

Yeast is added which begins to digest the sugar thus causing fermentation.

The byproduct of this is alcohol and carbon dioxide (this is let out through special tops on the fermenting bottles).

Mead is somewhat silty and the sediment eventually settles leaving a slightly hazy, amber wine.

Mark

bottles his different varieties, corks them on site and covers the cork with a layer of beeswax (which he applies with a modified hot glue gun,

using gathered beeswax he makes into cylinders).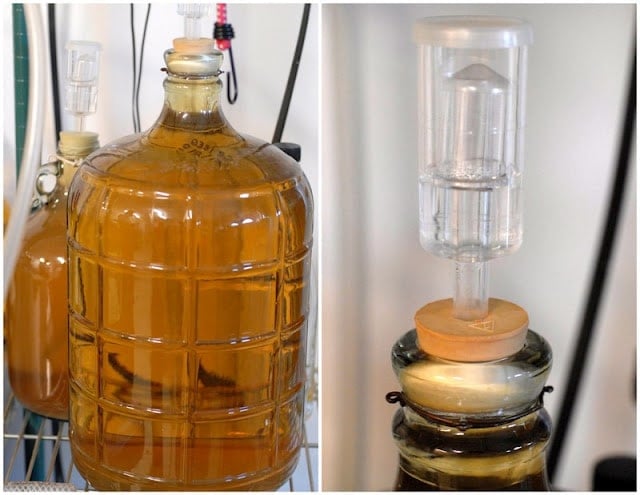 Fermenting mead produces carbon dioxide which is released by this special bottle top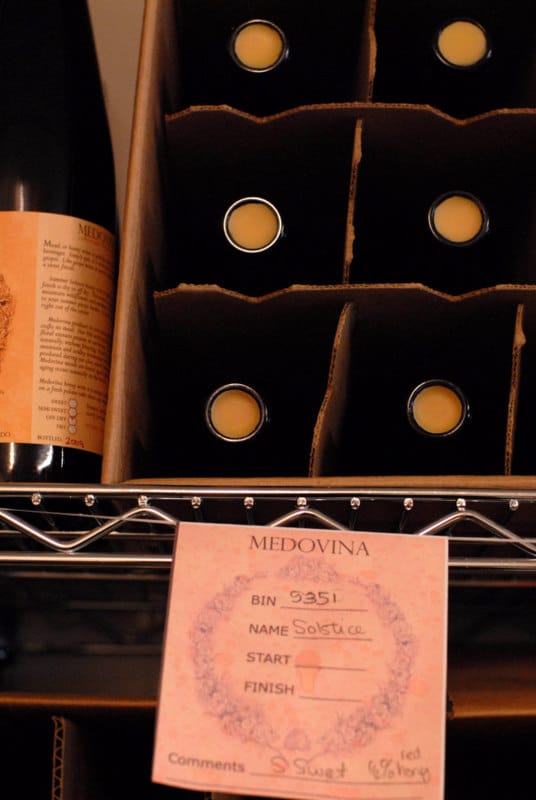 I was humbled by Mark's vast information and will certainly represent this post as merely a speck on the tip of the iceberg (please check his website Medovina.com for extensive information about bee keeping, mead and other sustainability/green topics).

I asked if he had any key messages to impart.

First he prompted 'when thinking of sustainability, think of 'drinking local'.

Most sustainability focus is on agriculture and bee keeping practices are organic.

He added bee keeping is a practice which can be done locally anywhere in the world.
He also noted bees are in a critical situation, totally man made and needing attention.

Pollution and poor nutrition are causing a decline in beekeeping and honey production.
While spending time with Mark, amongst his bees, I realized a most curious personal transformation.

I've never been afraid of bees (though I think most humans bear a tinge of angst at the stinging potential) but Mark emanates such a calm ease while surrounded with them, it really rubs off.

I walked away feeling a heightened sense of community with

the bees

, and as though I know and respect them more at a higher level.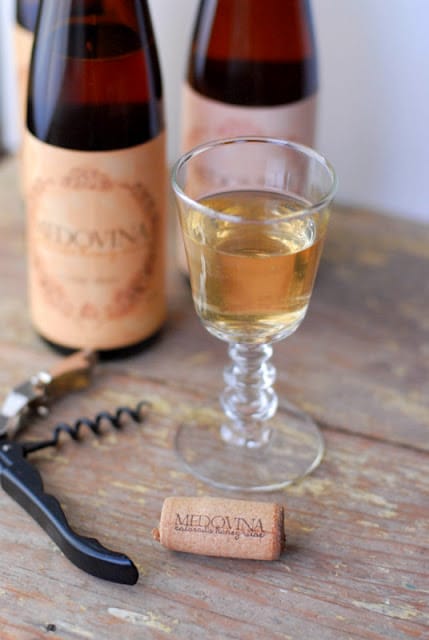 Mark's mead can be purchased the Boulder Farmer's Market as well as a number of other locations in Colorado. You can access locations on his website (These are the locations where the Mead is sold.).