Once again we can thank the ownership team of the famed The Kitchen Café restaurant for pioneering the latest in Farm-to-Table dining to meet the next generation of demand; fast and affordable.

All done while upholding the highest in ingredient quality, keeping it local and sustainable, contributing profits to building school gardens, and housed in the relaxed, hip environ we've loved about the original restaurant.

Meet The Kitchen [Next Door].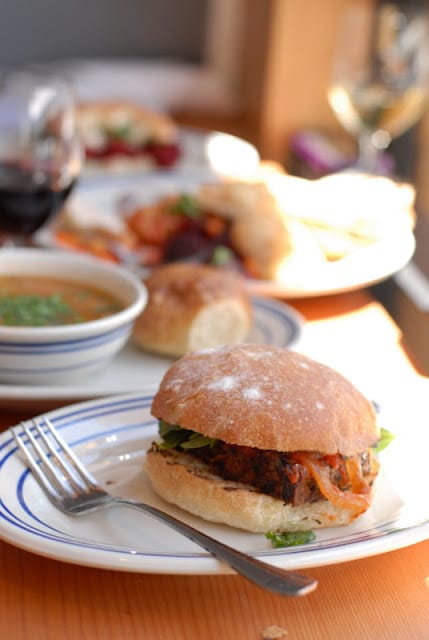 There are not many locals or frankly food-schooled visitors to Boulder who have not eaten at The Kitchen Cafe.

Owners Hugo Matheson and Kimbal Musk have put their personal signature not only on Farm-to-Table dining in our area but into the food community, cultivating more deeply rooted relationships with food purveyors and with food programs allowing children to learn more about their food while growing

it

at

their schools.

Both restaurants offer a warmly minimalistic aesthetic, simple food that is creative and contemporary and the feeling that you belong.
The Kitchen [Next Door] is their latest brainchild and is housed next door to the original restaurant to the west on Pearl Street in Boulder.

Their concept has three goals, Kimbal Musk shared with me: 1) Keeping the price reasonable (all dishes will be under $9), 2) Making it fast, 3) Focus on ingredient conscientiousness with all Colorado ingredients year round.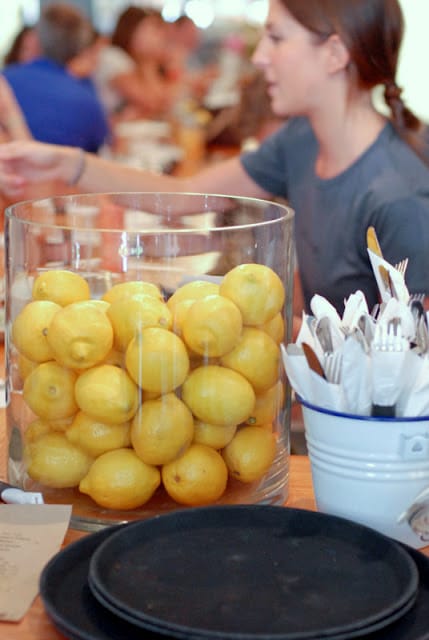 A large part of the appeal of both restaurants is the focus on local sourcing.

They don't just buy from local farms; they are truly friends of local farms.

I know this from their involvement with my CSA farm, Cure Organic Farm (who I found originally through The Kitchen Cafe).

In speaking with Kimbal it was clear they 'get it'; they are creating a community system to develop local, sustainable sourcing.

An example of this Kimbal shared is they are working with Monroe Farm (another personal favorite) to root cellar beets which will allow they can source them locally all year round from Colorado.

Though some of the produce The Kitchen [Next Door] uses in the deep winter will have to come from out of state, Kimball believes within a few years the green housing efforts local farms are pursuing will allow year round Colorado local sourcing.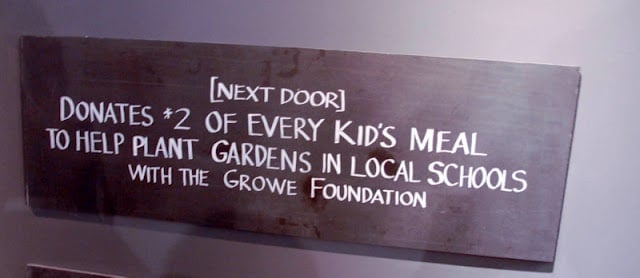 Before getting into the food I must comment on the restaurant's construction and aesthetic.

Regular patrons of The Kitchen Café will not be surprised at the depth of thought going into all the construction and appointments at the hand of Jen Lewin, Kimbal's wife.

The front of the restaurant faces Pearl Street to the south and is made entirely of large, reclaimed windows on Jen's specifically designed pulley system allowing them to open fully.

My party sat at a wood bar facing the windows and the street able to catch a beautiful breeze and people watch (though really we were so obsessed with the food did not do a lot other than 'food watch').

Directly on the street is a second outside dining bar allowing urban-chic street dining.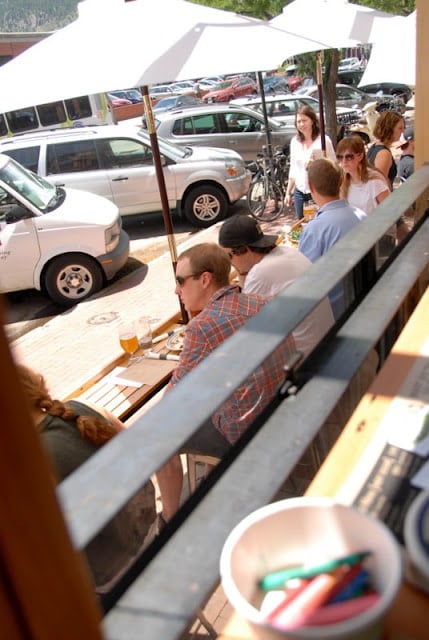 The restaurant is decorated in French Industrial Modern style.

A signature Community Table right in front, as has punctuating the dining scene at its sister restaurant.

All the wood tables, and bar surfaces have been made by local crafts people.

The windows and light fixtures are reclaimed.

The dark stained wood floors are all made of pine beetle 'kill' reclaimed tress (LOVE that!).

It blends together producing a totally chic, sleek, dining hotspot.

It's a place you want to hang out.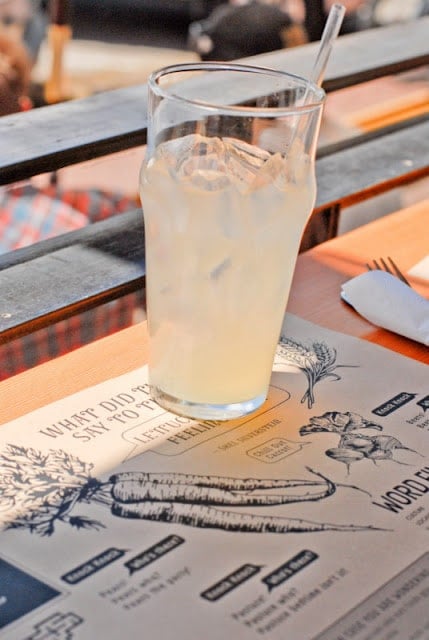 The menu is simple and straight forward.

It has flare, no question, but presents earnest food only such good, simple ingredients combined can offer.

It's all flavor.

Realizing one highlight of their new concept will appeal to families with children unwilling to wait the duration at a regular restaurant (but not wanting to sacrifice quality of food) they've considered the Kid's Menu avoiding traditional white pasta, Mac and Cheese, and hot dog type fare.

Their Lunch Box for Kid's is a rustic meal with beautiful ham from John Long, cheese, carrot and celery sticks.

Simple and approachable.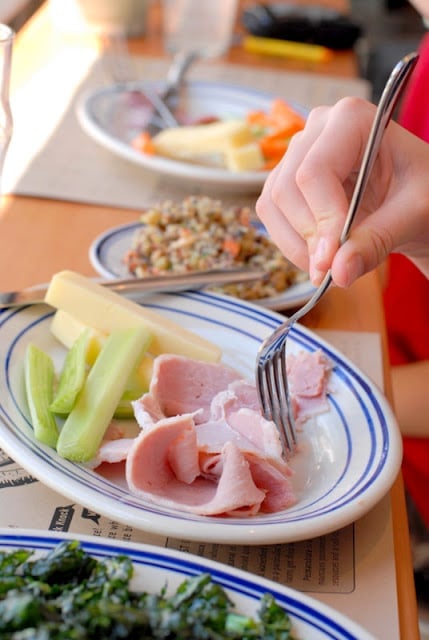 They've put attention to integrating aspects fun for kids without sacrificing the more hip sophistication of the restaurant.

The kid's menu has many fun activities including a word search featuring words like 'Farmer' and 'Locavore' (spoke to me certainly).

They have created vegetable mustache stickers (which also can be purchased for a small donation going to the local Growe Foundation with whom they work intimately to deliver Farm-to-Table garden programs in local schools).

The most innovative is the installment of a massive magnetic wall at the back of the restaurant sporting extra large vegetable magnets allowing kids and adults alike the artistic opportunity to create visually edible art for fun or while waiting for the

loo

.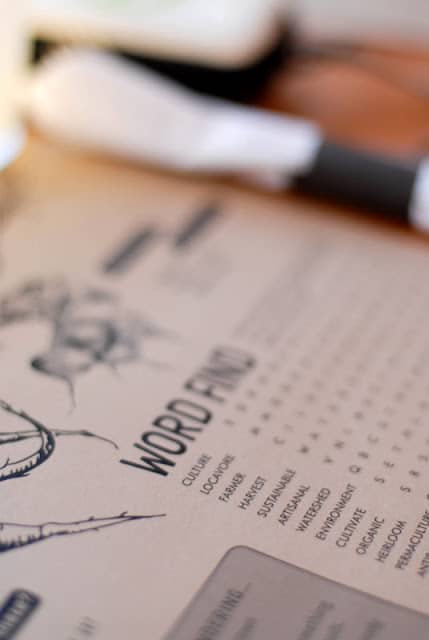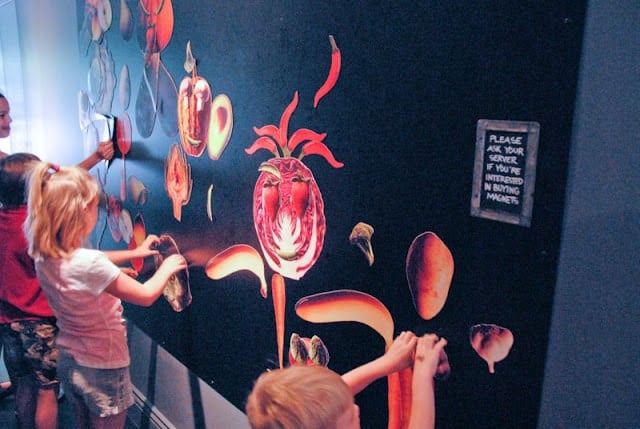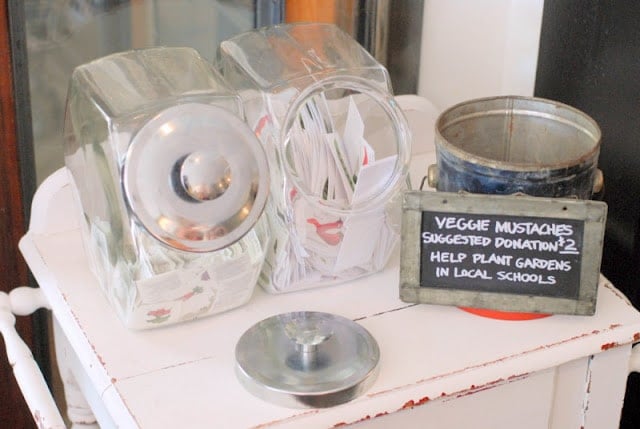 All wine and beer is served on tap.

The beer selections are all local.

There is no plastic, glass or aluminum that will be served at this restaurant.

Being an ex- Northern Californian with a penchant for poking around small vineyards (now replaced by local farms) I was fascinated at the methods they've innovated for their wine supply.

Large recyclable casks have been developed in which their wines (4 white and 4 red selections) will be shipped from the Napa winemaker to the restaurant.

The wine is on tap so once the cask is empty it will be shipped back for refilling.

Simply brilliant.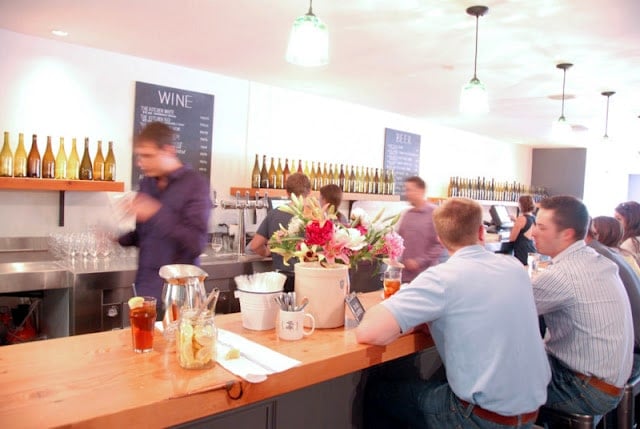 My maiden voyage to The Kitchen [Next Door] was over lunch.

I enjoyed a beautiful, fresh Salmon Salad (arugula, lemon dressing, marinated beans) that was perfectly satisfying on this warm, balmy day.

Our party also enjoyed the Kale Chips and a side of Quinoa (full of golden raisins, carrot and cashews I think).

The food arrived promptly though we never felt rushed. We all commented on how the restaurant upheld their commitment to get the food to us quickly though we did not want to eat quickly in the slightest.

Instead we could imagine whiling away the afternoon in front of the soft breezy window watching the world go by outside.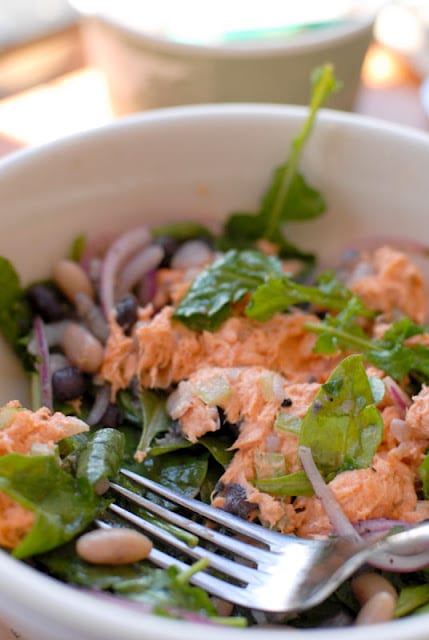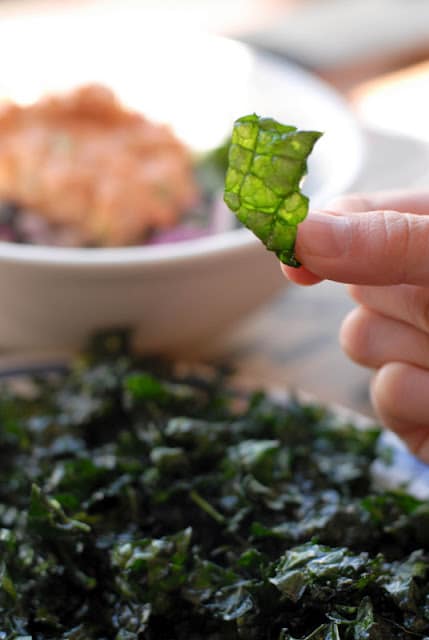 We capped the meal with Chocolate Mousse and coffee feeling everything was no less than perfect. The Kitchen [Next Door] surpasses all its stated goals by my report. I can say unequivocally that these people are inspired. A restaurant with such strong heart and intent, down to every last detail delivered with such ease, cannot miss the mark. I believe they have put a food on the path of a new dining experience that is sure to catch on and spread. Bravo.