Strawberry buttercream made with fresh strawberries is the shining star on top of fluffy gluten free pink velvet cupcakes. This cupcake recipe makes a perfect Valentine's Day treat. It's a delicious chocolate and strawberry dessert!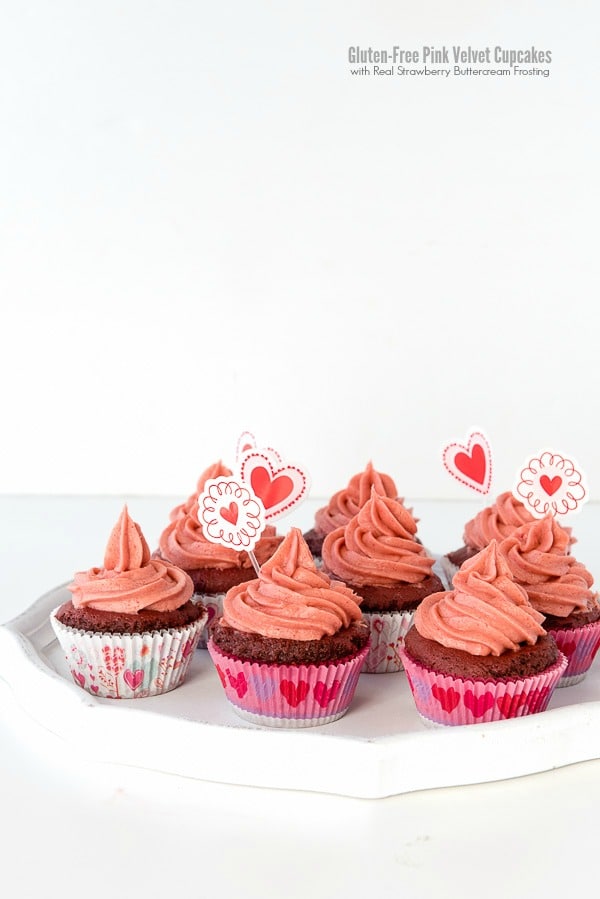 Woo hoo! I'm so ready for a long weekend, how about you? And what a fun weekend it will be with Valentine's Day in the mix. Being Sunday, it's a perfect opportunity for a nice brunch and you should definitely make the Blood Orange Mimosas I shared this week (or if you are Bloody Mary person, I can help you with that too). Are you doing anything special for Valentine's Day?
My week has been crazy with school conferences, and speaking at a local conference which I loved. I was able to meet a number of people I've worked with online fore.v.e.r. and have never met live! I told one of them it was like finally meeting a pen-pal at you are assigned in school. We've had a beautiful sunny week though not warm enough for the snow to melt so it's still wintery.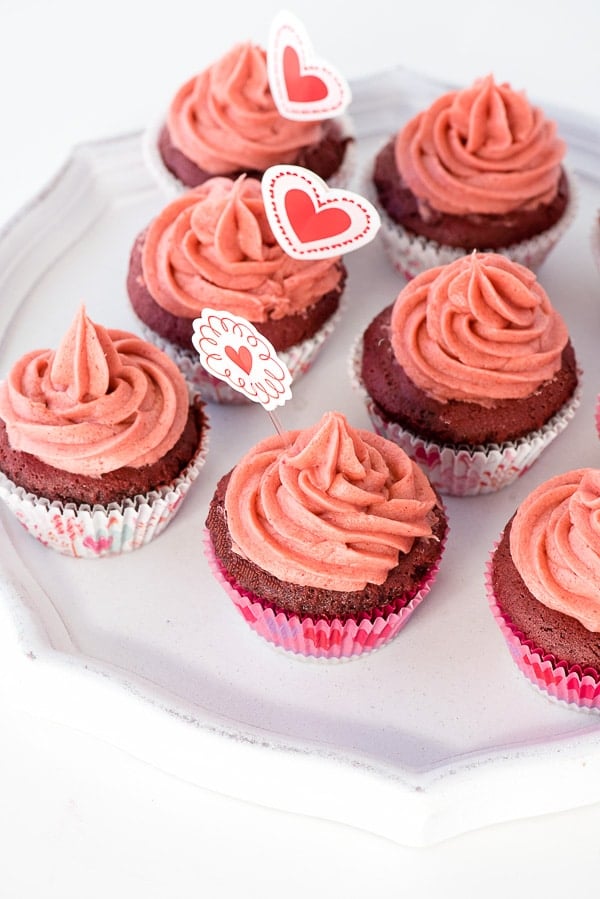 Can we talk cupcakes? People love cupcakes it seems. One of my biggest Pinterest boards is for Cupcake Recipes. The board has over 1,100 cupcake recipes pinned on it! Crazy? And it gets more followers every day. You should follow it too. You'll never run out of inspiration!
I had to share just one more Valentine treat before the holiday: Pink Velvet Cupcakes (gluten-free) with Fresh Strawberry Buttercream Frosting. Before I talk about them I have a confession to make though. Is it really bad that I'm more excited about the return of The Walking Dead starting on Valentine's Day than I am about the holiday itself? Don't judge. If you too are excited you'll want to make these Mutilated Zombie Cupcakes I shared at Halloween, really for the start of 'TWD'(cool kid abbreviation for The Walking Dead) season.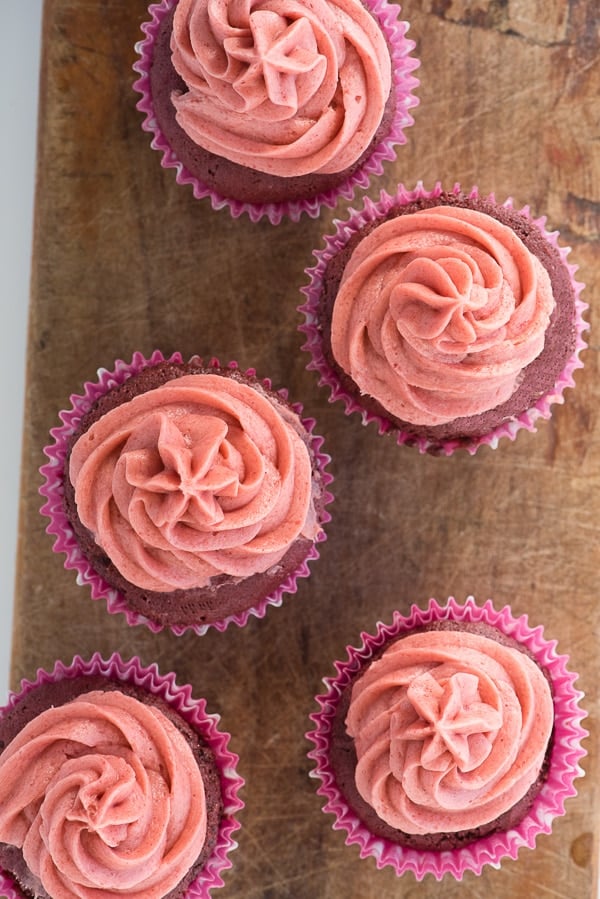 How to Make Pink Velvet Cupcakes:
Okay, back to Valentine's Day. I've loved creating from-scratch gluten-free recipes for cupcakes. It's not an easy peasy process I'll share. Between all the types of gluten-free flours and baking at altitude, it's a challenge. This cupcake is essentially a red velvet recipe turned pink. I'm always intrigued when people talk about really not liking red velvet cake. Red Velvet is a chocolate cake really dyed red. It's a mix of melted chocolate and Dutch powdered chocolate but it tastes great to me. I used a Wilton Rose color to make the pink color deep, almost purple. Of course being a chocolate cupcake, the food coloring doesn't make it a pretty-pretty-princess pink; more a deep, passionate I-love-you-til-the-end-of-time magenta pink.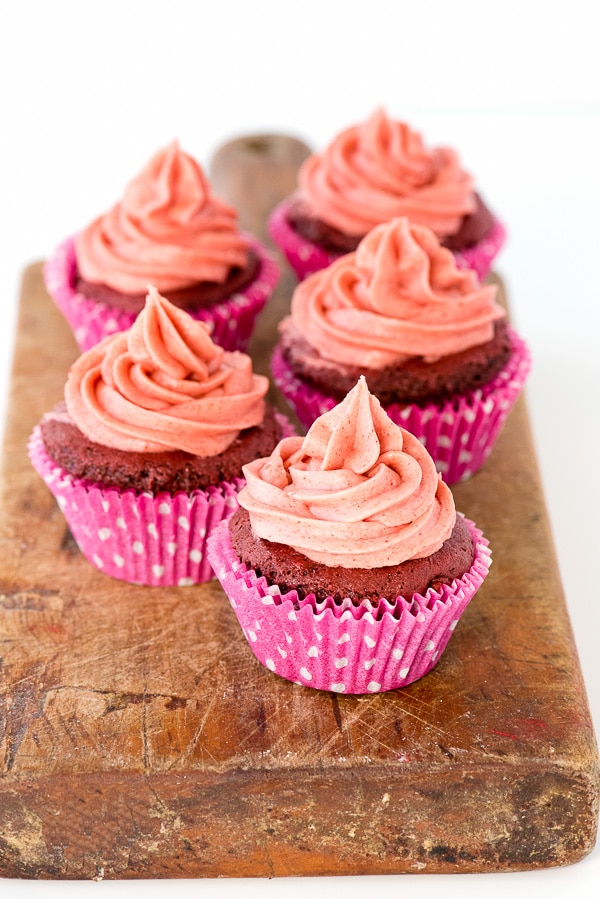 How to Make Strawberry Buttercream
However, this real strawberry buttercream frosting is to die for.
It is naturally colored pink from the real strawberries (sort of a salmony pink).
I honestly will tell you this may be my favorite frosting I've ever tasted in my entire life. I'm not a huge buttercream frosting fan when buying cakes because it can be stiff and way too sweet for me. This frosting is made with a homemade strawberry puree that's super easy to make.
The frosting tastes like a slightly buttery flavored strawberry jam. It's irresistible.
These cupcakes will be great all year round not just for Valentine's Day. If you make them you have to tell me what you think, especially the frosting! I hope you'll be as nuts about it as I am!
Sending you all lots of love on Sunday! I appreciate you all every single day! xo