DIY Sparkling Flower-Scented Coconut Oil Sugar Scrubs (with free printable labels) are perfect for Valentine's or Mother's Day gifts or any home spa day!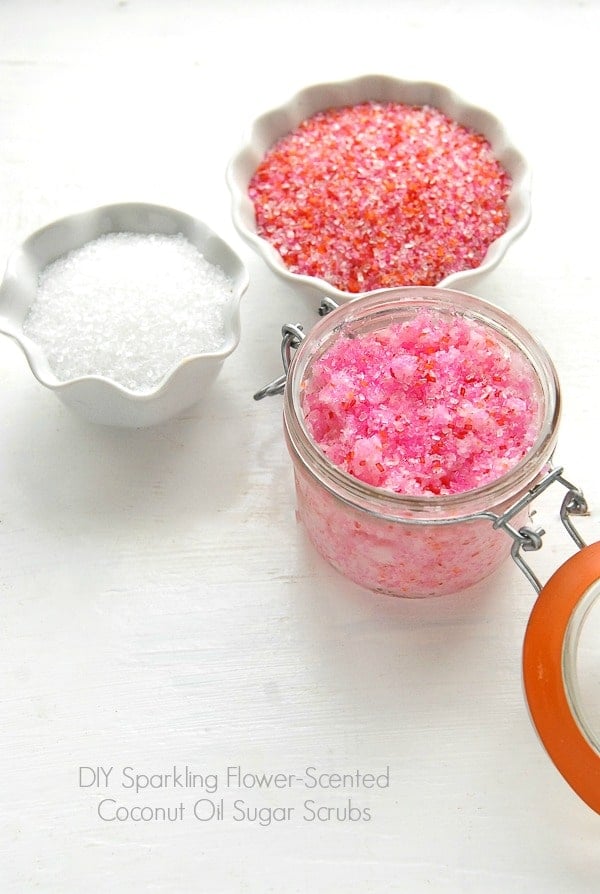 This seemed the perfect time to share an easy, fun DIY gift idea that's great for Valentine's Day, Mother's Day, to welcome spring or to get rid of winter's dryness: Sparkling Flower-Scented Coconut Oil Sugar Scrubs. The original inspiration for these coconut oil sugar scrubs were a mix between feeling my skin looks 163 years old thanks to desiccatingly dry winter weather, and thinking of a fun homemade Valentine's gift in the spirit of gems and flowers.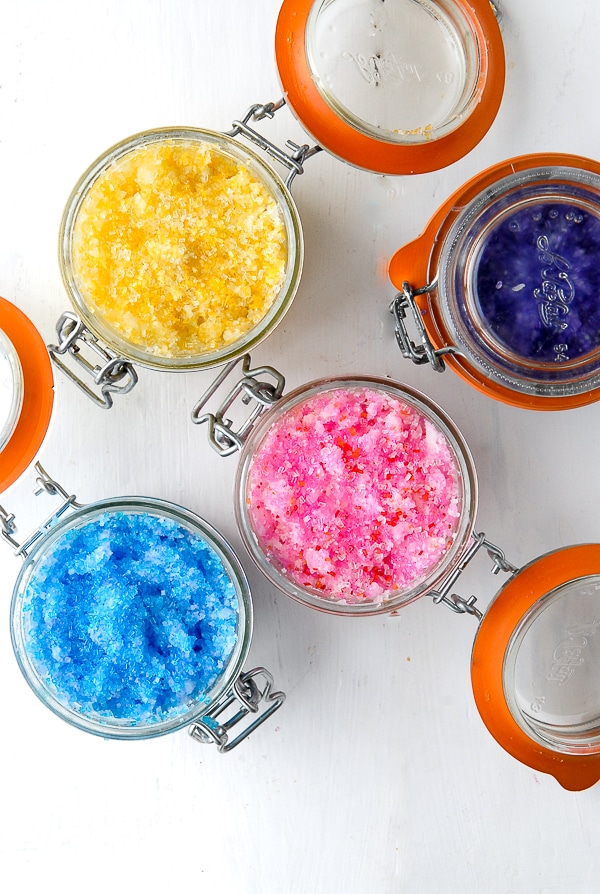 Homemade sugar scrubs are very simple to make. I prefer to make them with coconut oil for a few reasons. Coconut Oil is solid when at room temperature and even if it liquefies in a warm bathroom, moving it to a cooler room or the fridge for a bit firms it back up. The more solid texture lends itself to productive scrubbing!
Coconut Oil does not turn rancid and can remain indefinitely at room temperature. It also has anti-microbial qualities so I don't worry about it breeding any unwelcome germs. Coconut Oil is also wonderful for the skin.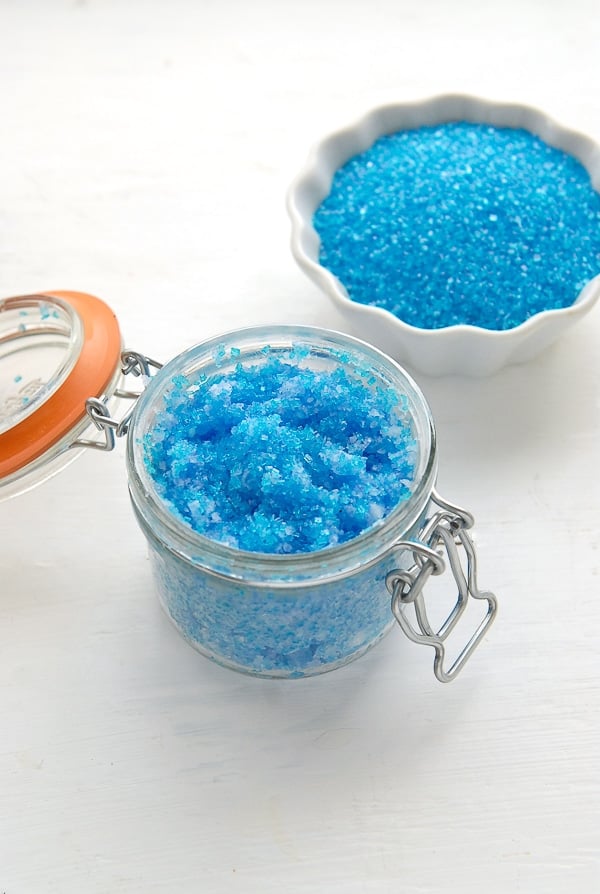 Scrubbing with sugar is a great natural exfoliant and paired with the Coconut Oil leaves the skin silky smooth. The sugar granules are invigorating as well so not only is the after affect smooth, well moisturized skin but the scrubbing acts to stimulate circulation leaving one more perked up.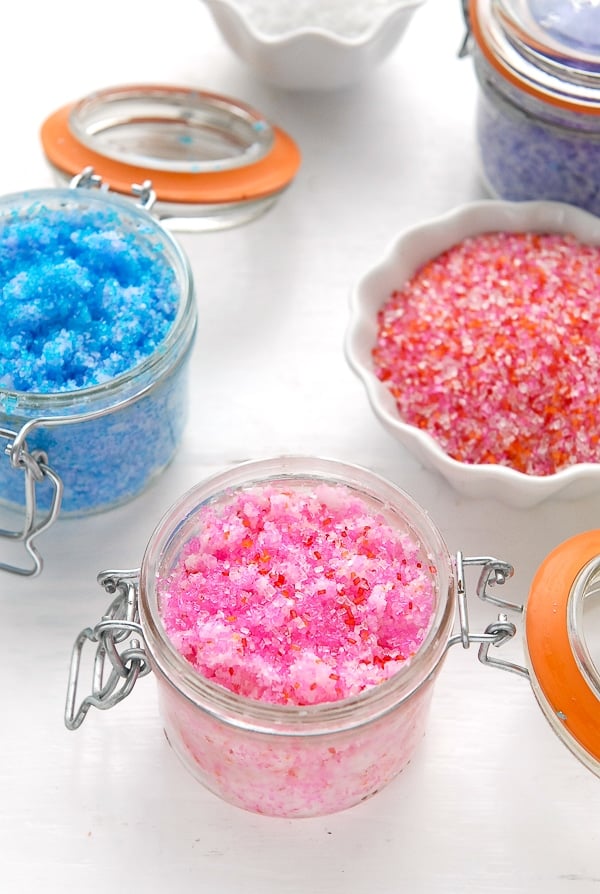 Those who know me well know I am a bit of a magpie. I simply cannot resist shiny, sparkly things! I have been in love with India Tree Sparkling Sugars since I first laid eyes on them. They are a large granule decorative baking sugar that glisten and shimmer like nobody's business.
I could never make enough baked goods to use them nearly as often as I'd like. So as my muse iterated through a homemade spa gift idea it seemed natural to include these gems to make the scrub all the more special and visually stunning. Every girl loves some baubles and roses for Valentine's Day, why not combine them into an unexpected package? These free printable GIFT TAGS and INSTRUCTION TAGS will make your Sparkling Flower-Scented Coconut Oil Sugar Scrubs gift complete!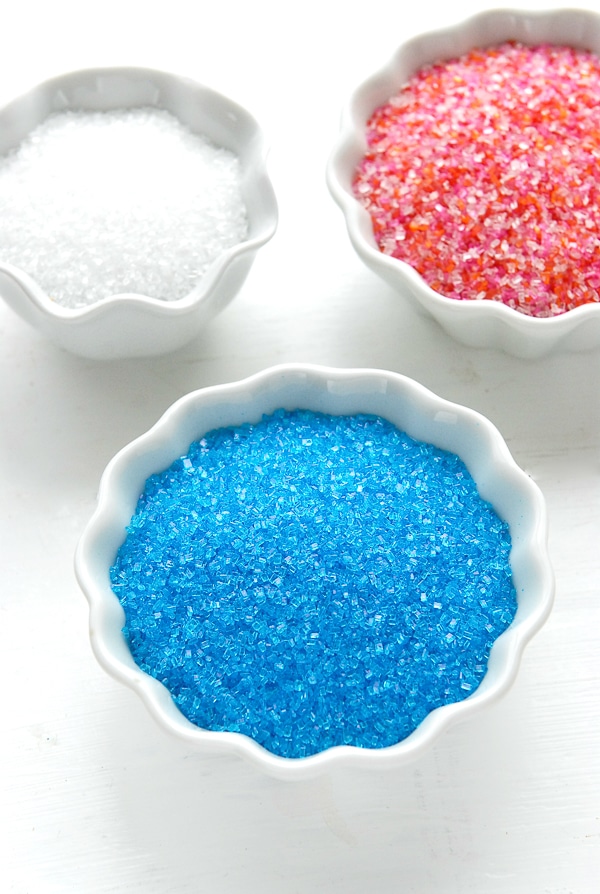 How to Make Your Own Sparkling Flower-Scented Coconut Oil Sugar Scrubs
The scrubs I made feature different color Sparkling Sugars along with smaller granule Sanding Sugar (again for baking, with granules the size of traditional granulated sugar) or traditional white granulated sugar. I took a cue from the color of the sugar to pair flower essences: Lilac, Violet, Rose, Orange Blossom, Honeysuckle and Gardenia. Each a special unexpected gift, or in a collection in small jars they'd be so fun.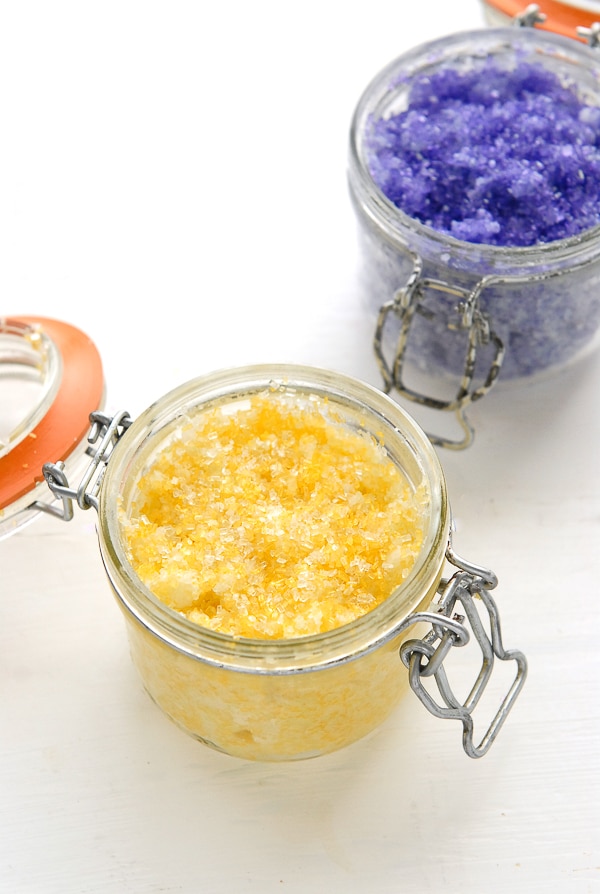 Some Tips for Making the Sparkling Flower-Scented Coconut Oil Sugar Scrubs:
Ensure the coconut oil is solid and at room temperature. If it warms the proportions of the recipe won't yield the correct balance of graininess from the sugar and smoothness from the oil.
Warm oil can begin to dissolve the sugar as well which also will change the texture of the scrub. When using essential oils I always suggest purchasing good quality oils. If not, especially with floral scents, they can smell a bit soapy or inauthentic. Essential Oils may be purchased at stores like Whole Foods, apothecaries or even online.
The potency of smell differs between brands, as does the strength of the coconut smell of different brands of coconut oil. There is a starting suggestion for how much scent to add to the scrub, make sure follow your own senses to reach an end result pleasing to your nose.
There are multiple brands of colored sugars which you could try in your scrubs. I'm most familiar with India Tree having used their vegetable-based food coloring and baking sugars. The brilliance of the Sparkling Sugars is exquisite and are shown is the photos here. If they are not available in your area, or buying online is more convenient, Amazon.com carries them and offers a discount when buying 3 bottles of a specific color. Candidly I was able to buy all the ingredients for the scrubs from Amazon.com.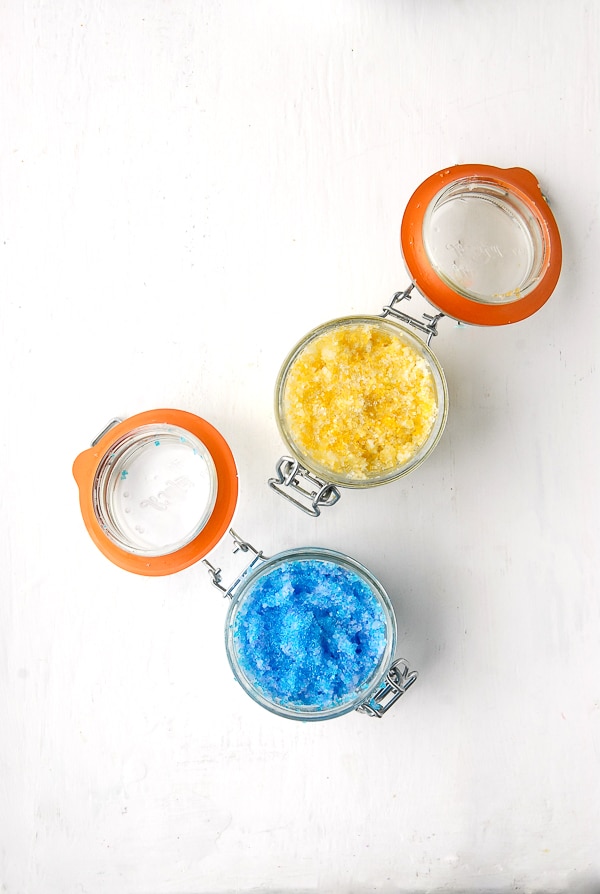 Sparkling Flower-Scented Coconut Oil Sugar Scrubs Recipe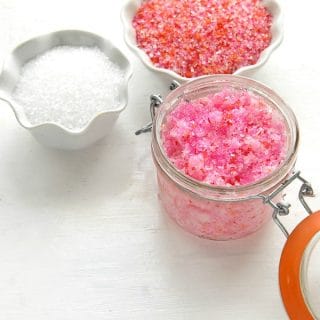 Sparkling Flower-Scented Coconut Oil Sugar Scrubs
Homemade spa gifts using edible ingredients are simple and rewarding to make. The special flower-scented sugar scrubs are also unexpected and eye-catching thank to the brilliance of baking sugars. Colors and floral scents can be matched.
Print
Save Recipe
Recipe Saved!
Pin
Rate
Ingredients
½

cup

Coconut Oil

¼

cup

plus 3 tablespoons Sparkling Sugar

(larger granule decorative sugar), colored or white

2

tablespoons

Sanding Sugar

(small granule decorative sugar) or Granulated Sugar

Flower-scented Essential Oils; start with 20 drops and adjust to your scent preference as needed

Supplies: Jars with lids

, gift tags, instruction tags
Instructions
In a mixing bowl, combine the coconut oil and sugars. Stir together using a sturdy mixing spoon or wooden spoon. If there are larger pieces of solid coconut oil use the back of a wooden spoon to break them apart.

Add the flower essential oil and mix fully.

Spoon the sugar scrub into a container, add a final sprinkling of Sparkling Sugar and seal. Note: if the process of blending the coconut oil and sugar has significantly softened the coconut oil, the container may be placed in the refrigerator to allow the mixture to become more solid. Store sealed at room temperature.
Notes
The floral scent and India Tree Sugars combinations I made (shown in the photos) are:
Rose: a combination of Hot Pink and Cherry Pink (the variegated sugar) Sparkling Sugar with White Granulated Sugar
Lilac: Electric Blue Sparkling Sugar with Lavender Pastel Sanding Sugar
Violet: Ultra Violet Sparkling Sugar with Lavender Pastel Sanding Sugar
Honeysuckle: Star Gold Sparkling Sugar with Green Pastel Sanding Sugar
Gardenia: Bright White Sparkling Sugar with White Granulated Sugar
Orange Blossom: a combination of Star Gold and Bright White Sparkling Sugar with Green Pastel Sanding Sugar