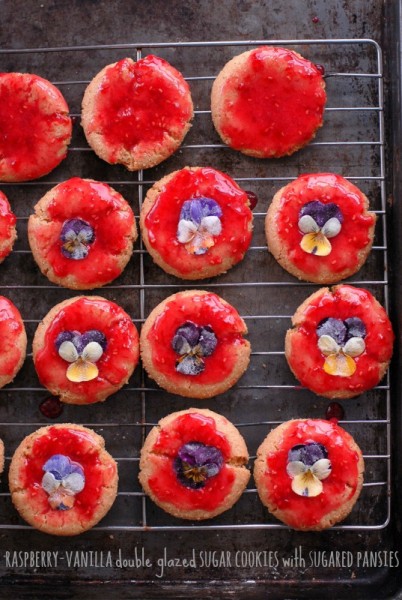 In my last post I shared an Edible Flower Springtime Tea Party. As I write there are 12 inches of new snow surrounding my house with more on the way! I'll rely on these photos and recipes to remind me it IS spring, though springtime in the Rockies is 'fickle' to say the least!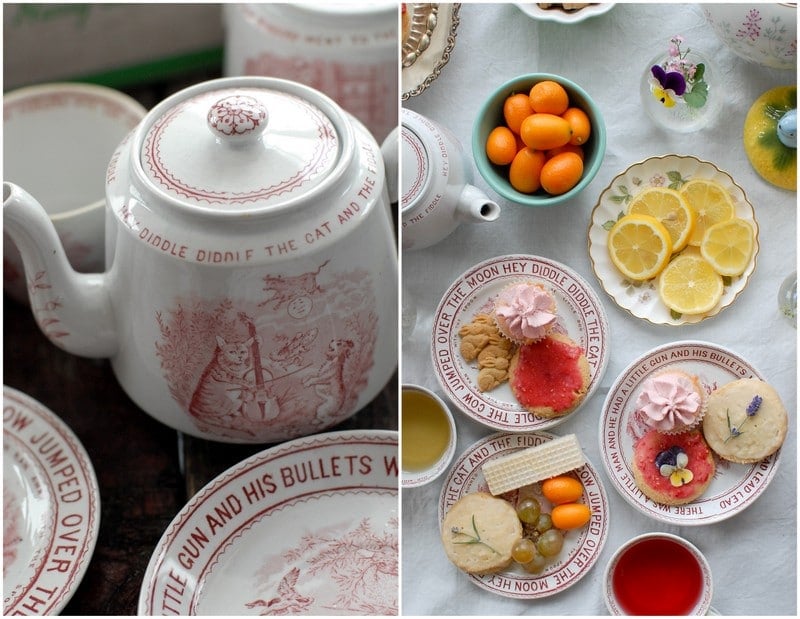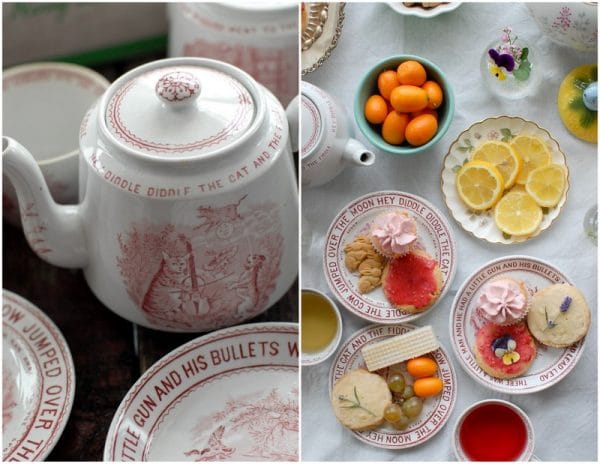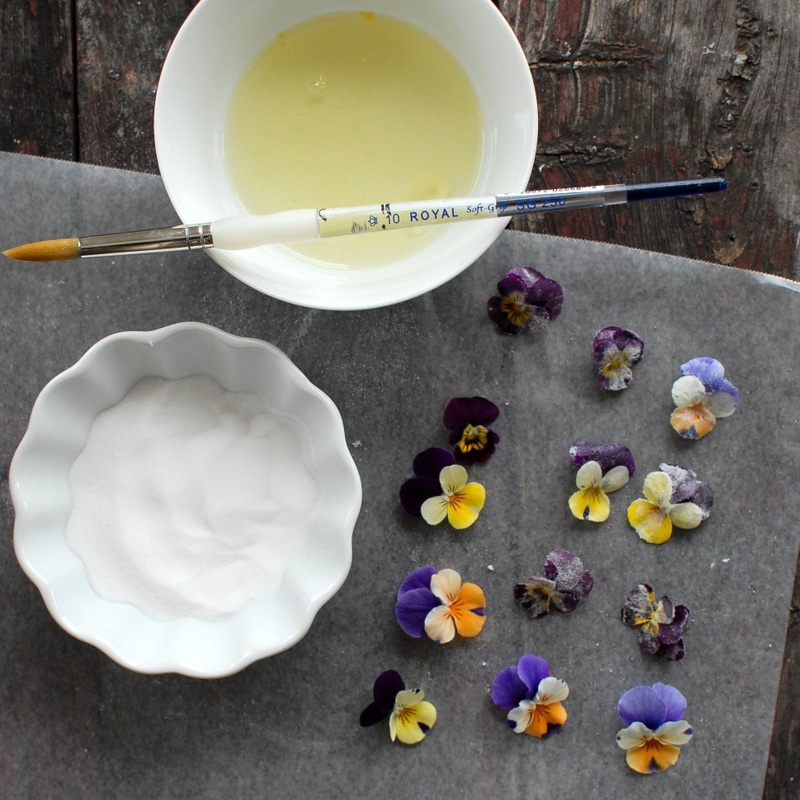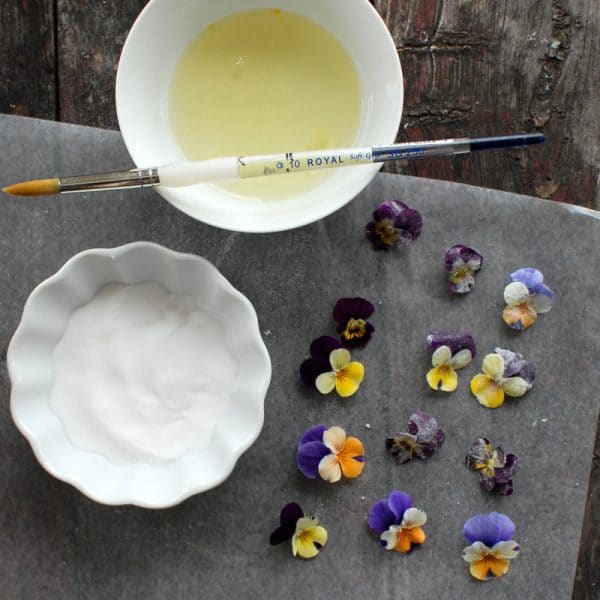 It's hard to pick favorites with these lovely treats but I must say I found these Raspberry-Vanilla double glazed Sugar Cookies with Sugared Pansies breathtakingly fun and beautiful. Sugaring pansies, or any edible flower, is very quick and easy. A thin coat of egg white (note: using pasteurized eggs are important to avoid any risk of Salmonella from the raw egg), a sprinkling of fine baking sugar, and some patience while they set up (about 20 minutes for these mini varieties) seem a small price to pay for the excitement of the end result.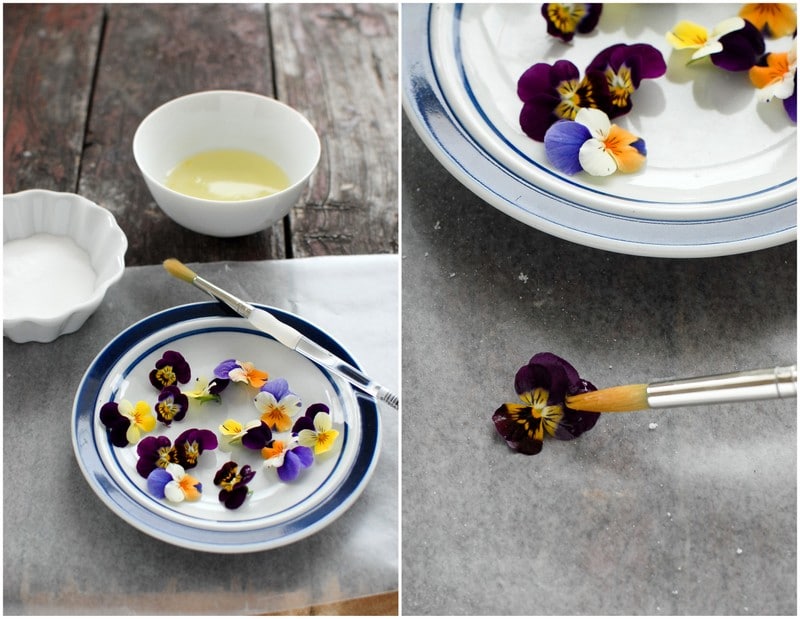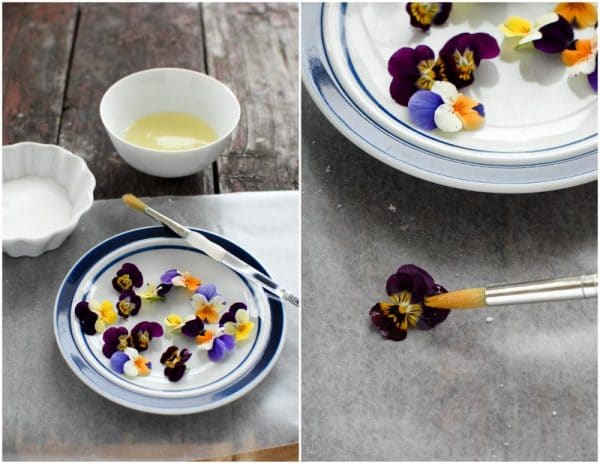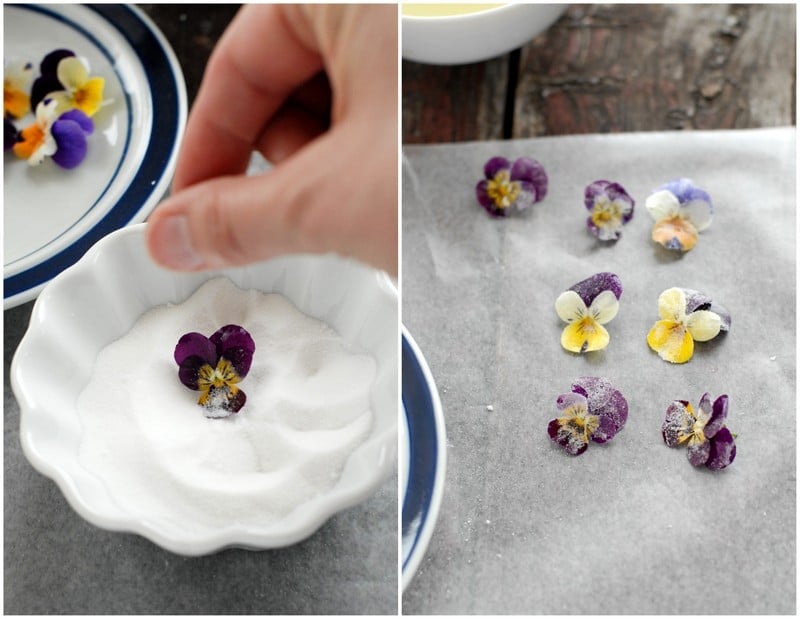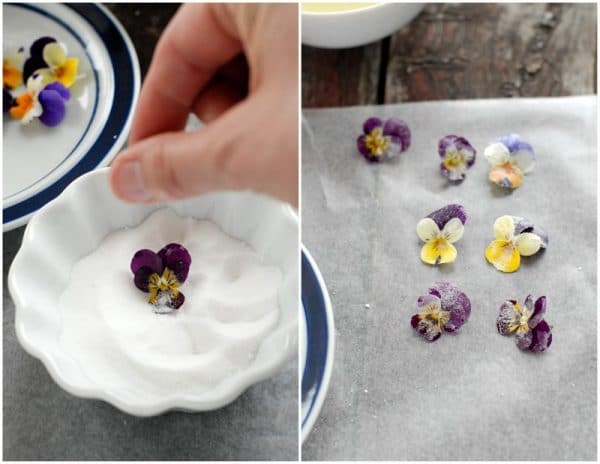 During the summer months we use edible flowers often. I grow Nasturtium and Calendula in my garden as a natural pest control and then also pop them into fresh salads. I have a friend who keeps a pitcher of water with edible flowers on her dining table, both for the beauty of it but to drink from as well. Of course whenever eating any plants one must be sure both that the variety is truly edible AND that if gathering them naturally that they have not been sprayed or are in an area where there are animals. Buying them from a trusted source is a great solution either at a grocery store, farmer's market or from your own garden where you know they are safe to eat and unsprayed. Once you begin to use them you'll realize how many options there are for their use not only to beautify food but enhance the flavor too.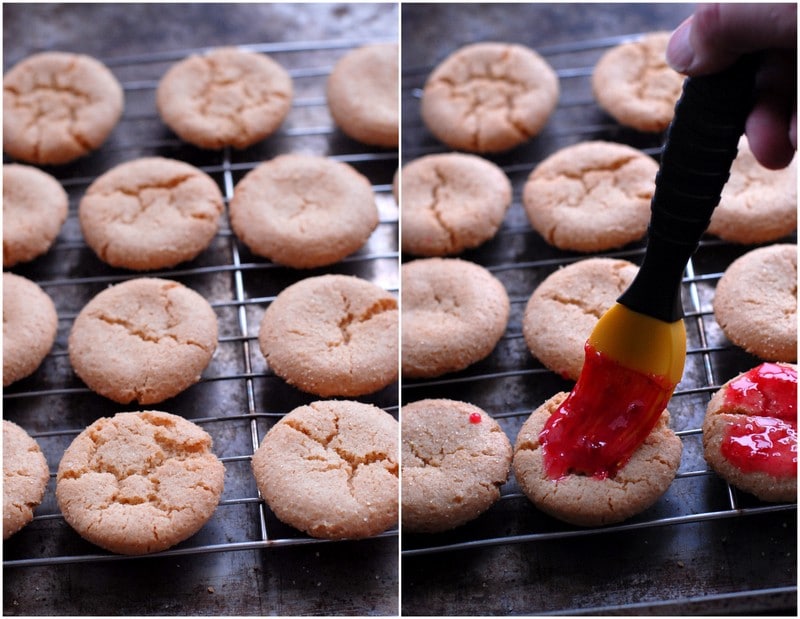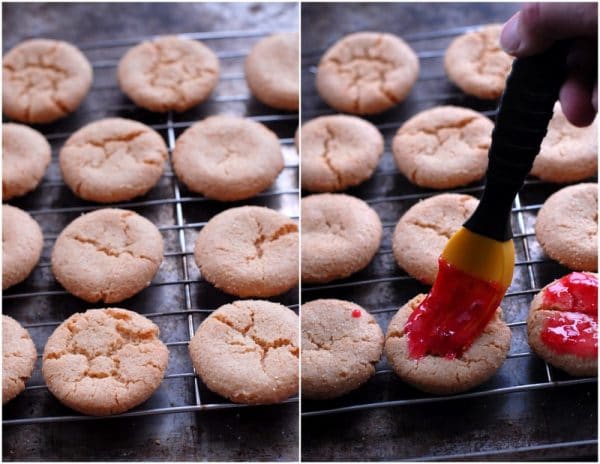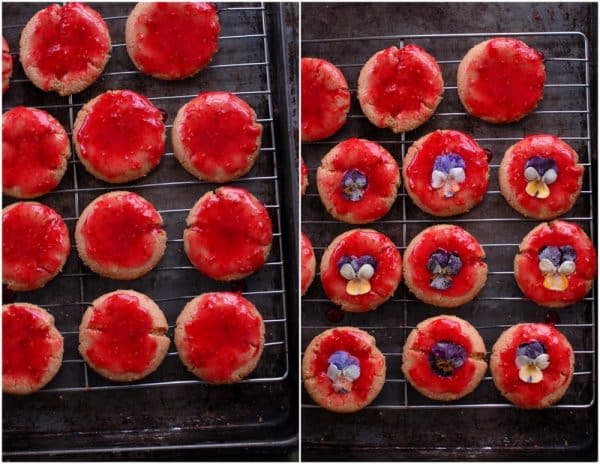 Since I was pulling together several treats for my Tea Party on a time-limited schedule, purchasing high quality baked goods (all gluten free in this case) and embellishing them with glazes and flowers worked perfectly. The end result was no less thrilling for my party guests. Of course if you choose to bake from scratch that's perfect too!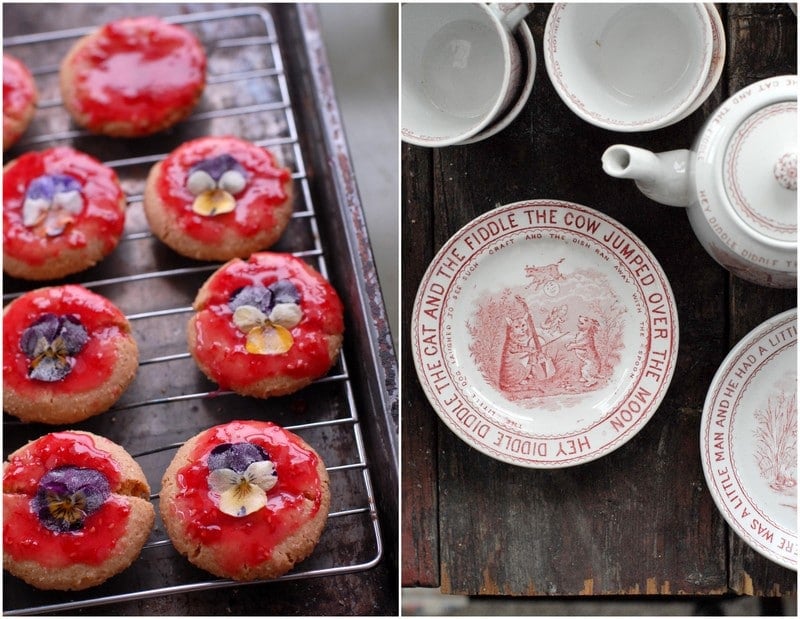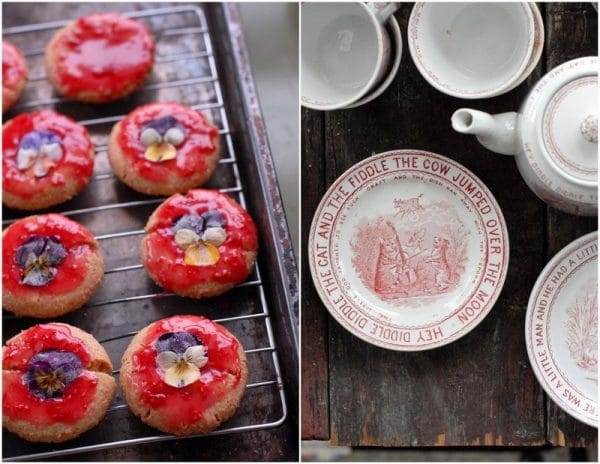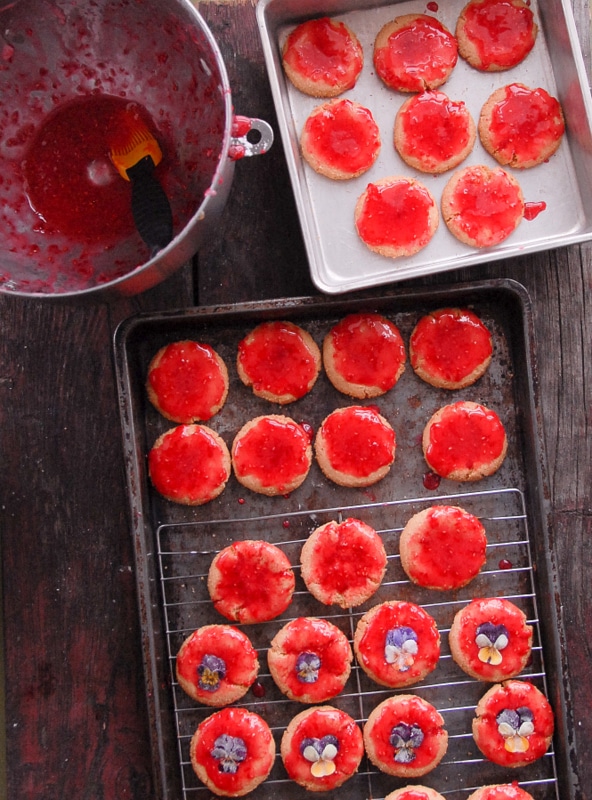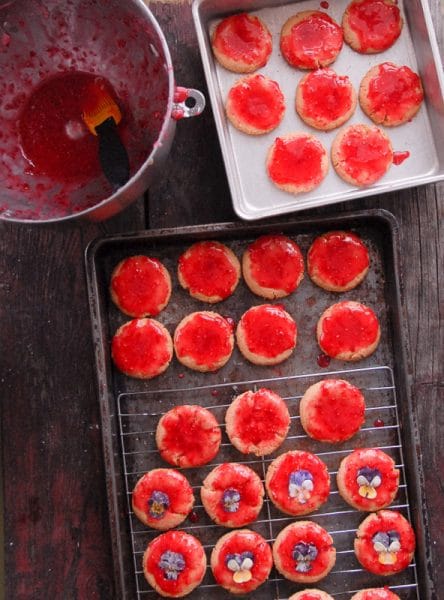 Note on use of raw eggs: The recipe for sugaring pansies uses raw egg. I would recommend using pasteurized eggs which should remove any risk of Salmonella from eating raw eggs. The statistics on contracting Salmonella are pretty slight but of course follow your own judgment.
Disclaimer: (Ebible Flowers) The author has thoroughly researched all the aforementioned edible flowers. However, individuals consuming the flowers, plants, or derivatives listed here do so entirely at their own risk. The author cannot be held responsible for any adverse reaction to the flowers.