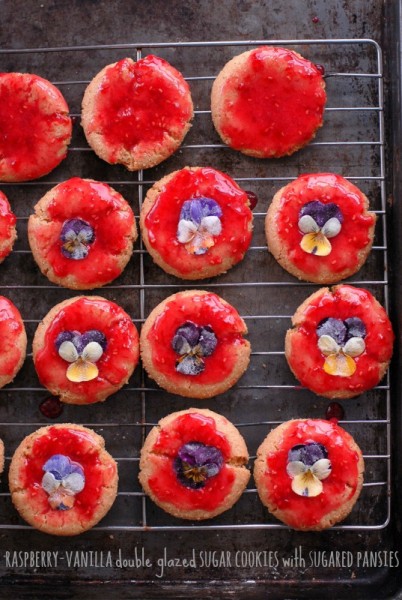 In my last post I shared an Edible Flower Springtime Tea Party. As I write there are 12 inches of new snow surrounding my house with more on the way! I'll rely on these photos and recipes to remind me it IS spring, though springtime in the Rockies is 'fickle' to say the least!
Jump to: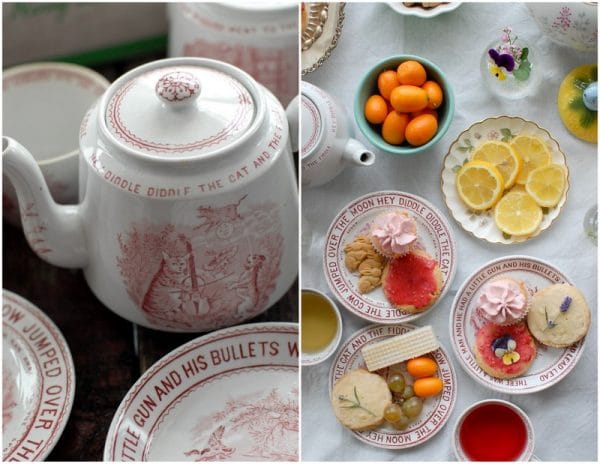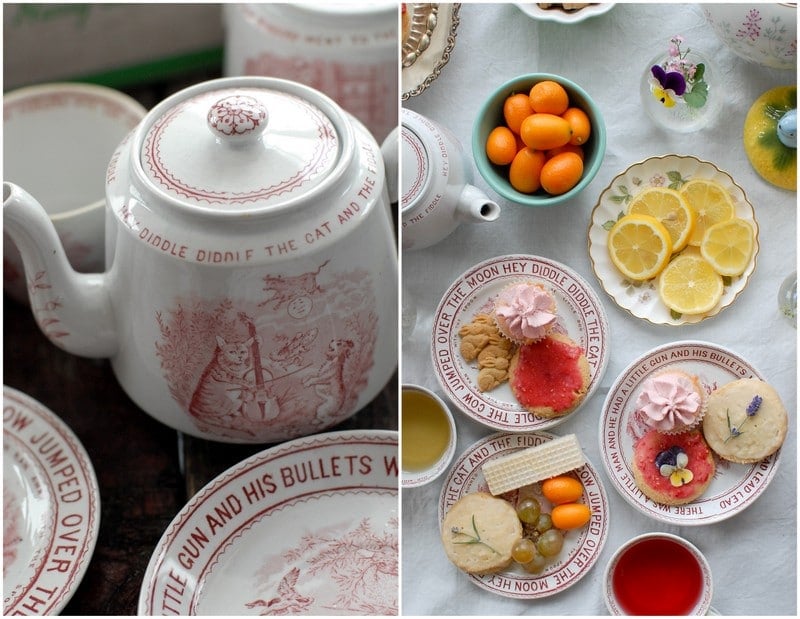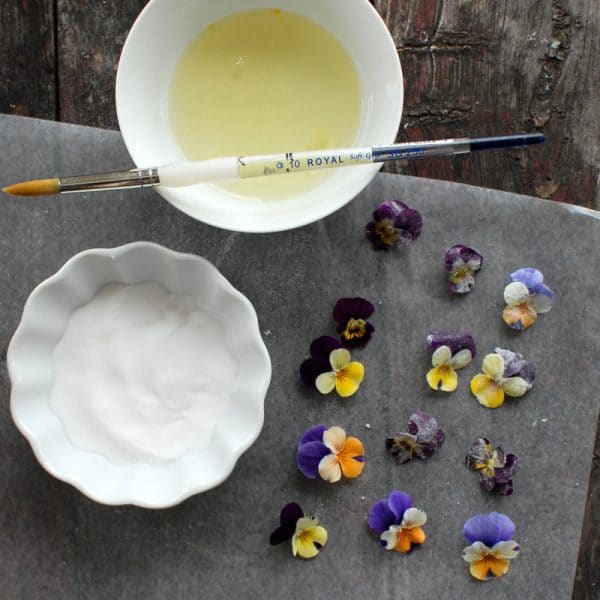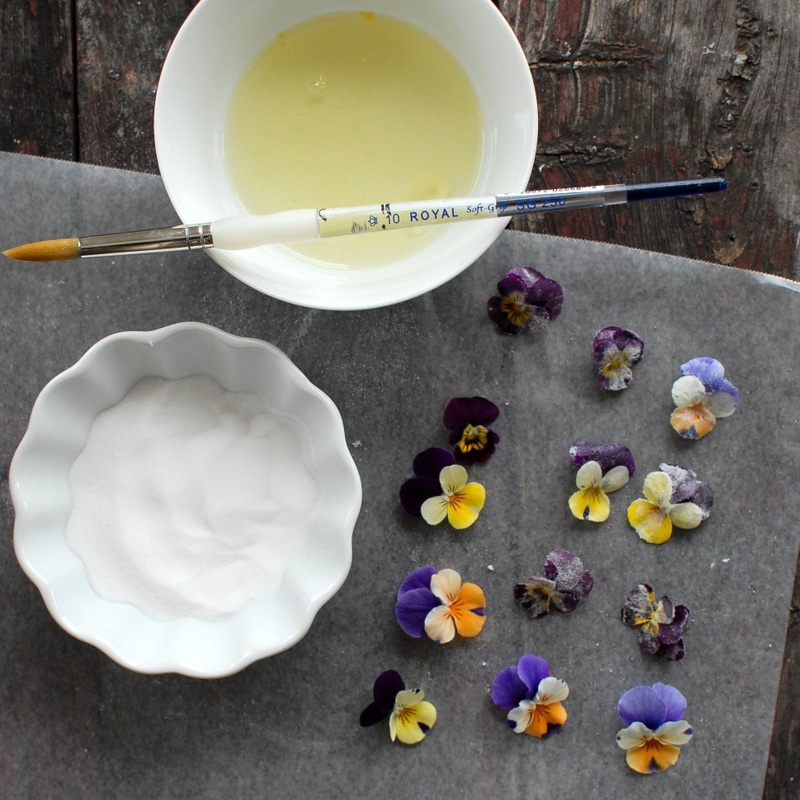 It's hard to pick favorites with these lovely treats but I must say I found these Raspberry-Vanilla double glazed Sugar Cookies with Sugared Pansies breathtakingly fun and beautiful. Sugaring pansies, or any edible flower, is very quick and easy.
A thin coat of egg white (note: using pasteurized eggs are important to avoid any risk of Salmonella from the raw egg), a sprinkling of fine baking sugar, and some patience while they set up (about 20 minutes for these mini varieties) seem a small price to pay for the excitement of the end result.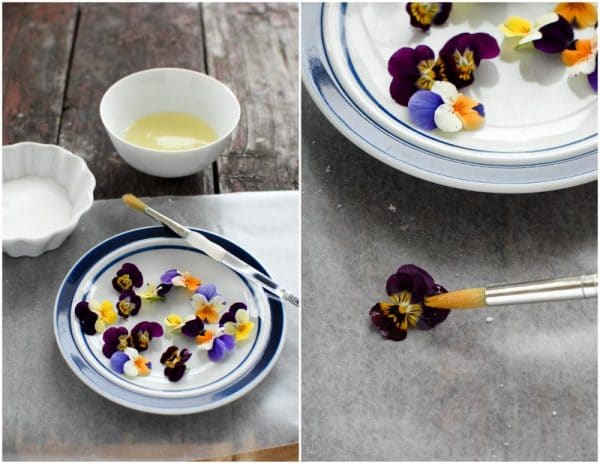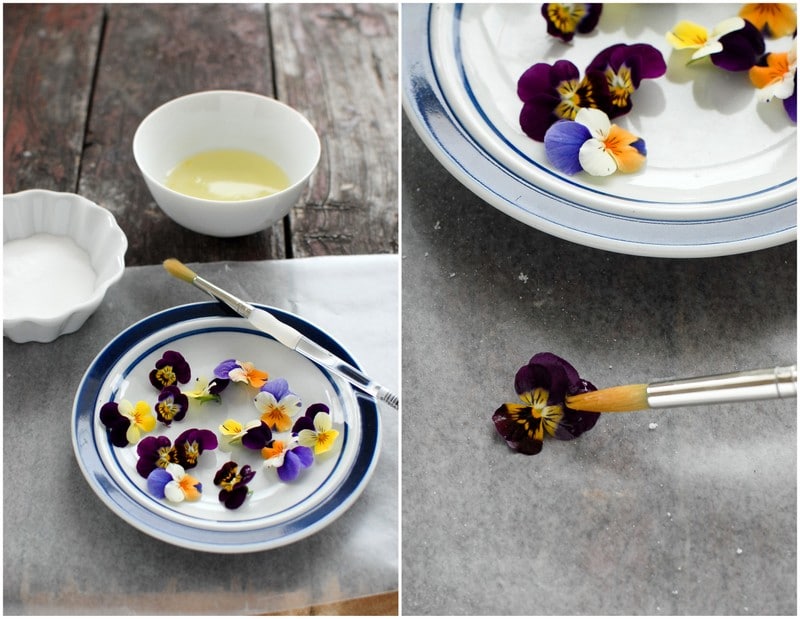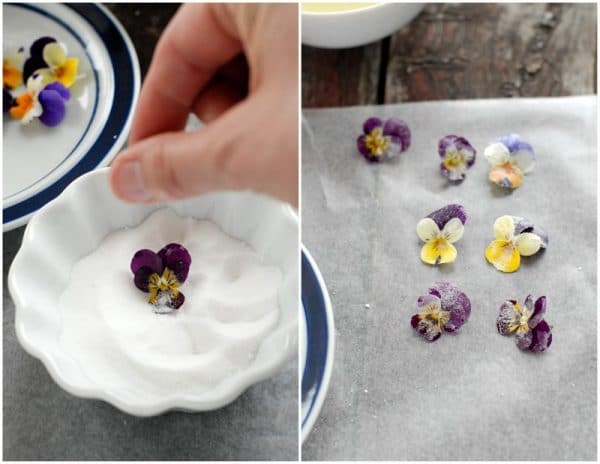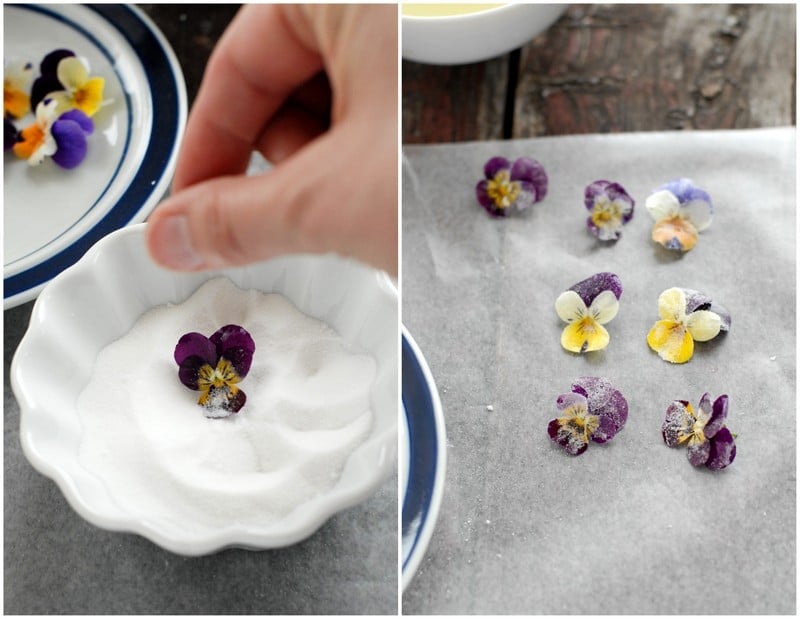 During the summer months we use edible flowers often. I grow Nasturtium and Calendula in my garden as a natural pest control and then also pop them into fresh salads. I have a friend who keeps a pitcher of water with edible flowers on her dining table, both for the beauty of it but to drink from as well.
Edible Flowers
Of course whenever eating any plants one must be sure both that the variety is truly edible AND that if gathering them naturally that they have not been sprayed or are in an area where there are animals. Buying them from a trusted source is a great solution either at a grocery store, farmer's market or from your own garden where you know they are safe to eat and unsprayed.
Once you begin to use them you'll realize how many options there are for their use not only to beautify food but enhance the flavor too.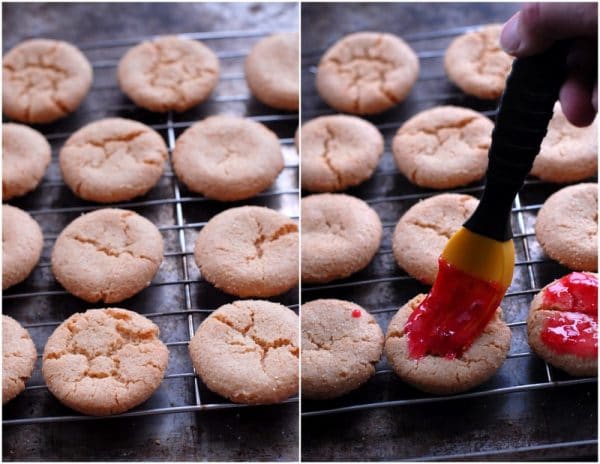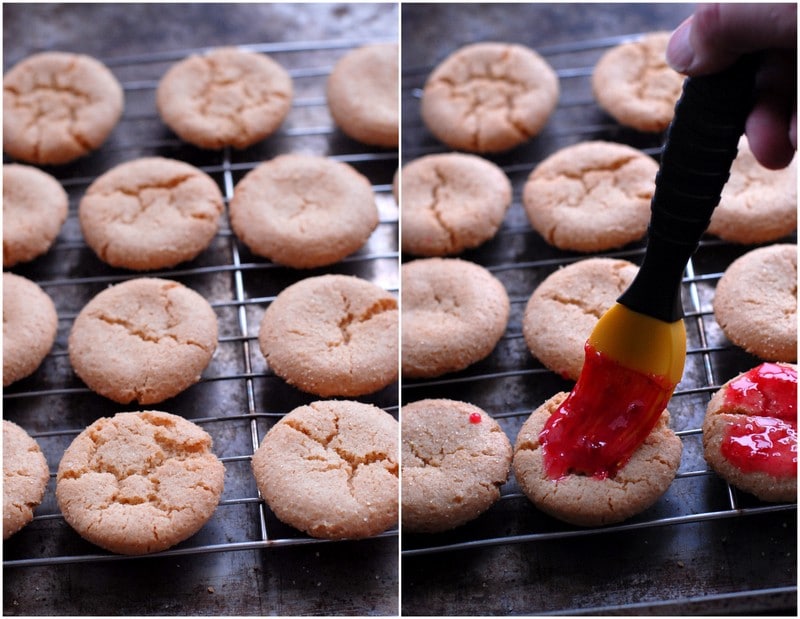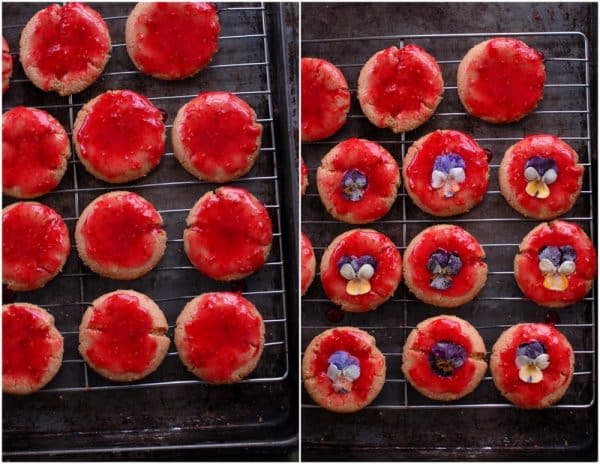 Since I was pulling together several treats for my Tea Party on a time-limited schedule, purchasing high quality baked goods (all gluten free in this case) and embellishing them with glazes and flowers worked perfectly. The end result was no less thrilling for my party guests. Of course if you choose to bake from scratch that's perfect too!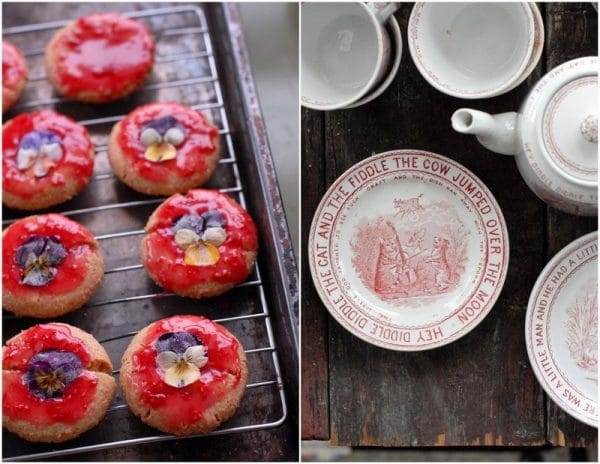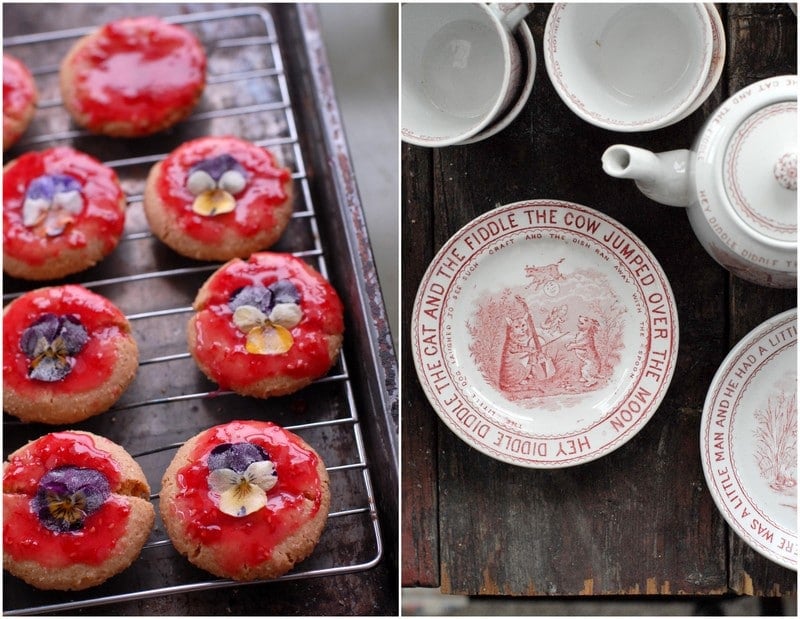 Note on use of raw eggs: The recipe for sugaring pansies uses raw egg. I would recommend using pasteurized eggs which should remove any risk of Salmonella from eating raw eggs. The statistics on contracting Salmonella are pretty slight but of course follow your own judgment.
Disclaimer: (Ebible Flowers) The author has thoroughly researched all the aforementioned edible flowers. However, individuals consuming the flowers, plants, or derivatives listed here do so entirely at their own risk. The author cannot be held responsible for any adverse reaction to the flowers.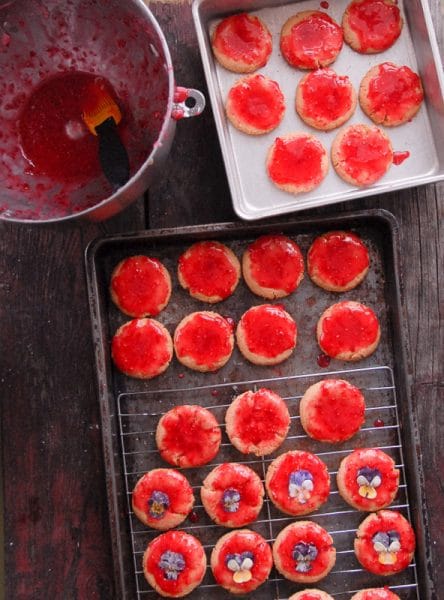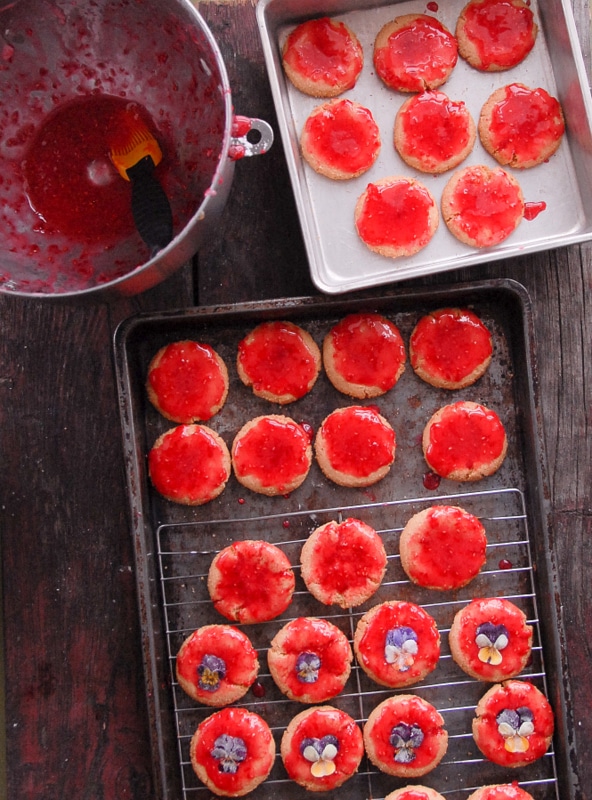 Recipe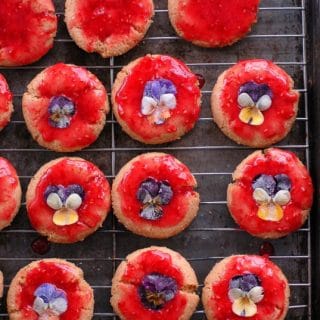 Raspberry-Vanilla double glazed Sugar Cookies with Sugared Pansies
Sugaring edible flowers is an easy fun way to dress up any baked goods. You can bake sugar cookies from scratch or purchase high quality sugar cookies and simlpy glaze them with this beautiful glaze made with pureed fresh raspberries.
Print
Save Recipe
Recipe Saved!
Pin
Rate
Servings:
12
enough glaze for 2 dozen 2-inch diameter sugar cookies
Ingredients
Ingredients for Sugared Pansies:
Finely granulated baking sugar

1

pasteurized egg white

(pasteurization important as these do not cook)

Johnny-Jump-Up's

(violas); 1 per cookie

1

unused craft paint brush
Ingredients for Raspberry-Vanilla double glazed Sugar Cookies:
2

dozen small Sugar Cookies

(I used Lucy's gluten free Sugar Cookies)

1

cup

Confectioner's Sugar

¼

cup

pureed Raspberries

(about ½ carton of fresh raspberries)

1

tablespoon

freshly squeezed Lemon Juice

½

teaspoon

Vanilla extract
Instructions
Instructions for Sugaring Pansies:
Gently rinse and pat dry all the pansies.

With the paint brush, gently paint a thin layer of egg white onto the pansy (this acts to bind the sugar to the pansy so it should be thin but covering the entire flower).

Holding the flower over the sugar container, lightly sprinkle the sugar over the entire flower (back and front) and shake excess off.

Place sugared flowers on wax paper to dry completely; approximately 20-30 minutes. The sugared flowers will be stiff when fully dry. Keep any unused flowers in a sealed container, refrigerated for up to three days.

NOTE: Cookies may be made the day prior and can be kept in a sealed container in the refrigerator until serving.
Instructions for Raspberry-Vanilla double glazed Sugar Cookies with Sugared Pansies:
In the bowl of a free standing mixer (or using a hand held mixer) combine sugar, raspberry puree, lemon juice and vanilla. Beat until fully combined.

Place a cooling rack on a baking sheet. Place cookies on the rack (this allows excess glaze to drip into the baking sheet, keeping the cookie from sitting in glaze and not create a mess in your kitchen).

Brush an ample amount of the glaze on each cookie, covering the full top. Allow to dry, about 15 minutes, and brush a second time for a thick rosy glazed top.

While glaze is wet, place one sugared pansy on each cookie. Gently press so the full back of the flower is in the glaze (but not so hard the glaze gets on the front of the sugared flower). Allow to fully harden (approximately 30 minutes).
Notes
Estimated preparation time will be dependent on the volume being made. The most time consuming portion is sugaring the pansies though even that should not take more than a few minutes per flower.
Nutrition
Calories:
49
kcal
|
Carbohydrates:
11
g
|
Protein:
0
g
|
Fat:
0
g
|
Saturated Fat:
0
g
|
Cholesterol:
0
mg
|
Sodium:
8
mg
|
Potassium:
3
mg
|
Fiber:
0
g
|
Sugar:
10
g
|
Vitamin C:
1.2
mg
|
Iron:
0.1
mg