Fresh Savory Tomato Pie has long been my favorite pie of summer.  It's indescribably good, even winning over the most dedicated tomato-haters!  A combination of fresh, flavorful summer tomatoes are combined with fresh basil and mouthwatering cheeses, baked to a crisp finish with a garlic and breadcrumb topping.  Prepared crusts may be used to make it even easier!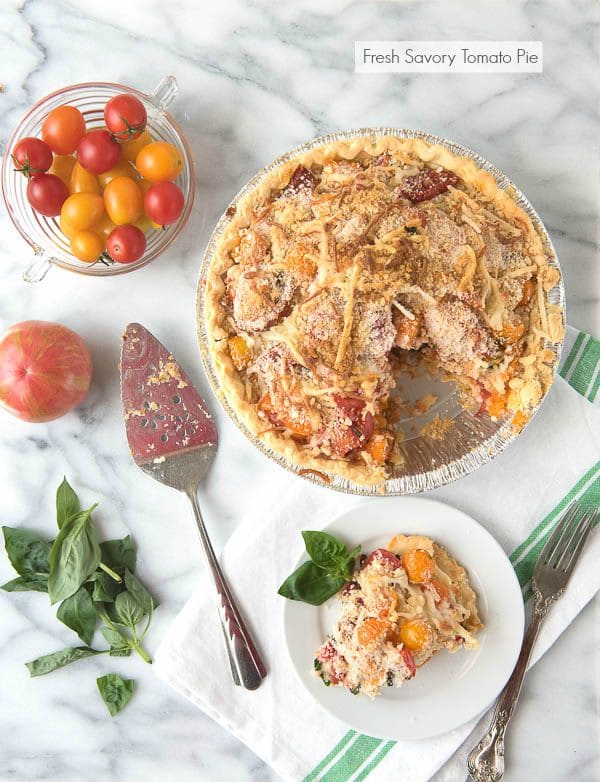 This dish is my all time summer favorite; bar none.

 

It is one I set my sights on at summer's start, barely able to wait until now when the tomatoes are perfect to make it.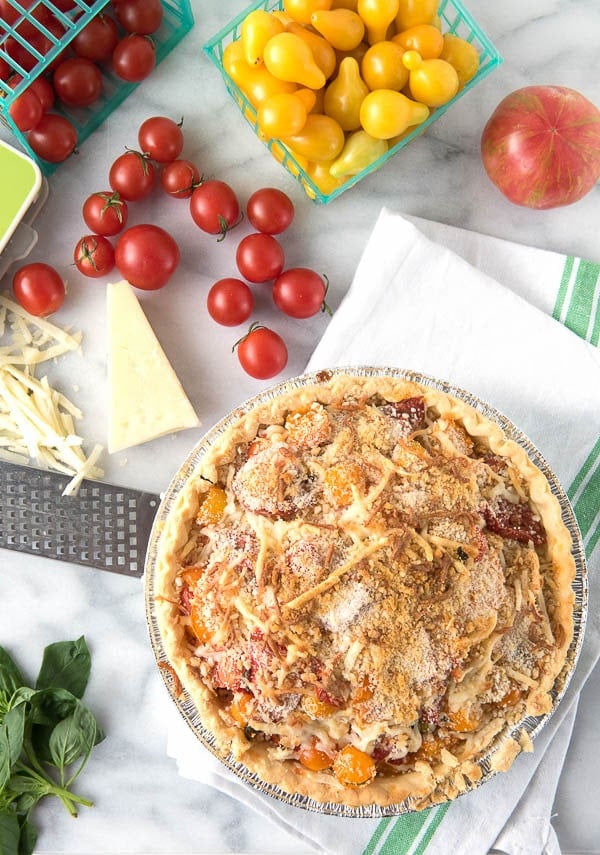 I discovered this dish a few years ago in one of my favorite cookbooks Fresh From The Garden Cookbook by Ann Lovejoy.

  Admittedly it was the diminutive size of the cookbook that first drew my attention, however after flipping through it, the seasonal recipes really spoke to my food tastes.  

Ann hails from the Pacific Northwest which is the equivalent of foodie Nirvana in my opinion.

 

Every aspect of the foodscape is available locally there, from wonderful local produce, seafood, meats and fantastic growing opportunities in one's garden.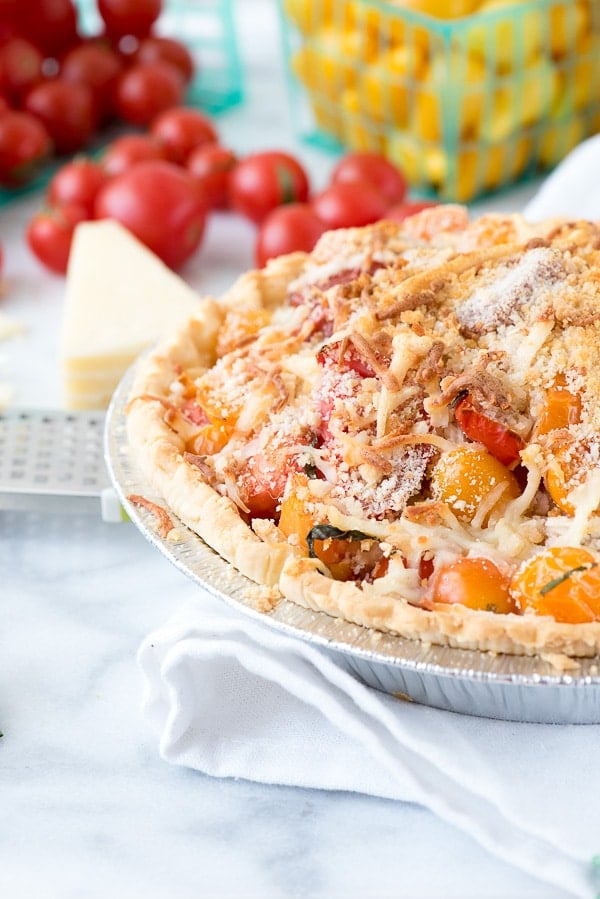 Since I eat seasonally, available ingredients lead the way with the recipes follow in my food preparation.

 

Ann's cookbook is broken down seasonally so it's easy to scan when getting a beautiful new vegetable for how to best prepare it.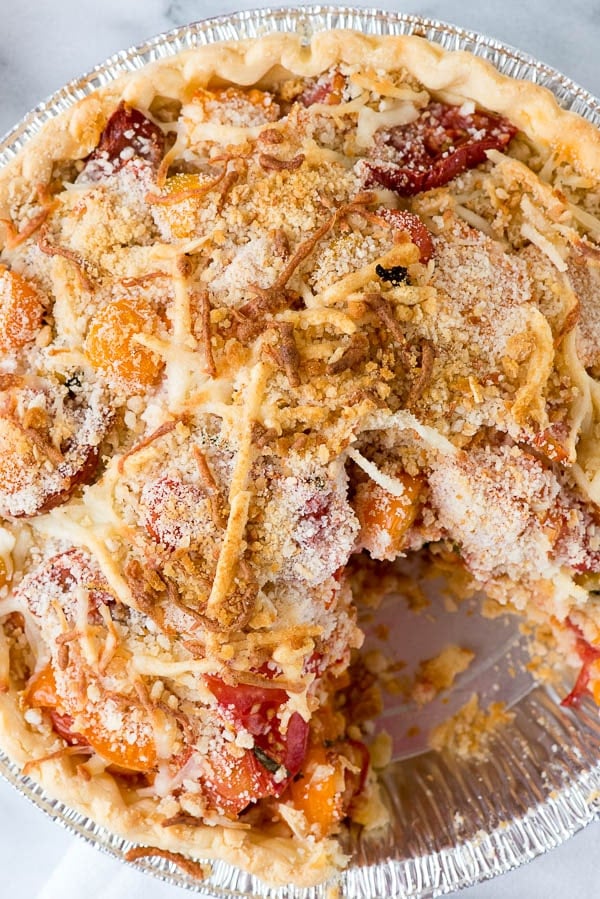 I came upon the Tomato Pie and decided to try it.

 

I imagined it might be a nice way to use the abundance of fresh, heirloom tomatoes in a new way.

 

I did NOT imagine how over-the-top delicious it would be.

 

It would convert tomato-haters to devotees I feel sure.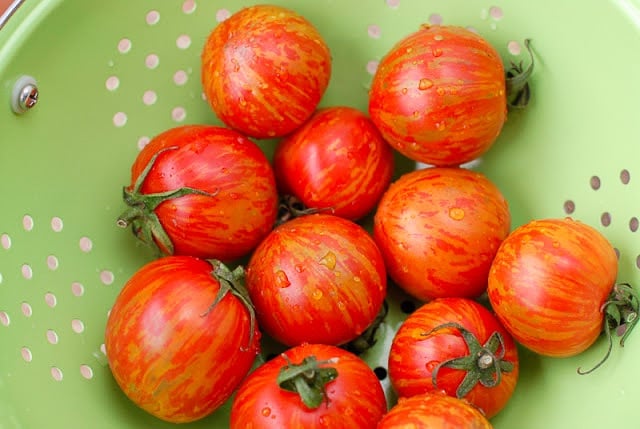 First when cooking the Tomato Pie, the house fills with the buttery smell of pie crust punctuated by the flavor of cooking garlic (is there any more alluring smell in a kitchen?).

 

When tasting it, the tomatoes are firm, there is a beautiful crunch from the bread crumbs, the distinct flavor of Pecorino cheese (l-o-v-e that flavor), garlic, and the buttery taste of the crust.

 

Though it's best served right after cooking, it does stand up the next day.

 

It does not get watery or sloppy in the crust as one might expect.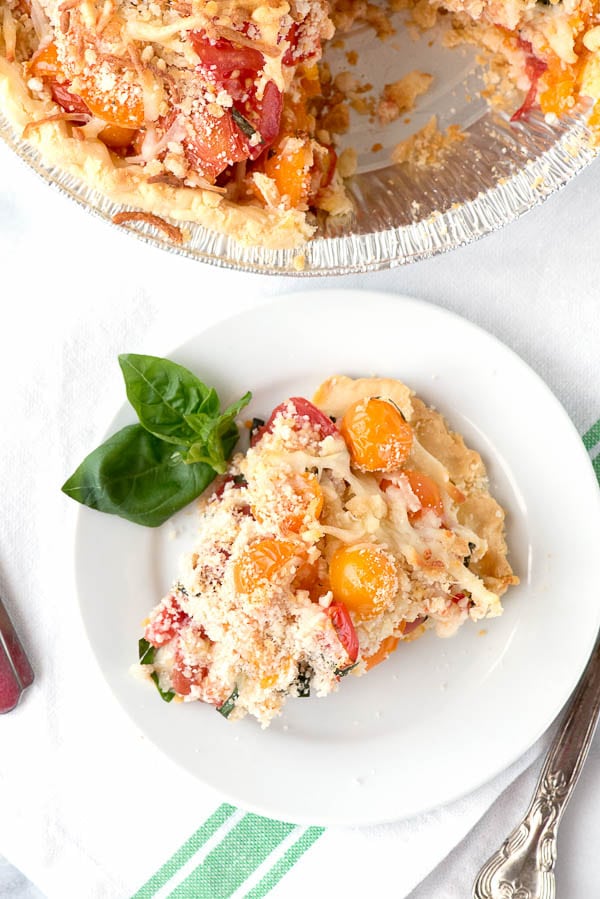 To me, you have not celebrated summer unless you've tried this dish!    Confession?  It's hot and I'm lazy.  I used a Whole Foods frozen Gluten Free Pie Crust.  I thawed it and proceeded with the instructions in this recipe.  It was perfection so don't feel you need to make a pie crust from scratch if that's not your thing.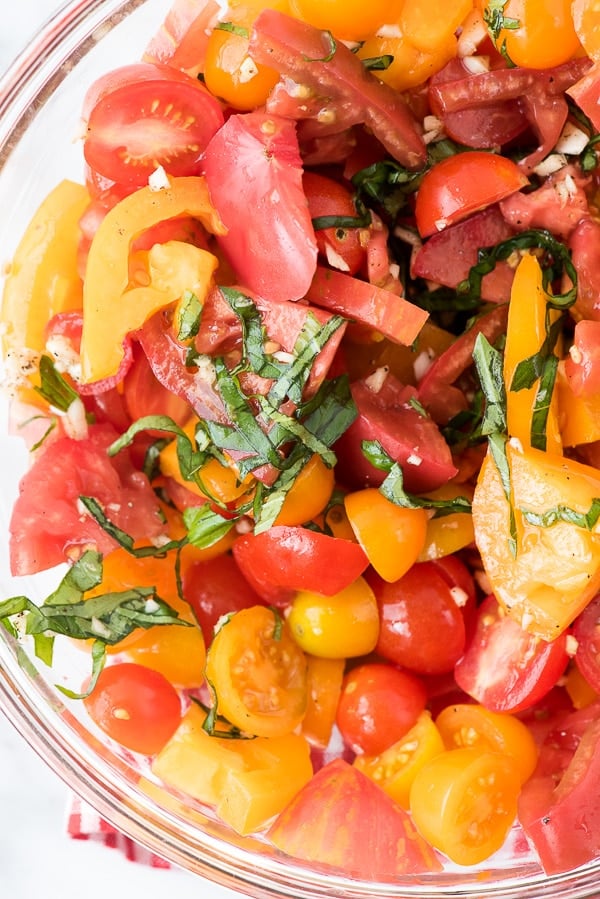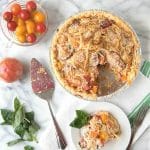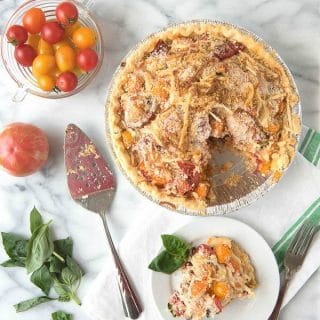 Fresh Savory Tomato Pie
Fresh Savory Tomato Pie has been my favorite summer recipe for years now, and I feel sure you'll agree once making it. It has even swayed the most vehement of 'tomato-haters' to reconsider their position! The original recipes suggests using a range of ripe tomatoes to achieve the fullest possible flavor, mixing succulent heirlooms with new hybrids. I fully agree. A variety of cherry tomatoes also adds color and flavor.Use your favorite pie crust recipe, gluten-free or regular, or substitute a prepared pie crust. The results will be equally delicious!
Ingredients
Prepared Pie Crust recipe for an 8 inch to 9 inch pie crust

(or purchased pie crust)*

¼

teaspoon

Kosher Salt

¼

teaspoon

Black Pepper

, freshly ground

2

cloves

Garlic

, minced or pressed

2

tablespoons

finely shredded fresh Basil Leaves

4

medium ripe Tomatoes

, cored, cut in half and sliced

1

cup

Yellow Cherry Tomatoes

, cut in half**

1

cup

Red Cherry Tomatoes

, cut in half**

1

cup

fine Bread Crumbs

(I used Ian's Gluten-Free Panko Crumbs)***

½

cup

coarsely grated fresh Mozzarella cheese

½

cup

coarsely grated Pecorino or Asiago cheese
Instructions
Preheat the oven to 400 degrees. Line an 8 inch or 9 inch pie pan with pie crust OR take the lazy-girl route like me and use a purchased pie crust (see below). If you are gluten free, adapt the crust type to your needs.

Prick the crust all over with a fork and bake until lightly browned (8-12 minutes; check frequently after 8 minutes so it does not brown too much). Remove the crust and set aside. Leave the oven on.

While the pie crust is cooking, place all the tomatoes in a medium sized mixing bowl.

In a separate small mixing bowl, mix together the salt, pepper, garlic and basil. Sprinkle over tomatoes, gently stir to incorporate with the tomatoes and let sit for 10 minutes.

In another medium mixing bowl, combine the cheeses and bread crumbs. Toss to fully combine.

Sprinkle a light layer of the bread crumb-cheese mixture in the bottom of the prepared pie crust. Using a slotted spoon, add a layer of the tomatoes on top of the bread crumbs and cheese. Continue layering in this way, ending with a sprinkling of the bread crumbs and cheese.

Bake until warmed through, about 20 to 30 minutes. Serve immediately.
Recipe Notes
Recipe adapted from Fresh from the Garden Cookbook. *I often use Whole Foods Gluten-Free Pie Crust found in the frozen section. Let it thaw before using. **Use any combination of colored Cherry Tomatoes you love. The color adds a great dimension to the recipe as well as varied flavors. ***Another option with bread crumbs is to make your own which I often do. Toast some slices of bread either in a toaster or under a broiler. Process them through a blender or food processor into crumbs. If they are still moist, spread them out on a baking sheet under a broiler for 30 seconds (keep an eye on them so they don't burn). Extras can be stored in the freezer in a sealed plastic bag or freezer-proof container.