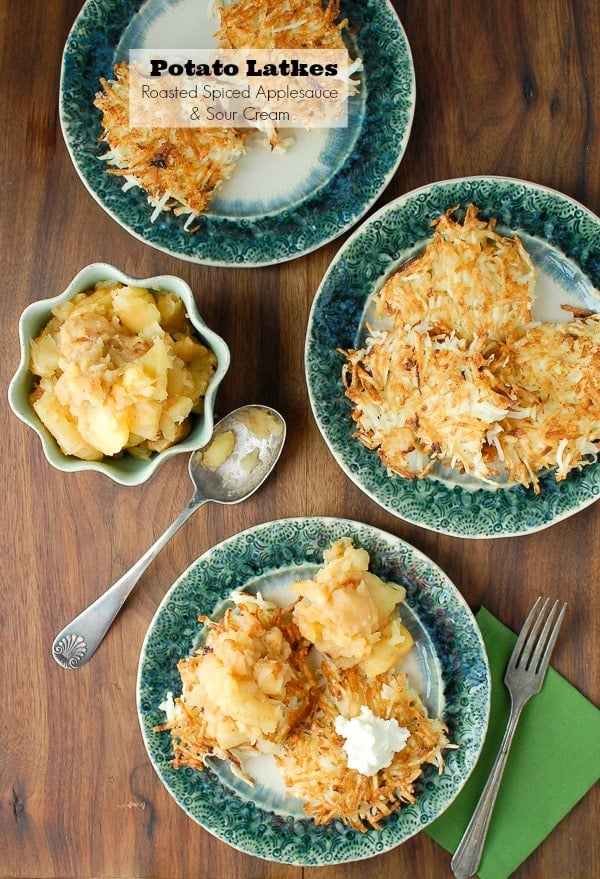 Hanukkah begins after sunset Wednesday December 1 this year (2010) and though I'm not Jewish far be it for me to let a festive occasion involving food pass by without getting into the mix. Like birthday cake, those foods which mark a holiday shape of the joy of the season, often feeling out of context when eaten at other times of the year for me.
A latke, should you not have had the delight of eating one, is a close cousin to an American shredded potato hash brown.

There are variations to the potato mixture but they are all simple, perhaps involving onion as mine does, and fried in oil.

This last part is the main symbolism for Hanukkah.

The frying in oil reminds us of the one day of oil that burned for 8 days in the holy temple's menorah.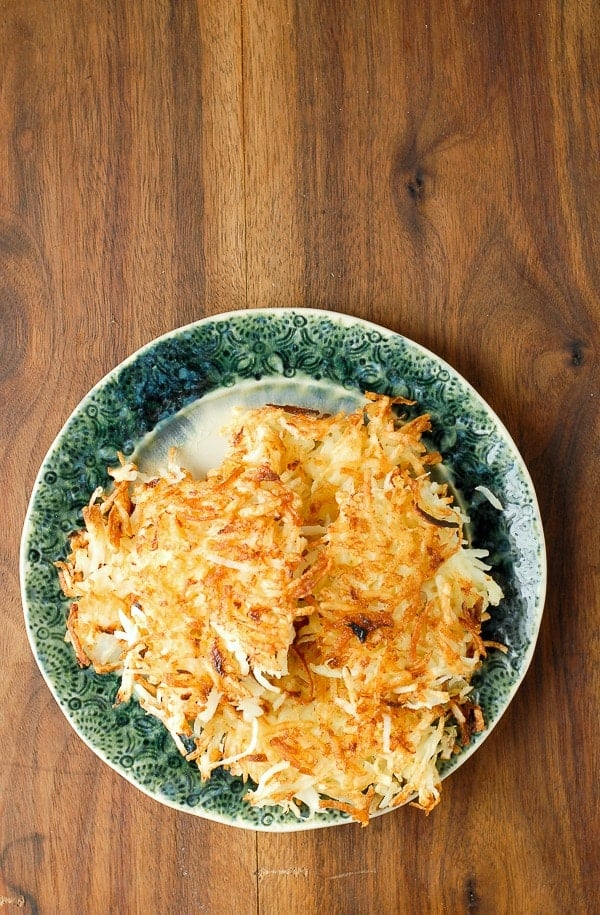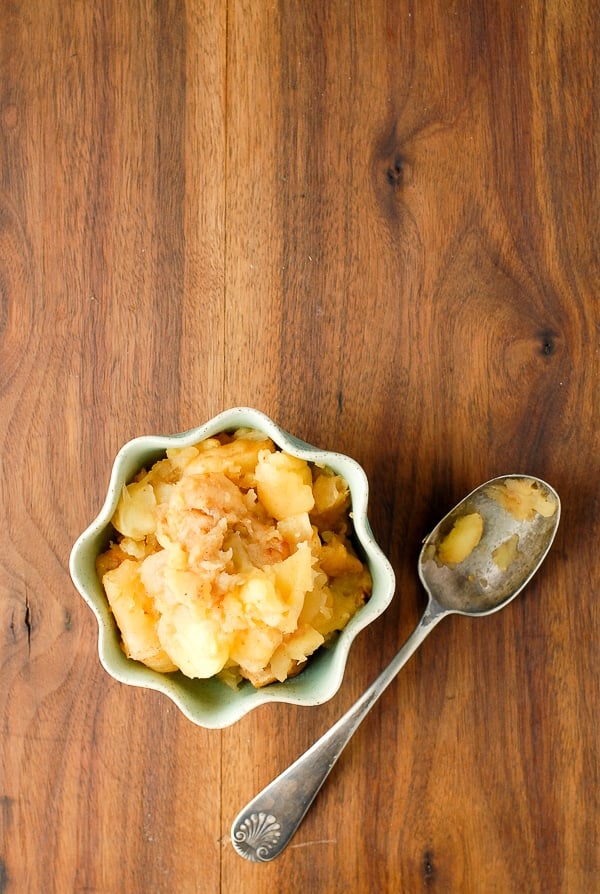 Traditionally latkes are served with applesauce and sour cream.
I personally love a more rustic, roasted homemade applesauce for the flavor and texture which is
fantastic on latkes.
The flavor combination of the fried, slightly salty potato-onion, with the chunky sweet applesauce and the sour cream is nothing less than sublime.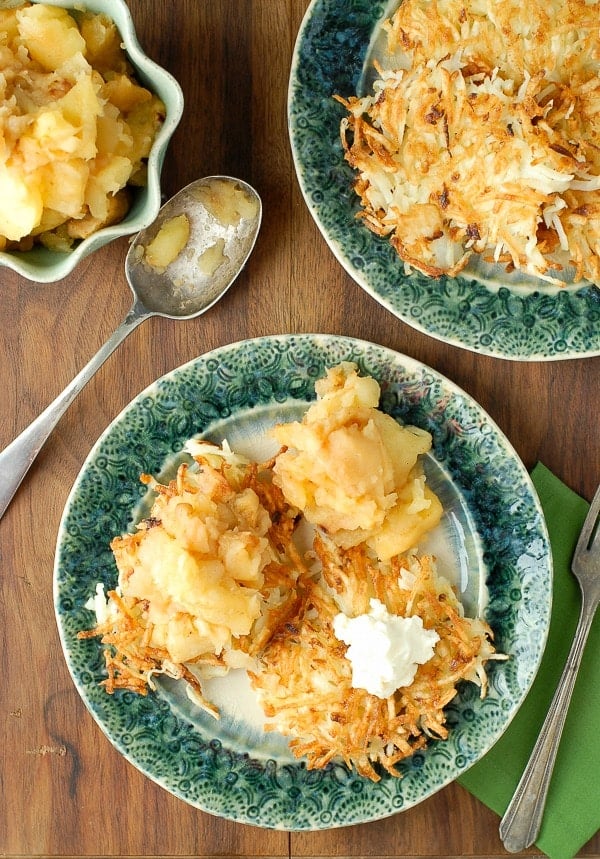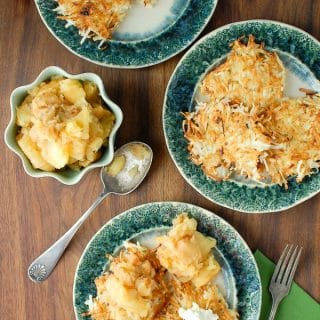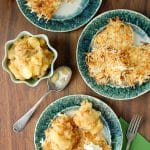 Potato Latkes with Roasted Spiced Applesauce and Sour Cream
Potato Latkes are fabulous any time of the year. Freshly grates potato lightly fried and topped with homemade spiced applesauce and sour cream are a mouthwatering dish.
Servings
15
3-inch by 3-inch Latkes, and 3 cups Roasted Spiced Applesauce
Ingredients
Ingredients for the Roasted Spiced Applesauce:
3

pounds

flavorful Apples; peeled

, cored and cut into 8 pieces per apple

2

teaspoons

Granulated Sugar

½

teaspoon

Kosher Salt

¼

teaspoon

ground Cinnamon

1/8

teaspoon

ground Nutmeg

½

teaspoon

Apple Cider Vinegar
Ingredients for the Potato Latkes:
4

medium-large Russet Potatoes

, peeled and grated (with a food processor grating plate or by hand)

½

large Yellow Onion

, peeled and grated (with a food processor grating plate or by hand)

2

Eggs

, lightly beaten

1 ½

tablespoon

Flour

(All Purpose or favorite Gluten-Free blend if making them gluten-free)

½

teaspoon

Kosher Salt

Oil for frying

(I use Sunflower Oil due to its ability to cook at high heat without smoking and mild flavor)

Garnish: Sour Cream

Cheesecloth or thin kitchen towel
Instructions
Instructions for Roasted Spiced Applesauce:
Preheat oven to 375 degrees.

Place the apples, sugar, salt and spices into a large mixing bowl. Toss apples to evenly coat.

Spray a 13x9 inch baking dish with cooking spray to prevent sticking and place the apples in a single layer in the baking dish. Cover tightly with foil.

Bake until the apples begin to soften; approximately 20-25 minutes (will depend on the size and variety of the apples used; check them around 20 minutes and continue to bake if needed).

Remove foil and increase oven temperature to 450 degrees. Cook to allow the apples to dry out slightly and turn golden; approximately 10 minutes. Their external texture appears slightly spongy.

Turn apples out from the baking dish into a large mixing bowl. Sprinkle with the apple cider vinegar and mash coarsely leaving a rustic texture to the applesauce.
Instructions for the Potato Latkes:
Place the grated potatoes in a large mixing bowl and fill with cold water. Allow potatoes to stand in the water for a few minutes, swishing them occasionally with a mixing spoon or by hand to release the starch.

Drain the potatoes in a colander.

Return the potatoes to the mixing bowl and add the onions. Mix together.

Place the potato-onion mixture in a large piece of cheesecloth or a thin kitchen towel. Wrap the mixture so it's covered fully and squeeze to extract any remaining water which makes it difficult to form patties and fry. Wipe any remaining water from the inside of the mixing bowl and return the potato-onion mixture to the bowl.

Sprinkle the flour and salt over the potato-onion mixture; add the eggs. With a large mixing spoon mix all ingredients together well.

Heat a large skillet over medium-high heat and pour a enough oil in the skillet to fully cover the bottom. Allow it to heat until ripples can be observed on the top of the oil.

Form patties of the potato mixture about 2-3 inches in diameter. Gently lower then on a heatproof spatula into the hot oil (be careful of splattering). Allow the latkes to sit undisturbed until the bottom has turned a light golden brown. This will stabilize the latke making it easier to flip over and stay together.

Using the heatproof spatula again, gently flip the latkes over careful to keep it intact. If needed use a mixing spoon or your hand (again careful of oil splattering) to stabilize the uncooked top has it is flipped over.

Allow the second side to turn golden brown. Remove and set on a plate with a paper towel to absorb any excess oil. Serve hot.
To Serve Latkes:
Serve warm with a dollop of applesauce and sour cream.
Recipe Notes
Roasted Applesauce adapted from The Zuni Cafe Cookbook
Nutrition Facts
Potato Latkes with Roasted Spiced Applesauce and Sour Cream
Amount Per Serving
Calories 106
% Daily Value*
Fat 0g0%
Cholesterol 21mg7%
Sodium 167mg7%
Potassium 347mg10%
Carbohydrates 24g8%
Protein 2g4%
Vitamin A 80IU2%
Vitamin C 7.7mg9%
Calcium 17mg2%
Iron 0.7mg4%
* Percent Daily Values are based on a 2000 calorie diet.