Find yourself uninspired on the smoothie front as soon as the mercury drops? Me too. This Fall Get-Up-And-Go Smoothie is packed with autumn flavors and an unexpected mix of ingredients to start your day off right!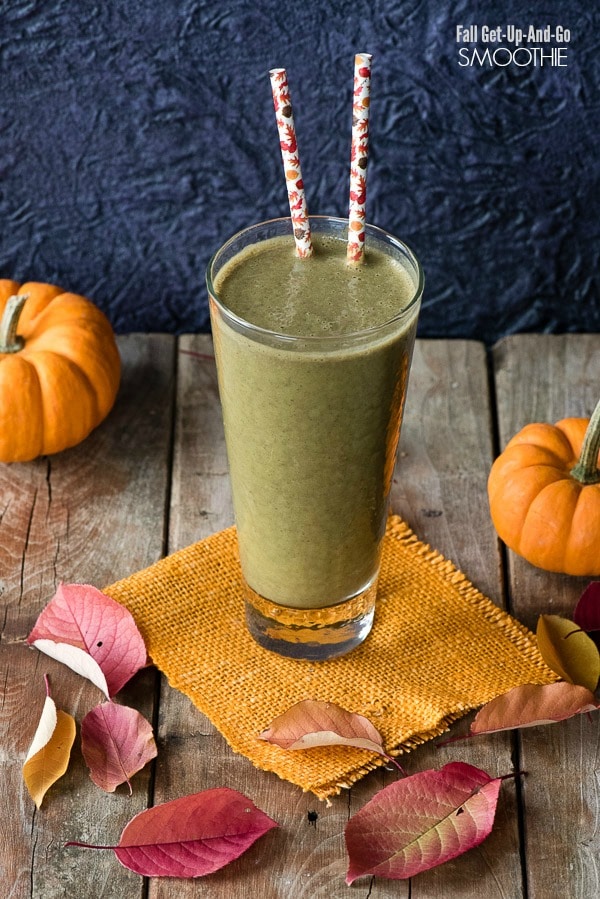 I have a confession to make. Despite believing in the power of the smoothie, and including a variety of smoothie recipes on Boulder Locavore, I'm a bit of a fair weather smoothie drinker. They sound just right when it's beastly hot in the summer. Filled with fresh fruits and vegetables, they are refreshing and pack a wallop on the nutritional front. Once it's cold, no smoothies for moi.
That has changed however. I realized that I'm not getting my daily intake of fruits and vegetables the way I should. Without that my diet lacks in fiber too, as is often the case when eating processed gluten-free products (they tend to offer less fiber than their gluten equivalent).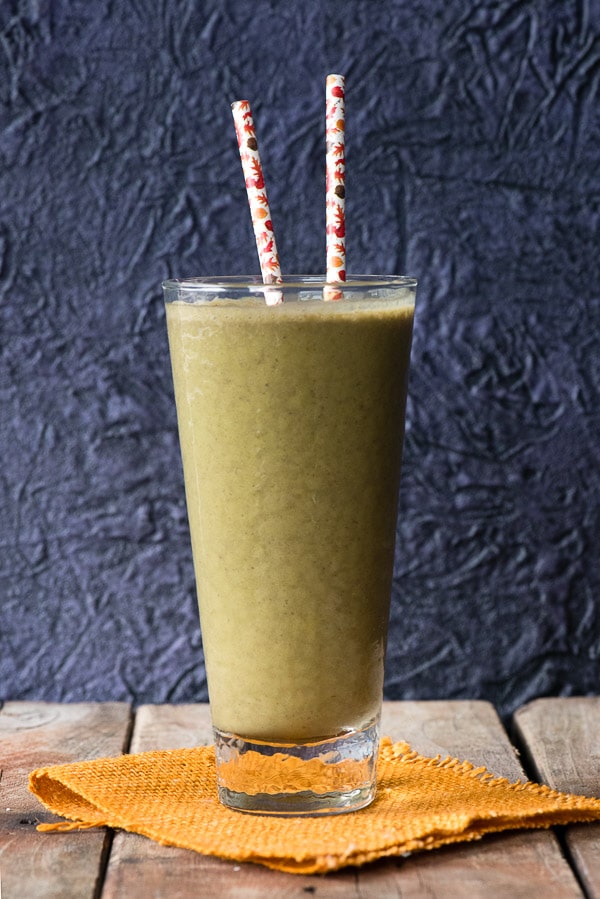 The best way I know to get loads of fruits and vegetables is with a smoothie. I typically do not add juice, preferring not to have those calories and sugar as part of the mix. Instead I blend sweet fruits with those that are tart, and dark leafy greens (usually kale because it doesn't taste like much) to make a naturally sweet smoothie with filtered water as the main added liquid.
Here's the other thing. I'm a bit lazy and crave a streamlined morning routine. In the morning I get up at the very last possible moment with just enough time to make kids' lunches for school, to throw on clothes and drive them. I don't allow time to eat breakfast before I go. If I take coffee with me, I'm famished when I get home an hour later.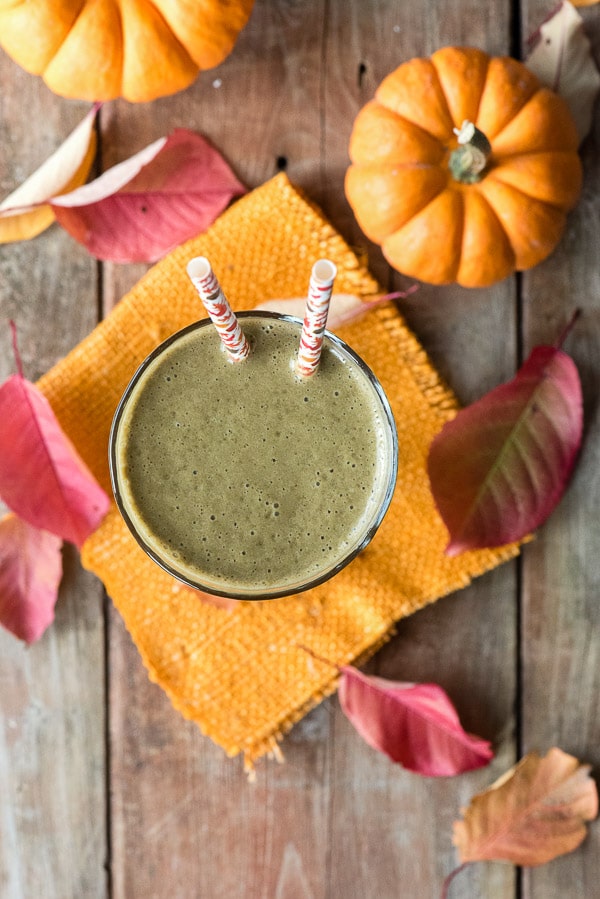 This gave me an idea. Coupled with my current obsession with everything pumpkin, I created a completely delicious fall smoothie that is deeply flavored, satisfying and filling.
The smoothie blends prepared coffee (chilled), vanilla soy milk or oat milk, maple pumpkin butter (widely available at this time of year), almond butter (some protein and good fat), a frozen banana (for natural sweetness and a creamy milkshake-like consistency) and my smoothie-standard green kale. It's SO good! No need for a smoothie bowl, and coffee and fruit. It's blended all into one fab drink to start your day with a bang!!
It's super easy to brew up some coffee the night before and just keep it in the fridge in a Mason jar. I typically buy prepared, washed chopped kale (because washing and chopping it myself seems arduous to me apparently) so literally the prep of this smoothie is probably in the 30 second range. I love the flavors together and I think you will too!
Recipe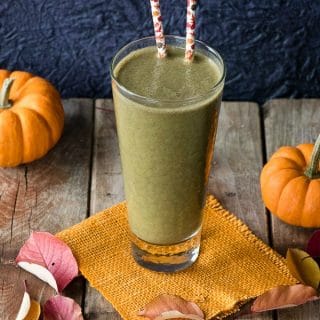 Ingredients
4

ounces

prepared Coffee

, chilled

4

ounces

Vanilla Soy Milk

1

tablespoon

Almond Butter

1

tablespoons

Maple Pumpkin Butter

1

medium Banana

, frozen (see instructions below)

Small handful Kale
Instructions
The day prior to making Fall Get-Up-and-Go Smoothie, peel a ripe banana, place it in a zipper plastic bag and into the freezer.

Combine all ingredients into a blender and blend until smooth.
Nutrition
Calories:
262
kcal
|
Carbohydrates:
35
g
|
Protein:
8
g
|
Fat:
11
g
|
Saturated Fat:
1
g
|
Cholesterol:
0
mg
|
Sodium:
61
mg
|
Potassium:
809
mg
|
Fiber:
5
g
|
Sugar:
18
g
|
Vitamin A:
2095
IU
|
Vitamin C:
21.5
mg
|
Calcium:
214
mg
|
Iron:
1.4
mg