Amarillo restaurants where the locals eat, Cadillac Ranch, American Quarter Horse Museum and a great place to stay in Amarillo Texas!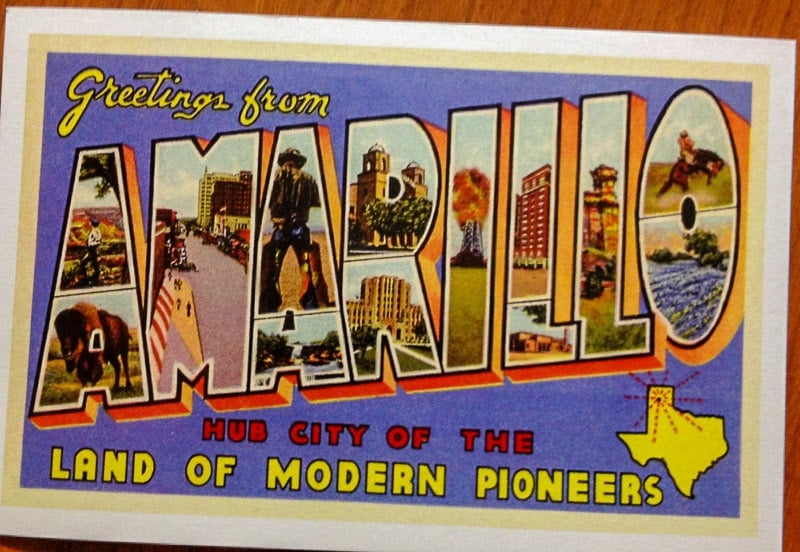 Jump to:
As with most of the rest of my life, my travels are highly planned and calculated. The perils of being a 'responsible adult' keeps me most often hemmed in and not catering to the true spontaneous nature of my being. An opportunity opened up last week with three day notice for a 6 day road trip and I grabbed it.
I set about scoping a route that would allow a loop (hate repeating a route), moving south only (it still can snow horribly north of Colorado at this time of year), somewhere I'd not traveled and that would have interest and a food story to explore.
Leaving in the dark at 6 a.m. on Monday I landed in Amarillo Texas by mid afternoon after an easy drive through the historic, windswept eastern Plains of Colorado. Most often my internet research of a new area includes phrases like 'cool things to do', 'off the beaten path', 'unusual places' and of course 'best local food'.
Not having a feel for Amarillo I was pleased with what I turned up and even more so after visiting.
The city of Amarillo reads industrial meets old time ranching with a modern momentum. I drove in through fantastic old industrial buildings begging to be turned into hip lofts.
Lots of sprawling trains and updated city buildings showing the pride of the residents. I love things that are authentic and show a 'life lived'. I rarely seek meticulously shiny surroundings preferring to see life as it is in its natural state feeling that tells much more of a story.
Amarillo Restaurants
Seeking out local restaurants sourced from locals who tell it like it is always leads to the best food finds. My Amarillo restaurant finds were no different!
The Amarillo area is not best known for Barbeque. Most non-Texans may bear a sweeping thought that Texas as a whole is synonymous with Barbeque or that all BBQ is the same.
Despite this not being a mainstay of the Panhandle-Plains area, I knew it was more common than in Boulder and set about finding where the locals dine.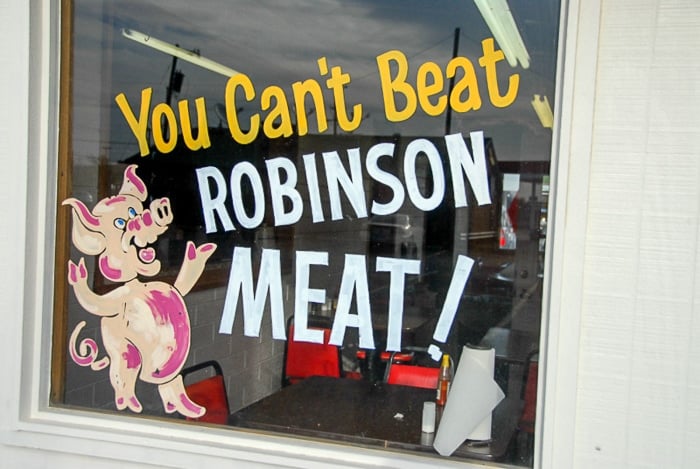 After quite a bit of probing and piecing together various reviews and opinion polls, I set out for Robinson's Bar-B-Q on the South side of Amarillo just to the west of I-60.
This Amarillo restaurant is a self proclaimed 'dive' (I'd call it more of a 'joint') it is set up in the middle of a parking lot of a strip mall.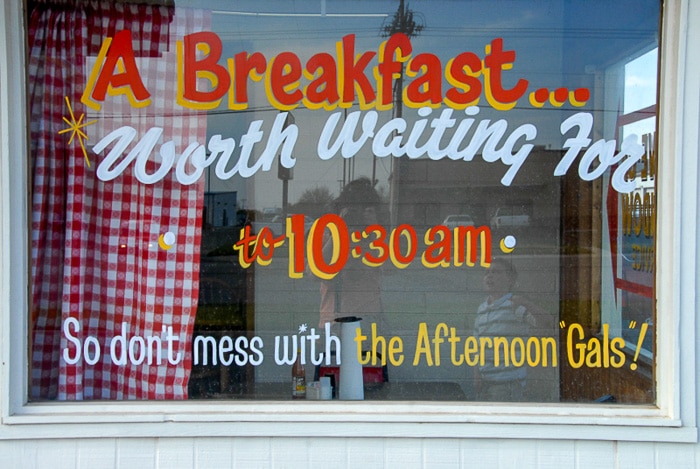 The windows are all painted with eye catching proclamations but speaking the truth rather than used car sales tactics.
Truth be told we eat like Hobbits when on car trips. Regardless of the best planning the fresh stuff does not get touched when en route to a destination.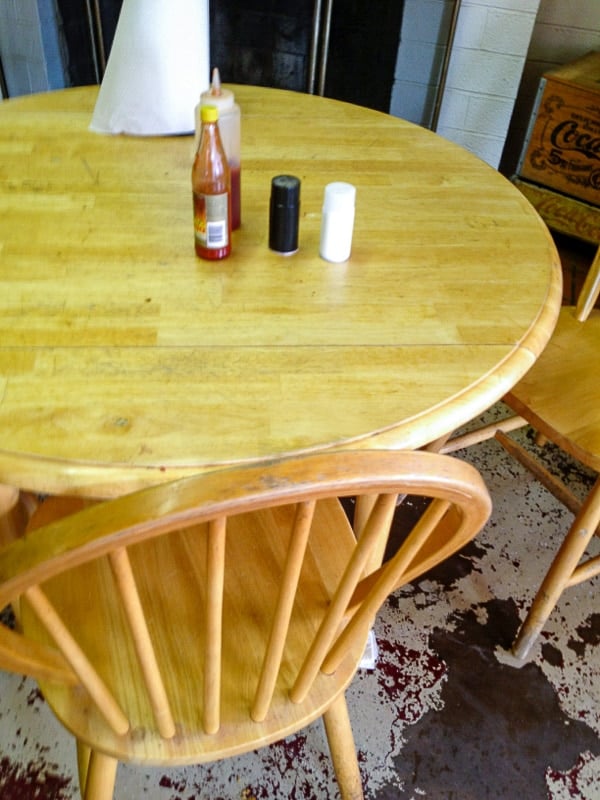 Instead we begin with a ritual of Gluten Free donuts (the only time we eat them ever) and carry on with First Breakfast, Second Breakfast, Elevensies, Lunch, Tea, Supper and Dinner. Suffice it to say when we arrived at Robinson's it was with polluted palate and hankering for good quality grub.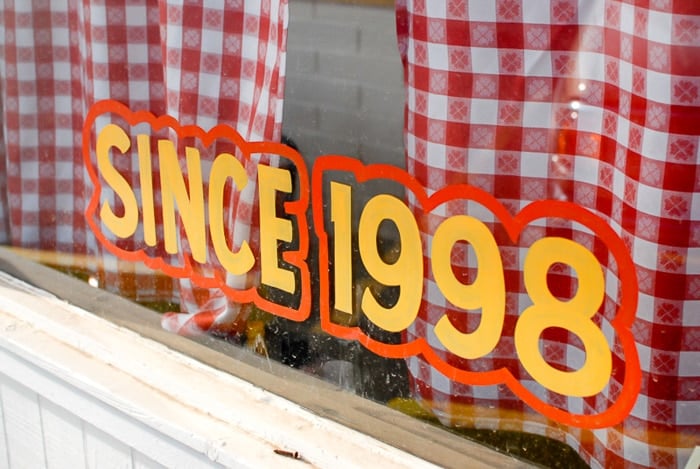 Robinson's is what you would expect; the real deal. Actual wood tables intermingled with plastic wood grain tables that look to have been there forever are flanked by red vinyl and metal chair, a few of them ripped only adding to the charm of the place.
Barbeque sauce is stacked up in squeeze bottles for patrons to sauce as they choose. Red and white checked curtains take the edge of the late afternoon sun.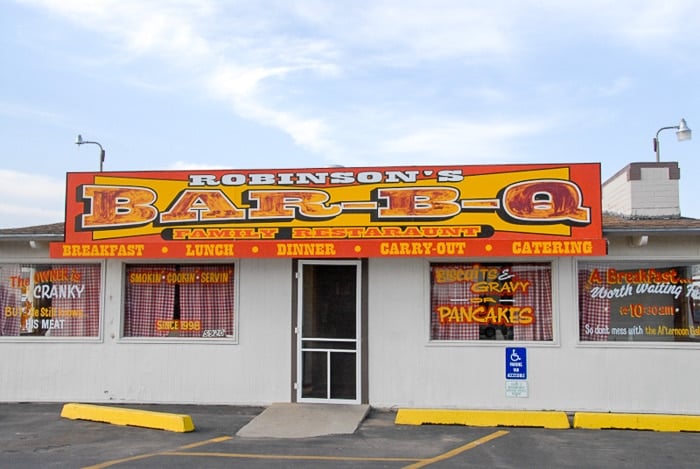 Frito Pie was something mentioned repeatedly in my research about Robinson's. I knew this was a 'must try'. A layer of Frito chips covered by pinto beans, cheese, beautiful chopped brisket and BBQ sauce.
I do not recall having Frito Pie before but it was just what the doctor ordered; flavorful with a nod toward road trip food and really well prepared.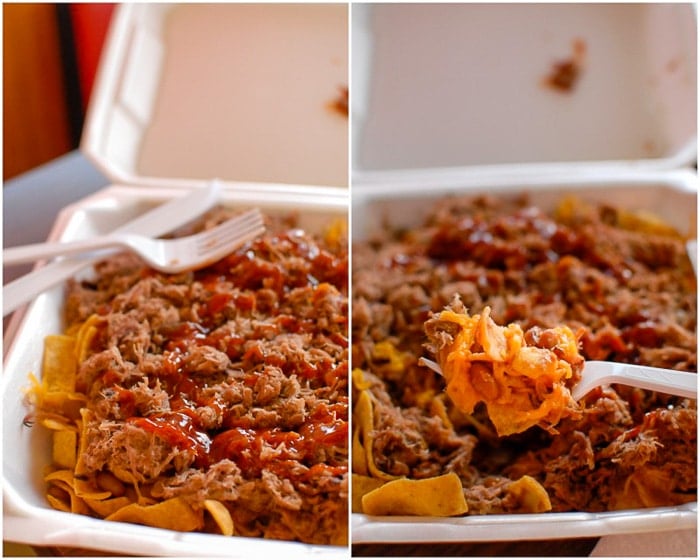 Everything tasted really fresh. Admittedly I've had some not so great BBQ experiences of greasy meat bathed in sauce leaving my stomach regretful. I felt great after eating Robinson's meat which the window art proclaims 'Can't be Beat'.
We also tried the Combination Plate which normally includes a large rib, a slice of brisket and a sausage though they were out of sausage and to our good fortune we got two ribs and brisket.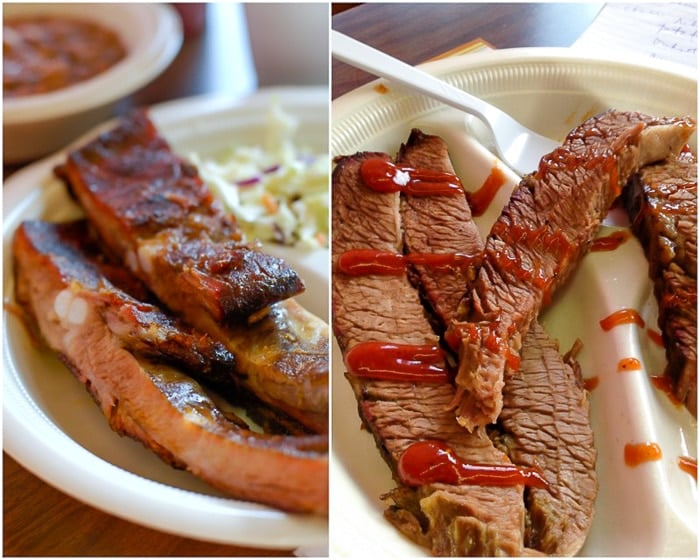 The dish came with pinto beans, potato salad, cole slaw and cornbread (the cornbread we skipped for the gluten). The ribs were delicate and falling off the bone with just the right amount of fat for flavor.
Corina took our order and brought us the food telling us she'd left everything for us to sauce ourselves. We chatted about BBQ and the variations.
Amarillo, as you might expect, is known for beef barbeque. Farther south the barbeque is far more sauced. I asked her what defines really good barbeque for her.
Corina felt great barbeque should not need a sauce to taste good. The meat should be juicy and flavorful by its own accord.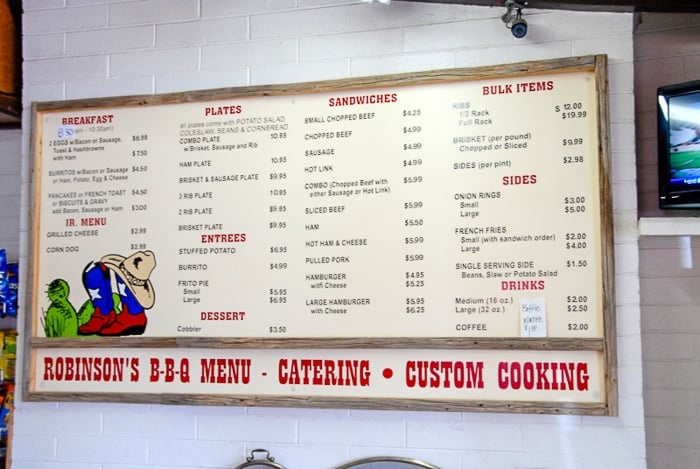 The brisket should be falling apart and juicy and the ribs unbasted. I noted the sauce was not thick and overly sweet as some BBQ sauce can be but lighter and more fresh in the flavor.
All entrees at this Amarillo restaurant were ample in size and most under $10 making them a great value. Plus they have a drive up window; what more could you want?
Robinson's: 5920 Hillside Road. Amarillo 79109. (806) 358-2194
**as of October 2021 the cafe is listed as temporarily closed**
The next morning began bright and early with a trip to the Stockyard Café for breakfast. Touting authentic comfort food at the site of one of Texas' largest cattle auctions on Tuesdays (note: the sale will move to Mondays as of next week) the place is known to be packed for lunch.
I had hoped to catch some of the auction as well so breakfast was a perfect fit. Winding out on east I-40 into a metallic industrial wilderness one comes upon a discrete entrance to the Amarillo Livestock Auction building. The Stockyard Café resides within the Auction building immediately to the left.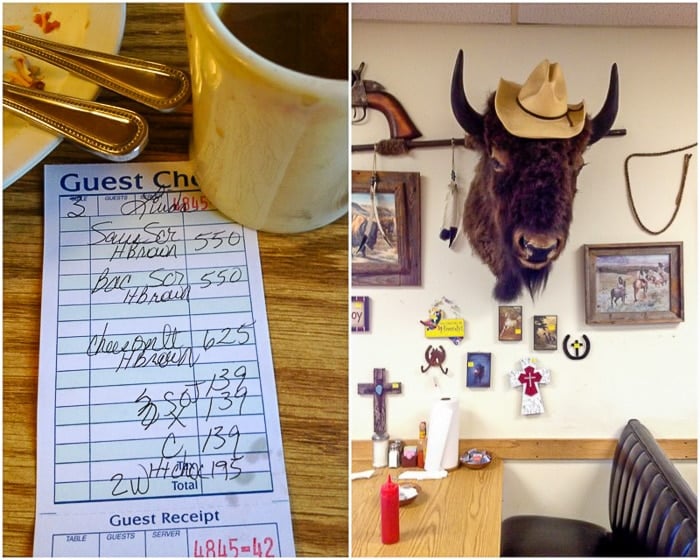 As you might expect, the sizeable L shaped café was full of Ranchers, cowboy hats and spurs, conducting business on the cell phone ear pieces. A friendly lot; one suggested when I popped up to snap an iPhone pic of a buffalo on the wall with a chapeau that he's (the buffalo) been known to jump off the wall to bite those taking his picture too early in the morning.
I'd read the owner of the café had attended Culinary School and brought his passion back to the heartland to apply his talents to the comfort food of the region. Breakfast was substantial with loads of protein options for a hearty start to the day.
The Green Chile is a popular item and pork chops are a meat pairing option with eggs along with the requisite bacon, sausage, ham. I settled on a large cheese omelet with hash browns, topped with freshly made salsa and loads of hot coffee. Our table was facing the front of the building allowing us to peer out the potato sack curtains to see all the long trailers pull by toting cattle for the upcoming auction.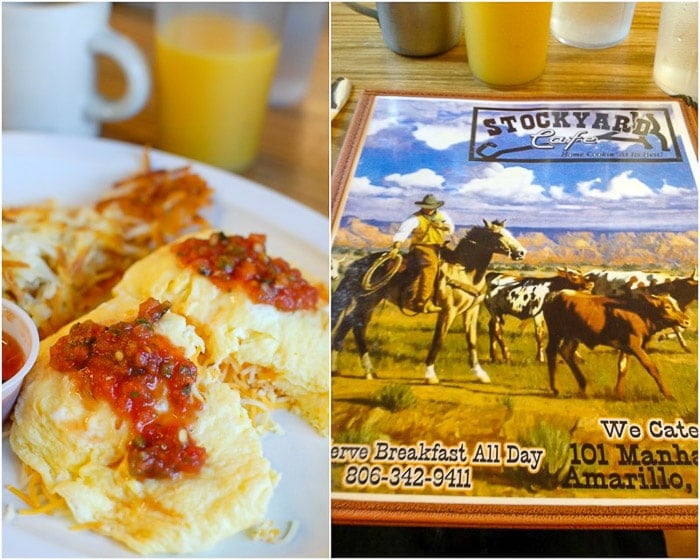 The cafe is decorated as you'd hope; layers of wood signs still wrapped in plastic available for sale, an homage to John Wayne, significant taxidermy spread throughout. There was no question this was a local haunt.
The lunch menu really fulfills the promise of regional comfort food with entrees like Chicken Fried Steak in portions fit for one spending the day on a ranch. It's definitely a taste of Texas worth experiencing.
Stockyard Café: 101 Manhattan, Amarillo. (806) 342-9411
After dining I popped into the auction hall which is a semi circle of tiered seating perched above a small dirt floored area for showing the cattle for auction. Unfortunately the auction time slipped to 11 leaving me unable to stay due to other destinations in my path. A gentleman sweeping up the arena offered I could go out the back, up a catwalk to see all the cattle.
I exited the building and in high wedged sandals carefully negotiated a narrow plank walkway that told the story of time making its way high above the wooden enclosures where the arriving cattle were stowed awaiting the auction.
It was quite a scene with all varieties of cows, singles and small groups, cowboys on horseback ushering the cattle in and holding watch over the sprawling scene with a clear sense of organization.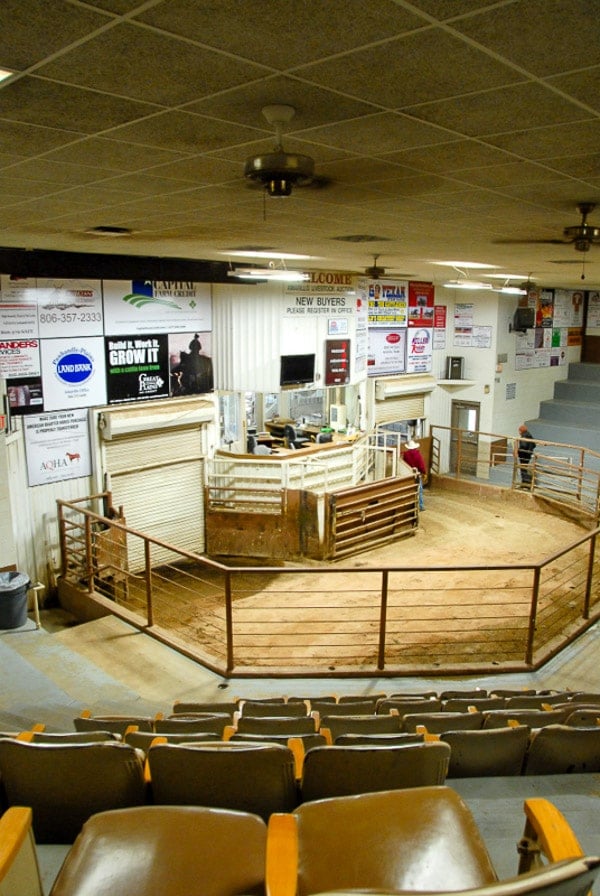 It was impressive to behold the magnitude of this operation with enclosures spreading far in every direction all superimposed against a backdrop of gigantic silos, mammoth metal recycling facilities and trains punctuating the moo'ing with a haunting whistle.
Photos were not allowed so I'm unable to share a visual but I will add that it did not escape me I was witness to a serious and almost sacred fundamental of the ranching world most certainly in Texas but for the U.S. as a whole with this being the 'heartland' of the Ranching profession.
More Amarillo Restaurants & Tips
Other Local Dining tips: I ran out of time before trying local Mexican food. I was given two great tips from Cornia at Robinson's BBQ as well as from the cashier at the Stockyard Café.
Knowing I was looking for authentic Mexican food, where the locals eat and no chains they offered Acapulco's (on Polk Street – now permanently closed) in downtown Amarillo and El Tejavan (on 1-40 and Grand specifically). The cashier (whom is herself Hispanic so an insider on what is considered authentic and good) suggested this specific El Tejavan (there are more than one) saying 'when we don't cook at home we feel this is the closest to real home cooked Mexican food'. Love that.
Update: Coyote Bluff Cafe. Following publication of my Amarillo post, three separate locals suggested the 'hole-in-the-wall' Coyote Bluff as a great burger, steak and a little bit of everything kind of place. There is apparently a small bathtub full of beer in the middle of the restaurant. Each person went on enough about it I thought I should throw it into the mix.
Cadillac Ranch
Off I-40 west is a local 'art installation' called Cadillac Ranch. I knew a bit about and it seemed kitschy but we made the effort to go just before sunset on the evening of our arrival. SO glad we did!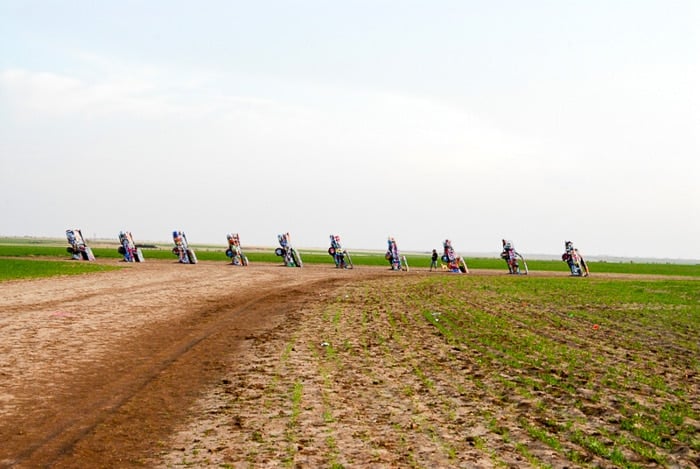 In the middle of a farmed field lies 10 Cadillac cars that have been halfway buried in the earth and spray painted. It is an interactive 'exhibit' where one is welcome to bring their own spray paint and have at it.

A departing family passed a can to us which made it all the more fun. It was an unexpected sight to behold and worth the trip.
Falling prey to vague internet directions and having to ask a rancher how to find my way (who incidentally was friendly and helpful, I'm sure being asked many a time before me, sent me on my way with a twinkle in his eye telling me to prepare 'for an experience of a lifetime' I suspect humored by throngs of tourists coming to such an odd display).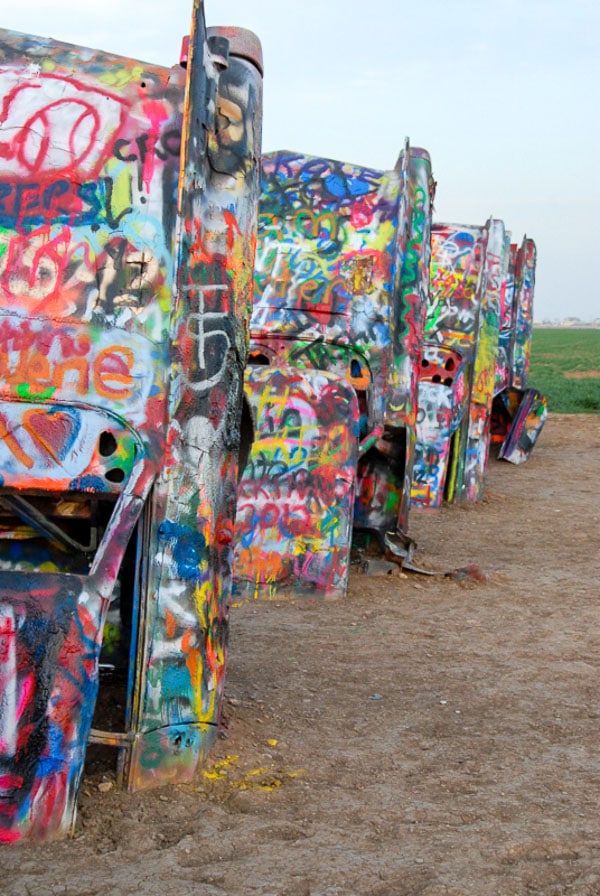 Directions to Cadillac Ranch
I will share specific directions here:
Take I-40 West of Amarillo and exit at exit 60.
Make your way to the frontage road on the side of the highway where the Love's resides.
Follow the frontage road east (toward Amarillo) for about 1 mile.
The cars will be on the right in the middle of a field. You can't miss them. No admission fee.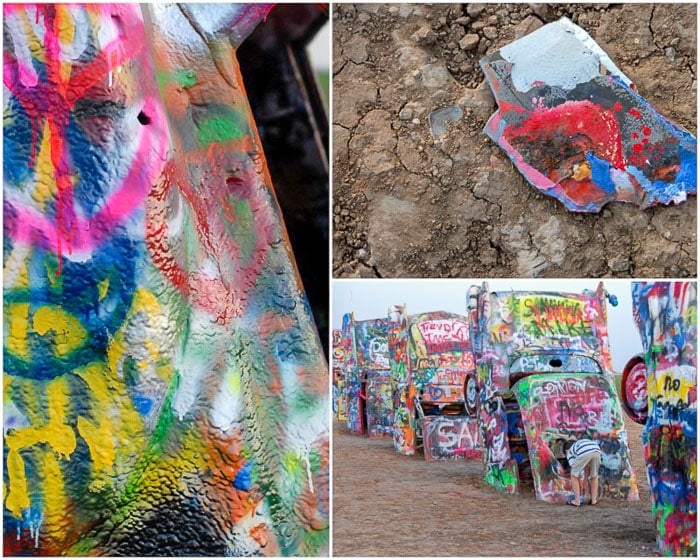 Whether you like horses or not this museum cannot be missed. When entering the building it is clear a lot of thought and frankly cash have gone into this comprehensive, interactive collection of information about this beloved horse breed.
The entry hall soars to the ceiling in a regal way with a larger than life (literally) metallic emblem of the American Quarter Horse on the wall facing the entrance. It was almost a religious moment for the presentation of it and it beckons one into the fold to learn more. The museum is meticulously appointed with a room dedicated to the initial bloodlines of the breed in family tree form.
Another area characterizes key figures in the lineage of the breed displaying artifacts of their involvement. There is a wonderfully interactive area one might think for children but really for everyone interested to learn more about the American Quarter Horse breed, its care and characteristics.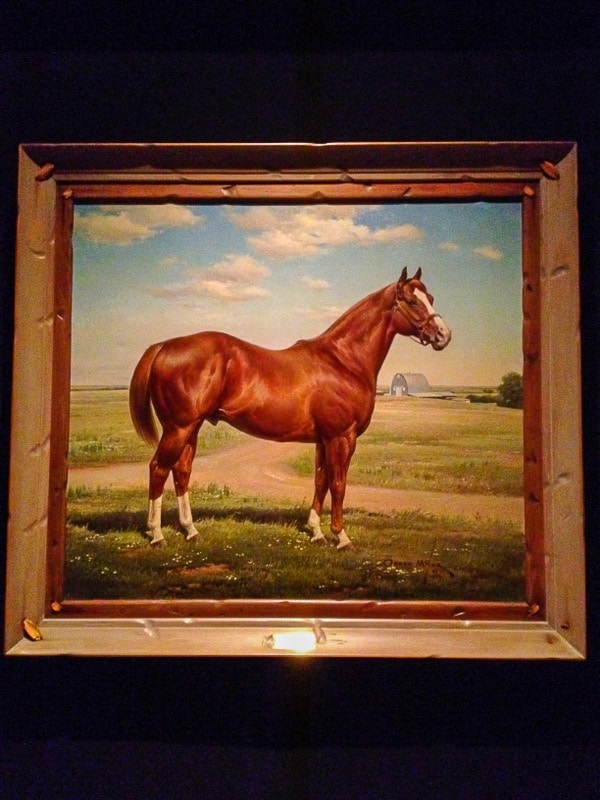 A favorite in this area was a life-size mural of a Quarter Horse with a sliding x-ray panel allowing all parts of the internal horse to be viewed and the ability to select muscle, bone and organs to change what you view at any part of the horse. I also enjoyed a vast menu of selectable movie segments of Quarter Horse competitions.
I'm now obsessed with the Working Horse competition which displays cow herding skills, part of which is the horse calmly displaying tight circles as though he's auditioning for a circus. After a short movie about the American Quarter Horse in a plush theatre with full size oil paintings of the horses filling out the dark wood walls I left almost a bit emotional and clear if they sold American Quarter Horses in the gift shop I WOULD be buying one to take home.
Amarillo Hotel Tip
I must give a nod to the Holiday Inn Express on Wolflin Road. A fairly new hotel, it is perfectly situated for the type of traversing we did around town with easy interstate access. The rooms are impeccable with microwaves and refrigerators in all rooms. Breakfast is complementary, room rates are reasonable and the hospitality abounds.
Hospitality Plus in Amarillo
I must make mention of the general hospitality in Amarillo before moving to my next location. To say it was attention catching would be an understatement.
By example when I was leaving Robinson's trying to get back on the highway to my hotel, I was relying on Siri, my not so BFF iPhone navigator. I had passed under the highway twice with no mention of the street she so insistently instructed I must use.
I had pulled into a side street and must have looked perplexed as a smiling gentleman hopped out of his Pick Up truck in front of me and ran back asking if I needed help. He was sympathetic to my confusion and put me on the right path.
This type of courtesy happened several times priming me I clearly needed to pay it forward. Most people just don't go out of their way to help others in this manner. Thank you Amarillo for reminding me the kinder sensibilities of human engagement still do exist.