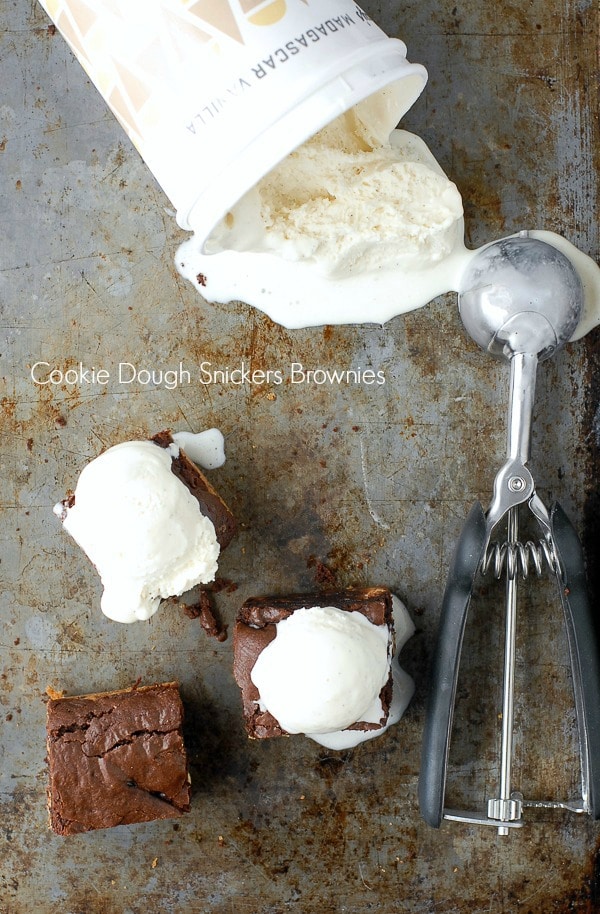 Have I got something for you today! This is a put-your-diet-on-hold treat that is worth every bite.
It was a sad day in the Boulder Locavore household when the last bit of the four layer Rose-flavored Cake with Pistachio Cream and Whipped Cream Frosting was done. And though we don't have desserts hanging around the house usually, it's been a pretty grueling week of late night homework and lots of driving for my husband and me. The type of week that makes Friday night look like an oasis in the midst of a steamy hot desert.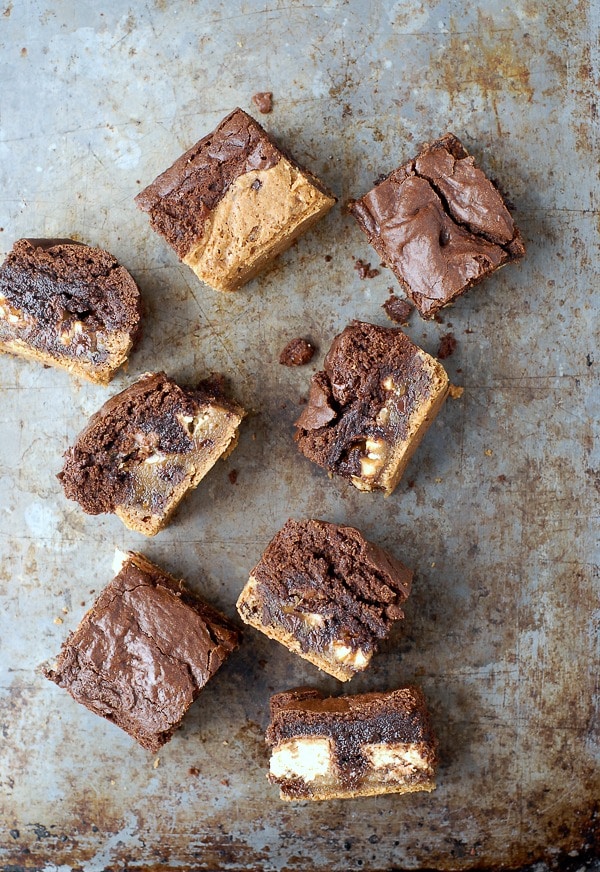 It seemed a fun time to have something unexpected to eat. I've made loaded brownies before for the holidays and a reprisal seemed in order but taken up a notch. Cookie Dough Snickers Brownies; sound good? And they can be made gluten-free or with gluten. Chewy, chocolatly gooey brownies atop chocolate chip cookie with Snickers melted in between. Can you imagine anything better? Well there is….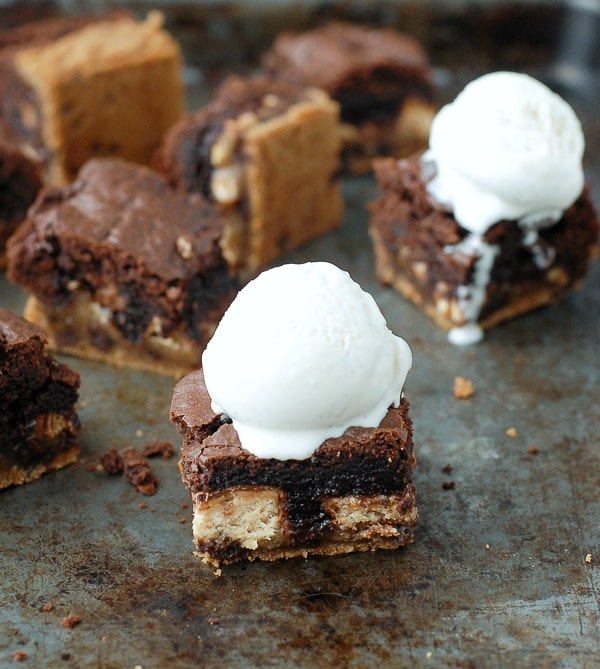 These brownies are whipped up in merely minutes with the help of prepared mixes! It would be great if we could make everything from scratch. I love scratch baking but candidly not everyone (including me) has the time and wouldn't it be great to create a wonderful dessert in far less time using quality mixes too? As a gluten-free household I've tried many mixes. I like to have reliable, delicious options in my pantry in case of a last minute need when I'm short on time. Sometimes it's fun to put one's time and creative juices into a great idea instead of preparing everything from scratch too.
The great thing about this recipe is that you can make the brownie and cookie dough from scratch if you want to! It is a very flexible recipe. You can make one or the other component from scratch and use rolled cookie dough or brownie mix for the other component. The recipe will work with you as you need and prefer to make it.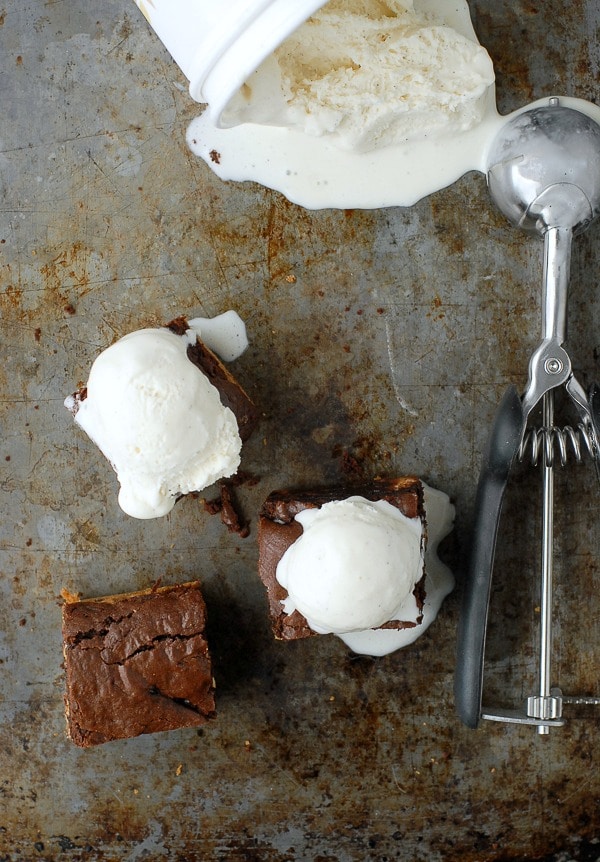 For this batch I chose to use a favorite deep chocolaty brownie mix from Pamela's which produces fantastic gluten-free mixes. I've served the end result of several of the products to gluten-free and gluten eaters with rave reviews. Somehow 'you'd never know this is gluten-free' from a gluten-eater seems the highest compliment possible! I also used gluten-free cookie dough from Immaculate Baking Company 'Chocolate Chunk Cookie Dough Gluten-Free' which is fantastic. It's readily available across the U.S. They have a long list of delicious ready-to-bake gluten variety cookie doughs, three gluten-free doughs, some organic and natural varieties, and they are involved with the non-GMO project. A very sweet company (no pun intended).
I don't need to say anything about Snickers bars as they speak for themselves! Chocolate, caramel, peanuts. Perfection. I did make a second batch of the brownies using 3 Musketeers bars for my braces-clad son who cannot have nuts. They too were delish though the Snickers bars hold their form a bit better. The trick with these loaded brownies is paying attention to cooking time. Every mix is different so I'll give some tips in the recipe to ensure they come out perfect! They also need to cool for a few hours before eating to be in the best form!
You be the judge. Whip up a pan and pop on a scoop of Vanilla Ice Cream and see what you think!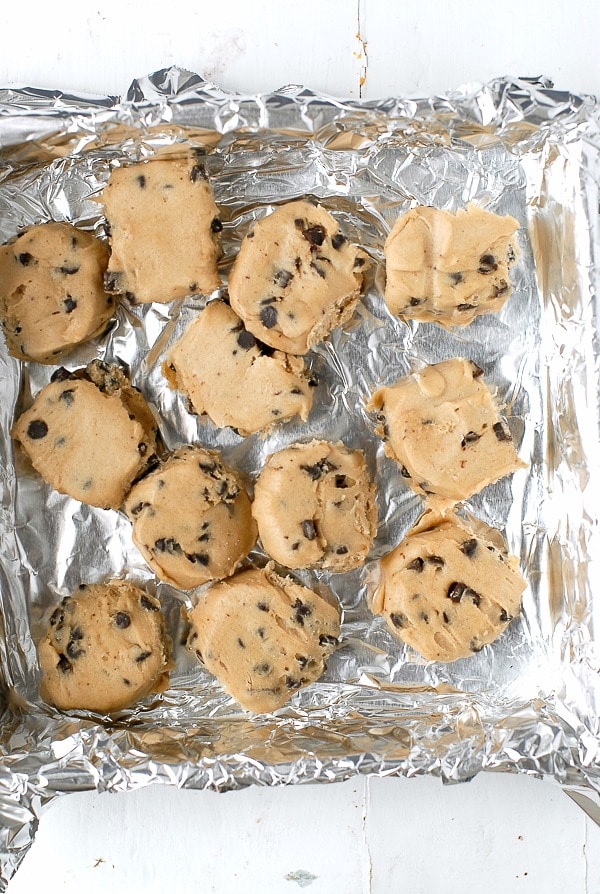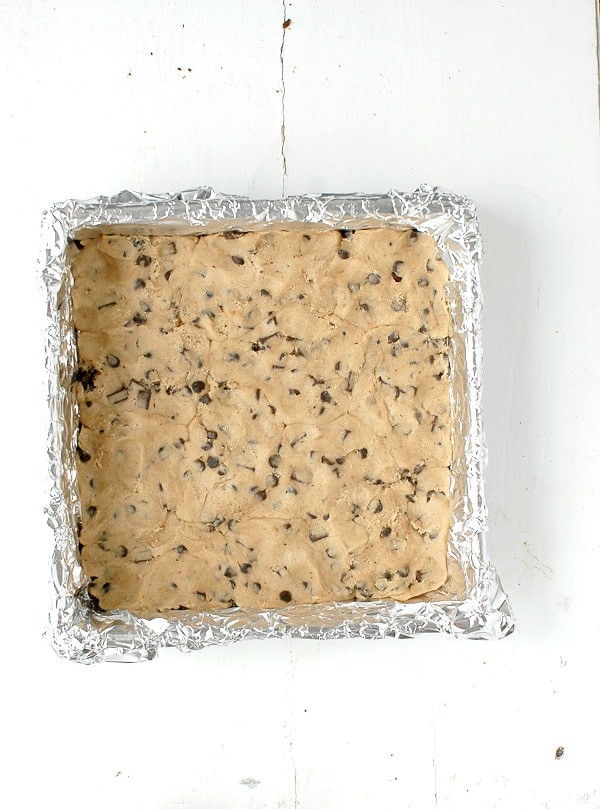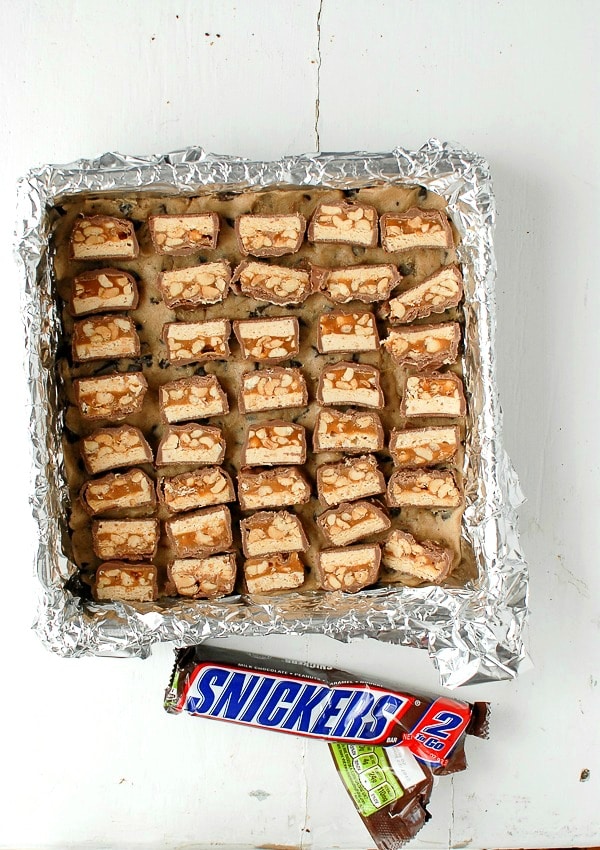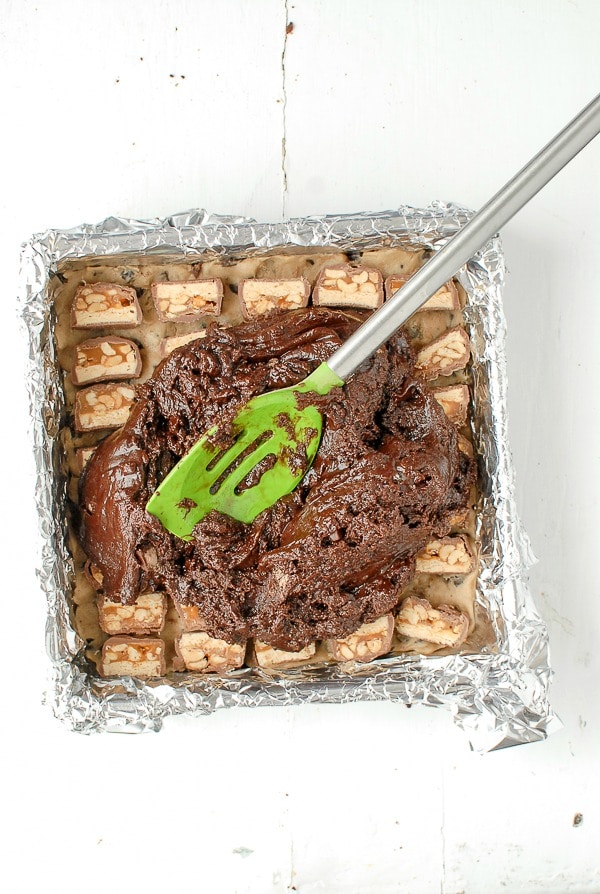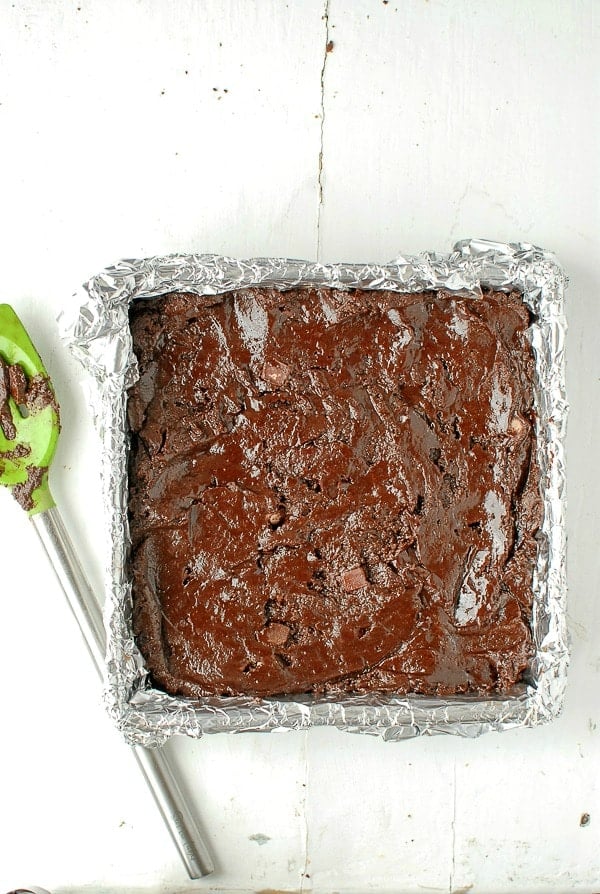 Recipe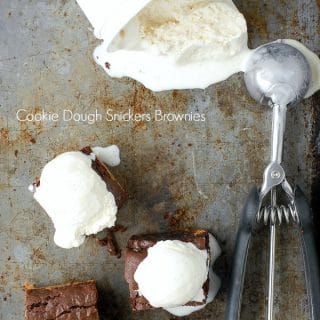 Cookie Dough Snickers Brownies
These decadent brownies layered with chocolate chip cookie dough, Snickers bars and chocolate, chewy brownies are the hit of any gathering. A little goes along way especially with a scoop of vanilla ice cream on top! Whipped together in minutes using your favorite prepared cookie dough and brownie mix. The secret to keep these brownies moist and chewy cooking them thoroughly and letting them cool for at least 2 hours. Checking the brownies starting at 35 minutes will ensure they are properly cooked. Letting them fully cool yields chewy delicious brownies no one can resist.
Print
Save Recipe
Recipe Saved!
Pin
Rate
Servings:
16
-20 brownies
Ingredients
14-16

ounce

Roll of Chocolate Chip cookie dough

2 1/2 3.29-

ounce

Snickers Bars

(or equivalent), sliced cross-wise into 1/2 inch slices

favorite Brownie Mix for a 9x9 pan
Instructions
Preheat the oven to 350 degrees. Line an 8x8 or 9x9 square baking pan with heavy duty foil, shiny side up.

Slice the cookie dough and press the cookie dough into an even layer covering the entire pan.

place slices of Snickers bars on top of the cookie dough, covering the dough evenly with one layer of candy bar slices.

Spoon the prepared brownie mix onto the Snickers layer and smooth to evenly cover.

Place in the oven. Begin to check for doneness at 35 minutes by inserting a knife into the middle of the brownies. The knife should come out clean when they are done. If there is batter on the knife, return the brownies to the oven and check again in 5 minutes until they are done. Note: my batch was perfectly done at 45 minutes.

Allow the brownies to cool for at least 2 hours to completely form.
Nutrition
Calories:
169
kcal
|
Carbohydrates:
19
g
|
Protein:
1
g
|
Fat:
9
g
|
Saturated Fat:
3
g
|
Cholesterol:
3
mg
|
Sodium:
74
mg
|
Potassium:
109
mg
|
Fiber:
1
g
|
Sugar:
11
g
|
Vitamin A:
15
IU
|
Calcium:
9
mg
|
Iron:
1.7
mg