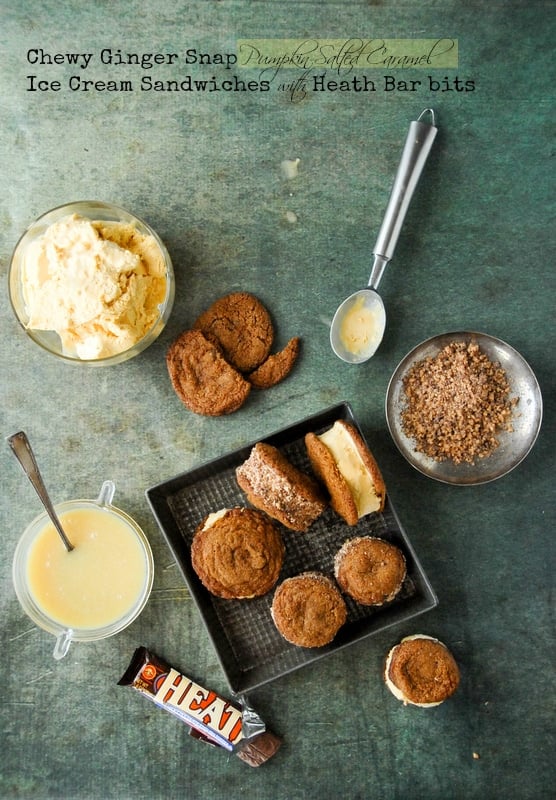 It's funny how one delicious discovery can lead to another. After making Chewy Ginger Snaps last week my imagination began to run head long toward fall flavors. In the Food Blogging world, pumpkin has been on the scene since late August. Pinterest is a plethora of flame-hued recipes sporting calabaza in every savory and sweet direction imaginable. I like to go slow into the next seasonal food, savoring the last moments of the current season and never wanting to peak too early inundating readers with more squash, in this case, than can be tolerated.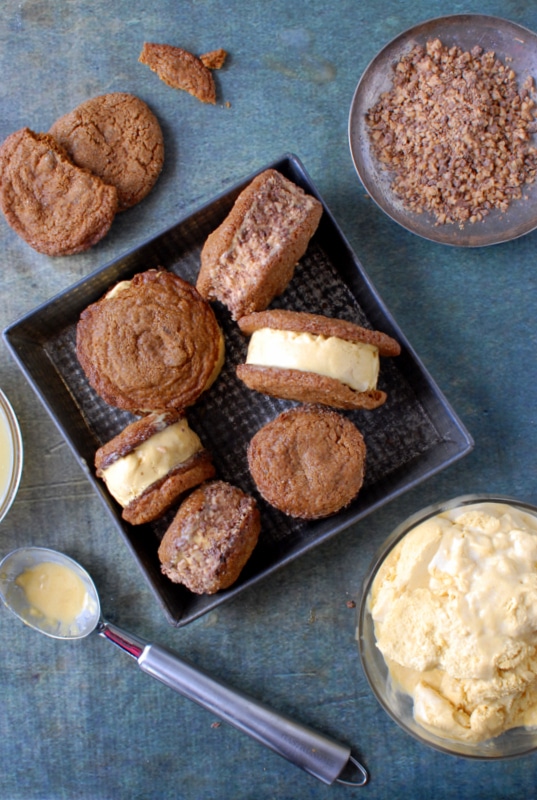 Being the first official day of fall today, it seemed fitting to bring out the big pumpkin guns to celebrate one of the most flavorful times of the year! Our temperatures have rebounded from the chilly slosh of last week to the 80's feeling like the start of Indian Summer, conjuring ideas with the deep, earthy spices of fall in an unexpected package: an ice cream sandwich. Never just for summer, this sandwich lasso's the chewy ginger snaps and pairs them with pumpkin ice cream made light with some crème fraiche and sultry with a ripple of Salted Caramel. The only thing I could imagine could make it better would be to stud the exposed ice cream with crushed Heath Bar bits…..so I did. No complaints from my taste testers. Actually no comments at all; they were too busy devouring their sandwiches.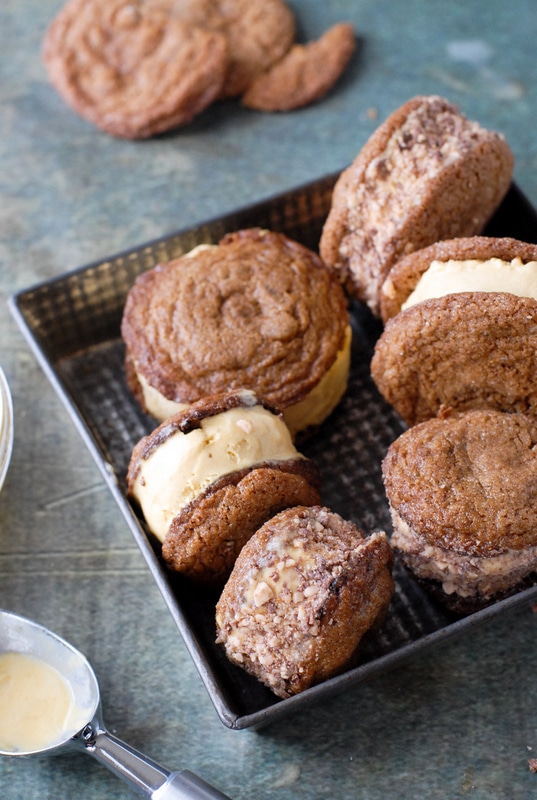 Though this treat requires three recipes in one, it's totally worth it. The chewy ginger snaps are unique first by being actually chewy but sparky with flavor thanks to both traditional spices and diced crystallized ginger. The Salted Caramel recipe is one I've used verbatim before and is a recipe dreams are made of. There will be some left over if you make a full batch so you can put it on other things (or eat it by the spoonful; it's truly irresistible). The ice cream has a beautiful pumpkin flavor with only light spices so as to not compete with the spicy cookies. And it's all gluten-free!