Does the thought of entertaining overwhelm you? This 3-ingredient 15-minute appetizer is what you need: Baked Brie with Cherry Preserves and Almonds.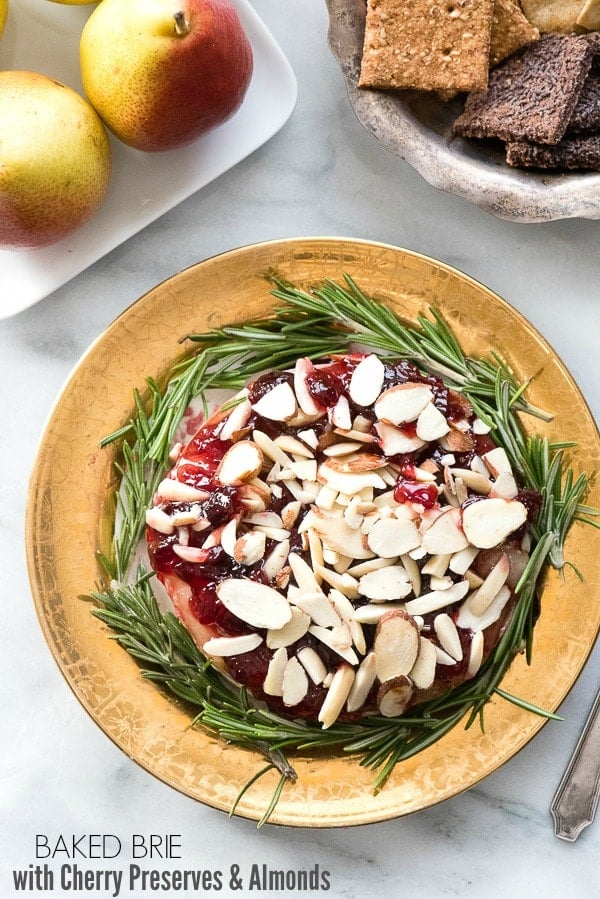 I love catching up with friends and neighbors around the holidays. It heightens the festive feel of the time of year. Unfortunately for me I can't switch gears easily from the rigors of my mom responsibilities to be the hostess with the most-est these days. There is so much going on. When I'm overextended, thinking up what to serve for a gathering or cocktail party feels like reciting all the decimals of Pi, while standing on one leg, blindfolded.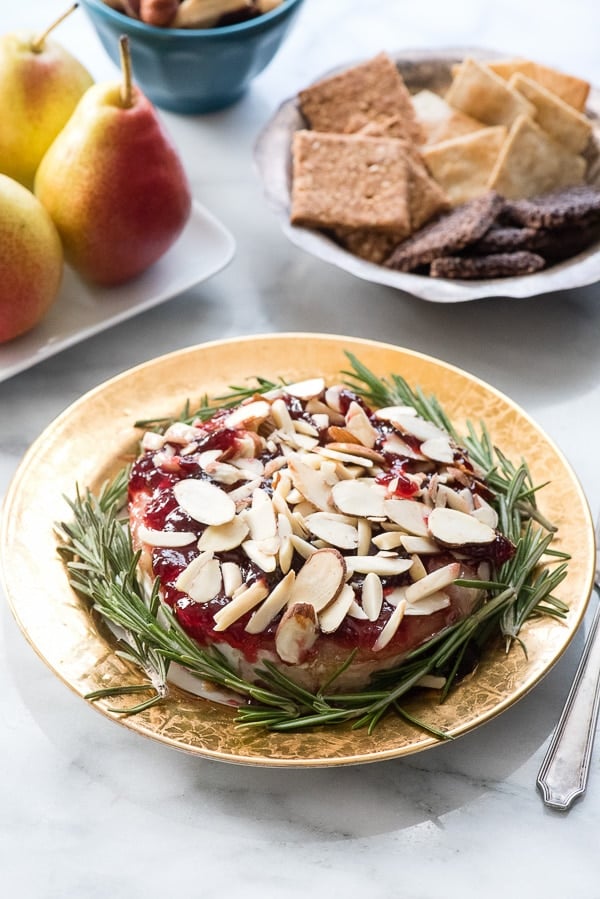 My friends, I have a secret to let you in on. I have a foolproof appetizer recipe that takes 15 minutes max and only uses 3 ingredients: Baked Brie with Cherry Preserves and Almonds. I challenge you to think of a quicker, easier appetizer recipe AND one that is as sophisticated!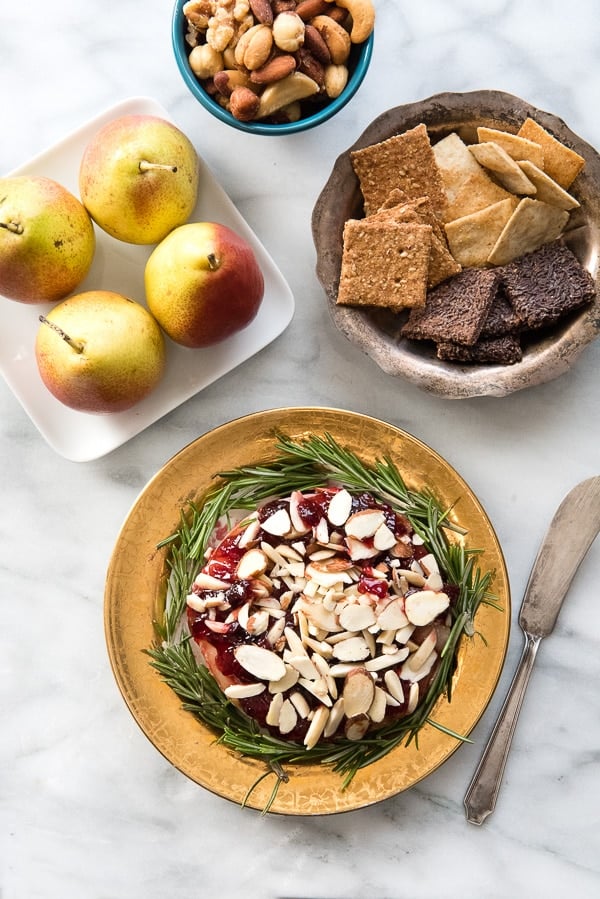 To make this, one side of a wheel of brie is sliced off exposing the soft, delicious cheese. Some cherry preserves are spread on top and then sprinkled with almonds (sliced or slivered or a mix). It is baked for 8-10 minutes; just until it has softened and is warmed through but not begun to melt. Serve it with a soft cheese knife, crackers and fruit. Bam! You are done. Guests can slice it and eat it on crackers or fruit.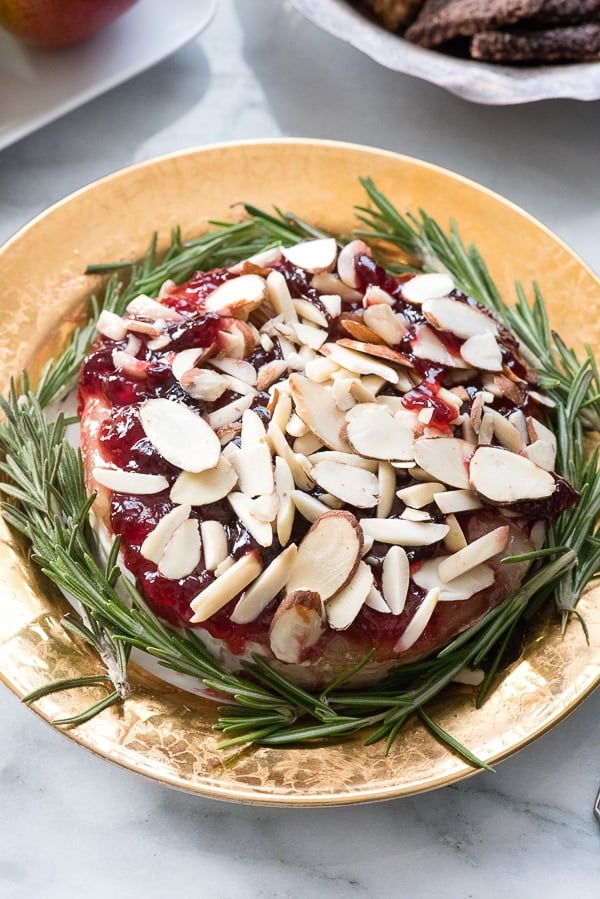 I keep a couple wheels of brie in the refrigerator along with a selection of crackers. We always seem to have an abundance of preserves or all kinds as well as nuts. Even if caught completely off guard I can whip this up and no one would know I wasn't totally prepared at all times (well, I guess by having all the ingredients on hand I AM ready at all times).
I love the flavor combination of brie, cherries and almonds. Other preserves can certainly be used too. This is a very flexible appetizer to put together with what you have on hand.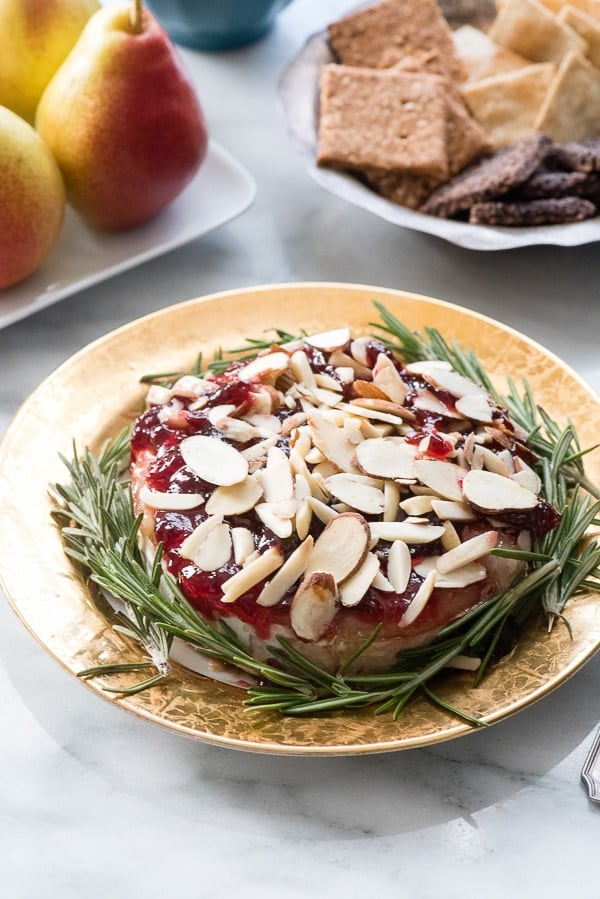 Another super quick 3-ingredient recipe you'll love is Cranberry Pecan Goat Cheese Roll. Very easy to make and perfect to add to holiday entertaining!