Fun Double Chocolate Mint Waffle Cookies that are chewy like brownies and packed with rich flavor. They are also 'allergy-friendly' free from the top 8 food allergens (vegan, gluten-free, dairy-free)!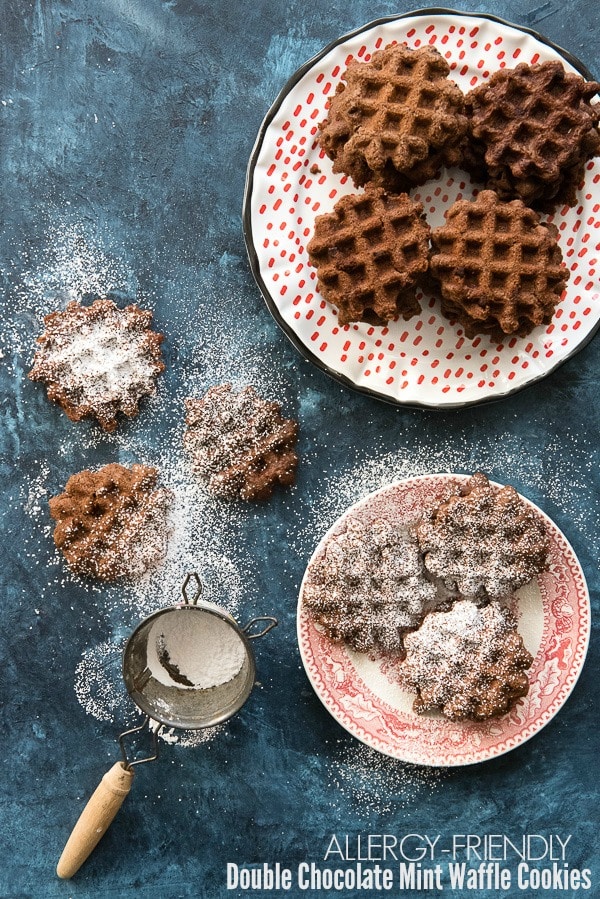 This allergy-friendly post is sponsored by Enjoy Life Foods. All opinions are my own.
'Tis the season for cookie making and I have a fun one to share today: Double Chocolate Mint Waffle Cookies. And guess what? They are also free of the top 8 food allergens. More on that in a minute!
I generally struggle at holiday times, loving both traditional recipes we make each year but always wanting to try something new too. The great thing about holiday cookie season is that it offers a perfect chance to do both! Much harder to do than with a turkey at Thanksgiving unless you are feeding a crowd and make multiple birds.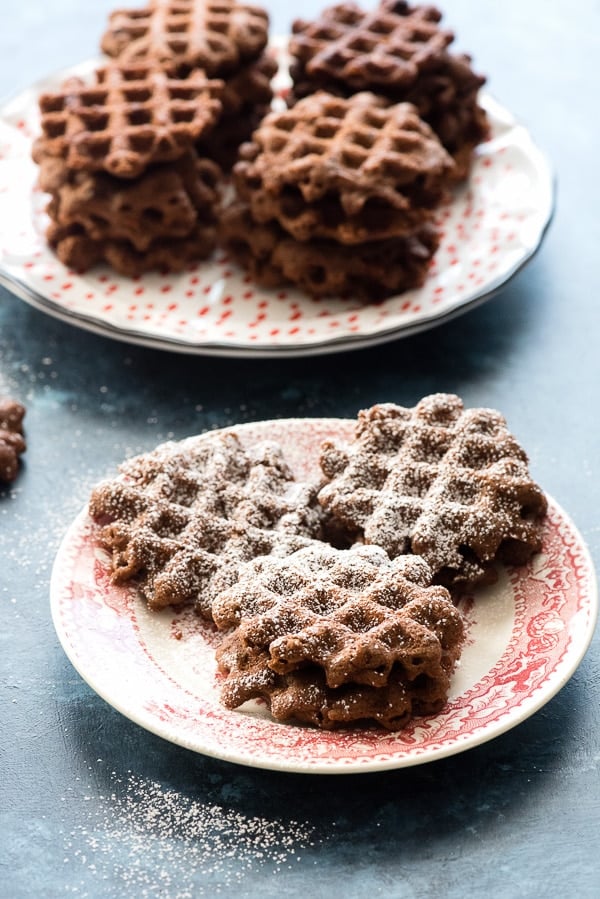 Longtime readers know I love repurposing. Using something for something it wasn't originally intended for. I have only used my waffle irons to make waffles (except for a weird Pinterest experiment of making tater tots into a waffley thing that did not work). The idea of making cookies in the waffle iron has seemed fun and I had the perfect opportunity to try out my idea.
Last month I shared an 'allergy-friendly' (technically free of the top 8 allergens) recipe for Vegan Pumpkin Spice Ice Cream . My brand partner, Enjoy Life Foods, asked if I'd create a holiday recipe using one of their baking mixes this month. It was a great opportunity to repurpose a mix into something a bit different. I used their Pancake and Waffle Baking mix to transform into chocolatey minty batter to create little cookies that have the most wonderful, chewy and crisp-edged brownie-like texture.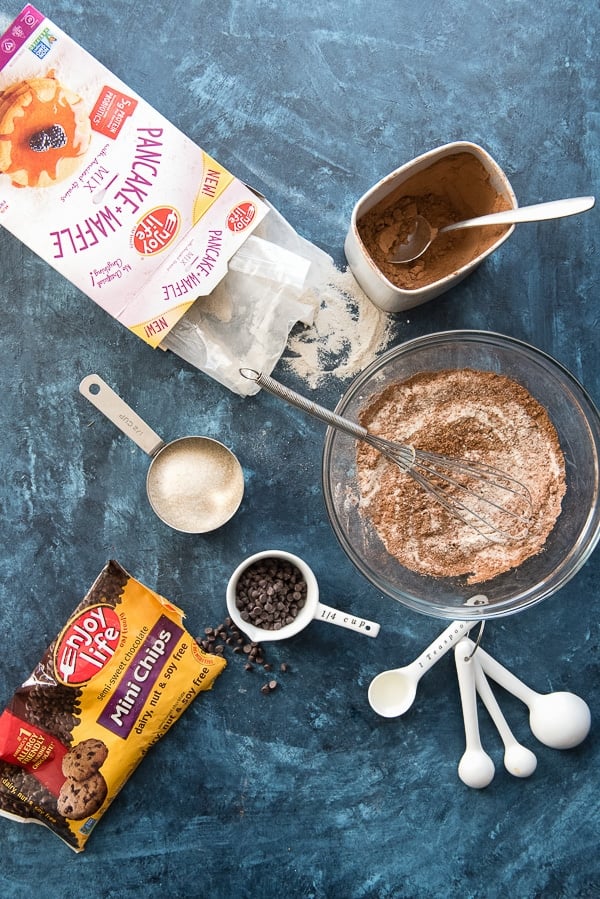 I'm not going to lie, it's a learning curve to learn how to cook without ingredients you are familiar with. It took me a long time to really comprehend how the properties of gluten (the binding ingredient in wheat) played out in baking and how to adapt to it NOT being in the flours I use. It's unnerving and disappointing to make something you have always made and have it not turn out as expected AND not know what to do to fix it.
As much as I like to bake from scratch, I have sought out and tested gluten-free baking mixes from the beginning. When we became gluten-free my daughter was going into first grade and my son was 2. Those surprise school treats or food for events pop up without warning and I wanted to be ready with sturdy mixes I could trust.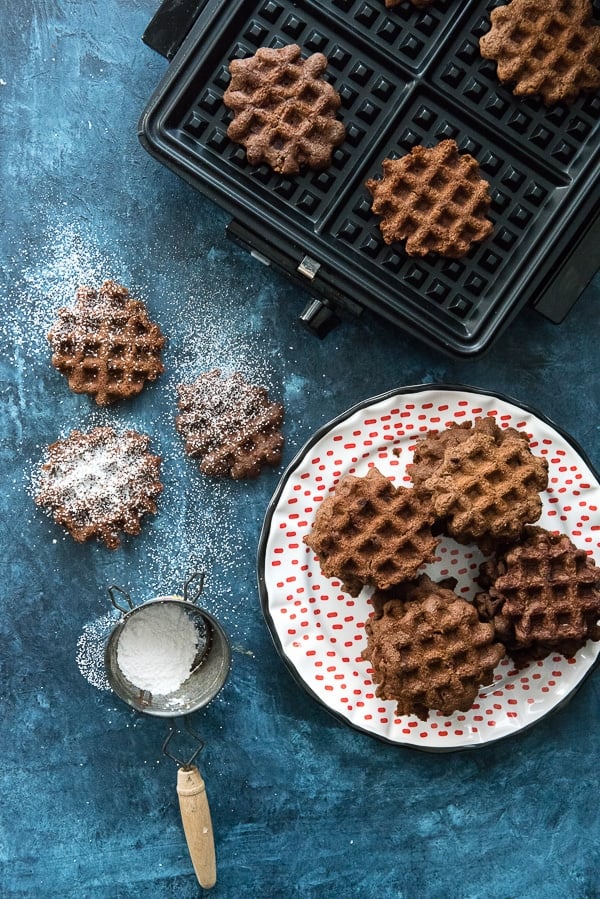 For those bound by multiple food allergies the challenge is even bigger. Not sure what the top 8 food allergens are? They are wheat, dairy, soy, eggs, peanuts, tree nuts, fish and shellfish. In looking through the list most of us don't put salmon or shellfish in our cupcakes so that's not a big hit for baking. Nuts? Those can be omitted without much impact. Wheat, dairy and eggs? Baking is chemistry and once beginning to toy with these ingredients, life can become difficult and disheartening in the kitchen.
I went to work with Enjoy Life Foods Pancake and Waffle mix to create a cookie type batter with chocolate mint flavor that was clear of the top 8 allergens. I tweaked and tinkered with several batches until arriving where I wanted to. These cookies are delicious! They are chewy like brownies with the wonderful crisp edges (also like the edges of brownies) and bursting with flavor. Enjoy Life Foods Semi-Sweet Mini Baking Chips add a rich depth of chocolate flavor too.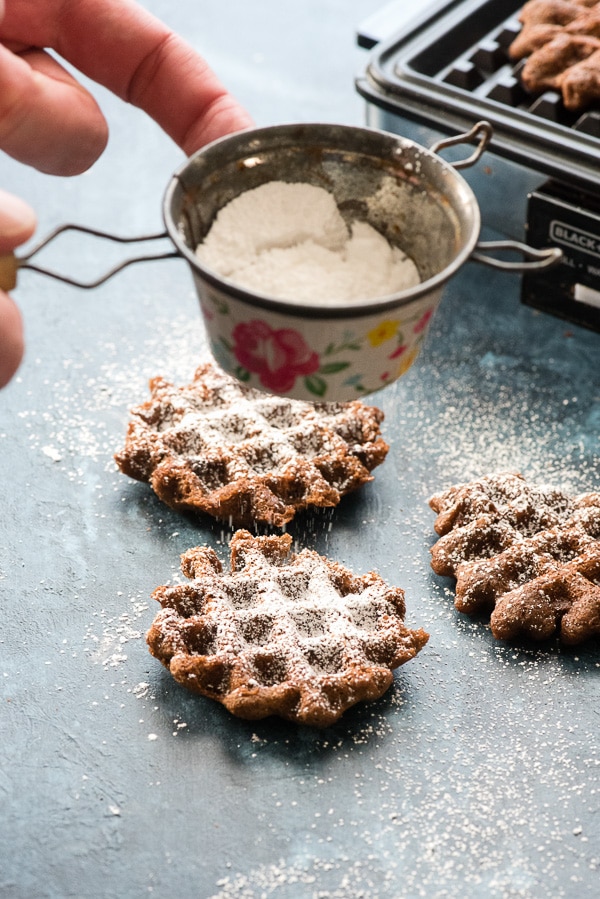 I did learn a few things in the process. I'll share them before you start baking:
Remove the cookies from the waffle iron carefully. Gluten-free baked goods are often more fragile just out of the oven. The waffle cookies are the same. They need to be removed gently from the waffle iron with a heat proof fork or spatula, lifting the sides and sliding something underneath them to remove them intact. Once they cool fully they have a firmer structure (my guess is this has to do with the chemical structure of the gluten-free flours when heated and then cooled).
Use a traditional shallow depth waffle iron that is non-stick. I tried making the cookies in a Belgian (deep) waffle iron and wasn't please with the end result, both the thickness and look of the cookies.
Liberally spray the waffle iron on both sides before every batch. Even if you have a non-stick waffle iron. Clean out any bits that stick between batches. I'll note even in doing this I had a few cookies that did stick and break apart but not many.
Do not make a double batch. If you want to make more, make a second batch of batter when done with the first. When the batter sits out too long it thins when it cooks and doesn't produce the same results. Again, it's chemistry.
Recipe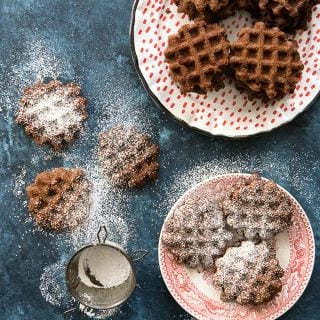 Double Chocolate Mint Waffle Cookies
Turn waffle mix into chocolate mint waffle cookies! They fudgy textured cookies are a treat!
Print
Save Recipe
Recipe Saved!
Pin
Rate
Servings:
36
(3 dozen) cookies
Ingredients
1 ½

cups

Enjoy Life Foods unprepared Pancake and Waffle mix

(1/2 package)

¼

cup

Unsweetened Cocoa

¾

Granulated Sugar

1

cup

Water

2

tablespoons

Vegetable Oil

½

teaspoon

Peppermint Extract

¼

cup

Enjoy Life Foods Semi-Sweet Mini Baking Chips

¼

cup

Confectioner's Sugar
Instructions
Preheat a traditional waffle iron (not deep Belgian style) to waffle setting. Line 1-2 baking sheets with 2 layers of paper towels and set aside (for cooling the cookies).

While it is heating, combine the dry ingredients (waffle mix, cocoa and sugar) in a large mixing bowl; whisk to combine and break up any lumps in the cocoa. Combine the wet ingredients (water, oil and peppermint extract) in a second mixing bowl.

When the waffle iron is ready, pour the wet ingredients into the mixing bowl with the dry ingredients. Whisk to fully combine. Stir in the chocolate baking chips.

Liberally spray the waffle iron plates (both top and bottom plates) with non-stick cooking spray. Drop 1 tablespoon of batter into the center of each of the four squares (see photos). Allow to cook for 3 minutes without opening the waffle iron. When done gently remove each cookie using a heatproof fork or spatula to support the cookie and place onto the prepare baking sheets to fully cool (the cookies will be delicate just after cooking so handle with care; they will become firm when fully cooled). Repeat this step to create the rest of the cookies.

Once fully cooled, lightly sprinkle with confectioner's sugar.
Nutrition
Calories:
40
kcal
|
Carbohydrates:
4
g
|
Protein:
0
g
|
Fat:
2
g
|
Saturated Fat:
1
g
|
Cholesterol:
7
mg
|
Sodium:
50
mg
|
Potassium:
35
mg
|
Fiber:
0
g
|
Sugar:
1
g
|
Vitamin A:
25
IU
|
Vitamin C:
0.1
mg
|
Calcium:
23
mg
|
Iron:
0.3
mg