Angela Pia is an elegant, easy no bake dessert that is as rich in history as it is in flavor. Light, chilled and boozy, this dessert will cap off any meal in style.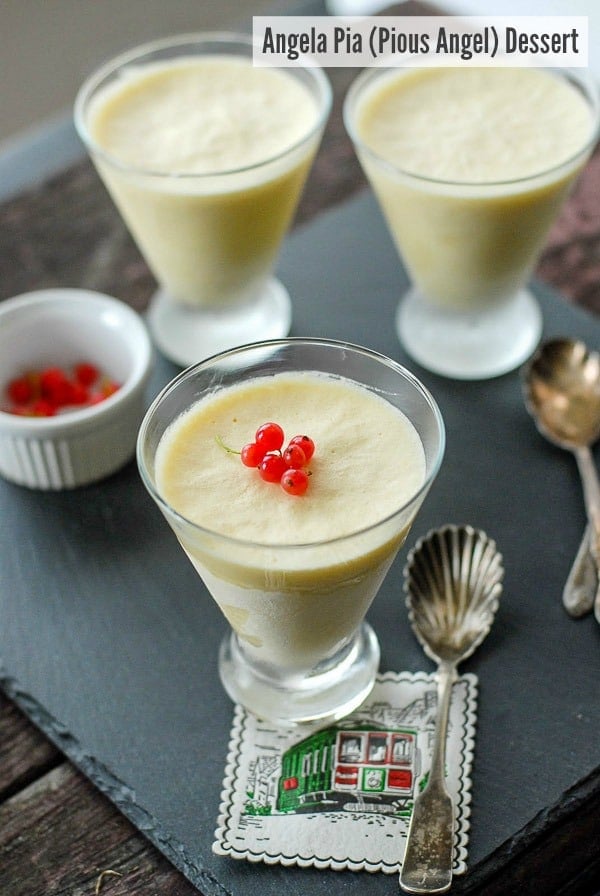 After making a Grasshopper Pie from a family recipe for a vintage affair a few weeks back, I was inspired to pull out my Grandmother's recipe box which is filled with her hand written recipes, and those from her friends as well as my Great Grandmother.
It was a time before canned soup casseroles with three ingredients were in vogue and everything was a whole food for the most part.
I was thumbing through the dessert sections and landed on a few that felt unique or seasonal I wanted to try and pass along.
My first choice proved that in the '60's (my guess at the recipe vintage) cocktail hour was clearly NOT just for before dinner.
The dessert named 'Angela Pia' or translated from Italian to be 'Pious Angel' was not something I could pass up.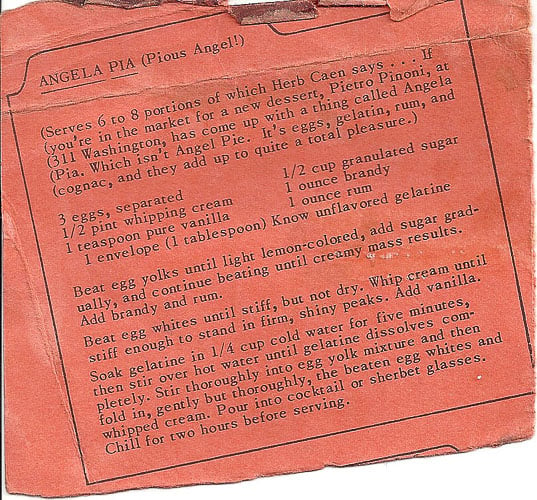 Angela Pia – An Easy No Bake Dessert
I had scanned the ingredients before making Angela Pia but it was not until I was putting it together that the strong waft of the liquor gave way to suggestions on serving sizes!
It was the name that caught my attention but I won't be 'desserting and driving' (actually in the tasting it was much more mild, really producing flavor from the brandy and rum but no teetering!)
Angela Pia is made by whipping together egg yolks with sugar, then adding brandy and rum.
The mixture is folded into dissolved gelatin and all combined with beaten egg whites and freshly beaten whipping cream.
The elegant, easy no bake dessert is spooned into cocktail glasses and chilled to set. NOTE: I actually froze one batch as an experiment and loved the consistency for a hot summer day!
Perhaps even more enchanting than the Angela Pia dessert itself are the comments and history shared by relatives and former restaurant patrons which may be found at the bottom of the post and in the comments!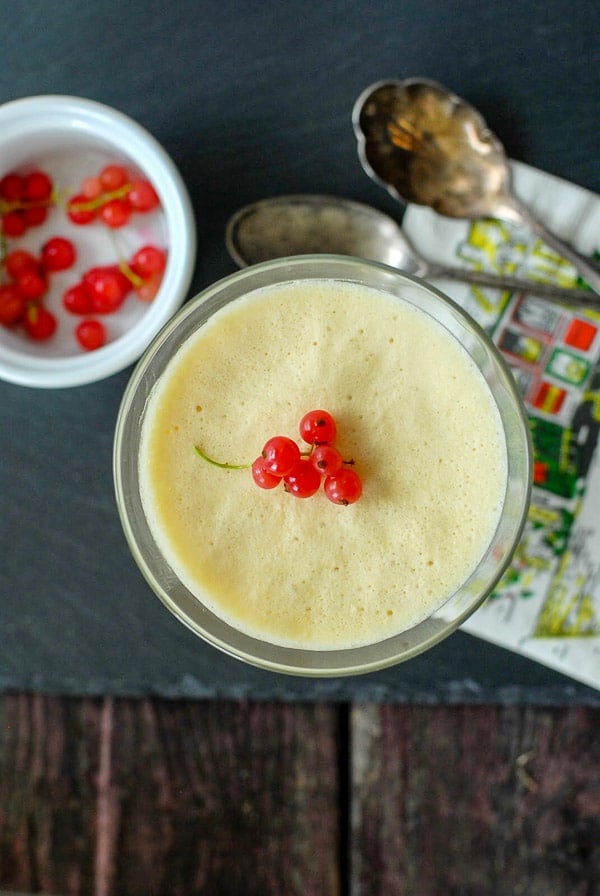 Pietro 311 Restaurant – San Francisco
My grandparents would have lived in San Francisco at the time. Anyone who has lived in Northern California in the last century would have heard of famous newspaper columnist Herb Caen.
His columns in the San Francisco chronicle began in the late 1930's and spanned almost 60 years, always the talk of the breakfast or dinner table in my grandparents' household.
When I saw his recommendation on this recipe slip I was sure it must have been a hit at the time.
I did some sleuthing on the pre-printed recipe I found that had seemingly been torn from a larger document.
What I pieced together with some internet help is that the original dessert was served at a restaurant named Pietro 311 on Washington Street in San Francisco.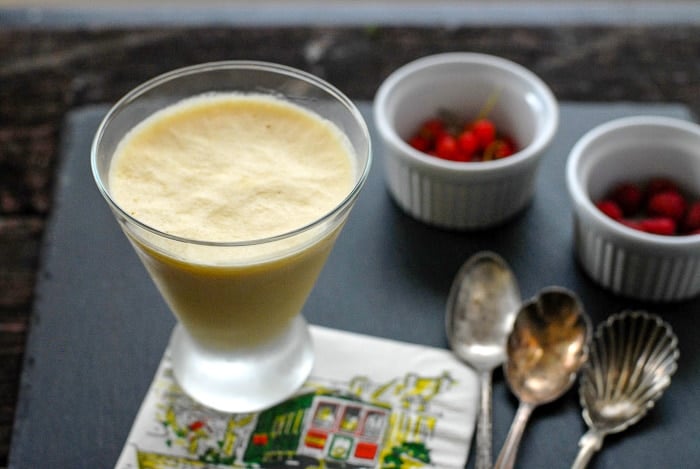 At the time this would have been in the Produce District, I suspect leaving the clearly adored restaurant a surprise due to its unlikely location combined with its quality cuisine.
The area where it stood is now the Embarcadero Center for those knowledgeable to the Bay Area.
I found a few references to the restaurant in chat sessions from the past decade.
They all shared a common palpable nostalgia and fondness for how 'special' the restaurant and its cuisine were. This dessert was always mentioned so must have really something in the era (before Jello Pudding Parfaits hit the shelves!).
This dessert is light with a texture of whipped topping and a lovely flavor of the vanilla and brandy.
To me it looked 'naked' in the freezer and I thought about adding a sour cherry sauce or something to it but in the tasting it does not require a thing; it is angelic on its own. Maybe a garnish…..!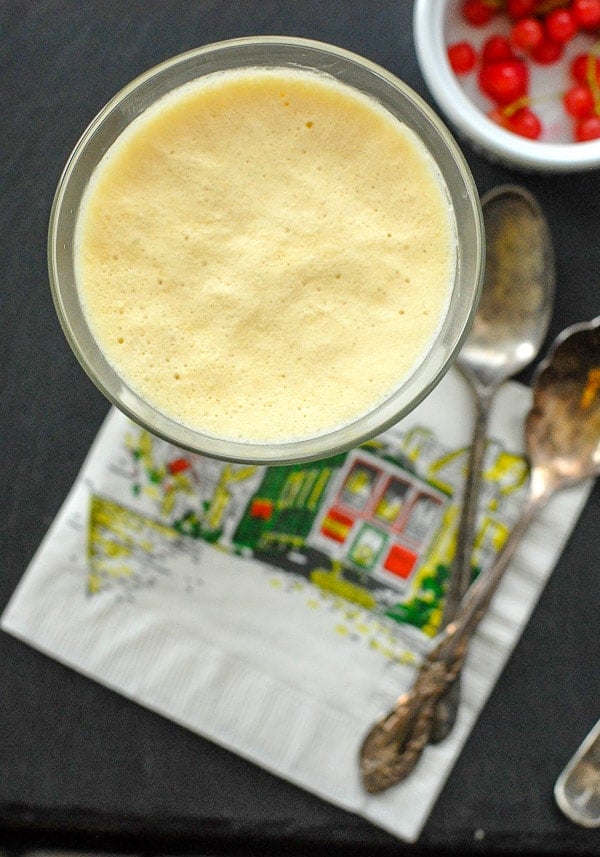 Using Raw Eggs
Another thing of the time that jumped out at me is that this recipe uses raw eggs.
Salmonella was present in the 1960's and I did NOT get the impression that dessert was made famous by causing deaths.
However we live in a more cautious time so I also did research about using the raw eggs, contacting farmers and chefs I know as well.
To be the most cautious I would recommend using pasteurized eggs which should remove any risk from eating raw eggs.
The statistics on contracting Salmonella are pretty slight but of course follow your own judgment.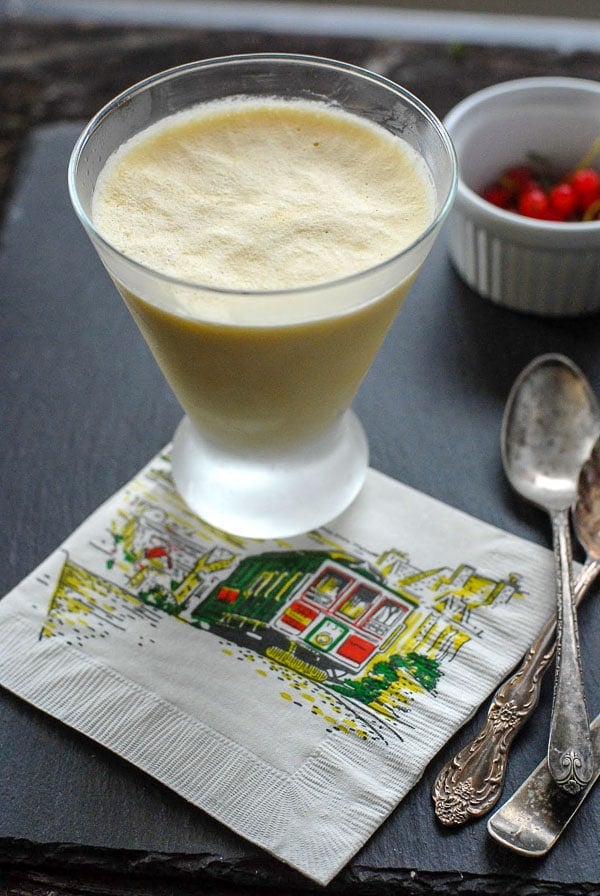 Friends of Pietro 311
Following the posting of this article I received two emails that I could not resist sharing.
After my research travels on the internet and encountering many misty nostalgic references to Pietro 311, I felt there are others who would relish this background history as I do.
My great thanks to Francis for taking the time to write.
Please check the comments for more similar historical accounts of this favorite restaurant too. They piece together the experience at Pietro 311 and a bygone era of dining.
"Hello. My cousin, Stephanie Alioto, was married to Pietro Pinoni, who owned and operated Pietro's 311 restaurant at 311 Washington Street in San Francisco, where I was a frequent diner. I loved the Angela Pia desert, which means "pious angel" but which was named after his sister-in-law, Angelina Alioto Figone. And the reason the restaurant was in the produce district at the time was because Pietro's father-in-law, my Grand Uncle Ignatius Alioto's fish processing plant, Consolidated Fish Co., was just up the street, and my Grandfather's plant, San Francisco International Fish Co., was a couple of blocks away where what is now the redwood grove of the Transamerica building at the corner of Washington and Montgomery Streets.
Pietro started his restaurant in the late 50s at 311 Washington St., then when that lease was not renewed, he moved up a block, but kept the 311 name until redevelopment took that building for the new apartments and high-rise buildings sometime in the mid- to late '60s. Pietro then moved the restaurant across to Marin County, but that was short-lived. He "retired" to make wine, write a book on wine making, and travel.
How long did you all live in SF? Do you remember the Tortola on Polk Street? The predecessor, Garabaldi's Tamale Parlor, was started by my Great-grandfather; operated by my grandparents, and then by my father until about 1978, when it closed, as none of us wanted to go into the restaurant business.
At one time, a group of us made a list of t he old SF restaurants (and businesses) that were such a part of the city and are now gone – e.g., Maye's Oyster House, The Old Poodle Dog, Jack's, Paoli's, The Temple Bar, El Matador, Original Joe's on Broadway, Vanessi's, Veneto's, The White House, J. Magnin, Roos Brothers, etc. I am sure you remember all of them.
Regards,
Francis Scarpulla"
More Classic Easy No Bake Dessert Recipes You'll Love
Did you make it? Please RATE THE RECIPE below!
Please SUBSCRIBE and FOLLOW ME on FACEBOOK , TWITTER , INSTAGRAM and PINTEREST!
Recipe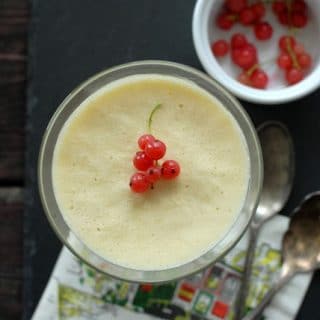 ANGELA PIA (Pious Angel)
I moved the preparation steps around from the original recipe not wanting the whipped egg whites or cream to sit and deflate. This all came together easily though I'd suggest reading all instructions and preparing every step ready before beginning.
Print
Save Recipe
Recipe Saved!
Pin
Rate
Ingredients
3

eggs

separated

½

cup

granulated sugar

1

ounce

brandy

1

ounce

rum

1

cup

whipping cream

1

package

Knox gelatin

1

teaspoon

vanilla
Instructions
Set a saucepan filled with water over medium high heat on the stove to come to a low boil.

Add the packet of gelatin to ¼ cup of water in a metal bowl (which will go over the saucepan of hot water) for 5 minutes.

While the water is coming to a low boil and gelatin is soaking, add egg yolks to a different bowl and whisk or beat with a mixer until fully mixed. Gradually add the sugar and continue beating until fully mixed into a light yellow, thick mixture. Add the brandy and rum and mix thoroughly.

If 5 minutes has elapsed, place the bowl with gelatin over the hot water and whisk until it is fully dissolved. Remove from heat to cool for a few minutes. Pour into yolk mixture and stir to fully combine.

Beat the egg whites until stiff but not dry. Note: this cane be done during the time the gelatin was processing.

Beat whipping cream until it forms peaks and add the vanilla.

Fold together the egg whites and whipping cream mixture. Fold those into the yolk mixture until all are fully combined. Put into small cocktail glasses or sherbet cups to chill or freeze at least two hours before serving (I froze mine longer and they were light and easy to eat).
Nutrition
Calories:
192
kcal
|
Carbohydrates:
13
g
|
Protein:
2
g
|
Fat:
12
g
|
Saturated Fat:
7
g
|
Cholesterol:
102
mg
|
Sodium:
35
mg
|
Potassium:
45
mg
|
Sugar:
12
g
|
Vitamin A:
525
IU
|
Vitamin C:
0.2
mg
|
Calcium:
29
mg
|
Iron:
0.3
mg