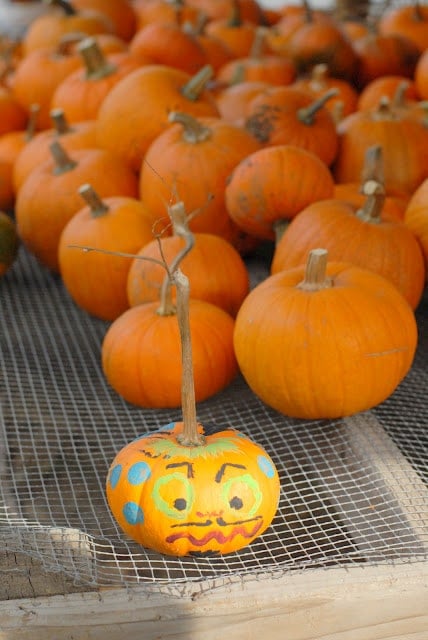 For me fall's arrival is cemented by the annual Pig Roast and Harvest Celebration hosted by Cure Organic Farm for their CSA members.

In the words of Farmer Anne Cure 'It is a way for us to bring together all of the different people who make up our food community, chefs, families, elders, kid's camp, restaurant servers, Farmer's Market supporters and fellow farmers'.
Over the years we've begun to expect inclement weather in the same way we all expect snow on Halloween; it's typically a given.

When the prediction of the first frost with freezing rain and a ski area actually opening were announced for the weekend it was no surprise.

It would seem odd were there not a chill in the air.

As luck would have it, the freezing rain moved along leaving a semi-sunny chilled afternoon as a backdrop for the event.
I'm not sure what I like best about the Pig Roast.

Certainly the food is a top billing.

The Cure's have harvested some of their pigs and with the expert help of Hugo Matheson (Executive Chef and co-owner) and his staff at the Kitchen Café in Boulder, the meat is butchered, cooked and served offering up the best pork I truly have ever tasted.

Succulent and proof that a well lived life of an animal produces a superior end taste result in the meat.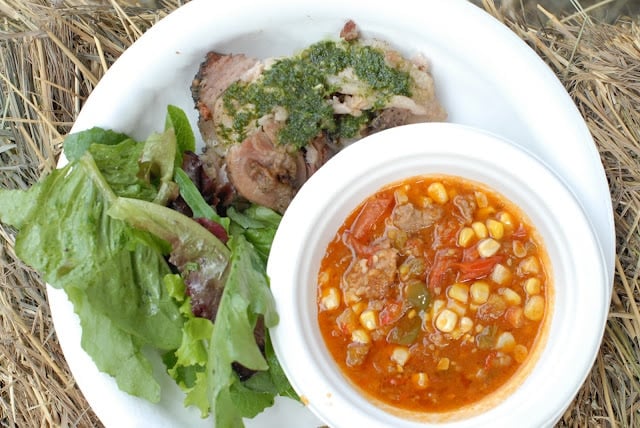 The CSA members bring side dishes and desserts all demonstrating the care of the membership and of our thanks.

Well thought out seasonal fare abounds with selections for all eating proclivities.

Being gluten free never seems to be an issue.
Long tables are set out allowing CSA members to mix and mingle at their choosing while helping themselves to the delicious food and drink including hot cider, a drink clearly a signature of fall.

There is an ample pumpkin painting station for children.

A roaring bonfire set inside the rusted out hood of a truck turned upside down.

The fire is circled with large two foot high cross sections of a tree trunk being adapted to rustic seating.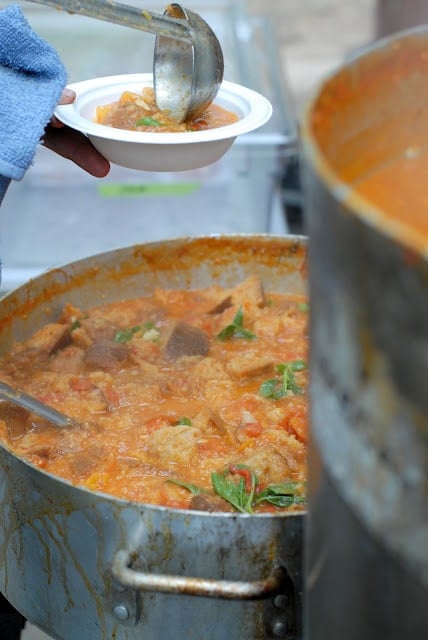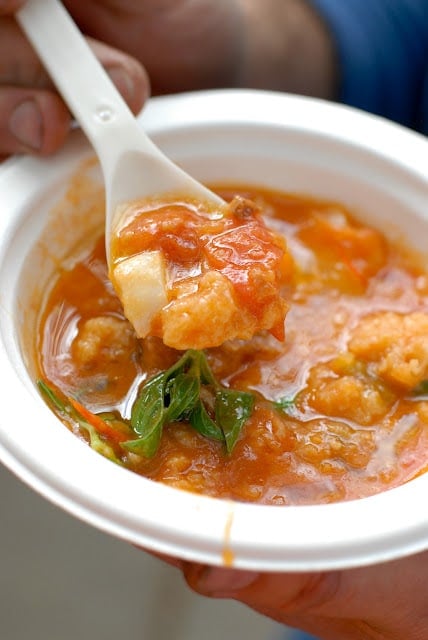 Pappa al Pomodoro (Tomato Soup with bread)
A certain highlight for the younger set was the presence of 'Heartbreaker' a miniature horse, in his 20's astonishingly, and not showing a day of it. Charming and a bit squat, he patiently entertained tots dying to shove carrots in his mouth until he simply could eat no more and began to devour grass, I surmise from a tummy ache. He had the glossiest coat, leaving him feeling like a stuffed animal with artificial fur and me querying his keeper for the type of shampoo he uses feeling it not beyond me to go to the horse supply store to try it on my own mane for those results.
This is a joyous event.

A celebration reflecting on the bounty of the season and the knowing we are at the top of the harvest tipping down toward the quiet of the resting season.

A time to stop for a moment and enjoy friends, old and new, and simpler pastimes.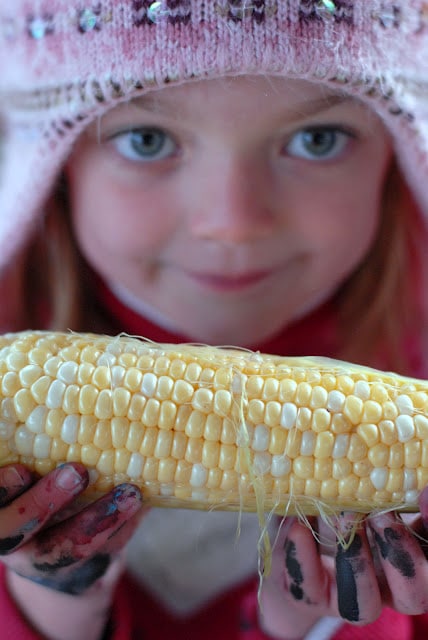 Large coolers of piping hot, grilled corn were served.

I recruited a 'corn model' from the pumpkin painting station….but by her fingers you'd never have guessed that I'm sure!
For me having discovered Cure Organic Farm through a trip to The Kitchen 6 or 7 years ago, this union of fall celebration feels like a 360 moment.

One of personal reflection and gratitude to be living where I am and being part of this special food community where people really care what they grow, what they cook, what they serve and what they eat.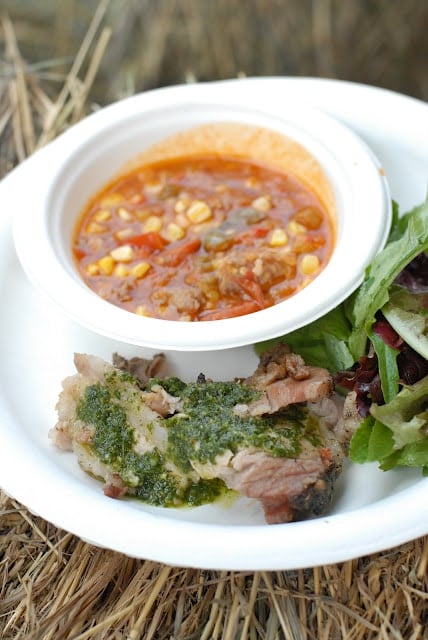 Delicious Salsa Verde Aioli on the pork
SALSA VERDE AIOLI

by The Kitchen Cafe
It felt a tease to bring you along on this occasion and leave you with no way to touch the experience in your own kitchen.

I asked Hugo Matheson if I couldn't please have a recipe perhaps for one of the delectable sauces they serve up with the pork that make the dishes sing.

He kindly obliged, giving credit to Kyle Mendenhall, The Kitchen's Executive Chef for supplying the recipe for this delicious aioli sauce.

It would be perfect on so many dishes but for a taste of the Pig Roast maybe on a simple pork tenderloin (perhaps from a charcoal grill to savor the smell of the smoky fire).

It is a simple to make sauce, very much like a pesto.
This recipe was reduced from a professional chef size batch to that for the home cook.

Makes approximately 1 1/2 cups.
·
1 tablespoons Dijon mustard
·
1 large clove garlic, chopped
·
1 cup extra virgin olive oil
·
1 ounce fresh Italian parsley
·
Dash apple cider vinegar
·
Salt and pepper to taste
1.
In the bowl of a food processor combine the Dijon mustard, garlic and 1/3 cup of the extra virgin olive oil and puree.
2.
Add the mint and parsley and process into a paste.
3.
Slowly pour in the rest of the oil.

Add the red wine and vinegar.

Season to taste.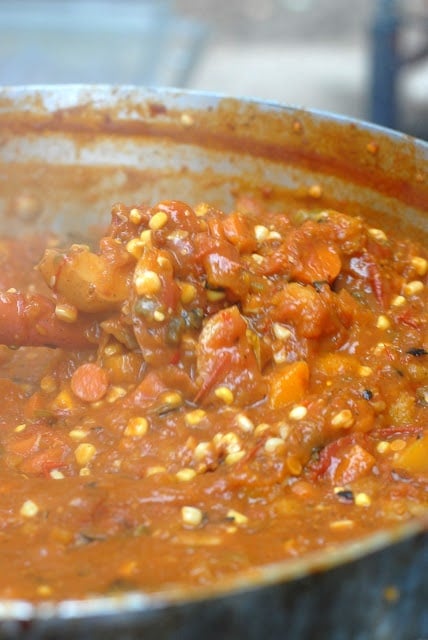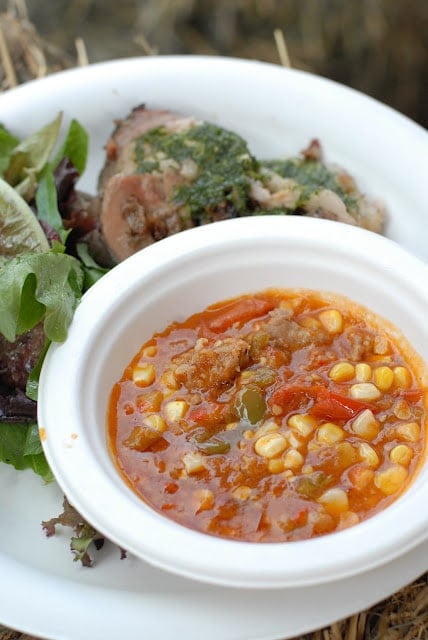 Incredible Vegetable Stew which was served with pork or without
This year the Cure Farm Store will stay open this year through December 18 giving a great local shopping option especially after the Farmer's Market has closed in November!

The store is open to the public (no CSA membership required) and it is a perfect place to find seasonal produce from Cure Organic Farm and neighboring farms.

In addition there is local meat, eggs and other wares from local artisans (coffee, mugs, wool, etc).
There are a number of ongoing classes given at the Cure Farm Kitchen listed on their website.

An exciting one in the works will be a butchering class where the meat from one of the Cure pigs will be butchered and cooked.

It is expected local meat experts and chefs will be on hand to lead the class.

Details to follow on the farm website (click here).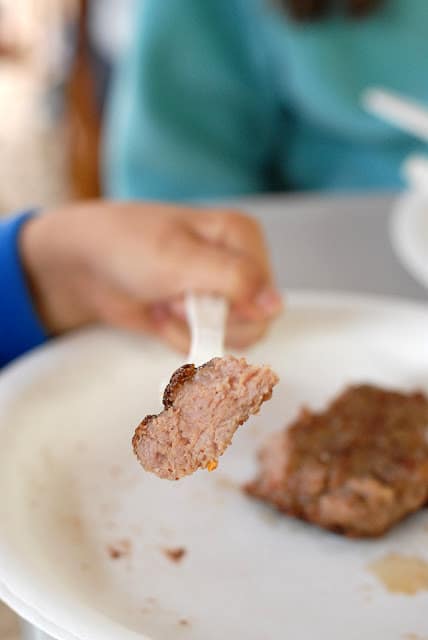 Superb sausage patties made from the Cure Farm pork
The Kitchen News
:

Lucky Denverites can expect to fall in love as have all those in Boulder who have enjoyed the Kitchen for the past years.

The Kitchen will be opening in Denver Spring of 2012.