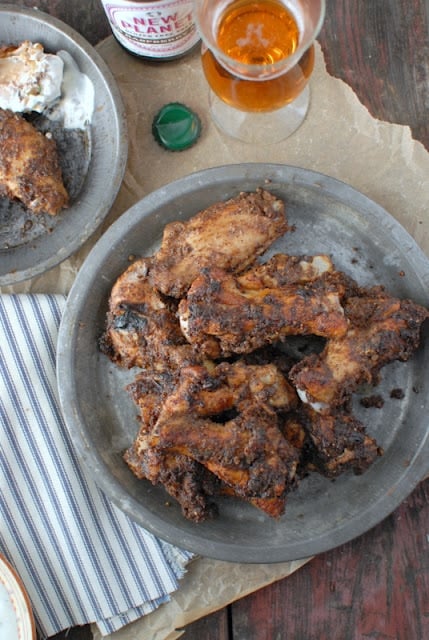 I love football season.

It signals the slow slide into the cozy time of the year for me.

The sweaters come out as does the hearty food and drink.

This month our Vintage Recipe Redo and Swap posts smack dab in the middle of the Super Bowl.

I originally determined my spin on the assigned Wild Rice Dressing recipe would be a yuppie Wild Rice Harvest Cake, with exotic grains and exotic sensibilities befitting the caliber of our swappers.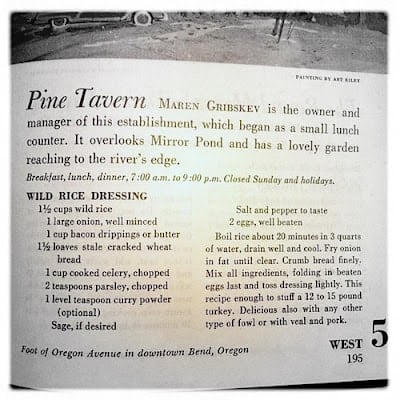 However, once realizing our posting overlap with the 'biggest game of the year' my attention became myopically fixated on Wings, the quintessential Super Bowl food.

I felt everywhere I turned people were talking about them, recipes abound for them and I had to make them.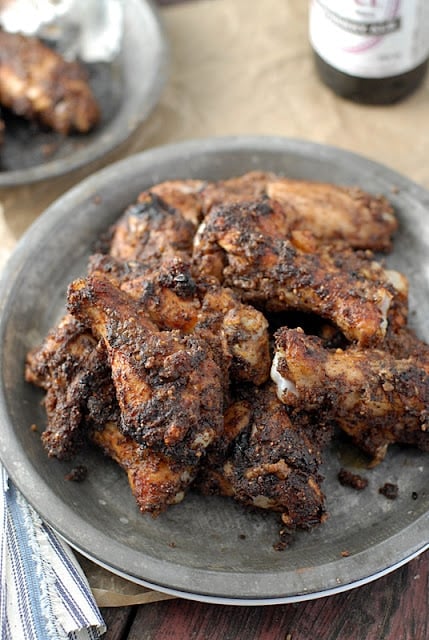 For my wings I decided I would be baking them and really wanted to incorporate Sumac (not of the poisonous variety) to brighten them up.

If you are not familiar with sumac it is a lemony spice used mainly in Middle Eastern cooking but I think it's highly under used.

It's great sprinkled on roasted vegetables and anywhere you want some brightness of flavor without becoming totally tangy or acidic as in the use of citrus.
I created a rub of toasted, pulverized wild rice, cayenne pepper, sumac, smoky paprika and honey leaving these wings deeply flavorful with a growing, lingering heat.

Instead of a traditional blue cheese dipping sauce, I've made a simple Sour Cream Yogurt Sauce merely to cut any spice if desired.

My familial taste testers not only gave them the thumbs up but asked me please to make another batch a mere few hours later.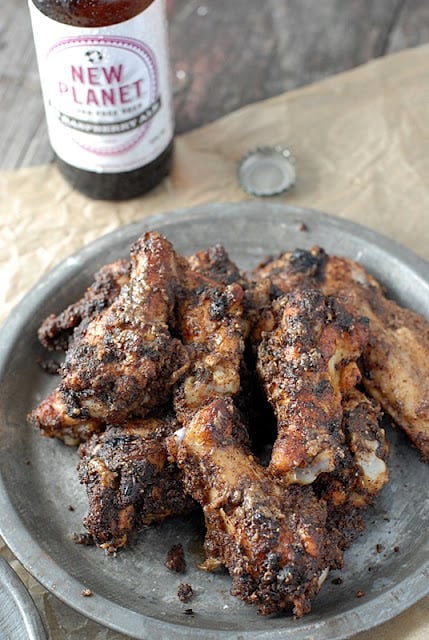 TOASTED WILD RICE-SUMAC-CAYENNE WINGS
·
12 total first and/or second joints of chicken wings (the drumette and meatier mid wing section)
·
2 tablespoons uncooked wild rice
·
1 teaspoon cayenne pepper
·
1 teaspoon smoked paprika
·
½ teaspoon white pepper
·
2 tablespoons vegetable oil
1.
Preheat oven to 350 degrees.
2.
In a small, heavy skillet dry cook the wild rice over medium heat stirring constantly for 3 to 5 minutes until toasted.

The rice turns from black to tawny brown and begins to smell nutty when it is toasted.

Grind toasted rice into a powder with a spice grinder (I

have

a dedicated coffee grinder I use for spices) or a mortar and pestle.
3.
In a large bowl combine the wild rice powder, sumac, cayenne pepper, smoked paprika, white pepper, honey and vegetable oil.

Stir or whisk together to form a rub.
4.
Add chicken wings to the bowl of spices and work the rub into all sides of each wing

with your hands

.

Place into a roasting pan and bake for 1 hour.
5.
Allow to cool just until they can be handled and serve.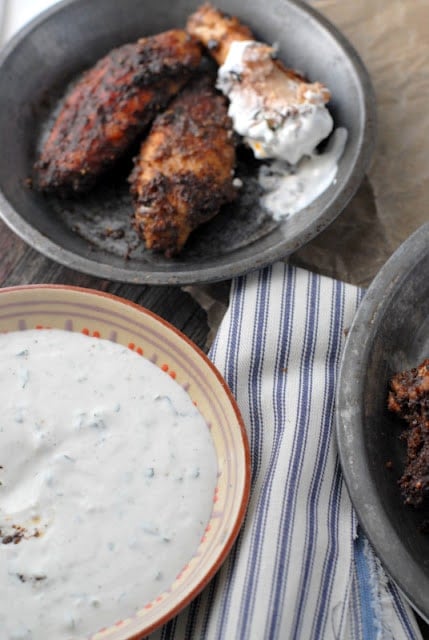 I used Greek yogurt for this recipe for its thicker consistency which is more like sour cream than traditional yogurt.
·
¼ cup plain flavor Greek yogurt
·
1 tablespoon finely chopped Italian parsley
·
Salt and Pepper to taste
Whisk together all ingredients until smooth and combined.

Serve chilled for dipping wings.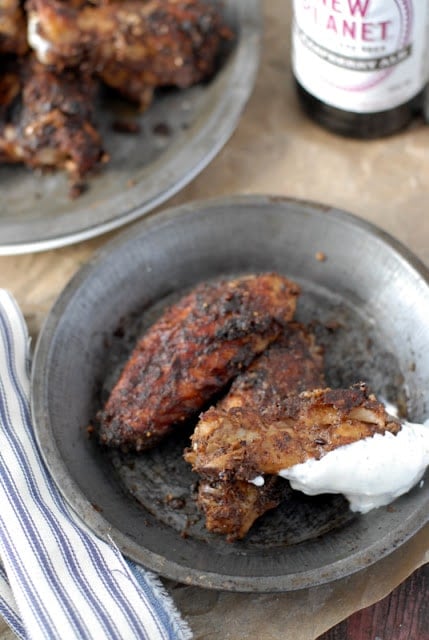 When I learned 7 years ago that I could no longer eat gluten, I cried.

Not for the loss of gluten, I did not even really understand what gluten was, but for the disorientation of it all.

I'd lived my life traveling extensively, eating whatever I pleased.

I told the nutritionist I was working with I felt 'gluten free' was like a country I had never heard of and I'd just been given a passport and told I'd be living there the rest of my life.

I felt like she'd kindly told me I needed to walk out her front door and climb Everest; with no oxygen.
In hindsight my first year was spent judging how far apart I now was from the world of food I'd always known.

I would constantly think up foods, even those I did not like, and try to find out if they were available to buy or make in gluten free form.

I was trying to get my bearings to comprehend what life would be like.
A lot has changed in the years I've been gluten free.

A constant statistic I've heard is that 1 in 132 people are believed to have a form of gluten intolerance, most undiagnosed.

The ever growing awareness and availability of gluten free food, quality gluten free food, seems to support the unveiling of this long cloaked dietary condition.

I decided early on that I was not going to let this be my cross to bear.

Though I have to consider everything I consume, I was not going to wear it like a sandwich board nor was I going to eat in a way to give it power over my culinary life.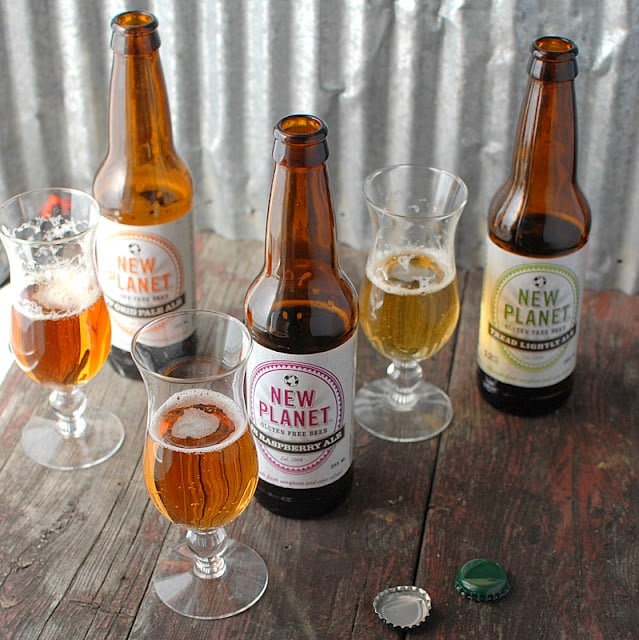 Beer is something completely off limits for those gluten intolerant.

Though I'm not a huge beer drinker, there are times when only a beer will do.

At first I could only find a rice based beer which was expensive, hard to find and not so good.

Anheuser-Busch

stepped up with Redbridge and it was the first time I felt I was back in the ballpark with flavor normalcy.

Sadly it was pulled from the market for reformulating and I don't think it ever returned.
Colorado is a hot bed of craft beer.

I feel certain if you polled beer drinkers in most of the U.S. metropolitan areas you'd find they all know what a Fat Tire is and have had at least one.

When I decided to make these spicy wings the first beverage I thought to pair them with was beer.

I sashaying into my neighborhood liquor store asking 'do you carry any gluten free beer?'

They escorted me over to the refrigerator and presented New Planet gluten free beer.

I'd heard of it but knew nothing else about it.

I bought one six pack (or 4 pack) of each of their three flavors: Tread Lightly Ale, 3R Raspberry Ale and Off the Grid Pale Ale.
Clearly my locavore divining rod was on the case with this mission.

New Planet is not only from Colorado but from Boulder with brewing conducted in Fort Collins.

As the name suggests they are environmentally conscious donating a percentage of their proceeds to worthy causes that are attentive to the environment.

Each of the ales channels proceeds into a different environmentally conscious effort.

New Planet only makes gluten free beer; each batch is certified to ensure adherence to gluten free standards.

They sport the relaxed slogan 'No gluten? No problem', which I love.

I was anxious to see if their fanfare would pass muster in a taste test.
A personal criterion I have for gluten free food and drink is 'is it good?'

Not 'is it the best you can get in gluten free form?' but for anyone is it good.

Ultimately I want to be eating and drinking in a way that is fulfilling, not just the best possible for 'my condition' (

though that

does come into play at times).

I recruited a knowledgeable beer-consuming friend who is NOT gluten free to do a taste test with me and share our findings.

For the purposes of this article he's elected the pseudonym 'Manuel' (I imagine because it makes him feel a bit like Antonio Banderas, but we'll keep that between us).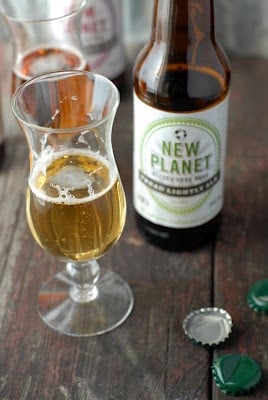 Tread Lightly Ale
(proceeds benefit trail restoration)
This ale is by far the lightest in color and flavor.
Toni (Boulder Locavore):
Very light in flavor, thirst quenching, easy to drink on a hot afternoon.

Would be overpowered by most flavorful food.

The beer for someone not particularly a beer lover but wanting to drink it still.
Manuel:
Very light, taste the sorghum which is the tipoff that it is a gluten free beer.

Would drink it but it's a bit mild.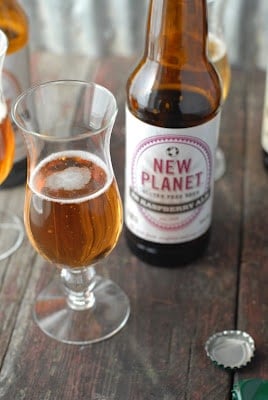 3R Raspberry Ale
(proceeds benefit recycling education)
I will assert I have a predisposition that fruit and beer do not belong in the same bottle the same as relatives from different sides of a family with staunchly different beliefs do not belong at a dinner table together.

I was prepared for this to be a 'sissy' beer designed for a boutique crowd.

After tasting I was forced to drink my words.

This beer uses a raspberry puree from raspberries picked in Oregon for the fruit notes in the ale.
Toni
:

It had a distinct aroma of raspberry and though you taste the raspberry it is not sweet and the fruit flavor enhances the grain in the ale.

It's very different in a good way.

My favorite and great with the wings.
Manuel
: Manuel's second favorite.

Not too sweet on the palate; smells sweeter than it tastes.

It is a lighter ale that is not particularly hoppy.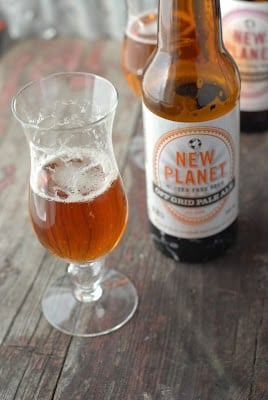 Off The Grid Pale Ale
(proceeds benefit alternative energy)
This is the most similar in flavor to a gluten beer.

Manuel would group this in a Bass Ale family with regard to flavor.
Toni:
It has the most complex flavor profile but on its own (without food) is too hoppy tasting for me.

It was the best match

with the wings as its

bolder flavor stands up to stronger flavored food.
Manuel:
Manuel's favorite, hands down.

Least easy to distinguish as a gluten free beer.

A comparable pale ale, gluten free or not.

The best and finest gluten free beer he's had (and he has done other gluten free tastings).