No Machine Strawberry Jam Buttermilk Ice Cream has two ingredients! It's a sweet tangy ice cream that tastes like summer no matter when you make it!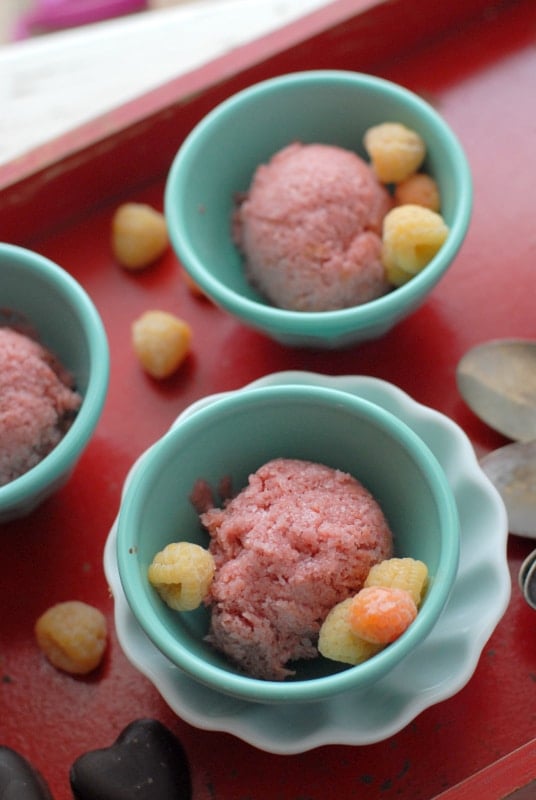 I was poking around in my Grandmother's recipe box for something sweet to make for Valentine's Day. I found a little slip of paper on which was a recipe that seemed simple, delicious and color-coordinated for the Holiday of Love upcoming.
It also brought back my favorite memory of my Grandmother and strawberries. I shared this early on when starting my blog. At the time I had about 3.2 readers so if you are part of that tiny group, I apologize for this redundancy!
My maternal Great Grandfather was the Administrator of the Carnegie Institute in Washington D.C. in the early 1900's. At the time scientists flocked from everywhere looking for support for their latest invention. Being far from home often for long periods of time, my Great Grandmother would host tables of these scientists for dinners to supply a bit of warm comfort. My Grandmother as a child was privy to these fascinating visitors.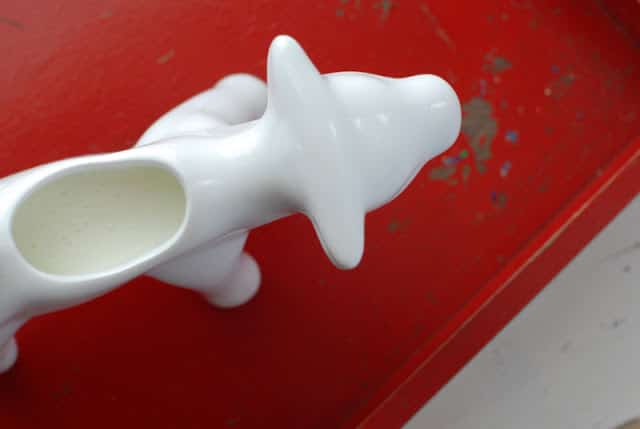 One day my Great Grandfather came home to tell 'Grammy', my Great Grandmother, that there was a young scientist who had an idea about the home front and he wanted to speak to a 'real housewife' (defined then quite differently that today's version thanks to reality TV) about it.
On a cassette taped interview I have with her, Grammy unfolds the tale. This beaming young scientist bounded into her house to excitedly tell her about an idea he had about preserving the harvest for off season consumption. He detailed going into the fields at the peak harvest time, gathering fresh produce and freezing it to be used at another time.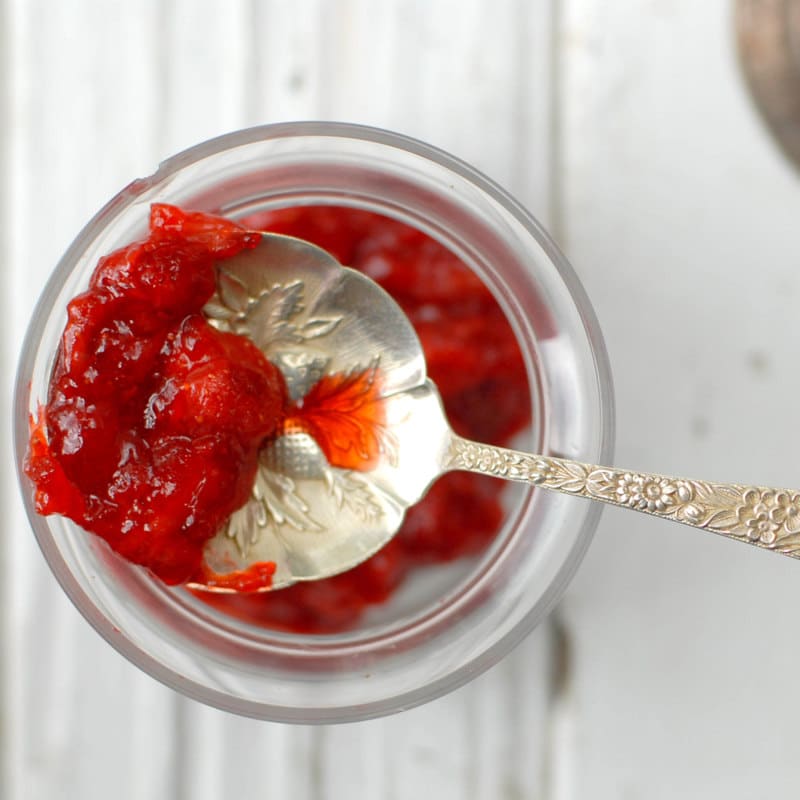 Grammy, clearly flummoxed on the tape, told him in her gentile way that she saw no use for such an idea (I'm sure completely collapsing this visionary's hopes and ego). There is a pause on the tape, Grammy laughs and says 'I'm so glad he did not listen to me! For whenever I go to the freezer section of the grocery store and see his name, Clarence Birdseye, I remember his story'.
Nana (my Grandmother) shared that she always loved it when Mr. Birdseye visited them because they'd have strawberries in winter! Now thanks to Nana you can have Strawberry Jam Buttermilk Ice Cream in winter!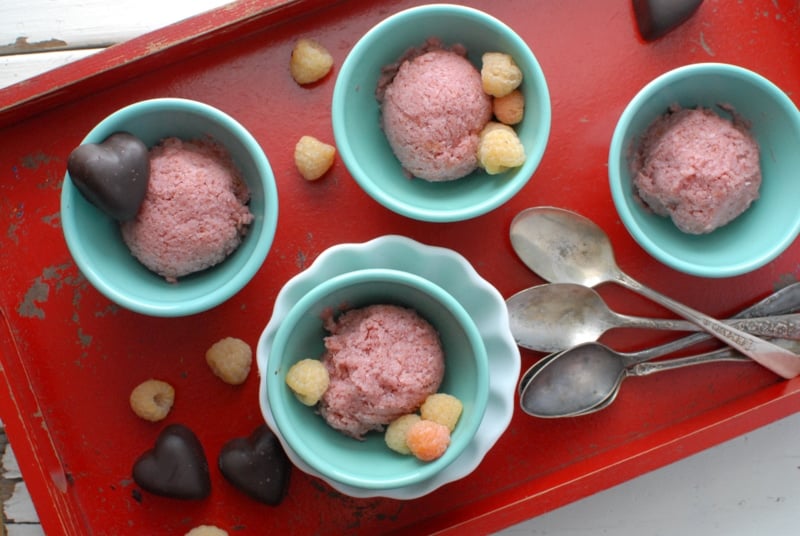 I have found since becoming a locavore that the prospect of freezing fruit for a different season plays out very differently than I expected. My first summer when picking and freezing berries I had grand ambition of making a Golden Raspberry Tart for Christmas.
By the time Christmas rolled around it seems a horribly unseasonable idea. I find I really crave what is in season as a norm and find eating what is not odd.
In this case I pulled two small jars of summer made Strawberry Jam from my pantry. The warm, sweet taste of summer lives in this jam and it makes a treasured dessert for me. I love the flavor of this ice cream recipe. It's simple with the true taste of strawberries. The consistency is a bit granular which tugs at an old memory of 'ice milk'. I'm not sure if I am recalling correctly that ice milk retains some crystals in it being lower in fat. In any case, I love this. It's rustic, authentic with a soft beautiful flavor.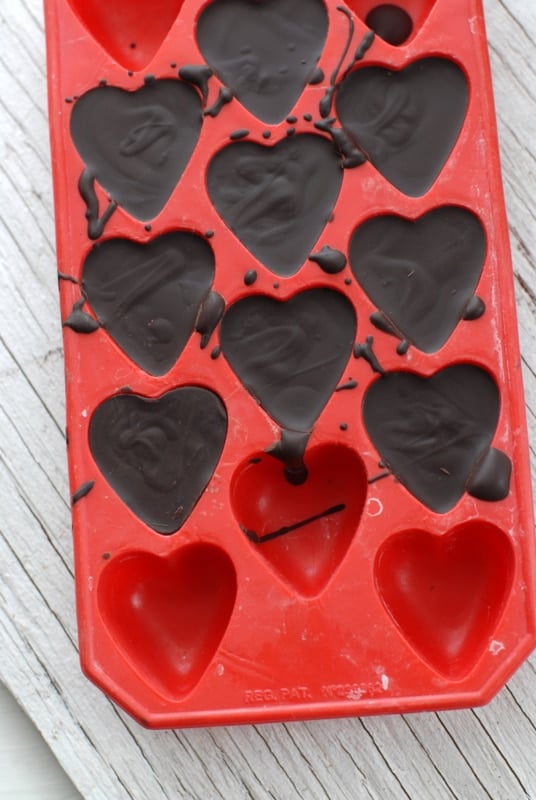 Homemade Chocolate Hearts
On a whim I decided to accent the ice cream with some homemade dark chocolate hearts. I used a silicone mini ice cube tray for a mold. You can use any type of desired chocolate flavor as well as add things like nuts, crushed cookies, pretzels, dried fruit in the hearts as well.
Yield: the mold I used makes about 1 inch square hearts and the yield was 9 with the amount of chocolate below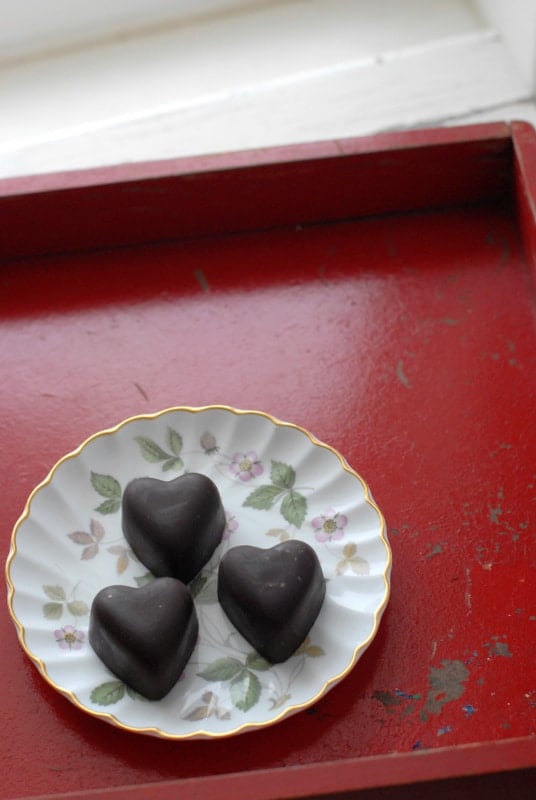 Recipe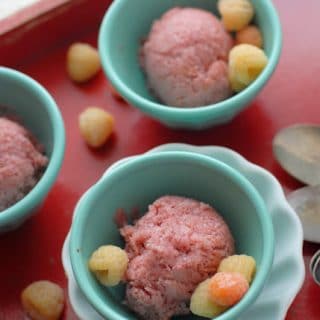 Ingredients
Strawberry Jam Ice Cream
2

cups

buttermilk

1 ½

cups

Strawberry jam

Coloring if desired

preferably natural; I really suggest India Tree which you can find online, at Whole Foods, Sur La Table or Kitchen/Baking stores
Chocolate Hearts (optional)
2

3.2-ounce

good quality chocolate bar

any flavor of your choosing (I used Choco-love Dark Chocolate)
Instructions
Strawberry Jam Ice Cream
In a mixing bowl whisk together the buttermilk and jam until combined. Place into a pliable freezer proof covered container and freeze until solid. TIP: Run hot water around the outside to free the ice cream when releasing it without melting it.

Remove ice cream when frozen solid. Cut in to pieces and place into the chilled bowl of a stand up mixer equipped with the paddle mixing accessory. Install the plastic bowl collar on top of the mixing bowl or hold your hands over the top of the bowl as mixing begins. Once you being to mix the ice cream, chunks can fly out until they break into smaller pieces! Begin on low speed until frozen ice cream begins to breakdown. Then replace the paddle with a whisk accessory and beat on higher speed until it becomes light with no chunks.

Put ice cream back into a freezer container, pat down and cover. Refreeze. When fully frozen scoop out and serve.
Chocolate Hearts
In a double boiler or in a heat proof metal bowl over a sauce pan of boiling water, melt the chocolate, stirring with a spatula.

Once melted let chocolate sit a few minutes. Pour into mold of choice and place in the refrigerator. Pop out when firm.



Notes
Note on tempering the chocolate: Note: I did not temper the chocolate which is a process that yields it glossy. Should you want to take that step this will instruct how to temper chocolate!
Nutrition
Calories:
285
kcal
|
Carbohydrates:
62
g
|
Protein:
2
g
|
Fat:
2
g
|
Saturated Fat:
1
g
|
Cholesterol:
8
mg
|
Sodium:
111
mg
|
Potassium:
173
mg
|
Fiber:
0
g
|
Sugar:
45
g
|
Vitamin A:
130
IU
|
Vitamin C:
7.5
mg
|
Calcium:
109
mg
|
Iron:
0.4
mg