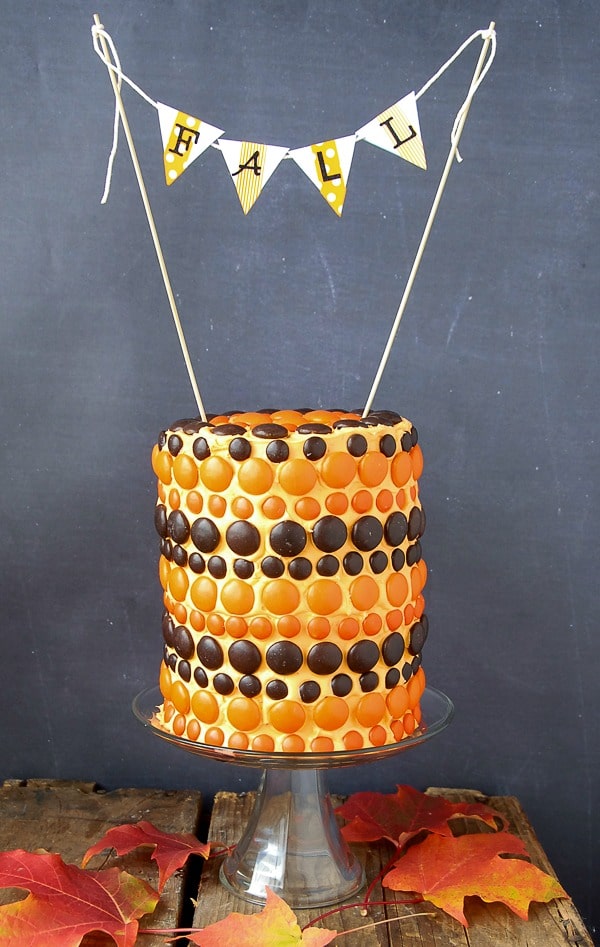 Sometimes you just need to make an unexpected cake. Nothing replaces one for brightening a day!
I always love a bit of whimsy and unpredictability in my food, especially when to comes to surprising my family. They all work very hard at what they do and a fun cake is a great way to take a break and celebrate that. I had originally imagined this cake as part of a Halloween party-scape but as it began to take on life, the colors of orange and brown appealed feeling quintessentially of fall.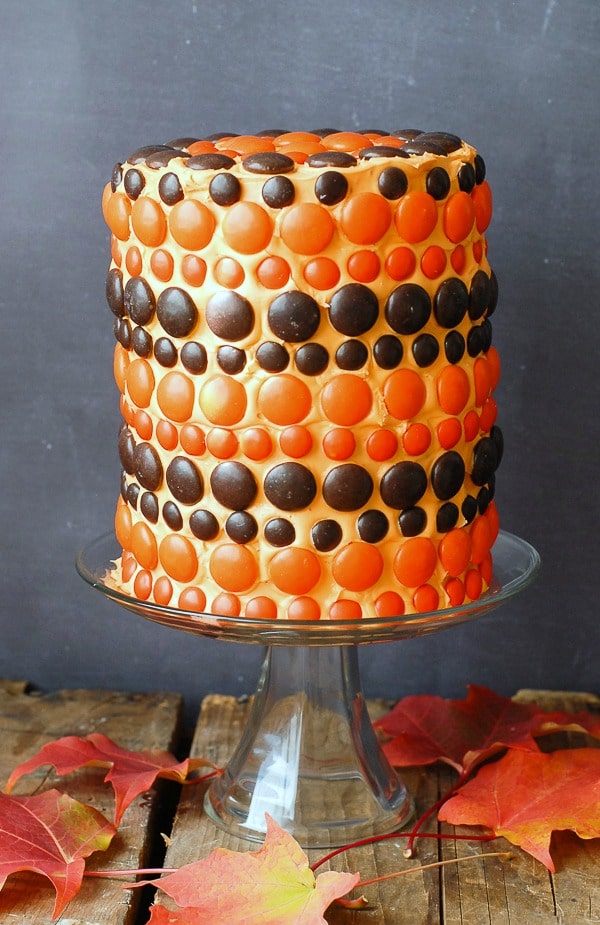 M & M's have expanded to include multiple different flavors as well as three sizes. I simply love the mega size feeling they look like perfect polka dots. Creating a pattern with multiple sizes is great fun and as I was separating the colors from buying bulk bags, so many fun color combinations came to mind for many occasions. If you prefer not to sort M & M's single colors are sold at many bulk candy stores in malls or online. I believe the mega size are only available in large bags at grocery and drug stores (as well as online I'm sure).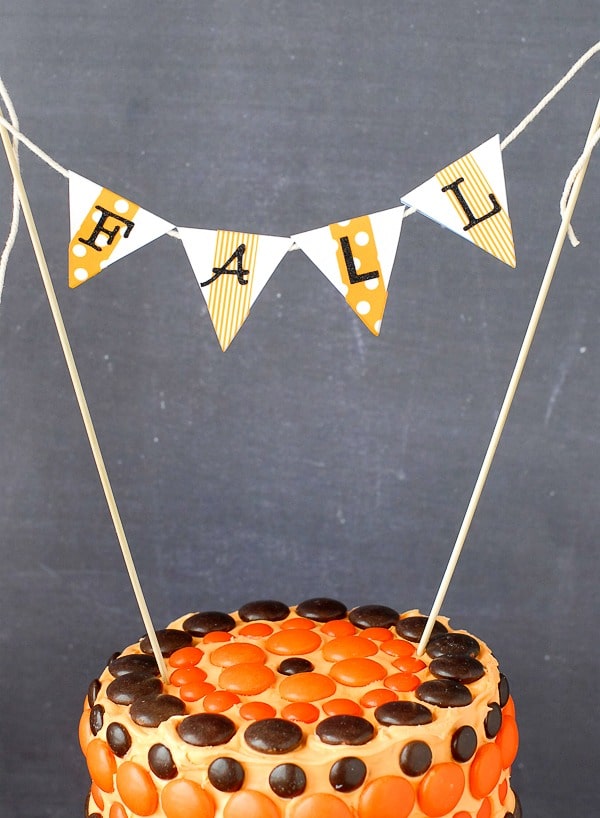 The time consuming part of this cake recipe is the placement of the M & M's however even that was not incredibly time consuming. The key is to ensure the cake is chilled so the frosting allows the candies to embed without becoming messy. You can make your favorite from scratch recipe for the cake and frosting or if short on time, use a trusted mix or even prepared frosting. Adapt the recipe for the time you have!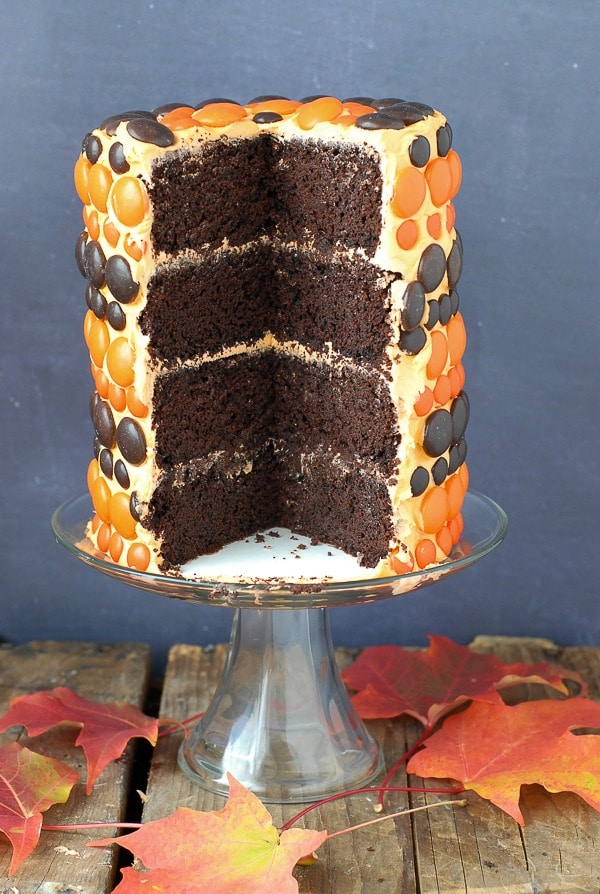 As you might imagine the cake was met with incredible excitement and was called an 'architectural masterpiece'. In some of the photos it appears a bit like the leaning Tower of Pisa though that is thanks to the vintage glass cake stand! The cake has stood erect and tall as it is whittled away in the Boulder Locavore refrigerator!
I loved the four tier 6-inch layer cake for the eccentricity of its appearance. You can adapt this to a regular two layer 8-inch or 9-inch layer cake, or to a shorter 6-inch layer cake too. However you make it, you are sure to make someone very happy! Happy fall!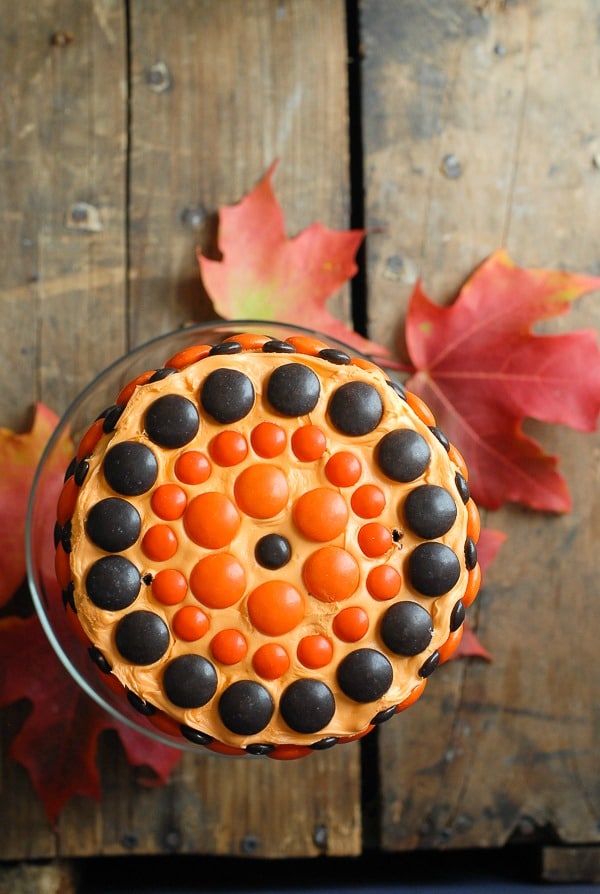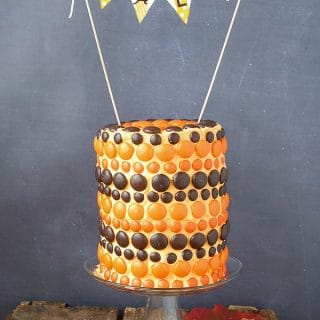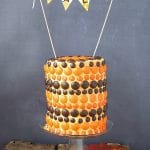 Whimsical Fall M&M Cake
A simple chocolate cake layered high and frosted with autumnal-orange, is transformed into a magical surprise with multiple size brown and orange M & M's. Though the recipe takes a bit of time due to chilling between the frosting stages, the end result makes it all worthwhile! The cake layers may be baked a day prior to assembling the cake; wrap well with plastic wrap and keep refrigerated until assembling and frosting the cake. The total time for the recipe includes the chilling phases as well as cooling of the cake layers, during which time the frosting may be created.
Total Time
3
hours
30
minutes
Ingredients
Favorite recipe or mix to produce equivalent of 4 8-inch round cakes

(usually double recipe or two mixes); gluten-free or regular to fit your dietary needs*

Double batch of favorite Buttercream Frosting

(homemade, mix or prepared)

Orange food coloring**

1/2

cup

regular size Orange M&M's

1/2

cup

regular size Brown M&M's

1

cup

Mega size Orange M&M's

1

cup

Mega size Brown M&M's

Suggested supplies: cake turntable

, frosting spreader
Instructions
Prepare the cake pans: with a pastry brush lightly brush the cake pan with melted butter. Insert the parchment round, brush top with butter. Add a small amount of flour, rotate pan and tap to spread the flour over the buttered surfaced. Turn upside down and tap on a hard surface to release any excess flour. TIP: if baking a chocolate cake that will not be frosted, substitute cocoa powder so it will not show as regular flour will.

Bake per the recipe temperature and checking for doneness (when a toothpick comes out clean) around 25 minutes. My cakes were done at 30 minutes. Remove from oven and allow to cool on a rack for 15 minutes before removing from the pan to cool fully on the cooling rack. Cut the tops of the layers to make them level if necessary.

Prepare the frosting by adding food coloring to achieve your color preference. Allow frosting to chill 15 minutes before beginning to frost the cake.

Place the bottom cake layer on the serving plate or on a cardboard cake round. Add a layer of frosting to cover the top of the layer. Repeat with layer number 2 and 3, ending with the fourth layer on the top.

With a light layer of frosting, crumb coat the cake. (If you are unfamiliar with

crumb coating

, it is a light layer of frosting to catch the crumbs so the final frosting will be 'clean' with no cake bits). Place the crumb coated cake in the refrigerator for 30 minutes or until the frosting is set; cover and chill the remaining frosting as well.

Final frost the cake sides and top, smoothing out the frosting as much as possible. Place in the refrigerator again for 15 minutes.

Adding M & M's: Start at the bottom of the cake placing regular size orange M & M candies into the frosting leaving approximately ¼ inch space between each one. Make a full ring around the cake.

Move above the first row and place orange Mega M & M's approximately ¼ inch above the row of regular M & M's, starting with the first one above the space between two of the regular size M & M's below. Refer to the photos for the pattern.

Repeat the pattern using brown M & M's, with a row of regular size going above the orange Mega size, and the brown Mega size above the brown regular.

Repeat this pattern to cover the sides of the cake.

The top row on the cake sides should be brown regular size M & M's start on the top of the cake, on the outside with a row of brown Mega size M & M's making a ring. Continue the same pattern until ending in the middle with a single regular brown M & M. Note: if for some reason your top row is a different color or size M & M, simply continue the pattern on the top of the cake starting with which ever M & M should follow your top row on the cake sides.

Chill until set and serve in ½ inch slices (due to the height of the cake slices are filling even if thin!). Cake leftovers may be well covered and chilled in the refrigerator or well wrapped and frozen.
Recipe Notes
*many varieties of food coloring work well for this recipe. Should you prefer a natural, vegetable derived dyes I suggest India Tree Dyes available online or at Whole Foods. The colors are not always as vibrant but they are all natural.
** when in a time bind I use Pamela's Products Gluten-Free Chocolate Cake mix finding it always reliable for great structure and flavor.
Nutrition Facts
Whimsical Fall M&M Cake
Amount Per Serving
Calories 196
Calories from Fat 81
% Daily Value*
Fat 9g14%
Cholesterol 5mg2%
Sodium 26mg1%
Carbohydrates 26g9%
Protein 1g2%
Vitamin A 85IU2%
Vitamin C 0.2mg0%
Calcium 45mg5%
Iron 0.5mg3%
* Percent Daily Values are based on a 2000 calorie diet.