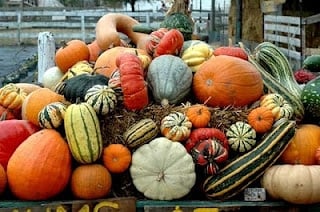 To me there is nothing more fulfilling and fun than to attend the Miller Farms Fall Harvest Festival and personally harvest food for winter.

I first went to Miller Farms a few years back with a school field trip.

Not having heard of it nor being as into the seasonality of food as I am now, I thoroughly enjoyed helping the kids with their large bags pull vegetables out of the ground to proudly donate to a local food bank (they wanted to pick but not eat).

It popped to mind this fall for a more purposeful trip; to fill our stores for winter and enjoy the fruits of our personal labors during winter's chill.
A few weekends ago on a very foggy morning reminding me more of Northern California than Northern Colorado, we arrived at Miller Farms at 9 a.m. to 'pick'.

We paid our fee and boarded a tractor-pulled platform to head out to the fields.

We were on the first truck out with a large group of people who turned out to be the heart and soul of this experience for us.
We were told we could pick 6-10 pound bags of food each and the farm supplied the bags.

We bounced out to the first field, chilled and still tired from the early start.

The first stop was a field with cabbage, beets, dill weed and sweet corn.

Our travel companions unloaded into the field with tools they had brought along and it was clear they meant business.

We struck up a conversation to learn they were an extended, multi-generational family from Bosnia there to fill their winter coffers.

It was evident this was a purposeful trip for them, not a weekend outing and we were inspired by their work ethic and heart.
As we toiled over stubborn cabbage our newly adopted family came to our rescue with knives to swiftly slice the cabbage off their base.

They advised cleaning off all the beet greens in the field to fit more into the bags.

As we bumped along to our next stop, potatoes, they explained how they'd ferment the cabbage and store it so it would last all winter.
We arrived at the potato field where the soil was like cement to dig into.

The family told us to wait as the driver would mount a tractor with an apparatus behind it and drag the row surfacing all the potatoes.

Indeed this invention of the modern farm age made all the difference in the world and we were able to gather several bags of potatoes, red and gold.

There were complaints about the small size and cajoling to the driver to drag one more row.

In the end to look at our hay truck it was obvious we all would be filling every possible bag in our aggregate quota.
Next stop, onions.

A field full of yellow onions that size of a child's head.

Then carrots, eggplant, tomatoes (though they were mostly spent), pepper (which looked sun dried at this point) and basil.

Our driver came into the field with a shovel to unearth a row.

Our companions had brought their own pitch fork which we'll do next year.
Somewhere as we picked one of the Bosnian women and I spoke about storing vegetables for winter.

She explained she does it outside.

She lays down sand, a layer of corn husks, a single layer of vegetables (carrots and beets included), more corn husks, more sand and repeat.

It will keep all winter long, fresh and firm, she promised.

She explained that when the war came this saved her and her mother as they had access to nothing.

I fanaticized about fashioning something similar in my yard then flashed on the green tomatoes I could keep from my determined dogs even with a fence; a pit of vegetables in winter would become a major sport I am sure.
Stop four was green beans, corn (sweet and Indian) and kohlrabi.

The final stop was pie pumpkins.

When the driver began to stop at the pumpkins and our new family all in unison said 'no, keep going', then realized we might want to stop.

I asked them if they ate them and they said no.

I found it funny since they were so dedicated to every other vegetable and this one offered so many possible dishes that it was a non starter for them.

We did hop into the field for our allocated one pumpkin per person and also brought one back for Nana, who spoke no English but worked shoulder to shoulder with the rest of them to harvest.
All said and done we departed three hours later, exhausted and satisfied at the achievement of the experience and the soulful connection with this lovely family.
Some tips if you go:
Arrive early!

The earlier you go the less people there are and it's cooler.

The festival begins Labor Day weekend and runs until November 5th (check their website for specifics).

They are open from 9 a.m.-6 p.m. daily.

The produce differs depending on what is available when you go (you can always call ahead to check what is available for picking on a given day).

They additionally sell produce from their farm that has been picked by them.

Cost is $15/person or $50/family of 4.

They supply the bags.

Our companions had brought gloves, pitch forks, knives to cut the base of cabbage, large garbage bags to aggregate smaller bags of food, shovel and a bucket.

You certainly don't need to bring any of this, but if you are serious, we were grateful to have access to their tools….and their kind instruction.

There are places to picnic and they welcome you bringing lunch.

They sell some light snacks and drinks as well.

There are many other attractions for children such as a petting zoo, hay pyramid to climb, race track with pedaling vehicles and more.