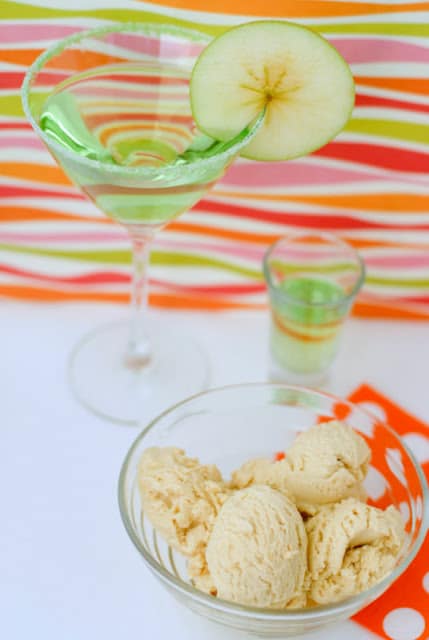 This month's vintage recipe for updating is Ozarkian Taffy Apples.

I was stumped about what would be unique to the Ozarks and their caramel apples warranting the regional identifier. Fortunately before I had to crack Google and go to town, 'Swapper Savant', Jennifer of the Adventuresome Kitchen, once again jumped to the forefront to educate.
The Ozarks it seems is the apple epicenter of that region of the U.S..

I will summarize Jennifer's lore by sharing that the Ozarks were considered the heartland of Apple Country in the late 1800's, even sporting an heirloom apple variety called 'Ozarkana'.
Homesteaders who were trying to make it as farmers assisted by the Homestead Act of 1862 heard of fertile land in Missouri; a state they'd sped through en route to the west. Those who had not been yet successful backtracked to Missouri with dreams of apple grandeur.

Two of the more well known were Laura Ingalls Wilder and her husband Almanzo who settled, grew apples (amongst other crops), while Laura also wrote the now famous Little House on the Prairie books.

(And you thought we just chat about recipes for this swap.)

As background, this recipe redo/swap idea was brought to life by Christiana of

Burwell General

Store

upon finding a cool vintage hymnal/recipe book at a swap meet in Arizona. She had the vision of bringing those recipes back to life with a twist. We redo/swappers must change at least three things to make it our own and stay true to the intent of the recipe (I took a bit of artistic license on this aspect).
I wanted to stay true to the spirit of the Caramel Apple but in different form.

I made Caramel Apple Ice Cream.

It has the taste of a caramel apple and delivers the flavor in the same layering as does the original muse treat; a big dose of buttery caramel flavor first, followed by the puckery sweetness of the Granny Smith apple (the traditional variety apple used for caramel apples).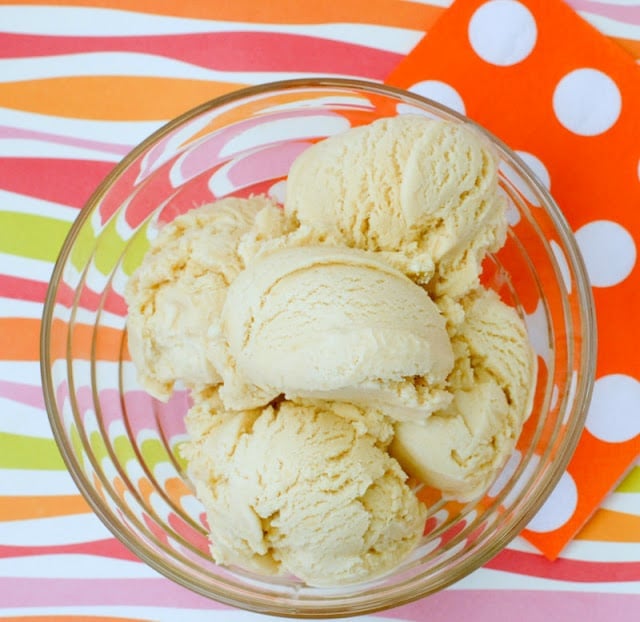 ·
3 granny smith apples, cored (do not peel)
·
Large pinch of kosher or sea

salt
1.
Chop the apples into small pieces.

Set aside.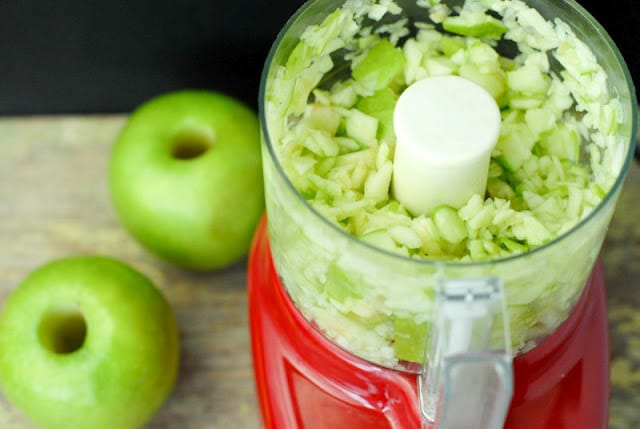 2.
Put sugar in heavy bottomed pan.

Cook over medium heat watching the whole time.

In about 10 minutes (depending on your pan) the edges of the sugar will begin to melt.

Begin to stir and scrape the bottom of the pan to allow the rest of the sugar to liquefy evenly without burning.

In my case it was completely liquid 5 minutes later (15 minutes start to finish).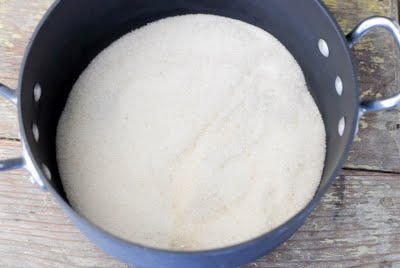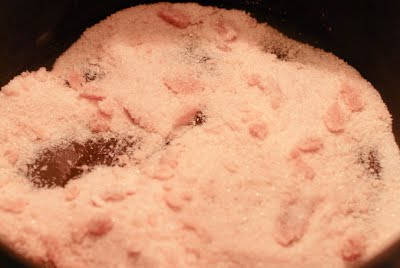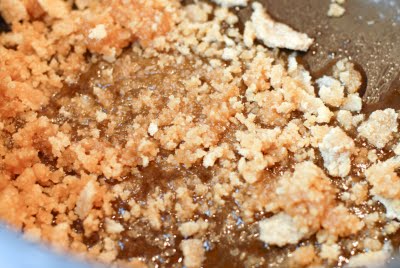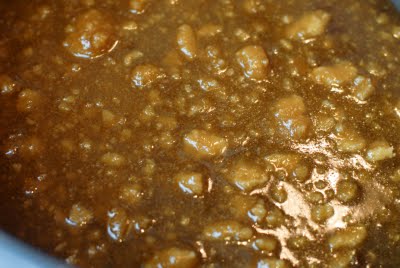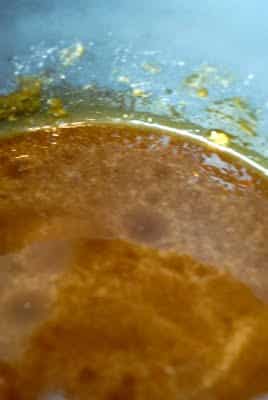 3.
Stir in the apples.

When you do, the sugar may become thready and solid.

Keep stirring and it will melt again.

After totally liquid again cook 5 more minutes until apples are soft.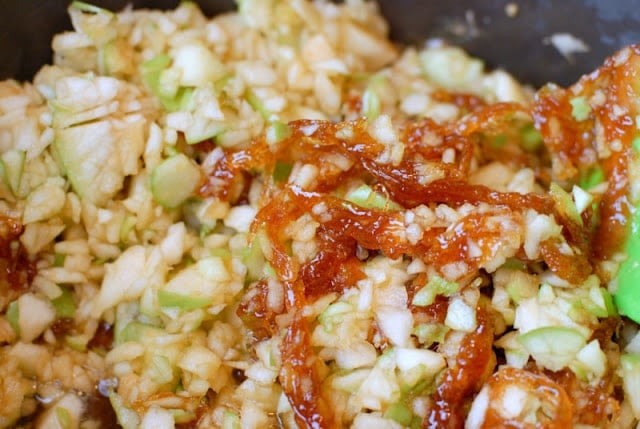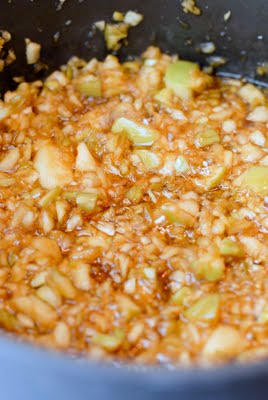 4.
Remove from heat and slowly stir in the cream until fully combined.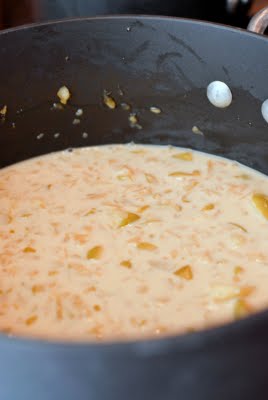 5.
Allow mixture to cool to room temperature.

Once cooled puree in a food processor or blender.
6.
Place a strainer over a bowl.

Pour mixture into the strainer and press with a spatula to squeeze out all liquid (don't forget to scrape the bottom of the strainer facing the bowl to release any liquid that has pressed through but is still holding onto the underside of the strainer).

Cover bowl and place in refrigerator until fully cooled or overnight.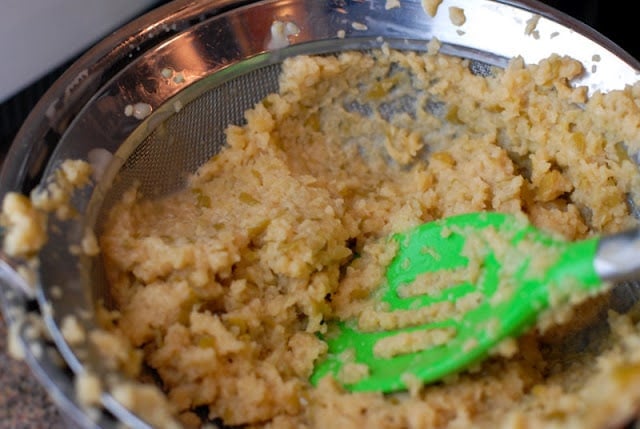 7.
Once cooled process in ice cream machine.

Place in a storage container and place in the freezer (I usually leave it overnight before eating to fully firm up) until eating!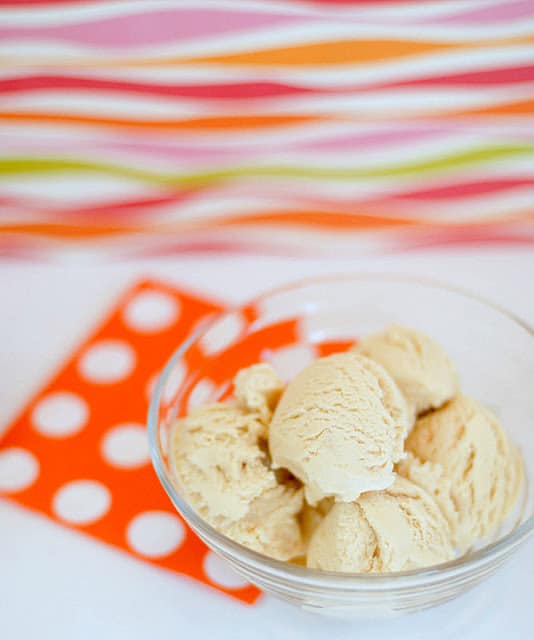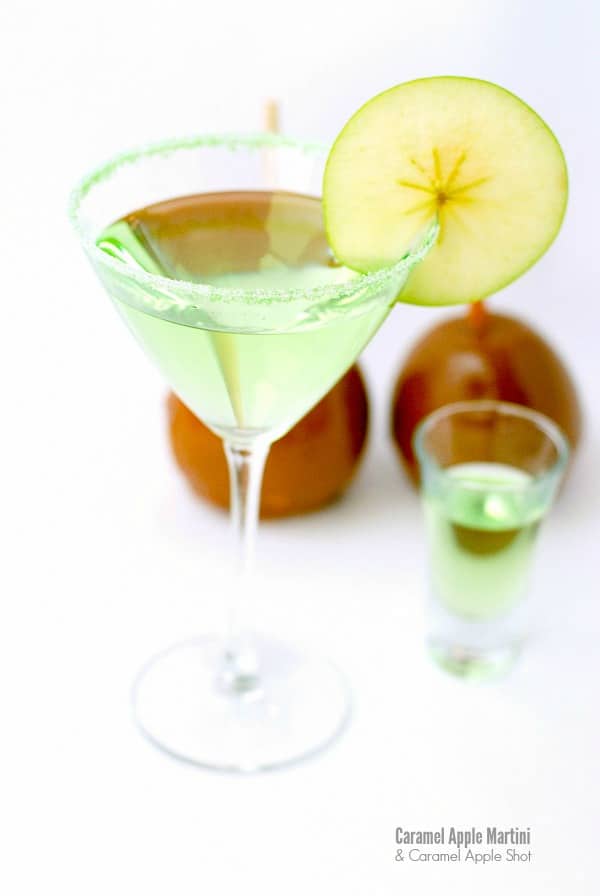 Being an equal opportunity blogger I wanted to share an alternative experience for any of you perhaps with your jaw wired shut, on a strict liquid diet or just preferring to drink your carnival snacks.

Two liquid alternatives embodying the Caramel Apple experience.

Apropos for most Halloween parties as well.
I will admit when shopping for the ingredients in the Schnapps aisle I feared these libations might be a ticket for the bullet train to Hangoverville.

I was dubious but committed to deliver this aspect of the recipe tweak.
I was truly surprised when tasting the Caramel Apple shot (tasting, not downing mind you) how much like caramel apples it does taste.

Dangerously so.

The Apple Schnapps and Sour Apple Pucker remind me of Jolly Rancher Sour Apple candy.

Something that would tempt you with its taste quenching tang.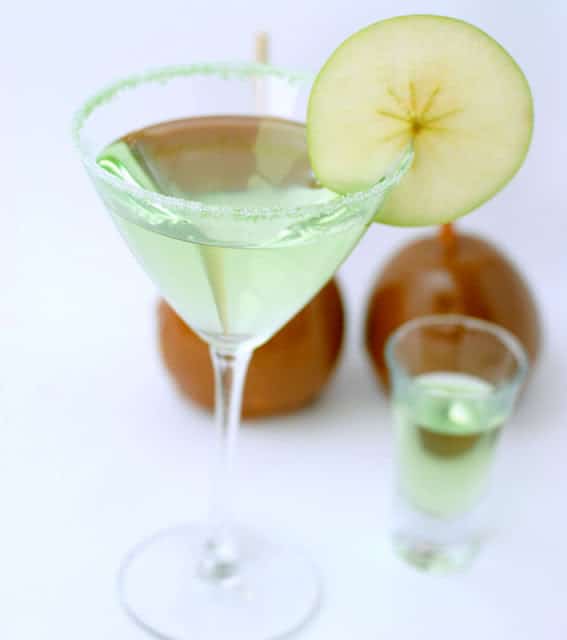 ·
1 ounce Sour Apple Pucker
·
1 ounce Buttershot (butterscotch) Schanpps
·
½ ounce vodka (unflavored)
Rim a martini glass with Sour Apple rimming sugar (if desired).

Pour all ingredients in a cocktail shaker with 1 cup crushed ice.

Shake and pour into prepared glass.

Garnish with a slice of Granny Smith apple.
·
½ ounce Buttershot (butterscotch) Schnapps
Please visit the other swappers and see how they've spun this dish. We are now comprised of different culinary genres, as well as international contributors and I guarantee you'll find some new favorite recipes if not new favorite blogs.

Click here

or on the hymnal on the right side of my blog to land at the command central page of our swap group! Targeted posting for all recipes is 8:00 p.m. PST, Sunday May 1, 2011.