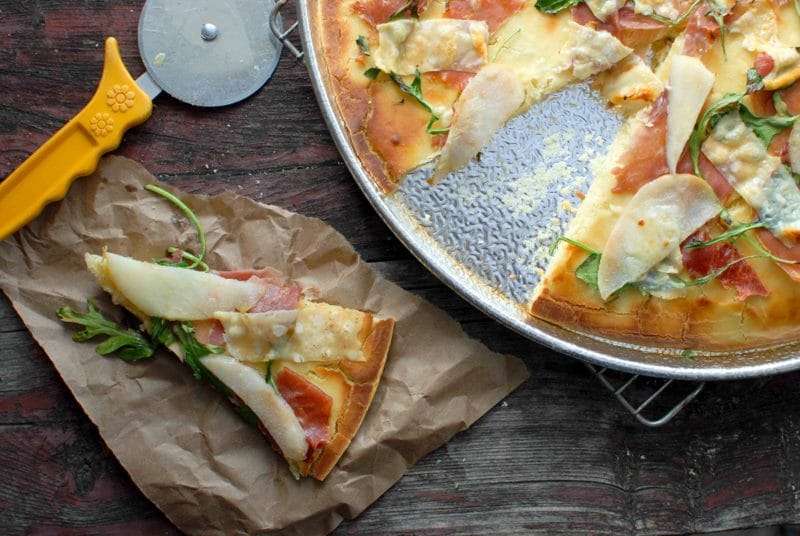 This month our Vintage Recipe Redo/Swap features a recipe for Pizza from Mary's Italian Dinners in Spokane Washington. I love the simplicity of how the original recipe is written. It seems familiar and relaxed. I will admit for the first time since beginning this swap over a year ago I felt 'there is no improving on perfection'. There is nothing like a homemade pizza which is something most of us don't take the time to make. I decided instead of turning this into something else I would make a gluten free pizza from scratch with a recipe I've had for years and also do not make enough.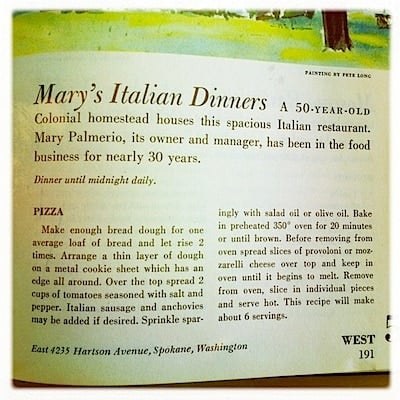 Gluten is a binder so when baking with grain flours without gluten one loses the binding power found with wheat flour. Gluten free recipes always have multiple flours because it requires the combinations in order to secure the necessary texture that can be found in using only wheat flour. The consistency of pizza dough without gluten is unique when at the pre-baking stage. It is much more delicate that wheat dough and also feels much more gooey for lack of a better word. This crust is something my family loves and can be topped with anything.
We recently received a shipment of fresh pears from an out of state relative. Exclusively 'eating local' in Colorado is really impossible from now until June. We've been working through stores of apples. Our local pears are long gone since they do not store as well. Getting a fresh shipment is like the sun coming out on a dreary day. I wanted to fold them into my pizza and decided to marry them with some of my favorite things; arugula, prosciutto and parmigiano reggiano cheese.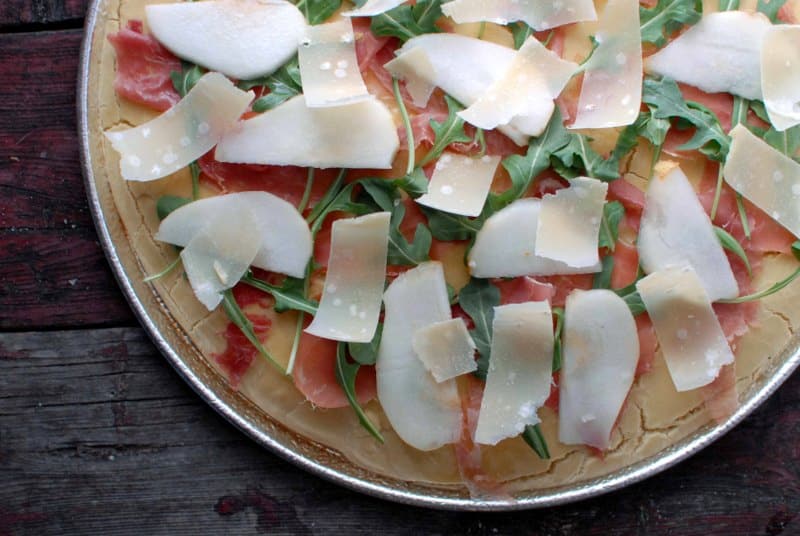 This dough recipe produces a unique cake-like consistency crust. A sort of hybrid between thin and thick crust, crossed with a foccacia. I realize the time required to prepare from-scratch baked goods is not what we all have the time for on the average day. You can always apply the toppings to your favorite pre-made crust to enjoy the flavors in a fraction of the time.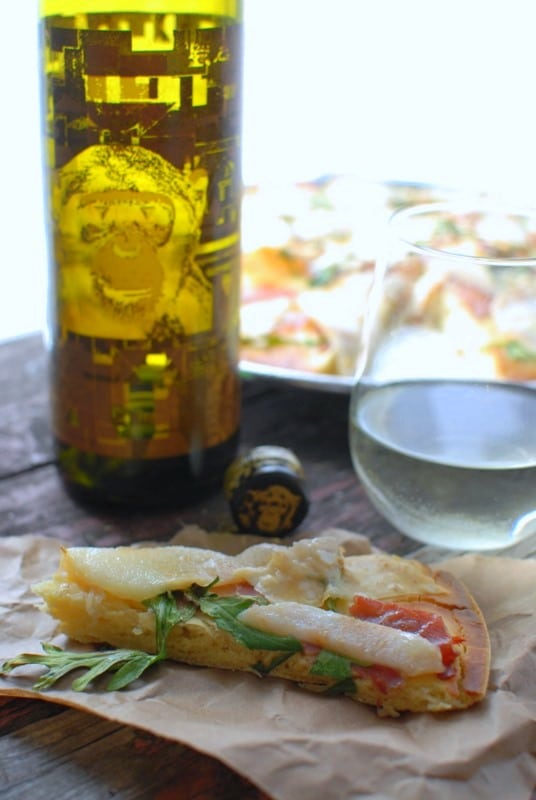 Recipe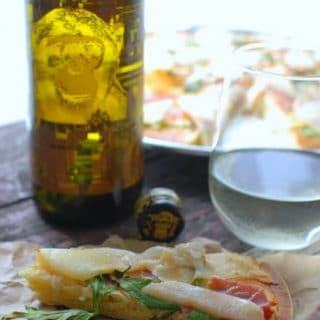 HOMEMADE GLUTEN FREE PEAR PROSCIUTTO ARUGULA PIZZA
From scratch gluten-free pizza crust with salty, sweet, peppery pear prosciutto argula topping!
Print
Save Recipe
Recipe Saved!
Pin
Rate
Servings:
6
1 large pizza
Ingredients
Pizza Crust:
¼

cup

millet flour

¾

cup

finely ground brown rice flour*

¼

sweet rice flour*

¼

cup

arrowroot starch or tapioca starch

½

cup

tapioca flour

¾

teaspoon

salt

1 ½

tablespoons

plus 1 teaspoon granulated sugar

2 ½

teaspoons

dry active yeast

¾

cup

water

heated to 115-120 degrees

2

tablespoons

ricotta cheese

2

eggs

room temperature

2 ½

tablespoons

olive oil

½

teaspoon

apple cider vinegar

1

tablespoon

honey
Pizza Toppings (adjust amounts to suit personal preference)
1/8-1/4

pound

thinly sliced Prosciutto

1/2

pear

peeled, cored and thinly sliced lengthwise

1/2

cup

arugula

washed (torn if large leaves)

1/2-3/4

cup

Parmigiano-Reggiano cheese

(I used a vegetable peeler to make thin, rectangular slices)
Instructions
In a small bowl yeast, 1 teaspoon sugar and ¼ cup of warmed water. Stir to combine and allow to sit for 5 minutes so the yeast can activate (it becomes foamy and smells like bread).

Combine millet flour, brown rice flour, sweet rice flour, arrowroot/tapioca starch, tapioca flour, 1 ½ tablespoons sugar and sift into mixing bowl (for a standing mixer preferably or a bowl to be used with a handheld mixer).

Using the paddle attachment on a free standing mixer add eggs, one at a time, mixing in between to combine.

Add olive oil mixture slowly mixing at low speed to combine.

Begin to slowly add some of the warm water, watching the consistency of the dough. You will note it to be drier like bread and begin to become glossy. Only add water until the dough begins to turn glossy; do not over thin the dough. I used approximately an additional ¼ cup to reach the desired consistency. This amount will vary depending on your location and flours used.

Spoon dough onto a pizza pan or cookie sheet. Spread dough to cover the pan either with a spatula or by hand. Note: the dough can be sticky so putting some olive oil on your hands before working the dough should address the stickiness and allow you to press it into the pan.

Place a thin kitchen towel over the dough and allow it to rise undisturbed in a warm spot for 40 minutes. Preheat the oven to 375 degrees while the dough is rising.

After the dough has risen, bake the crust for 10 minutes. Remove crust and increase oven temperature to 400 degrees.

Brush with olive oil and place toppings on crust. Bake for around 6-8 minutes. Broil pizza under the broiler for 1-2 minutes (be sure to watch so it doesn't burn). Allow to cool until able to be handled, cut and enjoy.
Notes
*I prefer 'Authentic Foods' brand because their flour is so finely ground. Mix olive oil, ricotta cheese, honey and vinegar in a small bowl and allow to come to room temperature.
Nutrition
Calories:
343
kcal
|
Carbohydrates:
43
g
|
Protein:
10
g
|
Fat:
14
g
|
Saturated Fat:
4
g
|
Cholesterol:
69
mg
|
Sodium:
518
mg
|
Potassium:
186
mg
|
Fiber:
3
g
|
Sugar:
7
g
|
Vitamin A:
205
IU
|
Vitamin C:
0.9
mg
|
Calcium:
124
mg
|
Iron:
1.2
mg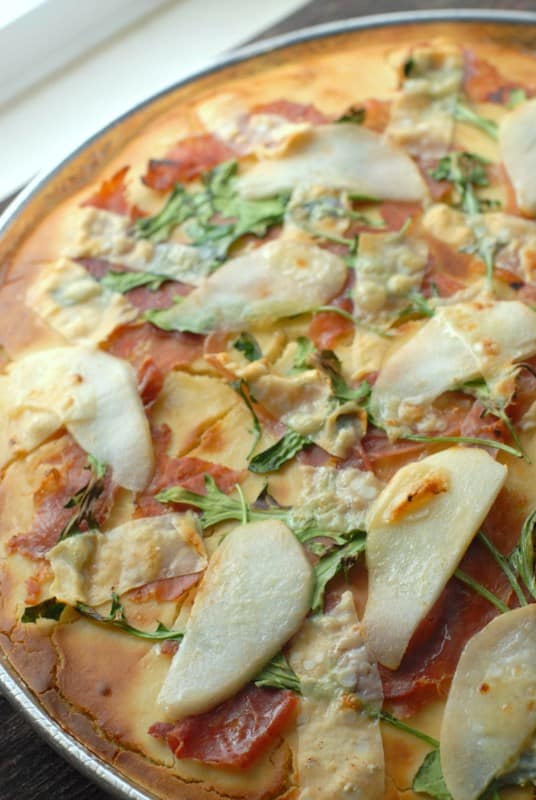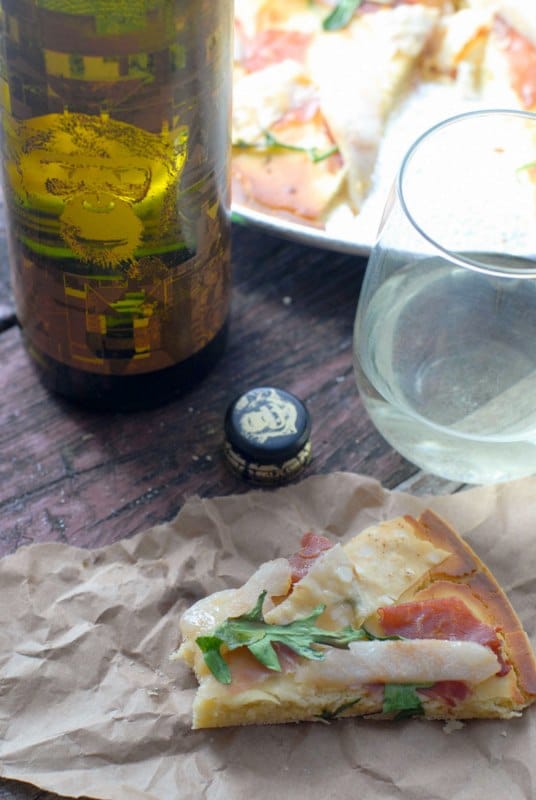 THE INFINITE MONKEY THEOREM – SAUVIGNON BLANC/SEMILLON 2011
Just stating the winery name, The Infinite Monkey Theorem, will give a clue about the degree of hipness of Denver's star urban winery. The name is derived from the actual probability theorem that if a monkey were given a typewriter and unlimited time he would eventually recreate the works of Shakespeare. I have no comment on the theorem but can say were a winemaker (Ben Parsons) given Colorado grapes (and some from out of state), a Quonset hut in the Santa Fe Arts District, that in a relatively short time, superior wines will be created. So agrees Wine Spectator; read their reviews here.
Growing up in awe of the original Planet of the Apes movies I was immediately drawn to IMT's graphics and the fact that every person I've ever mentioned their wine to lights up like a Christmas tree and begins gushing over it as if recalling their first crush. Completely justified I can attest. Last fall I attended a party to roll out their Wine in a Can. We were asked to wear Speakeasy costume, the movie Bonnie and Clyde was projected onto the outside of a neighboring Denver skyscraper. The food was good, the verve palpable through the mixed crowd, happy to be part of anything Infinite Monkey Theorem. (Just by saying the name out loud, don't you feel a teensy bit cooler than 5 minutes ago?)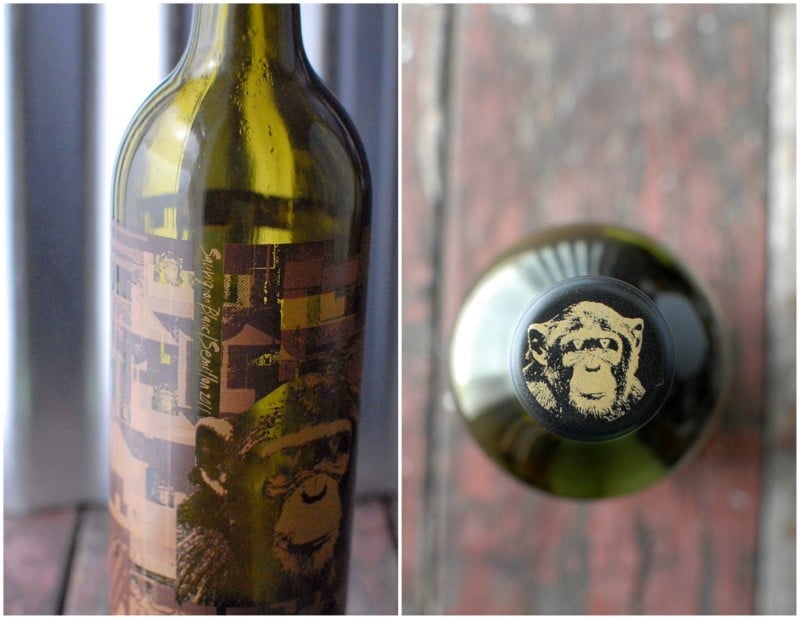 The winemakers surely are cool themselves but completely unpretentious and really just want to get down to the business of making good wine. The back of the bottle reads: 'The Infinite Monkey Theorem represents the counter culture in winemaking. No vineyard. No pretense. We buy the best grapes and make ridiculously good wine.' And they do; make ridiculously good wine
This monthly recipe redo and swap features a vintage recipe for which the swappers change at least 3 things and stay true to the intent of the recipe. Other variations of the original recipe can be found in the links below.