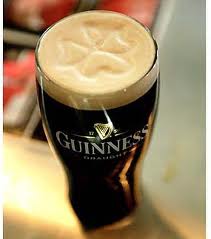 We all know about the luck of the Irish but the wit of the Irish is what I know most about.

What is it they say about Superman?

Faster than a speeding bullet; more powerful than a locomotive.

I can say that about the mouths of my Irish friends (can't comment about their abilities to leap tall buildings in a single or multiple bounds however I suspect if there were a pint at the top they'd be significantly motivated).

I can attest to this with not only my Irish friends but frankly many of the people I've met in Ireland in my travels.

Always can be counted on for a laugh, using aspects of the English language cleverly and as rarely heard elsewhere (what dictionary do they get in primary school?).
When I was growing up my mother would threaten to wash my mouth out with soap were I to utter anything undesirable (and before you try to find her out and call Social Services, it was the thing of the day and real soap was used, no noxious hand sanitizer threatening hospitalization; being the angelic thing I was, and still am, it only happened once…..that I'll admit).

Were that still the current treatment for foul mouth hooligans, I fear these pals might have had a fire hose of bleach regularly as a mouth rinse.

But they're so dang funny.
Today I will not dare to imagine anything I could write would touch the hilarious outbreak between my battling Irish friends (over pumpkin tales of all things). Instead I'll join you, dear readers, on the couch and encourage you to go back to the Lore of the Jack O'Lantern, scroll to the bottom, press 'Comments' and read in chronological order (e.g. top to bottom).

The raging war of the words is far funnier than my original post however I'd advise to p
roceed at your own risk, especially if you are one with more tender sensibilities!