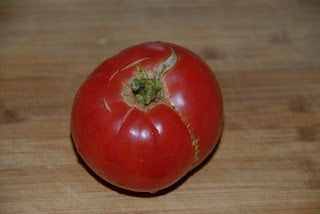 When I made my Garden Gleanings Soup I spared one lone tomato which I viewed to have a higher culinary calling.

This year when planning my 8'x8' urban farmette I started really from scratch.

I ordered seeds from Seed Savers Exchange which is in the business of preserving seeds over generations.

They afford unique and exotic varieties to try and feedback on the success rates of the seeds (a bit like betting odds in Vegas).
I will admit I do pick seeds for the names alone at times.

'Nebraska Wedding' tomatoes which are a gorgeous orange all the way through and fantastic flavor; just as you'd expect a wedding in Nebraska to be. 'Lazy Housewife beans' which are named as such due to being so prolific one just needs to sit around while they produce.
I'm not sure what attracted me to the Soldacki Tomato.

According to Seed Saver's Exchange it is a Polish heirloom, brought to Cleveland, Ohio around 1900, given to Seed Savers Exchange member Carolyn Male by a co-worker. Potato-leaf plants, large fruits, dense and meaty. Pinkish-red flat globes up to one pound. Sweet outstanding flavor.
I toiled for this tomato.

I planted several seeds in peat pots under grow lights though only one flourished to the point of outdoor planting.

As the other tomato varieties sprang to the sky in the garden, sending branches every direction and setting fruit willy nilly, this plant poked along revealing one sole tomato by late August.
It was nerve wracking deciding when to pick it.

I felt like I was on a game show primed to win a million dollars as long as I did not press the hair-trigger button one second too early.

The frost panic made the call.

The tomato was picked and

came in with the rest of the garden proceeds, left to sit alone until a focused moment presented itself.
I think tomatoes in their purest form are a 'must taste' for a gardener and foodie.

To experience the first bite mixed in with other ingredients

would be like going wine tasting and asking to have the next varietal served in a Sangria to evaluate it.

I had no intentions of sharing this precious orb either; after all I'd mid-wifed this singular tomato into life and it was MINE alone.
Udi's gluten-free white bread is the ONLY bread for a tomato sandwich in my book.

And i

t must be toasted.

C

anola mayonnaise spread liberally on each piece of toasted bread is a must.

I gently sliced the tomato revealing the advertised beautiful deep pink flesh.

The flavor was soft and sweet, unlike more pedestrian, brutish strains like Beefsteak or Early Girl.

I piled four thick slices on the bread, sprinkled it with the Alderwood Smoked Salt and went outdoors to enjoy the last moments of summer in my mouth.
This sandwich was perfect. PERfect. Not 'pretty good'. Not 'yummy'. But totally, completely perfect. The crunch of the bread, the contrasting textures of the bread and the tomato, the flavors of the salt and tomato and mayo combined.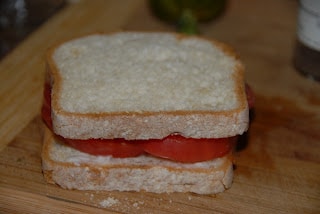 As I sat on my deck, looking out to my neighbor's crab apple tree with its rust colored leaves and golden apples, contemplating the divine temperature contrasting to the visuals of fall, I pondered my sandwich. If this sandwich were a family, it would be one whose every member was charming and vibrant of their own accord but when put together they fit perfectly like a puzzle. Though divine components in their own right, to experience them as a whole defies description.
I will miss the perfection of tomato sandwiches. And though one never wants to bid a friend adieu, to endure the long wait until the next meeting, I'd always take that sense of loss over not truly embracing and appreciating what each fleeting season has to offer.