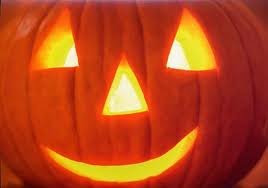 Knowing the carved pumpkin as the most predominant and perfect Halloween symbol, would it be surprising to know they are a cheap substitute for the original deal?

The Jack O'Lantern actually originates back to Ireland where a guy named Jack was lit one night and made a deal with the Devil; one last drink in exchange for his soul.

(Sadly I've seen some of my closest Irish friends do something similar under the threat of a pub closing in Dublin).
The Devil changed form to that of a coin, intended to pay the barkeep for Jack's last drink.

Too-big-for-his-britches

Jack put the Devil-coin in his pocket instead thinking he had the situation nailed sure the Devil could not change form again. Jack was sure he'd duped the Devil saving himself his side of the bargain.

The Devil agreed not to return for ten years for Jack's soul.
Fast forward ten years and VOILA, the Devil pops up for Jack's soul.

Jack tricks the Devil into climbing an apple tree to fetch him one last apple (a last meal of sorts), the Devil does and Jack carves a cross in the tree's trunk trapping the Devil and saving his soul for good…or so he thought.
Years later Jack dies and goes to heaven but is denied entry due to lying, trickery and boozing.

When he's sent to Hell the Devil gave him the big 'Sorry, No Room At the Inn', remembering the broken promise and being treed like a raccoon chased by a hound dog.
Jack is thrust back to the human world as a damned spirit and has a total whine fest with the Devil about the way back being windy and dark (please!; you don't have to live in the eternal damnation of the underworld with a guy you totally pissed off and you turn into a Nancy about the ambiance of the road to the living?!).

The Devil mockingly tosses him an ember from the fires of Hell which Jack plants in a half eaten turnip creating a lantern to light his sniveling road home.
The Irish adopted the custom of exhibiting carved vegetable lanterns as a means to ward off unwelcome spirits (oh I can't wait for the comments I'm going to get from my pals 'across the pond' about this). When the Irish potato famine drove mass immigration to the United States the custom of the lanterns came with them.

Unfortunately turnips were not readily available in the U.S. so the pumpkin took its place.
The moral of the story? Always carry a credit card when going to a bar of course.
Stay tuned for a gem of a place to get pumpkins locally and what to do with the goop inside the pumpkin.