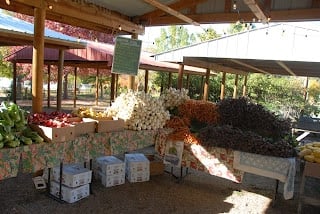 I don't use emoticons.

 

To me they signal the backward slide of written civilization toward the caveman times where the use of stick drawings was progress.

 

I mean really who turns their head 90 degrees and smiles as the colon followed by the right parenthesis depict?

 

HOWEVER were I to use an emoticon (and I do appreciate the emotional conveyance that causes others to employ them) for the start to our winter share commencement it would be one with a squiggly mouth signaling confusion.

 

Our first day of winter share this year and it was 75 degrees.
To even talk about our winter share I need to activate Mr. Peabody's Way Back Machine to how I found 'our' farm to begin with.

 

It was a lovely fall day and my friend Colleen was visiting from Santa Fe.

 

We'd gone to The Kitchen restaurant for breakfast.

 

We sat at a singular table placed primly in the front window allowing full view of the street activity as well as close proximity to the bar (never a bad thing even at 8 a.m. on the right day).

 

On the bar was a porcelain egg crate (totally Martha Stewart'esque) holding the most beautiful eggs I'd ever seen in my life.

 

There were brown eggs, faint aqua colored eggs, speckled eggs, all magical and captivating.
I sheepishly signaled our server to ask where the eggs came from, shyly proclaiming my fascination (read 'fixation') with them.

 

She explained they came from one of the farms that partners with The Kitchen supplying local produce and eggs for the restaurant.

 

Then she pulled out what we know now WAS Willy Wonka's Last Golden Ticket; a brochure for Cure Organic Farm's CSA program.

 

She explained the farm had a CSA program, what that was and that I could contact them about the eggs.

 

Our life was never the same after that breakfast; seriously.
I called the farm that day and left a voicemail explaining my quest for the beautiful eggs and to learn more.

 

I still did not even really understand what a CSA was and had not ever heard of one even before this.

 

I got a call back later that day from Anne Cure, the farmer, who kindly explained their CSA which was in its first year.

 

I totally forgot about the eggs.

 

I was hooked.

 

Anne said they'd be organizing CSA memberships for the following summer in December and I could check their website then.
I did.

 

Daily.

 

Every day in December.

 

Eventually a small announcement popped up, I sprang on it like a starving cat finally finding a mouse and our journey began.
Fast forward four or five years to today.

 

We've now participated in the CSA with Cure Farms every following summer and every winter share since they've begun offering them.

 

We enjoy meat from the farm animals.

 

Eggs from the chickens we can feed when stopping to get our weekly CSA share.

 

I developed a total devotion for duck eggs after enjoying them weekly (confessing to Paul Cure, Anne's husband and co-manager of the farm, when buying my last dozen at the end of the winter CSA last year that I felt I might need a 12 step program to make it through to spring without them) until the ducks moved to a swank new location on the lot next door and began leaving their eggs in the pond or other secret spots providing none for their adoring public such as me this summer.
I'm going to do a more specific write up on Cure Farm another time so I won't go into huge detail now on their fabulosity but will say they do about 160 summer CSA shares I believe and about a third of that for winter.

 

Having a share with them can be likened to having a rent controlled apartment in New York City; there ain't no way you are going to give it up.
There is something wonderful I have found about winter share.

 

It's kind of like a collective exhale mirroring that of the season.

 

The hard core 'in your face' production of summer is over.

 

The season slows and meanders with soft light and stillness putting forth a simpler offering to usher us into the full quiet of winter.

 

It's calm and sweet.
For me however it is preceded by angst and manifestation of all spastic features of my nature.

 

I begin to feel twitchy in August when I know the date for winter share will be announced.

 

When it is it becomes the only thing I commit to my calendar in pen, capital letters, circled and highlighted.

 

The process to secure a winter share has been iterated over the past few years and now is managed all online by the even-keeled webmaster of the farm, Connie.

 
While Anne is managing all the facets of the farm workings Connie can be counted on for quick and thoughtful responses to email, a beautiful and informative website, chronicling recipes for all the farm's vegetables and so much more.

 

She's helped me with a number of things over the years from quick answers about farm offerings to opinions about how to kill the grass before I put in my recent raised bed.

 

And she, poor Connie, is the first line of fire for winter share enrollment.
Somehow this year, I had committed the date on my calendar correctly but in the heat of the moment accelerated the date one week in my mind.

 

I always need to make arrangements about my early morning responsibilities being taken care of by others so I can be at the computer, fingers prone as soon as the window opens.

 

It's like getting tickets to see Oprah.
I know Connie's habits.

 

I know when she posts things.

 

I'm not what I'd call a 'CSA Membership Stalker', per se, but rather a committed woman with a focus.

 

I kept waiting, watching but no window was opening.

 

My house cleared out with everyone going where they needed to go with absolutely no help from me.

 

But they knew better to ask anything of me that did not expressly have to do with the farm or the computer I was staring at, slight bead of sweat on my brow.

 
It was 8:00 a.m.

 

Connie was never late.

 

Something was wrong.

 

I reloaded the page.

 

I checked the other pages on the website fearful it might open while I did so shutting me out of my beloved winter share.

 

No one could possibly love the snowy pick up days trudging over to the plastic-covered green house as much as I do, opening the door to Anne and Paul's smiling faces, the butternut squash awaiting picking to come home and be soup just for me…..like a puppy wanting to live with you and you alone.
I knew she was busy but I emailed Connie 'I'm not seeing the link on the farm website; am I missing something?'

 

Ah, well YEAH I was.

 

I'm not sure how many more minutes it took until time seemed to slow like molasses with the voice in my head beginning to slur like in a distorted cartoon…..'It's not September first until next week'.

 

'OMG'; could I be a bigger dork?

 

I gathered what little dignity I had left, sent Connie an email apologizing, assuring her I did know the winter share sign up was NEXT week, all was fine….thanks much…….see you later…….have a great day.
I did successfully secure a winter share the following week though tried to be as low key as possible about it still licking my embarrassing wounds from my first attempt.

 

Anne Cure mentioned to me that Connie really wanted to meet me.

 

Of course she did; wouldn't you want to stare into the face of such a pen pal wondering what had befallen them as a child causing behavior such as mine?

 

That would be great I said wondering if Connie had several people like me to correspond with or if I was the one and only highlight of her cyber role with the farm.
We did meet and she was as lovely in person as one would have imagined.

 

I will look forward to seeing her more regularly for winter share pick up and believe she appreciates my 'enthusiasm' as an outer manifestation of the deep care and commitment I have for the farm and the CSA opportunity (as least that's how I self-medicate to face her).
I did note 'our' farm in quotes earlier in this post.

 

It dawned on me this past summer, you hear people in the CSA referring to Cure Farm as 'our farm' all the time.

 

It struck me I had never thought of that unconscious reference that I've now personally used for years.

 

Would it be weird for Anne and Paul to have their domicile and livelihood claimed by so many as their own?

 

They've generously opened their property to us to reap the rewards of their labors, to visit their livestock and nestle into a kinship with them leaving everyone feeling part of their story.

 

Cure Farm feeling like 'our farm' is what has provided the foundation for my winter share frenzy (internal hysteria?).

 
Our CSA with Cure Farm has truly been a life changing gift.  I will always be grateful to Anne and Paul for affording us the experience of feeling a part of 'our farm'.