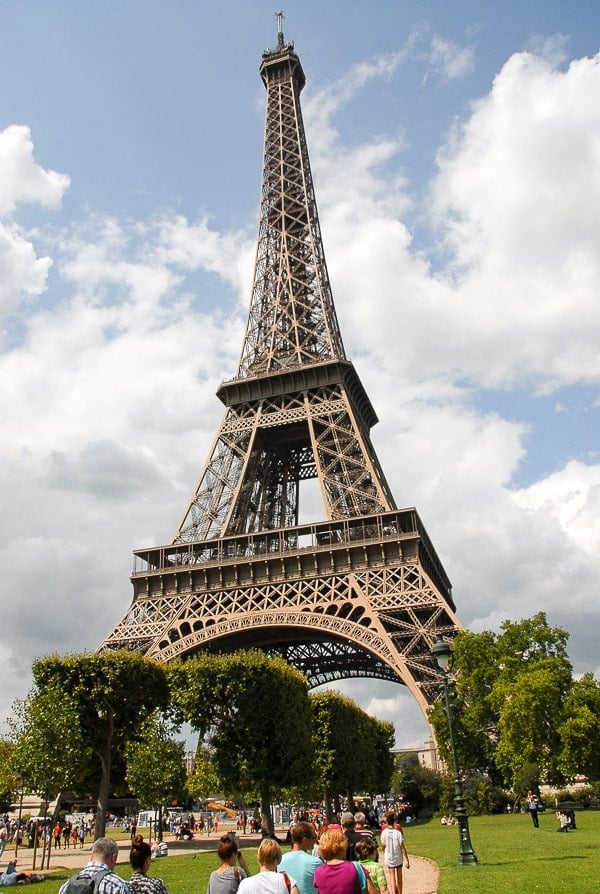 There are some who believe when taking a trip to Paris that the Eiffel Tower should be passed up for more authentic opportunities. Miss the most iconic architectural landmark in the world? Not this girl. I too am for the less traveled adventures but sometimes diving headlong into the obvious has its virtues. This is one of those opportunities.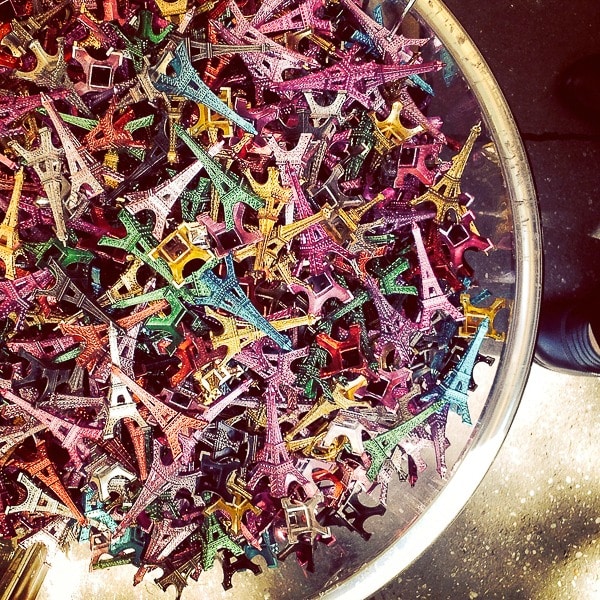 The first time I was in the presence of the Eiffel Tower, I had been working in Paris for two weeks at a satellite office of the American tech company where I was employed at the time. After long hours and no free time, our salesperson realized I'd seen nothing and took me on a whirlwind car tour en route back to my apartment after a late business dinner.
When he pulled up in front of the Eiffel Tower I really was star struck. I'd seen this iconic feat of architecture my entire life and now I was in its live presence. It was truly breathtaking.
Fast forward to this past August when my family rented an apartment in Le Marais (Paris) for two weeks, of course we were going to visit the Eiffel Tower; it was how we were going to do it that really mattered.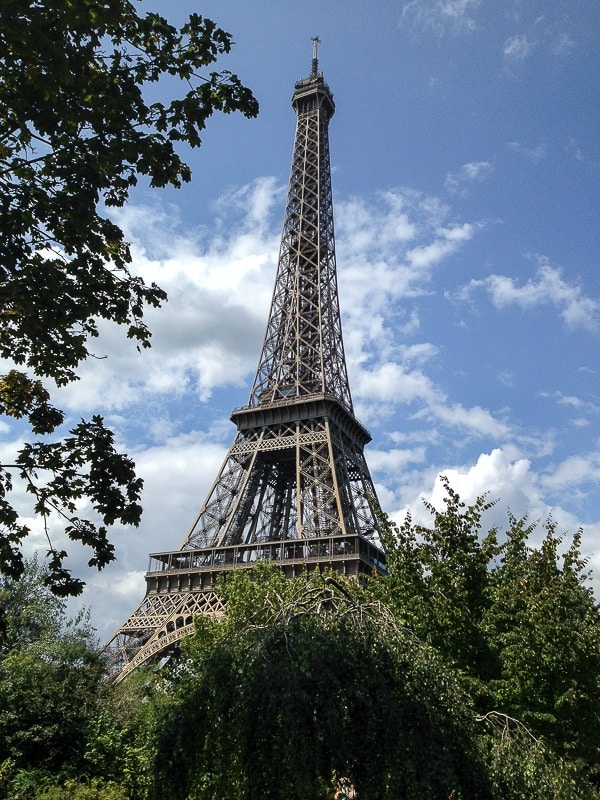 The Eiffel Tower was originally built in 1889 by Gustave Eiffel for the World's Fair. Taking over two years, with several hundred iron workers inserting more than 2 million rivets to the wrought iron to make it the tallest structure in the world at the time.
It was originally intended to be a temporary structure and to be deconstructed following the fair in the early 1900's. Instead a radio-telegraph receiver was added to the very top to create a valuable functioning feature to the prominent monument on the Paris skyline.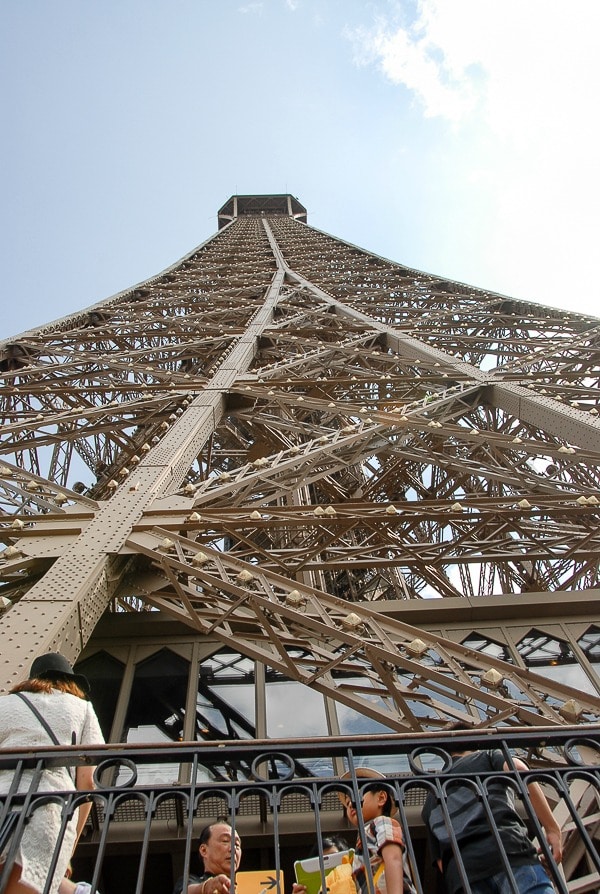 There are multiple ways to enjoy the Eiffel Tower depending on your goals and comfort. With over 7 million annual visitors planning ahead is key! Getting there is easy and the Eiffel Tower website spells out all the options.
When buying tickets from the Eiffel Tower website you can choose your preferred date, time and which areas of the tower you'd like to visit. For our trip this past summer, we attempted to buy tickets in June for our late August trip and everything was sold out.
For this post I hopped on the website to see when the earliest tickets were available and they are sold out until mid-January and even then all dates and times are not available. Book early! Once at the tower, one may ascend via stairs or elevator.
There is also a downloadable self-tour app available for a few euros that identifies points of interest (available in French or English). It points out sites of interest on maps matching the views from the tower.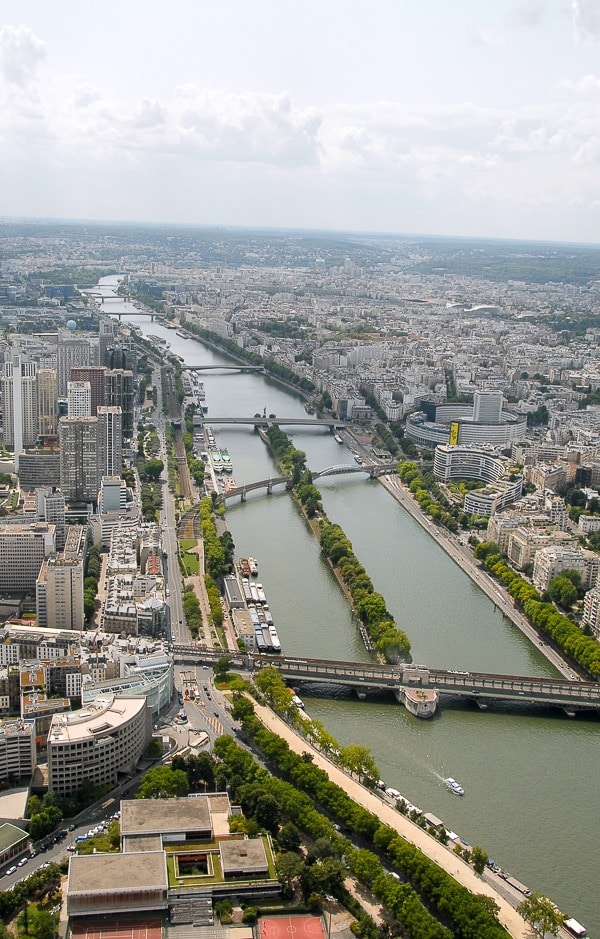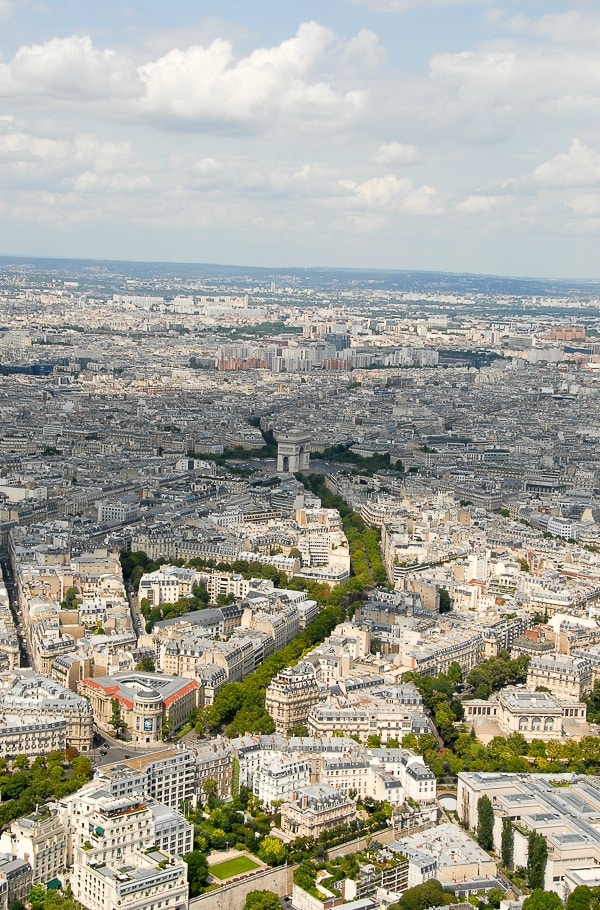 Guided tours can also be arranged via the Eiffel Tower website. Because the views from the tower allow 360 degree observation of Paris, there are many interesting facts and landmarks a tour can help point out.
In our case we booked a 'Skip the Line Tour' with Fat Tire Tours in Paris (39€ per person and well worth it as the line can run 3-4 hours long in prime season). We arranged it all online before going. A tour guide took a group of 20 over to the tower (walking distance) sharing information about the tower along the way and stopping for photo ops.
We were able to skip the long line of queuing visitors to get right on the first elevator. The tour we selected did not include a guide to come on the tower with us and departed at one time daily (1:30 p.m.).
There is a different version of the tour which includes a guide that is about 20€ more and runs for 2 hours (vs. ours which was open ended). We used Rick Steve's 2014 Paris Guide which was full of information for a self-guided tour, and excellent for doing self-guided tours at many other museums and sites of interest.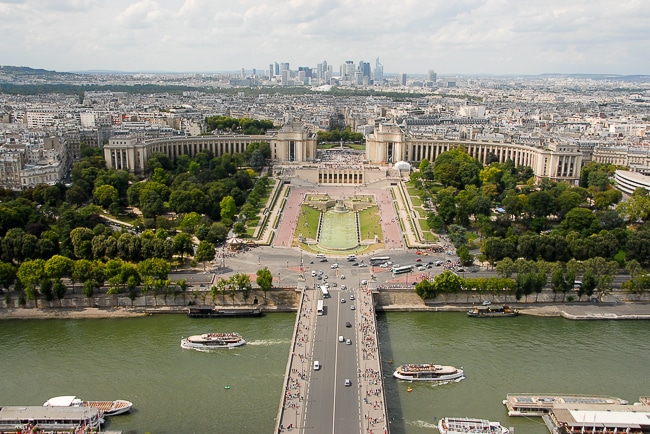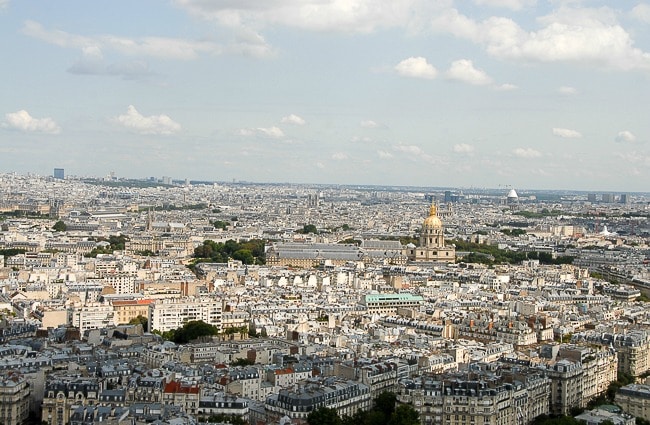 When on the tower there are three levels to visit and there is queuing for the elevators to go between floors however we did not find them too long. The first floor was just renovated to include a see-through floor this year.
Perhaps not for the faint of heart, it allows looking 57 meters down to those milling below the tower. There is a second floor and a summit, each offering a different visual perspective of the surrounding area.
There are restaurants (reservations recommended), places to buy casual snacks, exhibitions as well as shops found throughout the tower. It is a good idea to review the official Eiffel Tower website when you plan to be in Paris to ensure all areas of the tower are open and not undergoing construction.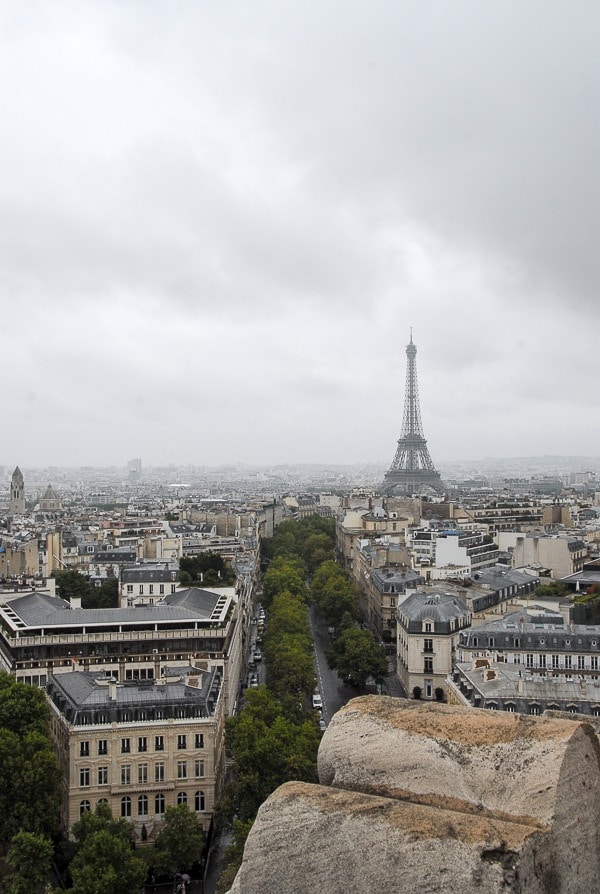 Sharing a champagne toast while visiting the Eiffel Tower, whether it be in the famed Jules Verne restaurant or at the walk up Champagne bar, is a popular way to mark the occasion and gave rise to my own French-inspired champagne cocktail idea: St. Germain-Champagne French Cocktail.
Featuring the French elderflower liqueur and champagne, it provides a bubbly, festive toast with the subtle taste of sweet St. Germain liqueur (undoubtedly one of my favorite liqueurs). Wonderful at any time of the year including a special New Year's Eve option!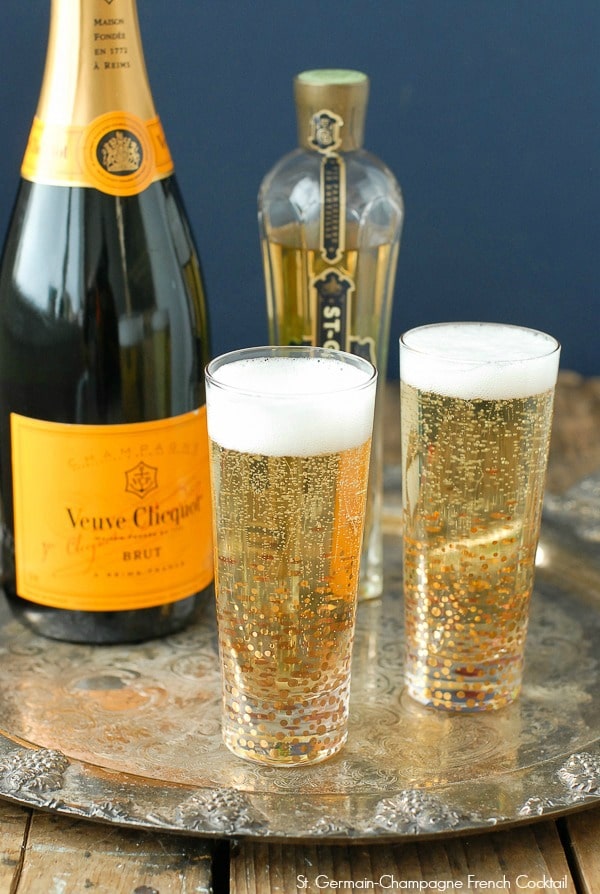 Keeping reading for the cocktail recipe and more on the Eiffel Tower….
Recipe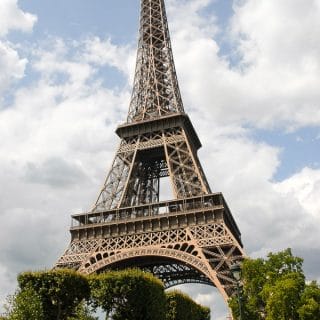 St. Germain-Champagne French Cocktail
It is certain that French Champagne (technically that is redundant since champagne only comes from the Champagne region of France; all other bubbly wines are 'sparkling wine' not champagne) cannot be improved upon however a little splash of St. Germain, elderflower liqueur, adds a unique sweet flavor to catch the attention of tipplers. It's a fun way to change up traditional champagne toast for a special occasion or to toast the New Year without overwhelming the champagne flavor we love!
Print
Save Recipe
Recipe Saved!
Pin
Rate
Ingredients
Champagne

St. Germain elderflower liqueur

Champagne flutes
Instructions
Fill 1/5 of a champagne flute with St. Germain liqueur.

Pour in chilled champagne to fill.
Nutrition
Calories:
172
kcal
|
Carbohydrates:
12
g
|
Protein:
0
g
|
Fat:
0
g
|
Saturated Fat:
0
g
|
Cholesterol:
0
mg
|
Sodium:
9
mg
|
Potassium:
124
mg
|
Sugar:
12
g
|
Calcium:
13
mg
|
Iron:
0.6
mg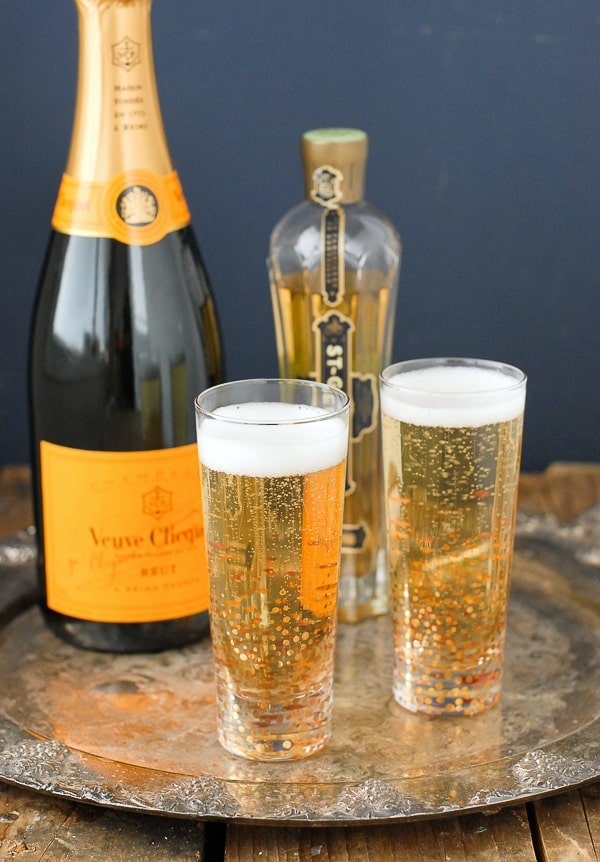 Perhaps the most magical aspect of the Eiffel Tower is its nightly illumination. An array of golden lights were installed in the mid 1980's and added to in 1999 with a glittering display which lights up on the hour for 10 minutes (thanks to 25 mountain climbers who strung the lighting set up). It is a spectacular sight that was definitely a trip highlight for all.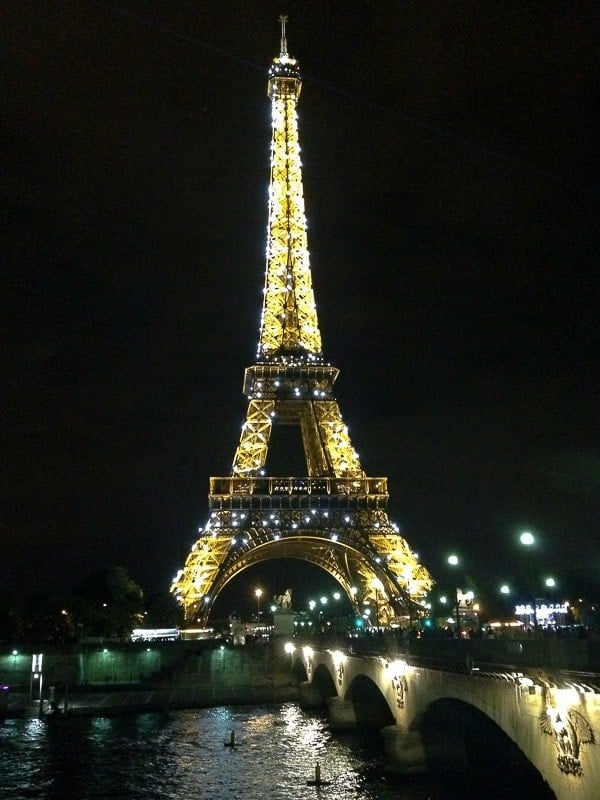 Here is a quick video I took for Instagram of the sparkling lights that illuminate on the hour: