Jello shots scream 'party' anytime and this Halloween version will make you scream for a different reason! Very easy to make with a mocktail option too!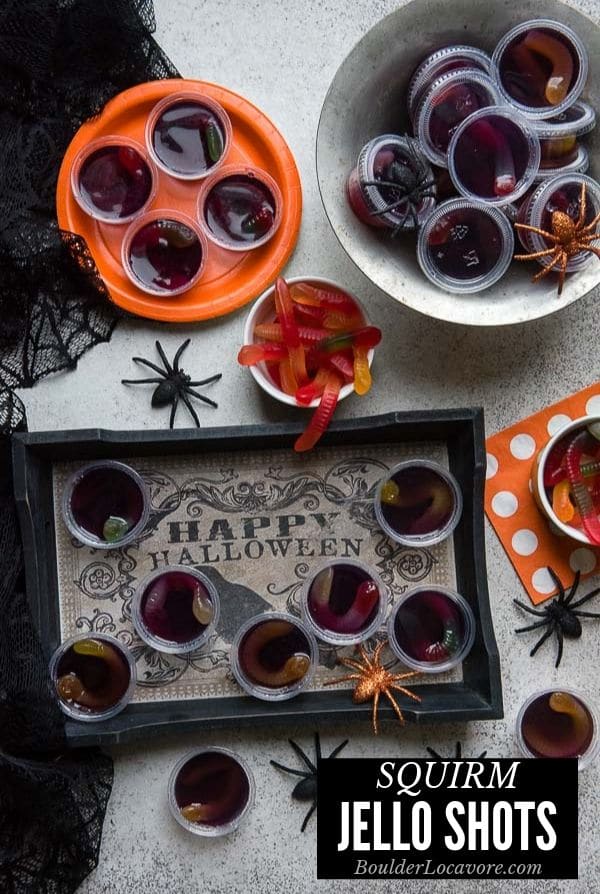 Halloween is the perfect holiday to celebrate with whimsical food and drink.
Jiggly, creepy Squirm Jello Shots are a perfect easy recipe with a gummy worm lurking beneath the surface of the boozy jello.
This recipe can be easily modified for kids too (non-alcoholic option included).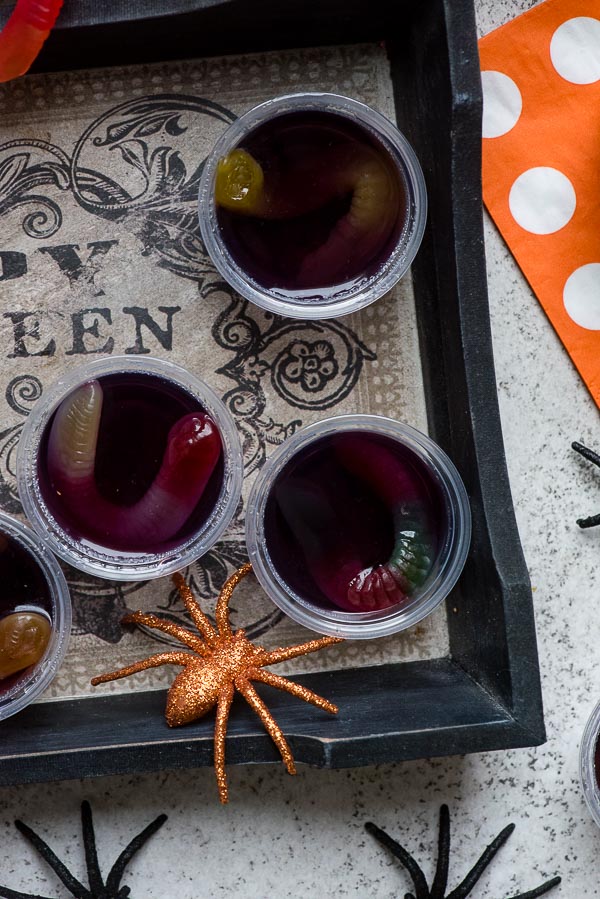 One of the great things about Halloween is that the most loved foods challenge the senses.
Ooey, gooey, jiggly recipes that imitate life in a scarier form are usually the favorites.
What Is a Jello Shot?
They are a small portion of jello that have been made with liquor in addition to water.
They can be made in a number of types of containers (my favorite listed below) and firm up like regular jello.
Eating them has the effect of drinking a cocktail!
How Much Alcohol is in these Jello Shots?
This recipe has slightly more than 1/3 ounce of vodka per shot.
Three-four jello shots would contain the same amount of vodka as in a liquid cocktail.
Ingredients in Squirm Halloween Jello Shots
These are very easy to make and only have three ingredients:
Grape Jello
Vodka
Gummy worms
Pick Your Favorite Jello
Though the recipe uses grape jello, any color or flavor of jello may be used. Pick what you like!
The squiggly shots taste like the flavor of jello used.
What Alcohol Can be Used in Jello Shots?
Unflavored vodka is used in this recipe. The jello is what gives the shots their flavor along with the gummy worms.
Rum or tequila are also options.
PRO TIP: Test the flavor combination with the jello and gummy worms if using liquor other than vodka.
How to Make Non-Alcoholic Jello Shots
Want to make these Halloween shots without liquor? It's easy!
This recipe is for adults only however can be made without the vodka (substitute water in the same quantity).
This is a great solution for kids or adults who prefer no liquor.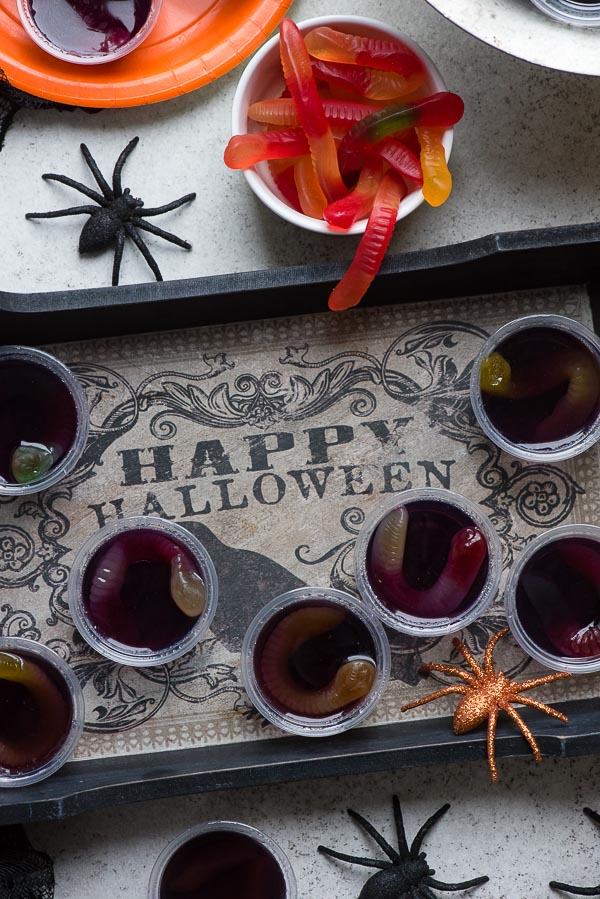 How to Make Vodka Jello Shots – Step by Step
These are easy to make and add a dash of cringe-i-ness to your party plans.
The directions are so easy…
In a mixing bowl, mix Jello powder with boiling water until completely dissolved.
Add vodka and cold water.
Place a gummy worm in a condiment cup (like those shown here), plastic cup.
Fill with the jello mixture; seal and chill until firm (I chilled mine overnight).
The worms are unpredictable. They may lurk under the surface or pop up exposing a tail or grinning smile above the surface!
Best Jello Shot Cups
My favorite container to make them in are these small 2-ounce snack/condiment cups with lids.
They can be easily found at grocery stores or online.
Why these containers are so good
They are:
a perfect portion size
Have lids making them ideal for having out at a party buffet, easily stacking them in your refrigerator or transporting them
They are inexpensive and easy to find
They are pliable so it's easy to get the shot out of the container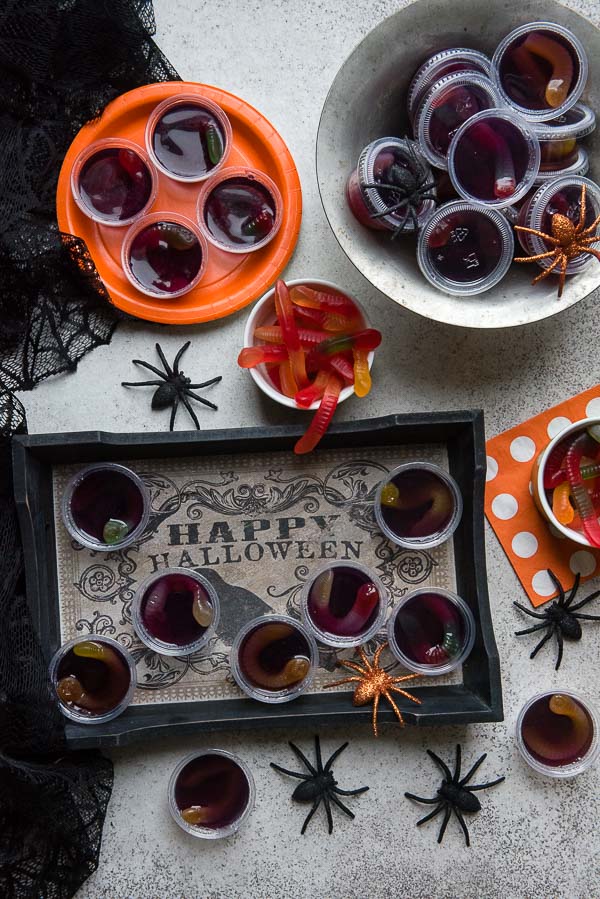 How Long do Jello Shots Last?
Regular jello shots can be kept in sealed in the refrigerator for 7-10 day.
Because this Halloween recipe includes a gummy worm make them the day before serving.
The texture of the gummy worm can soften over time due to the alcohol.
They will still be safe to consume but have the best texture closest to making them.
How to Eat a Jello Shot
Now that you have them, how do you eat them?
The easiest way:
Run a finger around the edge of the jello and squeeze the container to release the shot into your mouth.
Did you make it? Please RATE THE RECIPE below!
Please SUBSCRIBE and FOLLOW ME on FACEBOOK , TWITTER , INSTAGRAM and PINTEREST!
Recipe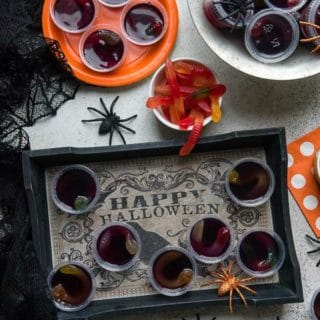 Squirm Jello Shot Recipe
These jiggly, creepy Squirm Jello Shots are perfect for Halloween (and maybe a gardening party) with gummy worms inside.
Print
Save Recipe
Recipe Saved!
Pin
Rate
Ingredients
2 1/4

cups

Water

3

3-ounce packages

Grape Jell-O

(any color may be used)

2

cups

Vodka

42

Gummy Worms

42

Condiment Cups with lids

or other vessel may be used
Instructions
Prepare condiment cups by placing one gummy worm in each one.

In a medium saucepan, bring 2 1/4 cups water to boil.

Stir in the jello packages to dissolve. Remove from heat.

Stir in the vodka and 3/4 cup ice cold water.

Pour the jello mixture into each prepared condiment cup (about 1 1/2 ounce jello). Seal with lid and place in the refrigerator to set.
Notes
For a NON-ALCOHOLIC version: replace the 2 cups of vodka with water and proceed with the recipe as noted.
The total recipe time will depend on chilling until the shots are firm. The time added for that is a three hour estimate.
Jello flavor/color note: These were made with grape jello to offset the color of the gummy worms but any color jello may be used.
Recipe adapted from Pinterest (no original source).
Nutrition
Originally published: October 10, 2017
Jello shots are easy to make for adult celebrations and this Halloween version is always a hit!