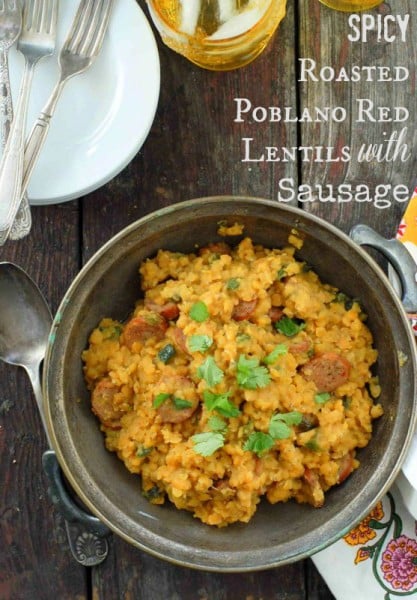 Have you made a dish that is so good you don't want to share it? There is plenty for everyone but you don't care? This Spicy Red Lentil dish is one of those. It could not be simpler, faster to prepare and the flavors are rich and soul-satisfying.
There is a digital switch after the holidays to healthier recipes on cyber food publications, have you noticed? And lots of legumes. It's cold so warming dishes and soups are natural for this time of year but why eat legumes? They provide an excellent source of non-animal protein, have lots of fiber, are low in fat, have antioxidants are low on the glycemic index and more. Most importantly they taste great, are very filling and inexpensive.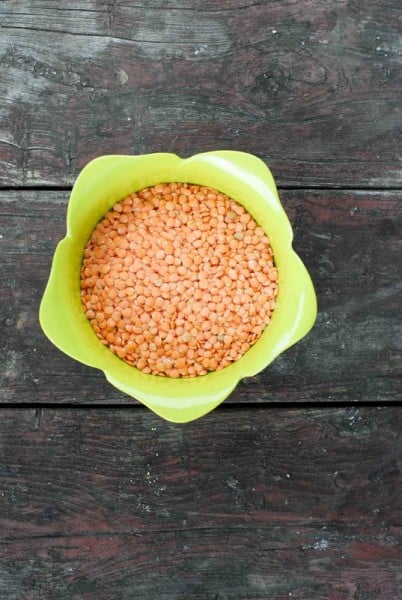 Lentils have the added benefit of cooking in less than 30 minutes with no pre-soaking required and in the case of little red lentils, about 15 minutes. Can you beat that? A meal made from scratch in a half hour or less that is filling with all the other benefits listed before.
In my last blog post I shared a recipe for making Peppery Ham Stock. I loved it so much I wanted to drink it through a straw. The stock was lean in fat but rich in depth of flavor with the seductive flavors of pork we all love. I wanted to employ it thoughtfully, not wanting to waste a drop. Having a supply of (and loving) red lentils, it seemed a natural pairing. Adding a freshly roasted poblano chile and spicy Italian sausage rounded the dish into a one pot meal that was visually colorful, textural, and deep with flavor I know you too will love!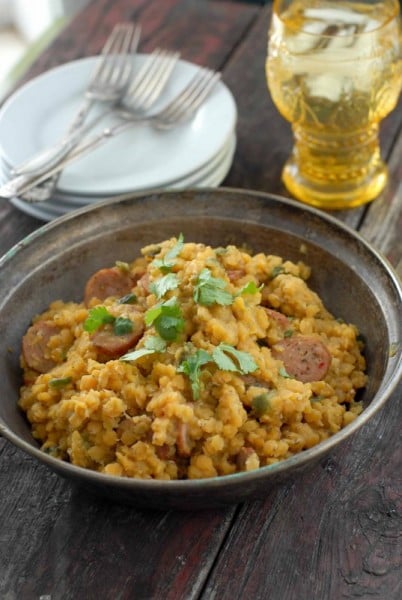 More Recipes You'll Love
Instant Pot Lentils recipe (vegetarian)
Recipe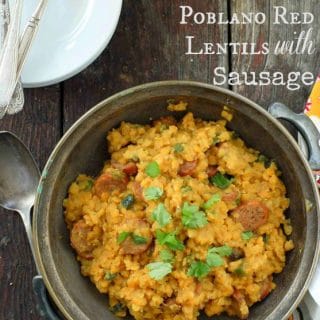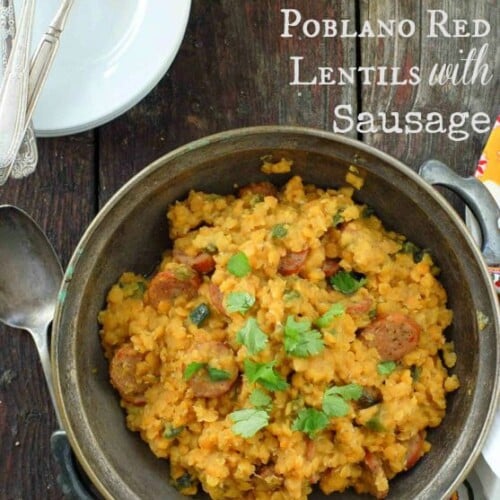 Spicy Roasted Poblano Red Lentils with Sausage
This simple dish offers a full-flavored one dish meal with roasted poblano chiles, spicy sausage and red lentils prepared with ham stock.
Print
Save Recipe
Recipe Saved!
Pin
Rate
Servings:
5
aproximately 5 cups
Ingredients
1-4

ounce

roasted Poblano Chile

, chopped (see below for roasting instructions)

3

cups

Ham Stock

1 ½

Red Lentils

, rinsed

2

teaspoons

Olive Oil

6

ounces

pre-cooked Spicy Italian Sausage

, sliced into 1/8-1/4 inch slices

Salt and Pepper to taste
Instructions
Roasting a Pepper: Place the poblano chile on a baking sheet underneath a broiler. Allow the skin to blacken and split over the entire chile (rotate so each side has blackened). Place the chile in a plastic Ziploc bag and allow it to sweat for about 15 minutes. Open the bag and rub the burned skin of the chile off leaving soft, green flesh. Remove the stem and seeds inside. (Can also be placed over a gas burner of a stovetop, rotating with heatproof tongs until chile is charred and then placed in the plastic bag.)

While the chile is sweating in the plastic bag, place lentils and ham stock in a medium saucepan over medium heat. Bring to a boil, reduce to a low simmer partially covered for 15 minutes. Almost all the stock will be absorbed. Remove from heat, cover and allow to sit for 10 minutes.

Five minutes before the lentils are done sitting, heat a large skillet with the olive oil. Place the sausage slices into the skillet and sauté to warm and lightly brown; 1-2 minutes. Add the poblano chile and sauté another minute.

Add the red lentils to the skillet (if any liquid remains strain from lentils and discard). Saute two minutes to fully combine the ingredients but not longer so the lentils so not begin to breakdown. Serve warm.
Nutrition
Calories:
142
kcal
|
Carbohydrates:
2
g
|
Protein:
5
g
|
Fat:
12
g
|
Saturated Fat:
4
g
|
Cholesterol:
25
mg
|
Sodium:
813
mg
|
Potassium:
104
mg
|
Fiber:
0
g
|
Sugar:
1
g
|
Vitamin A:
355
IU
|
Vitamin C:
8.8
mg
|
Calcium:
6
mg
|
Iron:
0.5
mg