My first introduction to Frog Belly Farm

(or 'FroG beLLy faRm' as they prefer) was with 'the farmer' being on a panel after a local showing of Food Inc., the documentary of our food system (a MUST SEE in my book for anyone who eats in our country).

He was a soft spoken man patiently waiting his turn to insert amongst his fellow panelists.

I loved the whimsy of the farm's name.
Subsequently a dear friend, Heidi, and her family attended an event at the farm.

A harvest festival of Jewish origin I think.

She loved it, contacted me immediately and suggested I look into the farm feeling I'd love it too.

Heidi went on to become a CSA member.
Fast forward to this past week.

I learned the farm was hosting Las Posadas or a Mid Winter Festival.

I scanned the website description and though not fully grasping what it would entail (probably due to doing 4 things at the same time), I emailed to inquire about any remaining openings.

Alas, I got a warm email from Melanie, co-owner and one of three couples maintaining the farm operations, letting me know I would be put on a wait list if I so desired.

I did.
To my great excitement a spot cleared and my party was invited to attend this past Friday evening.

We were to wear warm clothing as the first part of the evening would be held outdoors and were to arrive sharply by 4.

I threw all winter togs and footwear I could find into the car not knowing exactly what to expect and just having had our first snow. I set forth for what turned into the most enchanting evening ever.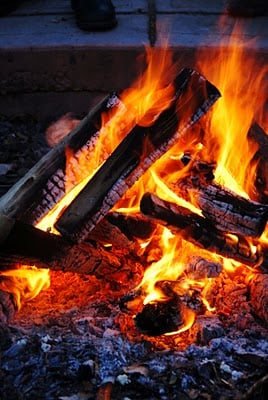 When we arrived

we parked in a large field, and on foot followed the lane with children dancing on a sign to the main area of the farm compound.

We were the first to arrive and were warmly greeted by Melanie, seemingly so happy the evening worked out that we could attend.

As evening guests gathered, we all huddled around the large open fire pit.

The lightly falling snow, the chill in the air mixed with the smoky aroma of campfire was intoxicating.

The sky began to dim and a hazy moon became our sentinel for the night.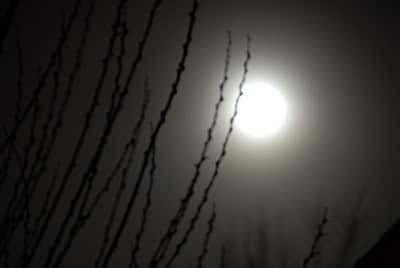 As we all minced around the fire an enormous pot of popcorn drizzled with olive oil appeared.

A perfect snack.

This was quickly following by a big steaming batch of hot potatoes.

Ingenious!

They were cut in half, served in a brown paper napkin with a dash of salt and drizzle of olive oil.

Absolutely delicious and soul-warming.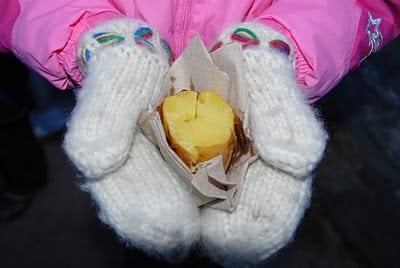 Our evening host, Cheryl, gathered everyone around and described the phases of the Advent explaining the third week, our current week, was the week to appreciate the gentle beasts that do so much for us.

She supplied lyrics to an Old English Carol about the Friendly Beasts…
"I", said the donkey, shaggy and brown,
"I carried His mother uphill and down,
"I carried His mother to Bethlehem town,
"I", said the donkey, shaggy and brown…."
And so we went through all the gentle beasts who had contributed to the nativity story.

We practiced twice, joyous and out of tune only to finish, raise our vision to be delighted at our findings.

While we sang, Joseph and Mary reincarnate had silently appeared behind us!

Dressed fully 'of the time', with two donkeys, Joseph called out looking for his friend who he hoped would provide shelter for the night.

Our host did not miss a beat and told Joseph she did not know of his friend but perhaps the light yonder would be the home of his friend.

Joseph thanked her and set out, with his pregnant wife, sandaled feet and somewhat obstinate donkeys toward the light.

Cheryl called out that we'd follow and support him in song.
I think I speak for the entire group when I say the magical appearance of Mary and Joseph swept us all into the re-enactment with quiet glee at the unfolding of the evening.

We walked, singing about the beasts, as the historic party strode ahead of us looking for shelter.
We reached a building that was the home of Joseph's friend.

I can safely say I would not call this man a 'friend' myself for he was surly, and snarled at Joseph with absolutely no inclination to help the couple 'with child' out on this frigid eve.

And so we strode ahead in song.
"I" said the sheep with curly horn,
"I gave Him my wool for His blanket warm;
"He wore my coat on Christmas morn"
"I" said the sheep with curly horn"
As you might remember from the tale, our next stop was none the more successful.

The inn keeper at the next building was downright rude.

Not only did he not have a room but he had a thing or two to impart to Joseph and Mary about 'their kind'.

Joseph was dignified and still thanked this hooligan, elegantly striding ahead in his robes and head scarf.
Fortunately our next stop was the last as I was about ready to end this party feeling I could surely convince Joseph and Mary I had a nicely appointed guest room and live in close proximity to the local hospital which has excellent child birth facilities.

We neared a gorgeous, large wood barn that was very inviting.

A tractor festooned with small white Christmas lights stood sentry by the entrance.

This inn keeper did not have a room for Joseph and Mary but as the story goes offered them the manger, some hay and sweet animals for company.

Fortunately for the rest of us crooners he invited us in to drop our coats and shoes to join him in some warmth and refreshment.
After peeling layers in the entry cloak room we entered a candle lit expanse of room at the heart of the barn and were invited to all 'gather round' for a seat on the floor.

Our host Cheryl began to weave a tale of magical happenings and cosmic foretelling.

Beasts who can speak in human voices at midnight of Christmas Eve each year.

Of the seemingly oppressed rising to help their oppressor, who is merely a wounded soul with hope of transformation.

We were riveted.

I believe we could have listened to her all night long.

She is a storyteller of olden form, a gifted vestige of a bygone era when this would have been one's sole focus for an evening vacant of such modern thrills as Facebook, 'Real Housewives of Beverly Hills' or XBox 360.

It was a beautiful soul-stirring reminder of humanity.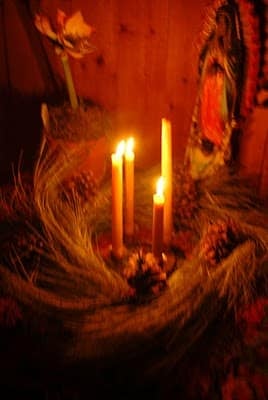 Cheryl went on to describe the magic of what happens at Christmas happens all the next year.

She spoke of the value of the wheat, how it should be revered and celebrated so it may produce the following year.

A wheat bundle was hung from a rope in the center of the high ceilinged room, covered by a sheet and suspended for the children at the gathering to whack like a piñata.

The end of this particular activity would be the closing of this divine evening but first we enjoyed warm mint tea, hand baked breads with fresh goat cheese spread from the farm's goats.
Cheryl asked us to form a circle and handed a little brown paper parcel to each of the children present.

Inside was a little candy, 3 tiny handmade figures

and she invited them to go to the now unwrapped bundle of wheat to take some of the freed wheat kernels and stalk to bring home to their own tables.

They all did so with silent reverence.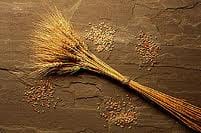 The beauty of the evening was unrivaled.

To be clear this was not a religious experience but rather one drawing on legend, spirituality, seasonality, and humanity.

It was a celebration of the season in the most root way.
The fairy tale of this farm began far before our encounter.

You must read the story of how the farm came to be from their website.

You tell me; have you ever heard a more enchanting tale of kizmit, synchronicity or planetary alignment?

The magic was born then and still continues.
Frog Belly Farm is a bio dynamic farm built on the will and commitment of many.

Melanie shared she and her husband come from a farming lineage in Nebraska but 'big farming'.

The era of farming without free choice on their methods due to the incredible debt incurred in our country by those who give themselves to the pursuit of farming.

I got the impression, once this farm called to them they then figured out how to co-exist with it in harmony.
They have a small dairy with cows and goats (who are on 'work release' now for two months to focus on having babies).

They have some grass-fed beef cows, pigs and goats for meat.

Free range chicken eggs.

They've installed hoop houses for growing bio-dynamic produce ('bio dynamic' is a principal of Rudolf Steiner, an Austrian philosopher, of organic farming emphasizing the interrelationship of all organisms on the farm individually and as a unified system).

The farm offers a CSA (Community Supported Agriculture where you pay a certain fee and pick up a weekly share of what the farm produces for the growing season).
Frog Belly Farm is a compound of buildings and sprawling fields all in the distant shadow of the Rocky Mountains.

I am sure now after my visit that whatever fairy dust was sprinkled over these people who held their breath, having the courage to jump into this farm endeavor and figure it all out was also sprinkled on us that night.

It is a charmed place with charmed people.

Even if you are not local, take a minute to look, and listen to their website; it's spirit-lifting.

The graphics and background music by The Be Good Tanyas instantly convey who they are and why they are so special.