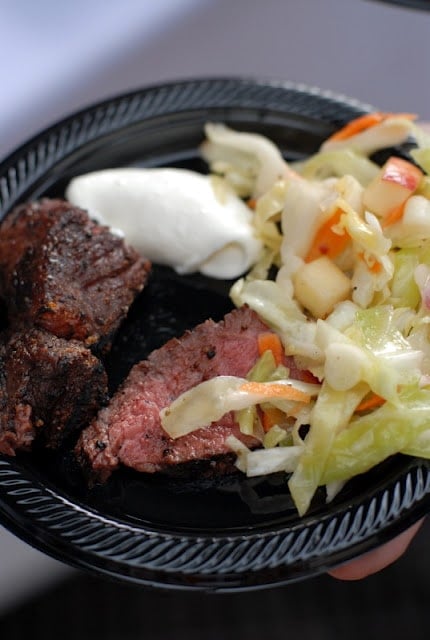 My first meeting with Chef Christy Rost was a fleeting one.

It was last year at the Snowmass Culinary and Arts Festival at a fun Tapas and Tequila tasting hosted by Chef Richard Sandoval at his local restaurant Venga Venga.

Christy was coming, I was going, though I was interested in knowing more about her, being drawn to her well known devotion to farm-to-table and locally sourced cuisine.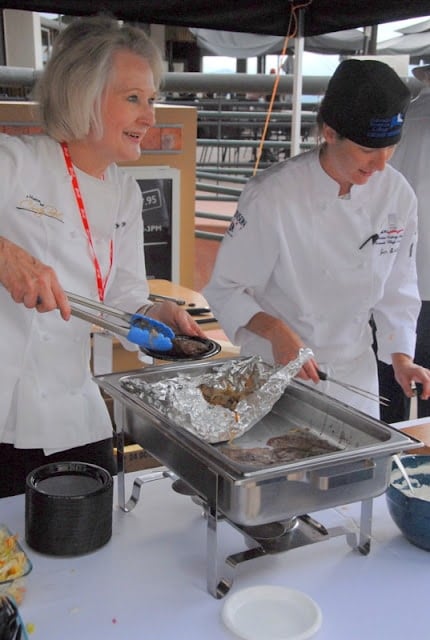 Following the festival I was invited by Chef Rost to a gathering at her exquisitely restored historical home in Breckenridge Colorado to participate in a Think Tank about getting the word out on Colorado local winemakers and distillers.

She and co-hostess PR talent Ellen Marchman, had developed a like mind about the riches of our fair state's beverage offerings and the need to better parlay that to the public.

It was at this gathering I tasted first hand Chef Rost's cooking.

Locally sourced lamb and vegetables played out to my favorite type of seasonal food with the right amount of panache leaving it still completely approachable.

I would describe Christy in this way as well.

I find her to be a joyful, spirited chef with a zeal for life and enthusiasm that can be seen in all of her efforts.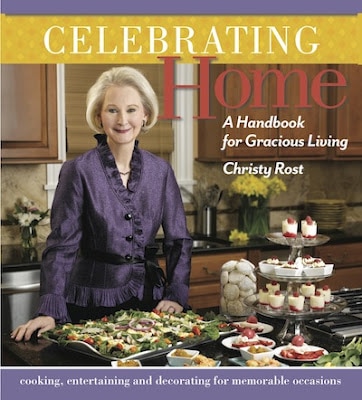 Chef Rost's latest book coming out this fall!
Chef Rost is a PBS TV Chef with a presence in many other media outlets.

She's written multiple cookbooks and has yet another coming out in time for the holidays.

Christy offers the entire gamut from preparing beautifully coordinated seasonal meals to how to create tablescapes perfectly complimenting the food, making it a full 'experience' not just a meal.

One of our parting gifts from the aforementioned gathering was a copy of her video A Home for Christy Rost: Thanksgiving.

It chronicles the fascinating revamp of the home she and husband Randy purchased and restored with historical honor and modern convenience in Breckenridge.

Interwoven are her dishes and preparations for Thanksgiving leaving

viewers

with

a comforting, homey feel and assurances 'real people' can follow her instruction.

And I believe that is the heart and soul of her work; she wants to afford a lifestyle opportunity for those with interest.
At the core of the Snowmass Culinary and Arts Festival are the chef demonstrations allowing festival goers the chance to learn and observe a myriad of techniques and dishes, all intended to entertain but also allow take-away skills.

Chef Rost prepared Pan-Seared Cod with Baby Spinach and Roasted Red Pepper Coulis from her forthcoming book, Celebrating Home (September 2012, Bright Sky Press).

The crowd was thrilled and frankly not just for the food and recipe but to bask in the aura of Chef Rost.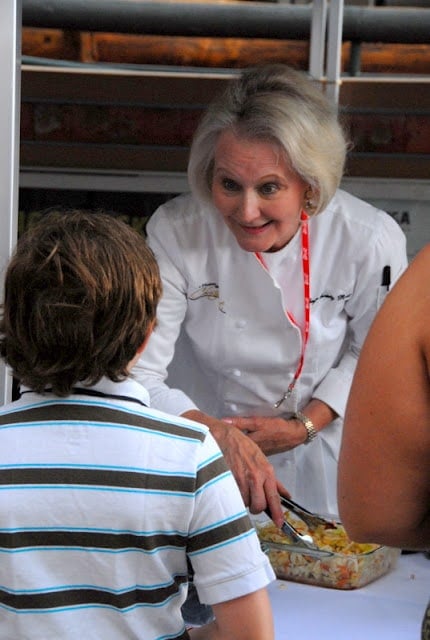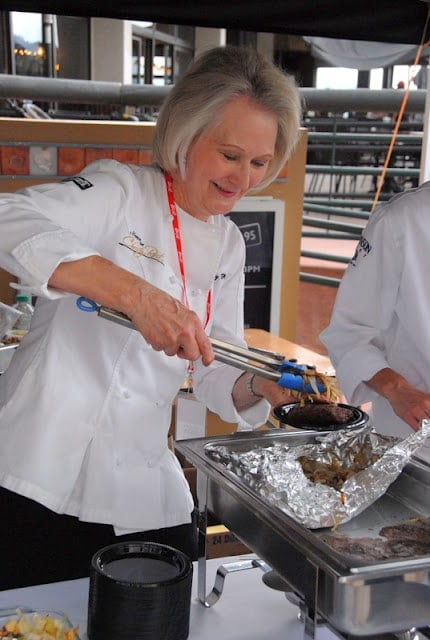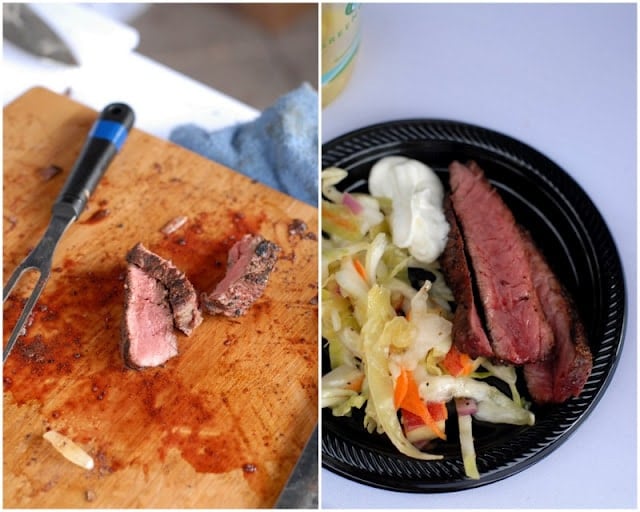 Chef Rost had time for even her youngest of admirers, always greeting diners and fans with a smile.

Everyone left her booth smiling from both her kindness and delicious, satisfying cuisine.
'Well loved' is the best descriptor for people's reception of Chef Rost.

Festival goers, festival organizers alike all continued to repeat the mantra 'we just looooove Christy!' in earnest throughout the three days I was in attendance at the festival.

There is no question why.

She is kind, of generous nature, interested, interesting and thoughtful.

I witnessed her visit most of the other chef's demonstrations, making the time to introduce herself afterwards and comment specifically on the value of what she learned from them.

At the Palette of Pairings (more below) she had a line more likely for concert tickets for the last ever Rolling Stones tour than one would imagine for a bison taco.

And despite keeping it going at a professional pace, she bore at least a few words for everyone awaiting her food.

She appreciates people and it shows.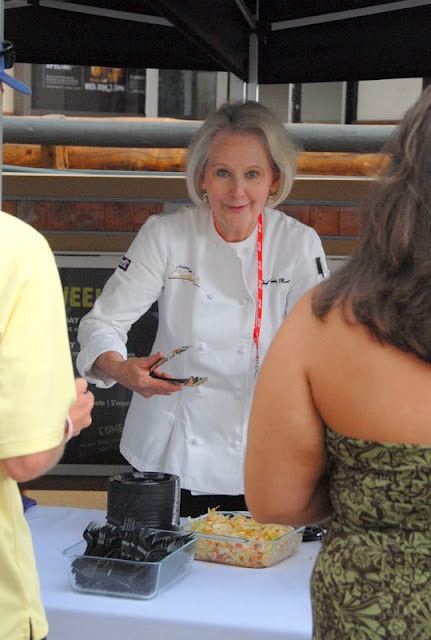 The culminating festival event is the Palette of Pairings where esteemed chefs, including those having executed demonstrations, prepare small plates thoughtfully paired with wine or other adult beverages.

Festival attendees leisurely stroll the Snowmass village walking mall tasting and imbibing whilst enjoying a spectacular mountainside view.

What could be better?

Click here for the comprehensive list of pairings.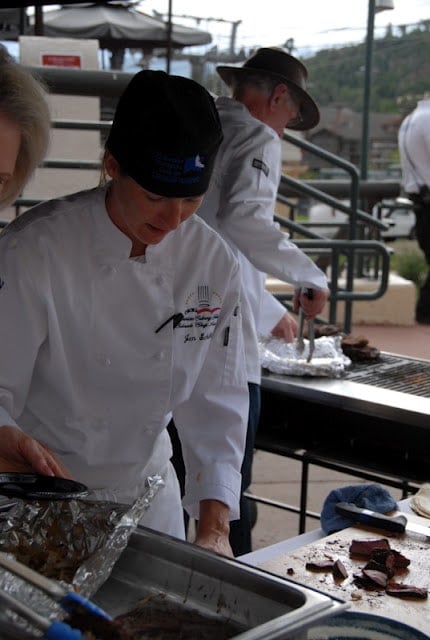 Talented culinary program student (CMC Breckenridge campus), Jen Schilling, joined 'team Rost' to dish up hundreds of servings of Chef Rost's small plate.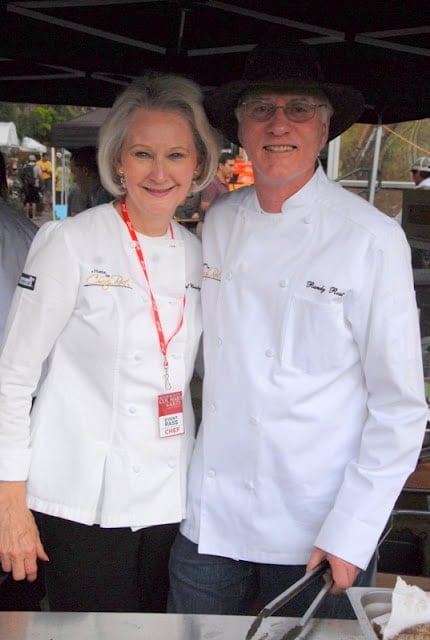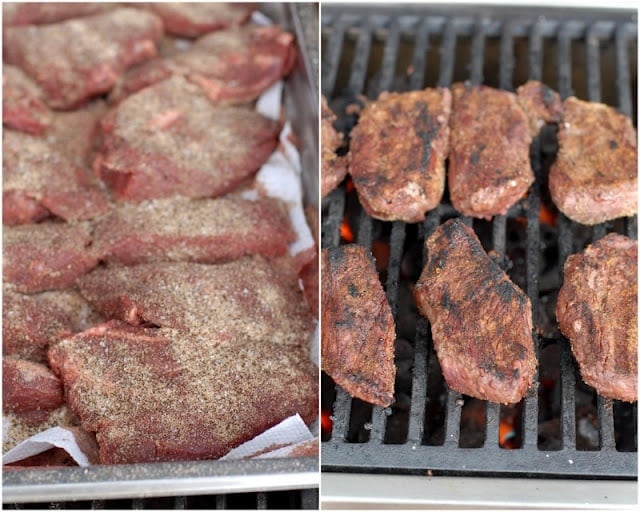 Randy Rost, Christy's talented and gentlemanly husband joined the effort as the 'grill chief', grilling the bison to perfection.
Chef Rost generously shared the recipe for her selected pairing dish (which I found almost unbearable to initially read on paper without having them to immediately taste).

The real life version does not disappoint.

She originally developed the taco recipe for the summer 2012 issue of Bison magazine.

Chef Rost's refreshing, flavorful Apple Green Cabbage Slaw hails from her second cookbook 'Where's My Spatula?'.

In sharing her recipes, Chef Rost's hope was to envelope those who were unable to attend this fun event with the opportunity to make a taste of it at home.

I personally was grateful as I am sure you are as well!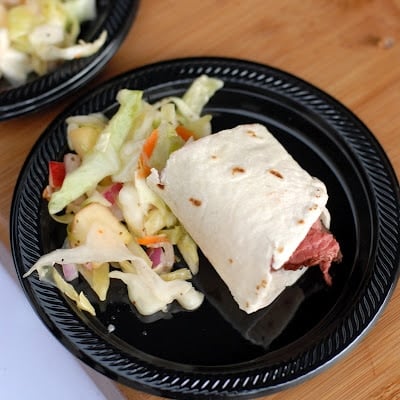 GRILLED , COFFEE-RUBBED BISON STEAK SOFT TACOS with CARAMELIZED ONIONS and CRÈME FRAICHE
Recipe of Chef Christy Rost (printed with express permission)
·
1 tablespoon buttermilk
·
1 large sweet onions, peeled and thinly sliced
·
1 tablespoon onion powder
·
1 teaspoon garlic powder
·
1 ½ teaspoons ground coffee, finely ground
·
½ teaspoon freshly ground black pepper
·
1/8 teaspoon cayenne pepper
·
1/8 teaspoon smoked paprika
·
2 8-ounce bison sirloin steaks, 1-inch thickness
·
8-10 large, burrito-size flour tortillas, wrapped in foil and warmed on the grill
Early in the day, in a medium bowl, stir together heavy cream and buttermilk, cover and set it aside at room temperature.
Shortly before serving, preheat a large skillet over medium heat, add oil and swirl to coat the bottom of the pan.

Add onions and cook 4 to 5 minutes without stirring, or until they begin to brown on the bottom.

Stir and cook 10 to 15 minutes more until they are golden brown, stirring every few minutes so the onions brown evenly.
While the onions are cooking, preheat the grill.

In a small bowl, combine onion powder, garlic powder, ground coffee, salt, black pepper, cayenne pepper, and smoked paprika.

Rub the mixture into the meat until both sides are well coated.

When the grill is hot, place the steaks on the grill and cook 4 minutes, or until they are well seared.

Turn them over and cook 3 to 4 minutes more until the meat is medium rare and a meat thermometer inserted into the center of the meat registers 140 to 145 degrees.

Do not overcook the bison, as it will become tough.

When the meet is done, transfer it to a cutting board and set it aside 5 to 10 minutes before slicing.
Whisk the crème fraiche briskly until it reaches the consistency of sour cream and spoon it into a serving bowl.

Slice the meat thinly at an angle, transfer it to a serving platter, and garnish the platter with the caramelized onions.
To serve, place some of the meat into a warm flour tortilla, garnish with onions and crème fraiche, fold over the tortilla and enjoy.
Recipe of Chef Christy Rost (printed with express permission)
·
1 small head cabbage, shredded or thinly sliced
·
2 carrots, peeled and grated
·
2 Red Delicious or other firm red apple, cored and chopped
·
¼ cup chopped red onion
·
¼ cup white balsamic raspberry vinegar
·
3 tablespoons canola oil
·
¾ teaspoon celery seeds
·
¼ teaspoon finely ground black pepper or peppercorn mélange
·
1 sliced red onion, separated into rings for garnish (optional)
In a large mixing bowl, stir together the cabbage, carrots, apple and red onion.
In a small bowl, whisk together the vinegar, canola oil, sugar, celery seeds, coarse salt, and pepper.

Pour the vinegar mixture over the cabbage mixture and toss well.

Cover and chill until ready to serve.
Just before serving, transfer the salad to a serving bowl and garnish with red onion rings, if desired.
No grass grows
under Chef Rost's feet.

To keep tabs on her appearances, TV programming, upcoming book tour (nationwide I might add) AND her latest venture of two European Culinary Cruises, you can find her website here, www.christyrost.com.
Before closing I'll leave you with some scenes from the Palette of Pairings and a few artisans at the festival.

Though my focus was the food, it IS an arts festival as well and hosts a large free concert the first evening.

This year some additional home-related vendors participated.

Two very specific booths caught my eye which I'll share below.

For calendar information about next year's Snowmass Culinary and Arts Festival as well as other exciting events in Snowmass.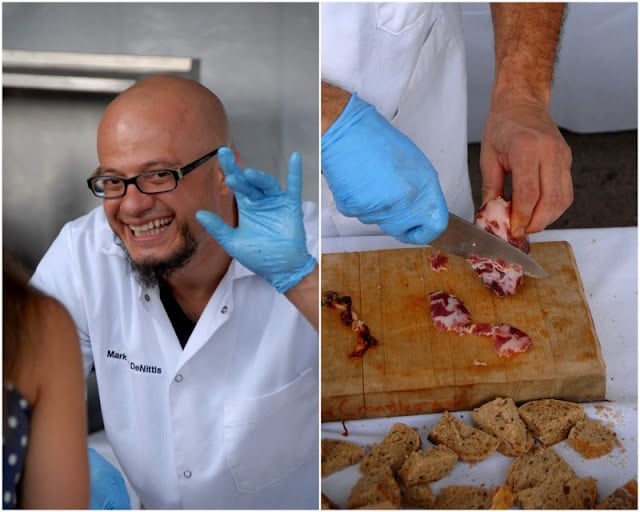 Chef Mark Denittis served a selection of his Il Mondo Vecchio salumi along with CaDonini Montepluciano.

One has not tasted true salumi or dry cured meat until you've sampled his meat.

It's buttery, smooth and full of flavor.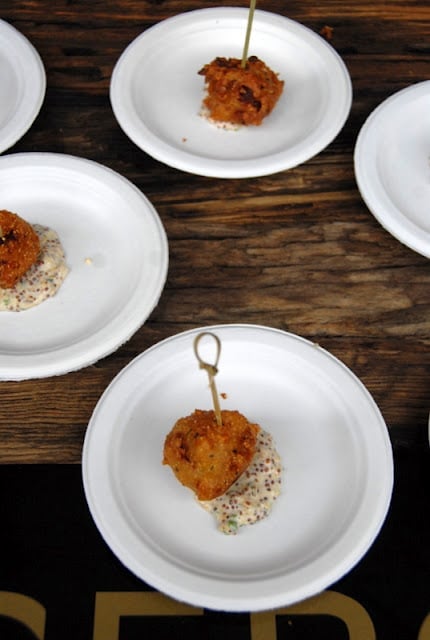 Chef Will Nolan from the Viceroy 8K restaurant served Andouille Corndogs with Homemade Tarragon Mustard served with Jacob's Creek Shiraz/Hoegaarden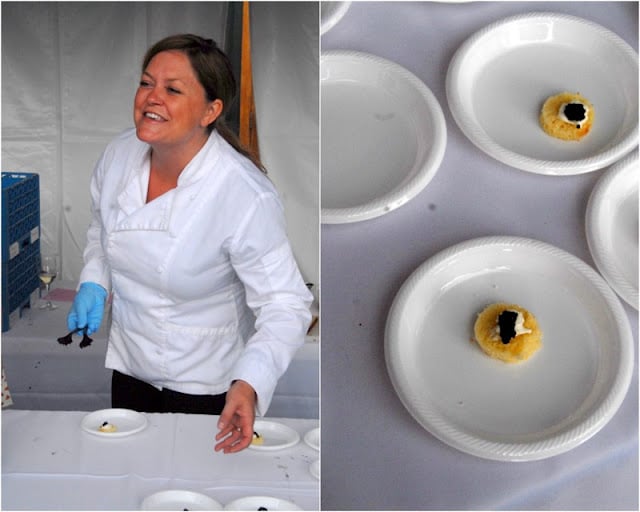 Chef Jenna Johansen prepared Lemon Crème Fraiche Bread rounds with Cucumber Crème and Caviar with Justin Chardonnay.

Note the lack of plates.

No question why; it was delicious, keeping Chef Johansen constantly restocking.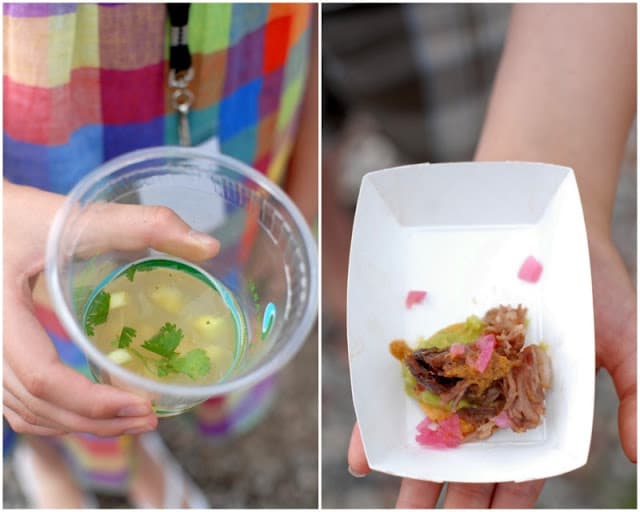 Chef Richard Sandoval served Pork Carnitas mini Tostadas with Pineapple Cilantro Margaritas.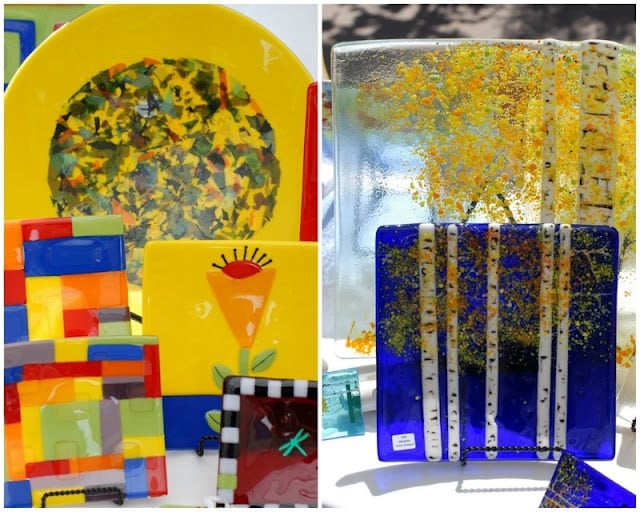 Mariposa Glass Designs
from Ft. Collins had an eye catching booth of lively fused glass food-safe art plates and platters.

The designs were original with a regional nod and something for everyone.

Based on the number of shoppers (and buyers) during my stop in I'm not alone in my thinking.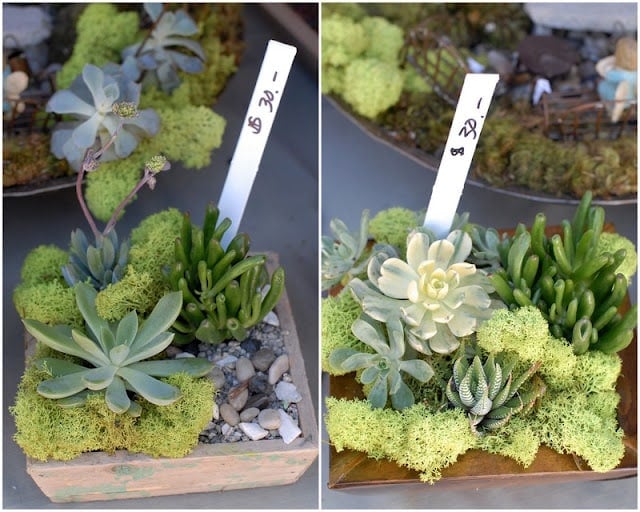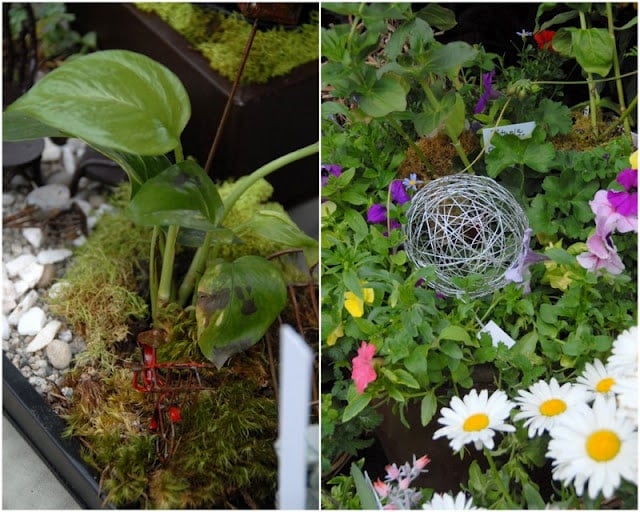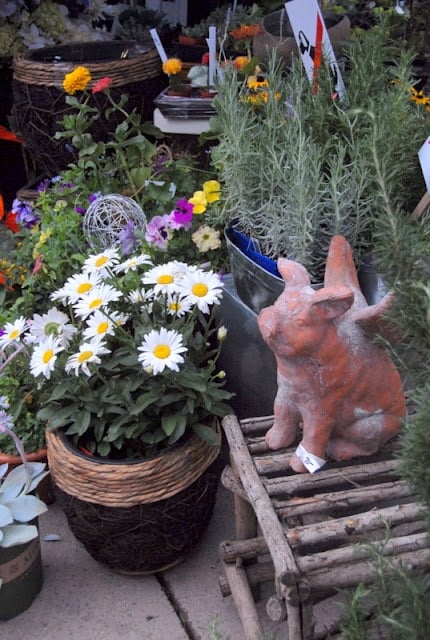 When I stumbled upon the Mountain Greenery Plantscapes booth I was smitten by the miniature fairy gardens, organic exotic containers with aspen tree seedlings and the entire essence their plant and garden display conveyed. As beguiling as their wares were so were the women of the business.

A local business in Basalt Colorado, they span the gamut of selling bedding plants, consultation/execution of all stages design-through-installation of any indoor and outdoor plant needs.

They were completely charming as were their creations.

I plan to make a stop on my next trip to the area.

You should too!