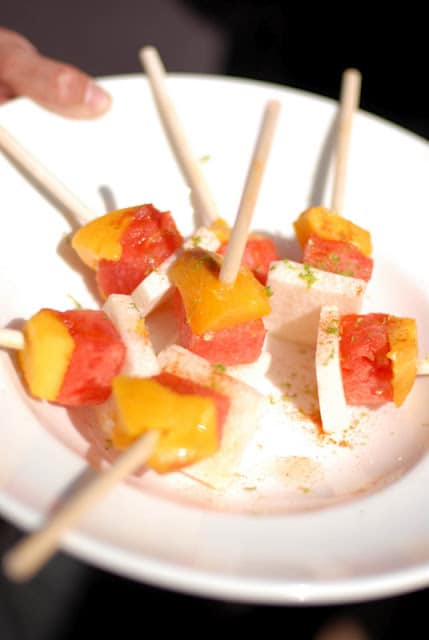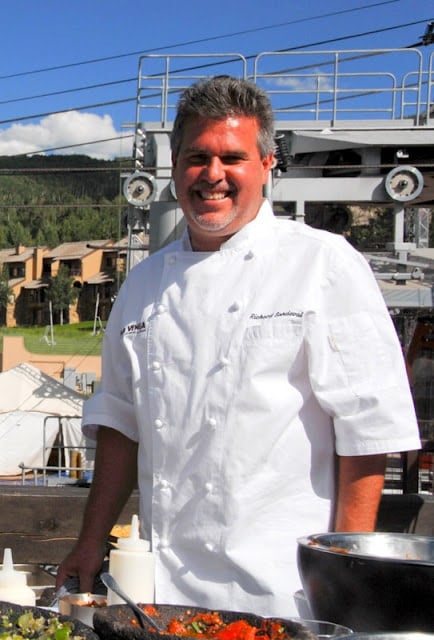 If I owned 29 restaurants internationally and had as many exciting irons in the fire as Chef Richard Sandoval does I might think I'm 'all that'. This extraordinarily talented chef is as down to earth and gentile as they come.
Before attending the Snowmass Culinary and Arts Festival I was offered the chance to meet and interview Chef Sandoval which I gladly agreed to.

As I prepared for our meeting I found myself dumbstruck at his accomplishments and also that he's kept his nose to the grindstone, out of the limelight.
Chef Sandoval hails from Mexico City with deep family, culinary roots.

His father was a restaurateur.

His time at his Grandmother's table clearly influenced his cooking orientation with focus on fresh Mexican foods from scratch and local ingredients.

Chef Sandoval attended the Culinary Institute of America and upon graduating started two notable contemporary style French restaurants in New York City, Savann and Savann Est.
Ultimately Chef Sandoval decided to direct his passion toward his roots and began to open Mexican and Latin focused restaurants around the U.S. and internationally.

Asian cuisine being his second favorite cuisine genre prompted him to open Zengo in Denver, his first Latin-Asian fusion restaurant. He has continued to open restaurants from Washington DC (just recently El Centro DF there) to Dubai and Qatar.

His success is admirable and his food exquisite.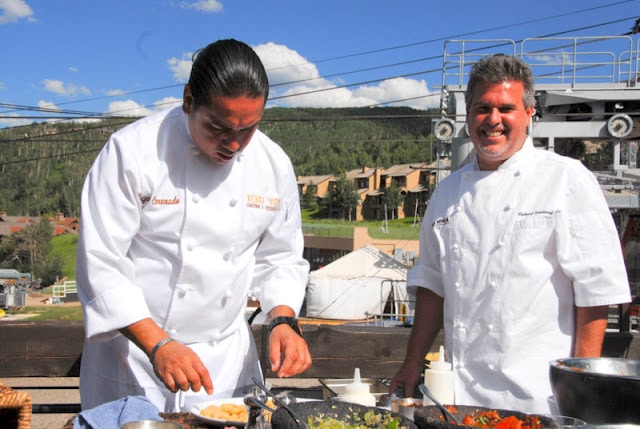 Chef Gama Coronado (left) and Chef Richard Sandoval prepare for the Tapas and Tequila tasting at the Snowmass Culinary and Arts Festival
When I arrived to my interview with Diane Henderiks and Chef Sandoval the chef was detained on a conference call.

We were nestled in a back corner of Venga Venga , Chef Sandoval's Mexican Cantina and tequila bar recently opened in Snowmass Village.

It is casually and comfortably appointed with dark woods and leather, sporting the most beautiful views in the world.

The chef had flown in from Miami at 2 a.m., was managing international restaurant business from newly opened restaurants to one slated to open in about 3 weeks in Dubai (featuring Pan-Latin cuisine) by phone.

They'd been conducting what I referred to as '

c

ulinary speed dating interviews' back to back all day long and he'd be hosting a Tapas and Tequila event within hours.

When he joined us however you would not have known he had one other thing on his mind.

He made it clear our time was important and was fully present.
The main reason for the joint interview was to discuss a collaboration project Chef Sandoval and Diane Henderiks have undertaken.

They have put personal cookbook projects aside to create a combined cookbook featuring Chef Sandoval's naturally light style Latin cuisine and Diane's healthy orientation.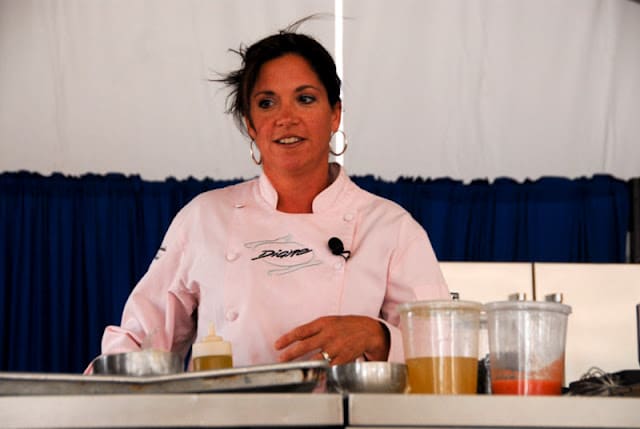 Culinary Nutritionist and personal chef Diane Henderiks
I need to stop myself here to say 'healthy' sadly does have a bit of a negative association for cuisine I think.

Please read my post from yesterday on Diane's methods, but for me when I hear about Latin cuisine (which I love) and making it healthy, I hear the cartoon sound track of cars screeching to stop in my head and imagine flavorless fare.

Not so.

They are first clear this is NOT a diet book, you will not find calorie counting anywhere.

Chef Sandoval's recipes naturally do not contain lards or other unhealthy ingredients (leaving it to taste fresh and vibrant) but Diane will weave her magic on some select heavier dished to render them equally flavorful and satisfying without the compromise of the richer content.

The focus will be Latin, not exclusively Mexican.

They envision Peruvian and Columbian recipes amongst many more.

Admittedly I'm not that well schooled on these specific regional cuisines and look forward to the cookbook to catch up.

It is targeted for late 2012.
I had things I wanted to know from both chefs and did not want to bring tired questions to the table I could research elsewhere, especially with a very small window to chat.

I was however intrigued about the genesis of their professional union.

Diane, the feisty, funny, outspoken Jersey girl (who is 'really from the Jersey Shore unlike those other guys') and the down to earth, also funny Chef Sandoval.

They absolutely exude professional respect and enjoyment for each other's company.

Their camaraderie is enviable and they enfold you into their dynamic leaving me wanting to sit for hours and at minimum end up on their personal Christmas card lists.
The pair met at Disney's Epcot International Food and Wine festival about five years ago.

They were situated next to each other.

As they were setting up Diane realized who the chef was and had just eaten at Pompano,

one of Chef Sandoval's restaurants

in New York, for a significant birthday.

She commented to the Chef about how much she'd liked the restaurant.

They've been fast friends ever since.
When speaking of the collaborative cookbook Diane said they've been talking about this project for years. With Chef Sandoval being the 'Father of Modern Mexican' food it was a clear fit.

His motto of 'old hands, new ways' clearly speaks to her commitment to delicious, clean food.

Diane's view of the target audience for the cookbook is as a resource cookbook for light, delicious, authentic food.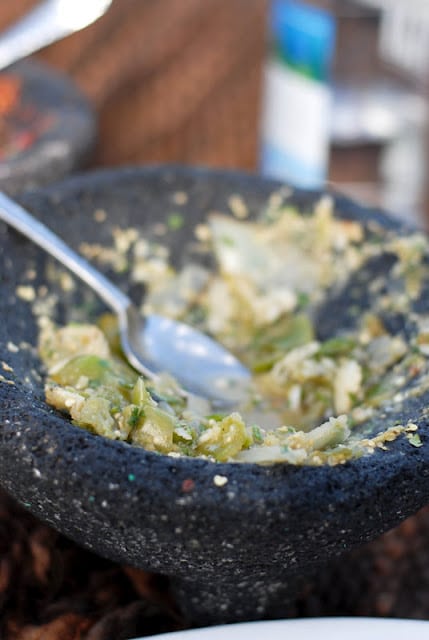 I was interested in their views of what current culinary trends they are watching that seem to be significant:
Diane
views 'healthy' as a trend. With obesity as an epidemic, chefs who have not focused as this part of cuisine are beginning to pay a different type of attention.
Small plates
: this began as a trend but he believes it is here to stay.

It speaks to communal dining and was how he experienced food in his personal youth.

He recalled his Grandmother making several different dishes and everyone sharing.

He feels this is how people are eating today.
Comfort food
: People are going back to their roots and these are the foods being circled back to.

Perhaps done slightly differently but with the same intent.

He feels cuisine focus has recently swung through more appeal of novelty concepts in dining but is coming home to roost with comfort foods.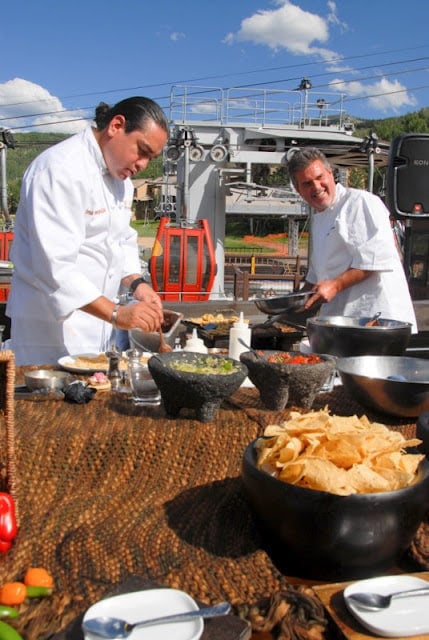 I was also curious about Chef Sandoval's vision of the Latin Asian cuisine fusion.

He said he's seen some fusion attempts that really don't work well.

The overlapping components and flavor profiles of the two genres marry them easily in his experience.

Both genres share grains (rice), heat, sweet and acid.

The interchangeability of the source ingredients has clearly been successful for him as witnessed by the popularity in his restaurants featuring the fusion cuisine.
I remarked I felt that Latin cuisine has historically not been embraced with the same cache as other culinary genres however the work he and Rick Bayless have done has elevated it to be recognized with a higher sophistication.

Diane jumped in pointing out the irony of this reality, noting everyone knows and eats Mexican food it seems yet it doesn't 'rate' as other genres do.

Chef Sandoval agreed historically Mexican/Latin is not a cuisine that has had prestige parity but did not jump to pat himself on the back for any advancement of it at his hand.

I think for him, he's 'doing the work' and if more notoriety for the food comes out of it, that's great (this is my presumption; I think you'd never hear him make such a personally oriented statement about his efforts…..he doesn't seem to roll like that).
My last question is rooted in my own unspoken confusion over the long term debate on which is better, local or organic ingredients if one has to choose between the two.

At the risk of channeling my strongest Gemini duality, I've secretly felt I want both thinking maybe I'm missing a nuance allowing those with a more sophisticated grasp to select one of the other if need be.
I was relieved to independently have each Chef Sandoval and Diane cocked their head in the same 'apples vs. oranges' manner to say 'they are different'.

Both believe using local ingredients supports the community of local growers and organic strips pesticides from the pesticide picture.

This did give way to a dialog about general population education on food quality, cost of organic vs. natural meat and the right decisions to be made on ingredient integrity.

No conclusions to be had but plenty to consider for the industry.
I emerged feeling excited about these chefs, their focus and their brand integrity.

We could have spoken for hours more it seemed but Tapas and Tequila tasting called on the Venga Venga patio.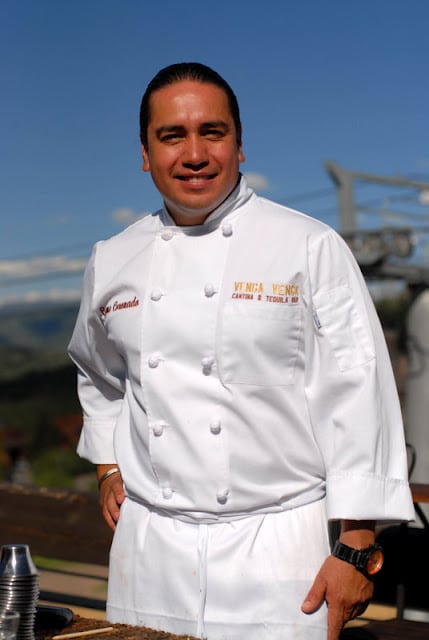 Executive Chef Gama Coronado
Partnered by Executive Chef Gama Coronado, Chef Sandoval provided a delicious spread of tapas. Chef Coronado had headed up the La Sandia brand of Chef Sandoval's restaurants and most recently opened El Centro DF in Washington DC for him.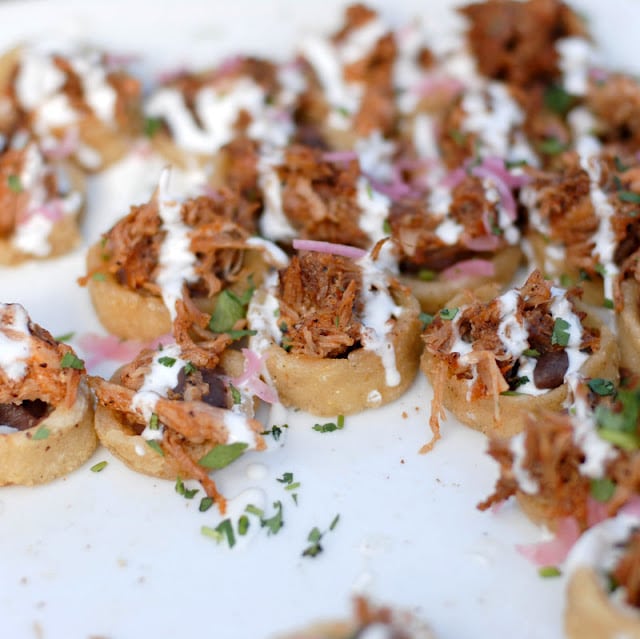 Sopes was the centerpiece of the serving with beautiful shredded meat and spices in delicate masa/cornmeal cups.

They were a perfect bite with the option of adding some medium or hot spice.

Chef Coronado hooked me up with the spicier sauce and it was sublime.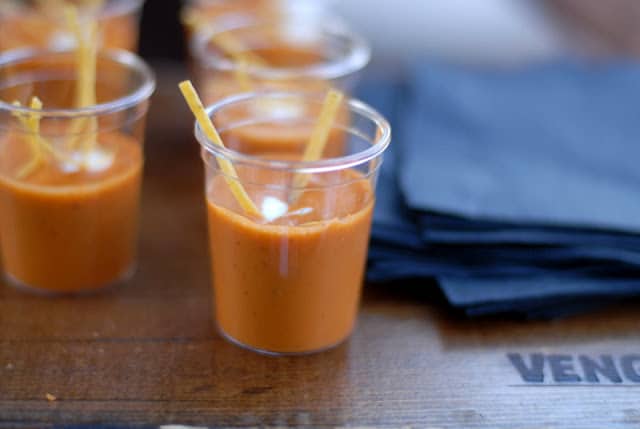 The tortilla soup shooters got strong accolades (I did not try them due to having gluten).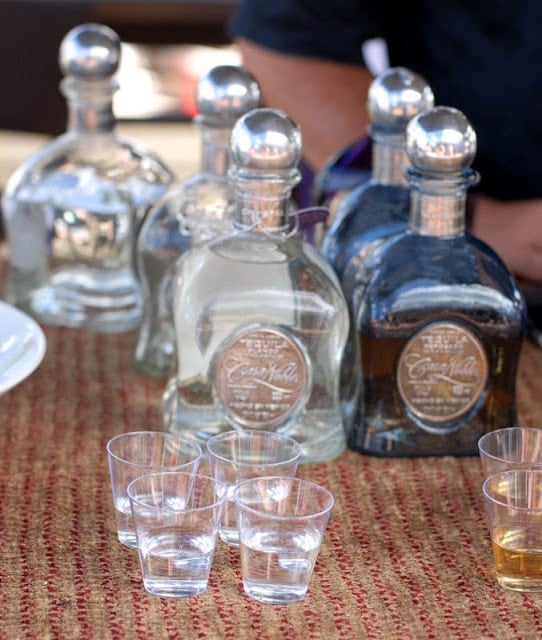 The tequila tasting offered three varieties of tequila, all aged differently rendering completely differing flavor profiles.

To compliment the tequila the chef had prepared a Watermelon Agua Fresca (a drink of pureed watermelon, a very minute amount of water and sweetener) that was thirst quenching and refreshing.

One of my innovative friends attending the event quickly coupled the best of the beverages, dropping a shot of the tequila into the watermelon agua fresca, leaving her a very satisfied customer.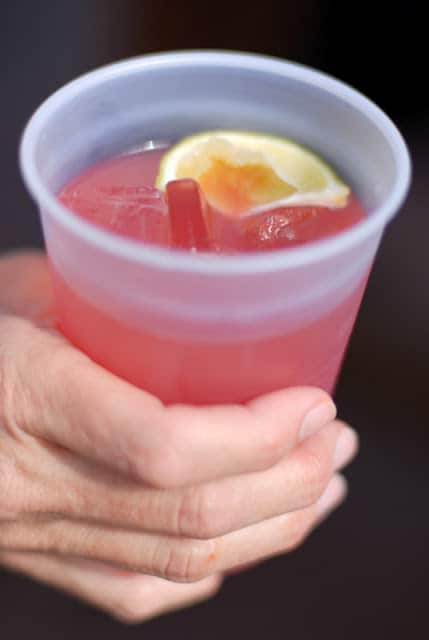 This skewer was a personal favorite.

Simple, straight forward and delicious.

Perfect in the summer heat.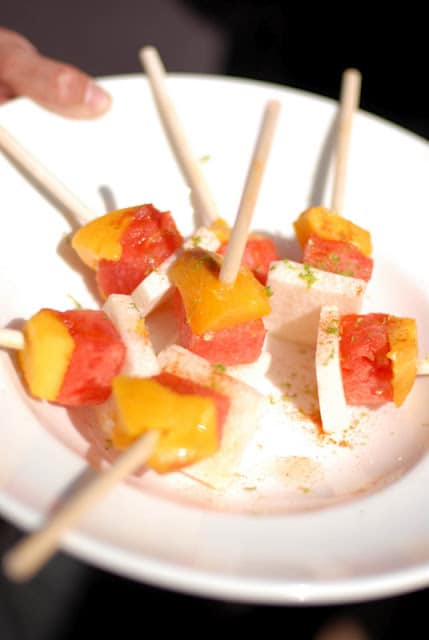 MANGO JICAMA WATERMELON SKEWER
Slice all ingredients into 1 inch squares, approximately ¼ inch thick (all approximate but the pieces need to be large and sturdy enough to withstand skewering but not so big to make eating them difficult).

Place on the skewer (in this order) mango, watermelon then jicama.

Sprinkle lightly with ancho chile powder.

The heat from the powder really highlights the sweetness in the three refreshing ingredients.