Prickly Pear margarita recipe, breathtaking Red Rocks and a wildlife park like none other. All part of experiencing Sedona Arizona.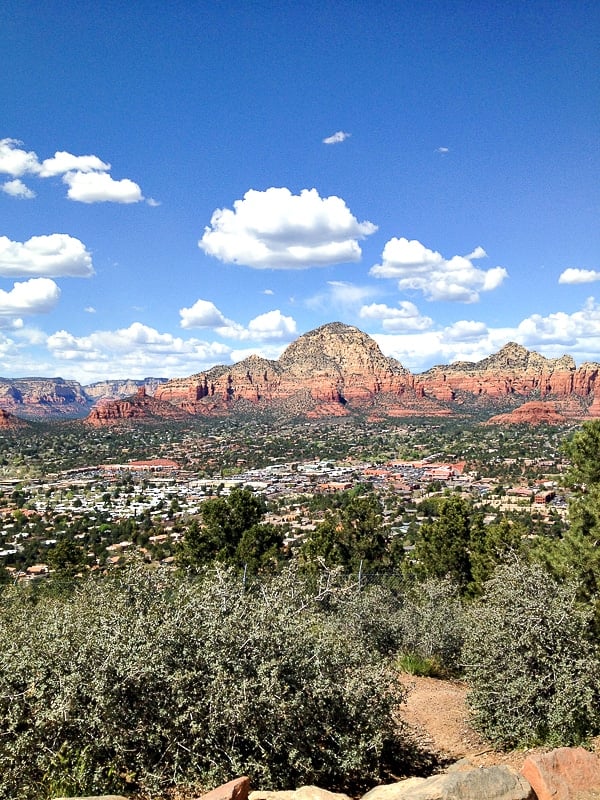 Our sun-seeking Boulder Locavore family-friendly Road Trip began with two driving days from Colorado, through New Mexico to land in Arizona. After spending the first 24 hours of the trip peering over the edge into the plummeting depths of the Grand Canyon, the next 24 were spent gazing toward the heavens for the awe-inspiring, alien red rock formations of Sedona Arizona.
I will start by saying it's this writer's good fortune to be alive to record this portion of our trip due to the severe and frequent head swivels to gasp at yet another rock formation; beguiling in their color and unexpected prehistoric appearance. Some believe magical energetic powers abound from local vortexes, making Sedona a hot spot for those spiritually moved.
Outdoor enthusiasts as well can find their spiritual retreat on mountain bikes, in hiking boots and with climbing harnesses in this special wilderness. To me the mere contemplation of the rock formations is a religious experience.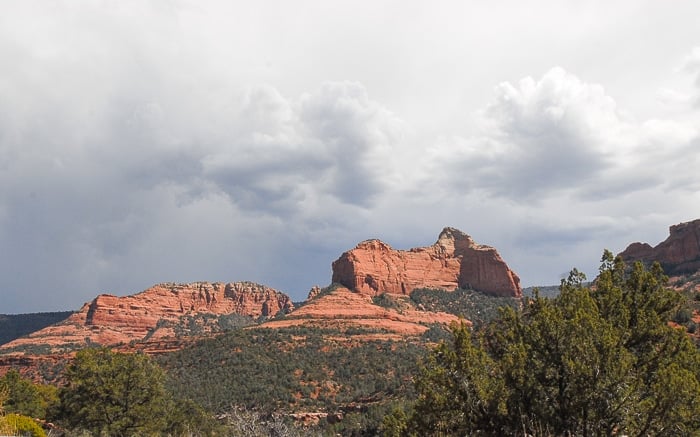 Winding through Oak Creek Canyon from the Flagstaff area we were welcomed by hints of spring. Bright lime green buds tipping the tree branches, lemon-yellow forsythia in riotous bloom, tender pink blossoms wafting in the 70 degree breezes. A far cry from the snow flurries ushering our departure from Boulder.
The canyon dropped us into Uptown Sedona, dense with eateries and more touristy shops, there is a definite 'must stop' if wishing to familiarize oneself with the varied options to experience Sedona: The Sedona Chamber of Commerce.
We fetched a generous packet of information laying out myriad option to explore from hot air ballooning to the eye-catching pink jeep trips, hiking, biking, horseback riding and more.
TIP: When planning one's trip Visit Sedona is an excellent online resource for considering lodging and dining choices, as well as activity bookings or hiking trips suited to one's interest and ability level. They provide extensive itinerary suggestions based on the length of your visit.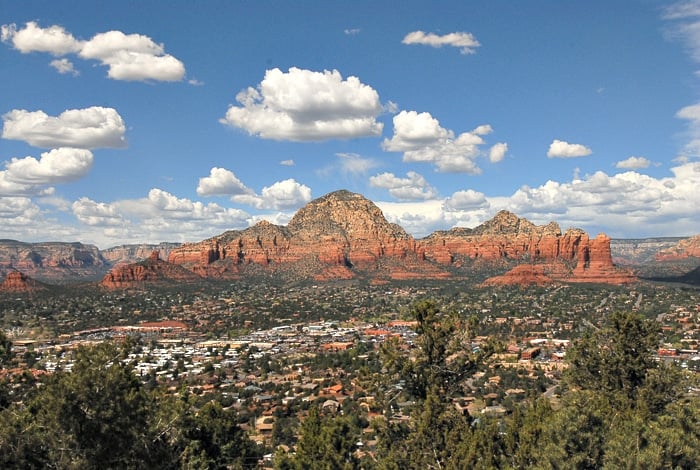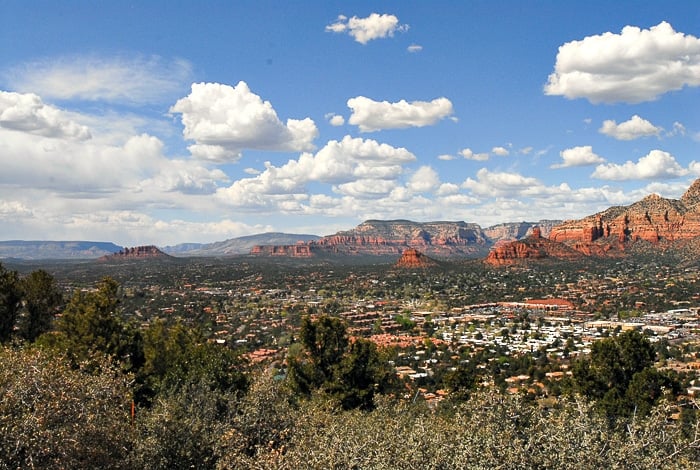 After some touring we headed for a well-known and vista of Airport Mesa. Hovering over the town of Sedona, it offers an extraordinary view of the Chimney Rock, Thunder Mountain and Coffee Pot Rock formations to the north.
Known for its perfection as a sunset watching spot, we were awed by it in the early afternoon. Mesmerized by the shadows of passing clouds and changing colors in the rock, I'd say it's a 'must do' anytime of the day.
There is ample parking, no fee and it's a definite photo hot spot. The second photo below is a panoramic pic taken with my iPhone giving a sense of the view.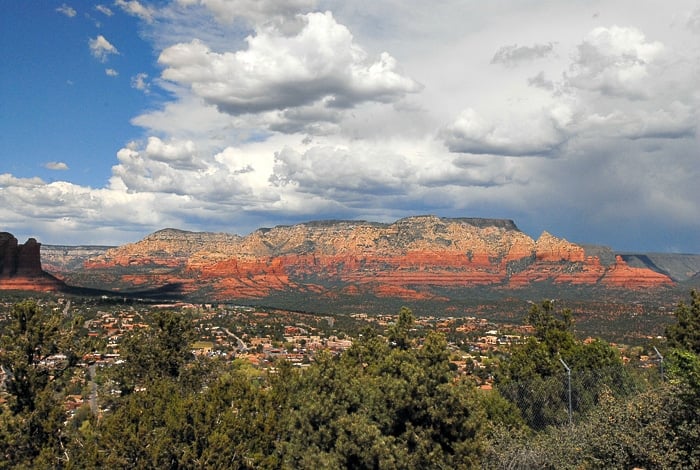 Skirting the downtown hub-bub we headed for the south end of Sedona and the village of Oak Creek which serenely rests in the shadow of Bell Rock. It was just the medicine we needed after a few long driving days of the alphabet game, occasional antelope spotting and funky gas station stops in our bi-state excursion to arrive in Arizona.
We stayed at the Hilton Sedona Resort and Spa which offered perfect accommodations in a peaceful location, also well poised for the next leg of our journey south.
Our suite included ample physical space with a microwave, refrigerator and dining table which we appreciated as we tend to haul our gluten-free food along. It made for an easy breakfast on our patio overlooking the golf course and shrubby red hills.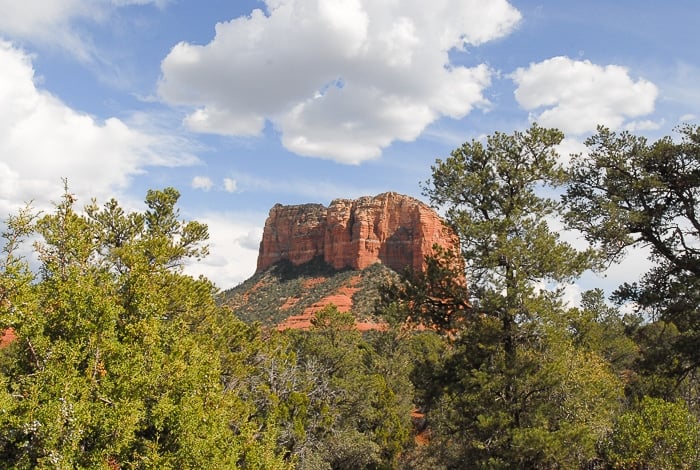 I'd done some digging before arriving about the resort and their Chef. Definitely a great location for families and couples alike, the resort has two pools; the second and largest Cascades pool is flanked by the Blue Water Café offering seasonal poolside dining and cocktails (something we love for our pool-obsessed hot weather stays).
The Grille at Shadowrock is the resort's star evening restaurant where each American and regional cuisine may be enjoyed with fantastic views.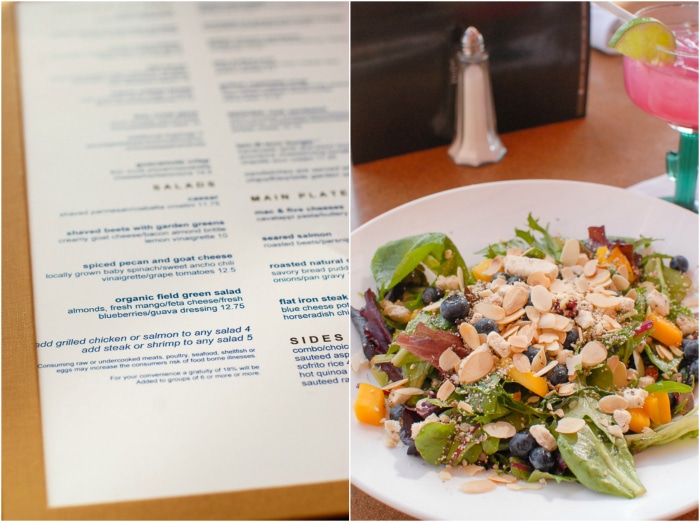 We enjoyed a late lunch at the Coyote Lounge while waiting to check into our room. As found often in this region I enjoyed the resort's version of a Prickly Pear Margarita. I'm completely smitten with the sensuous pink color and light, sweet flavor.
Additionally I was ready for some good salad after road trip snacking and found a new favorite in their Organic Field Greens Salad with feta, mango with a blueberry-guava dressing. The greens are locally sourced making it all the better. We found they can nimbly accommodate gluten-free diners which is always a relief.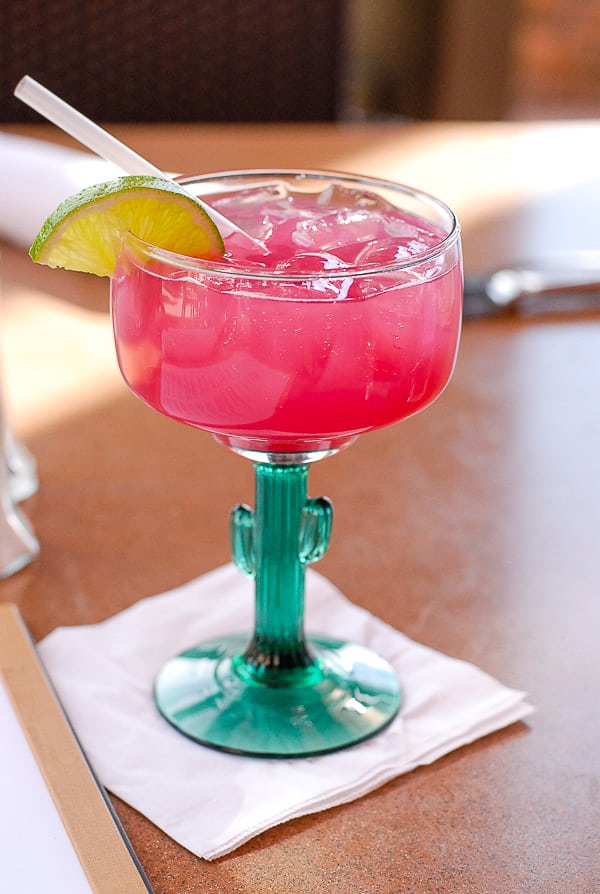 This recipe was one enjoyed on a balmy patio at the Coyote Lounge at the Hilton Sedona Resort and Spa. As is popular in this region this beguiling pink margarita whispers the signature of this region's cuisine with the subtle flavor of Prickly Pear.
Prickly Pear Margarita
If one cannot enjoy sipping while admiring the unforgettable red rock formations of Sedona, this cocktail imparts the essence of the area at home. The resort makes their own Sweet and Sour with lemon, lime, orange, pineapple and simple syrup.
DIY substitution recipe using lemon and lime are readily available on the internet and I personally believe make a difference in the cocktail quality versus using purchased Sweet and Sour.. Prickly Pear Margarita recipe at the bottom of this post.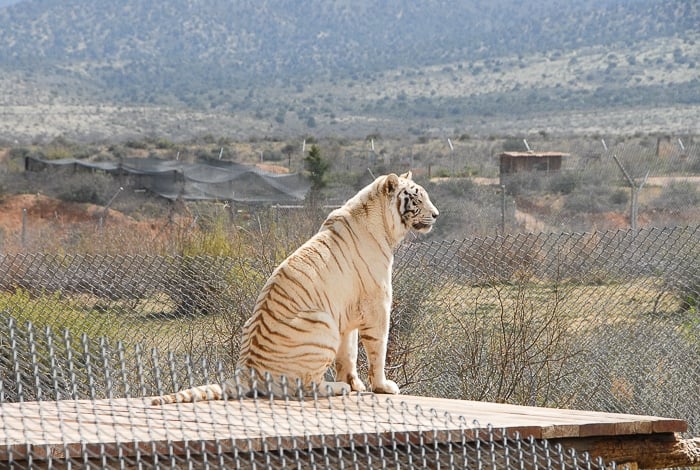 Out of Africa Park – Camp Verde
After a restful sleep with fresh white duvets, a gas fireplace and fresh coffee we set forth for a most intriguing destination; the Out of Africa Park in Camp Verde about 30 minutes south of Sedona en route to Phoenix (the park is about 90 minutes north of Phoenix). Having been on safari in Kenya and Tanzania, I was very excited to see what the park offered.
Set off the beaten path on 104 acres of land, I'd have to say Out of Africa Park a mix of education, compassion, fun and a pure labor of love in its intent. The park clearly states it is not a zoo, and though many of the animals are in individual habitats, the relationship between the animals and staff seem far more personal.
Many of the animals have been rescued from abusive situations or from outliving their usefulness in the situation they were in prior to joining the Out of Africa Park family. The goal of the park seems to be to allow them the most fulfilling life, with kind care and stimulation, for the rest of their days.
One arrives to a dusty parking lot to gain entrance to the park and then is taken in an open sided shuttle up the hill, passing many sprawling habitats, to the epicenter of the park. Patrons can also walk though I recommend the shuttle up (which is free with the park admission) as the driver provides park insight and animal details along the route. At the end of the shuttle route there is a food court with affordable, quality options for food (they carry gluten-free bread to accommodate gluten-free diners as well) and the Tiger Splash auditorium, as well as more animal habitats.
In fact the habitats flank the dining area of the outdoor food court (which is really two sources of food) so we ate about four feet from Liberty a 14 year old tiger who was recovering from eye surgery.
The Tiger Splash surely is the gem of the park. It is called a 'show' but I'd say it's more like viewing a quasi-organized play session with the tigers. The show is done once daily with different tigers rotated through on different days, giving each a chance to romp and frolic with their bevy of trainers especially in a large swimming pool which they apparently love.
The show is unpredictable as it is guided by the tiger's mood and inclinations. The trainers are nimble with assorted toys and games to see what they fancy on a given day.
During our viewing Akasha a 14 year old female tiger was the star. We learned from the trainer-narrator that she doesn't care for vinyl toys but does love men's large size sneakers but only if they are red and black, or black and white.
It was fascinating to watch the engagement between the tiger and trainers. A clear goal is to get her in the swimming pool (she did love to swim) and it looks something like this…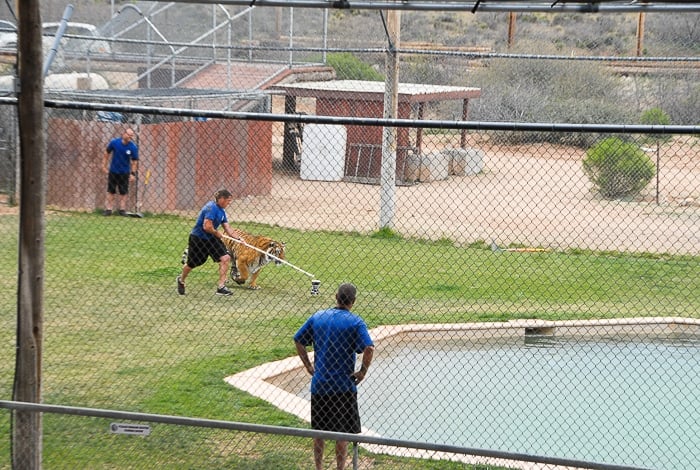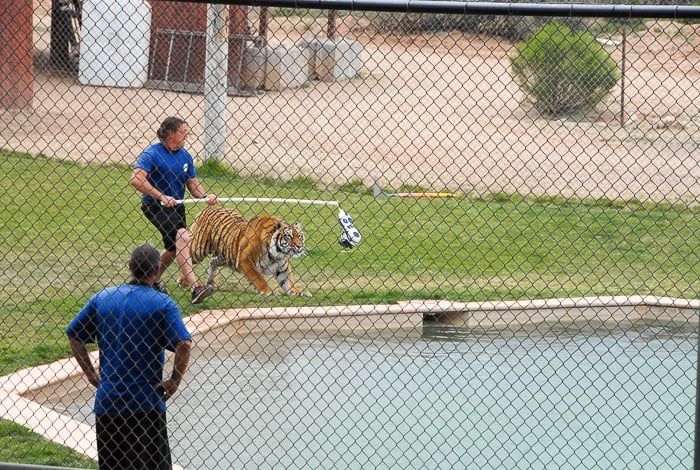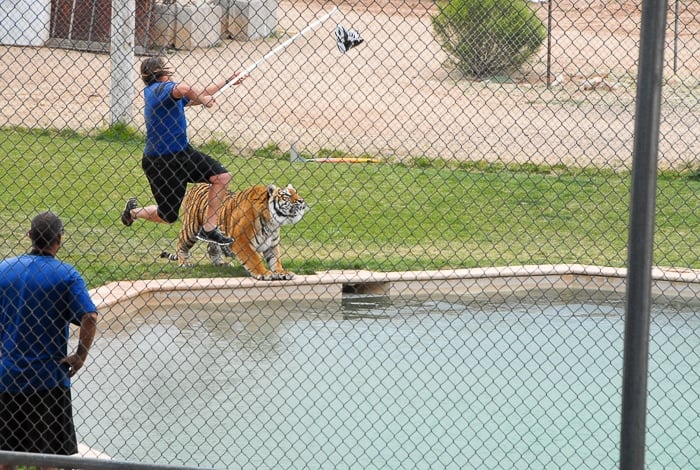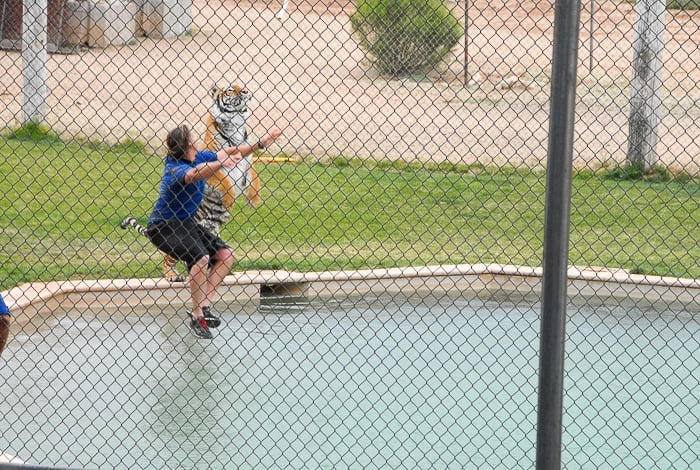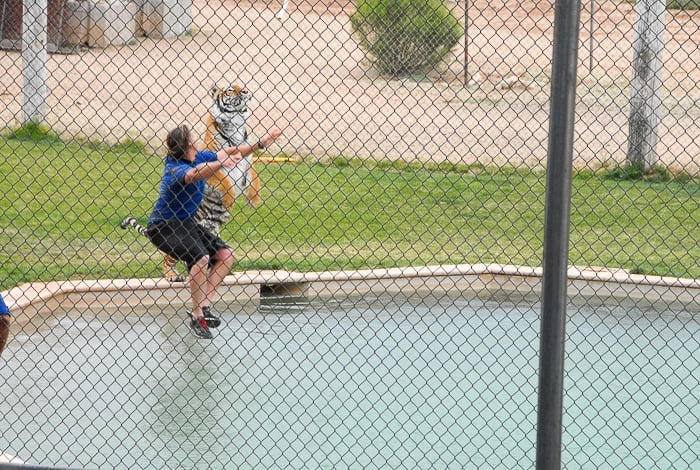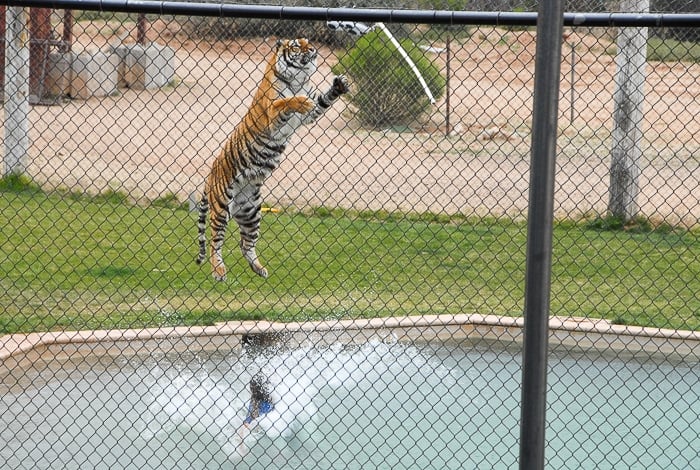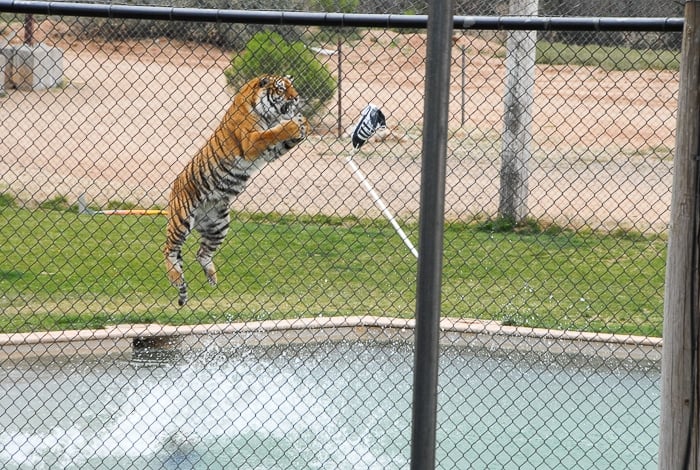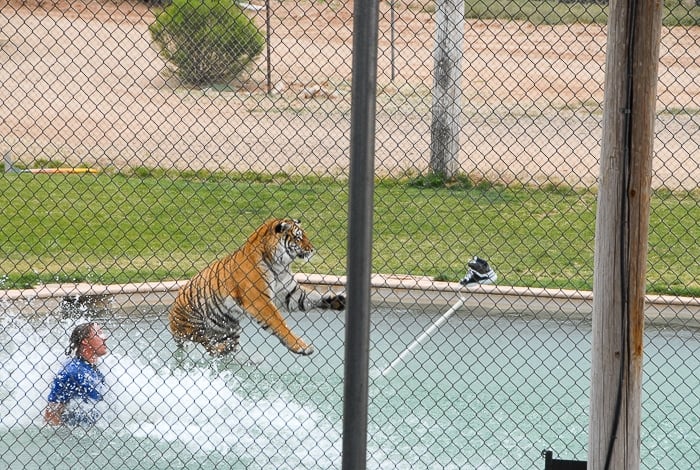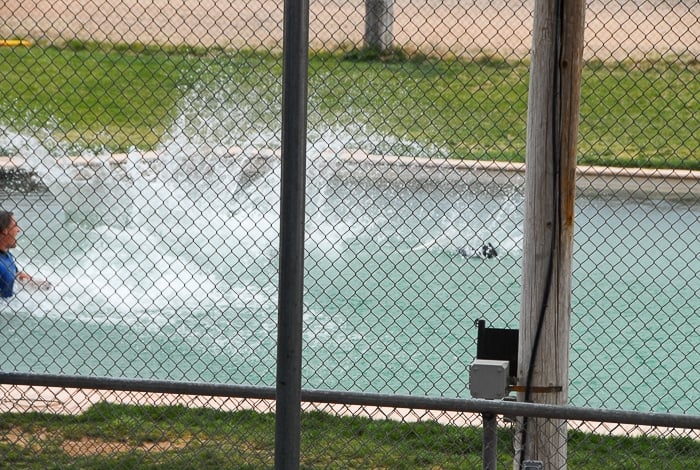 Akasha particularly liked a small duffle bag piece of luggage dangling from the end of a pole which she jumped off the ground to capture and sit on clearly not wanting to share. The play session has the goal of inciting the tiger's natural instincts other than the instinct to kill.
The one behavior that is discouraged is possessiveness and if the tiger was clinging to one toy too long, a piece of meat as offered thrown in a different direction to change her focus. It's truly like no other animal engagement I've seen.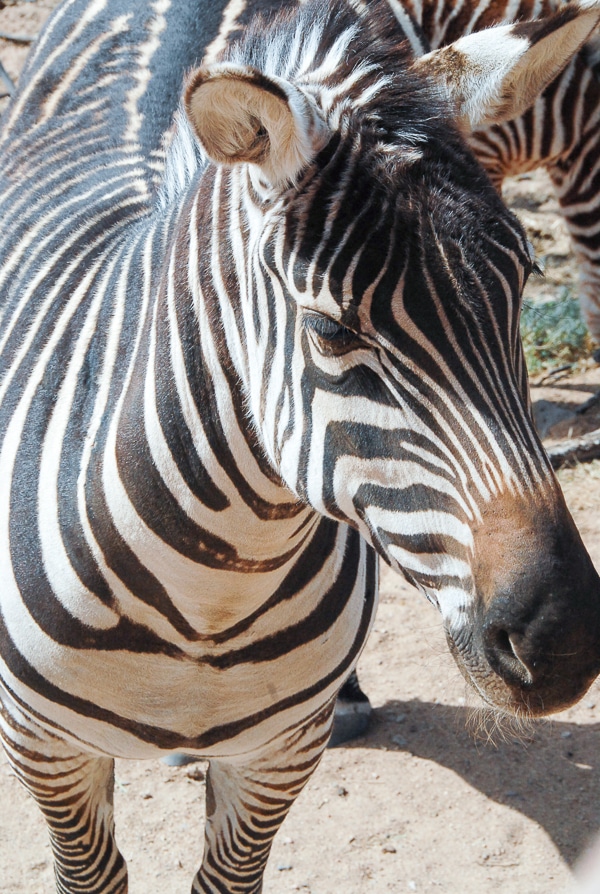 The other highlight for us was a Unimog tour which runs twice daily (additional cost to the park admission). A Unimog is an off road safari vehicle allowing journey outside the normal routes of the park. Our driver was very knowledgeable about the park's animals and practices, answering a wide variety of questions with in depth information, insight and ease.
There were stops to meet a white tiger and lioness, who in the wilderness would never keep company together, however born on the same day without families have become lifelong roommates. We learned about Hyenas (which I experienced chewing on the metal step of my safari Landrover in Kenya) and as they excitedly waited for a treat, demonstrated their characteristic 'laughter'.
The tour culminates in a drive through a large habitat full of African species from Zebra, Giraffe and probably lesser known deer-type species (Eland, Oryx, Sable and more). Patrons are given animal-friendly treats which they may offer to the Giraffe or Camel who will amble over to the sides of the open-air vehicle.
The more daring can also put the treat in their mouth for the ample-tongued giraffe to retrieve with its prehensile agility!
Out of Africa Park is unlike any other animal experience for the variety of African animals to the educational opportunity to learn about them, the chance to view natural behaviors outside of a contrived display. Definitely a fun stop!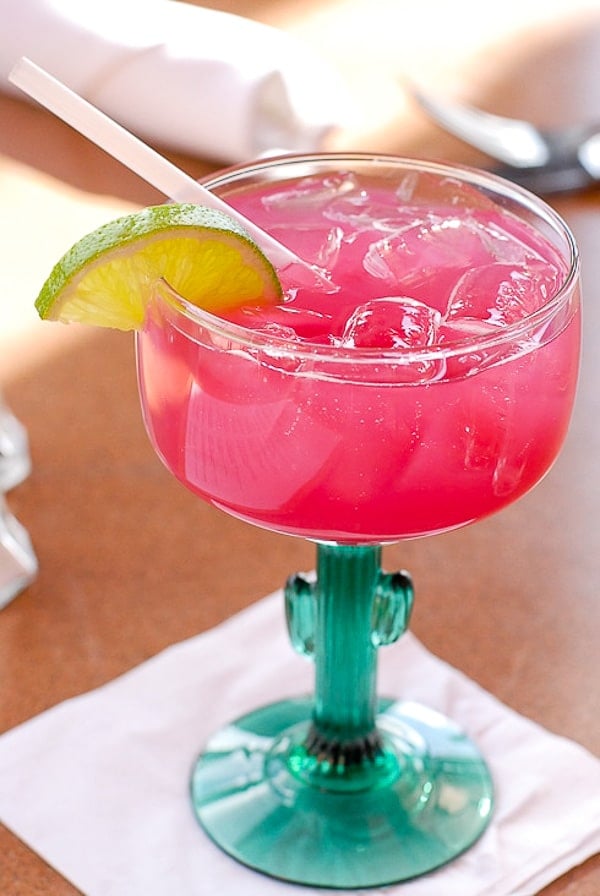 Recipe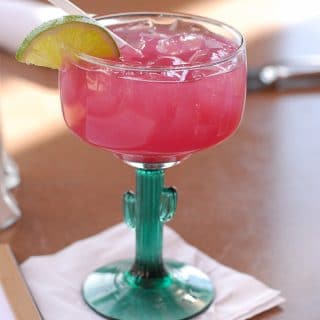 Prickly Pear Margarita
This sweet pink margarita is a taste of the Southwest. Homemade sweet and sour mix may be used or store-purchased. Prickly Pear syrup is also available online. Links for both are included in the Ingredients.
Print
Save Recipe
Recipe Saved!
Pin
Rate
Ingredients
1 1/2

ounces

Tequila

1/2

ounce

Triple Sec

3

ounces

Sweet and Sour

(homemade may be substituted)

Garnish: Lime wedge
Instructions
Mix all ingredients in a shaker with ice.

Shake, strain and pour over fresh ice. Garnish with lime wedge.
Nutrition
Calories:
370
kcal
|
Carbohydrates:
66
g
|
Protein:
0
g
|
Fat:
0
g
|
Saturated Fat:
0
g
|
Cholesterol:
0
mg
|
Sodium:
50
mg
|
Potassium:
53
mg
|
Sugar:
66
g
|
Calcium:
11
mg
|
Iron:
3.1
mg
Boulder Locavore gratitude to Visit Sedona for all the planning ideas, Hilton Sedona Resort and Spa for the delicious recipe and Out of Africa Park for hosting our day of exploration. Prickly Pear Syrup giveaway hosted by BoulderLocarove.com