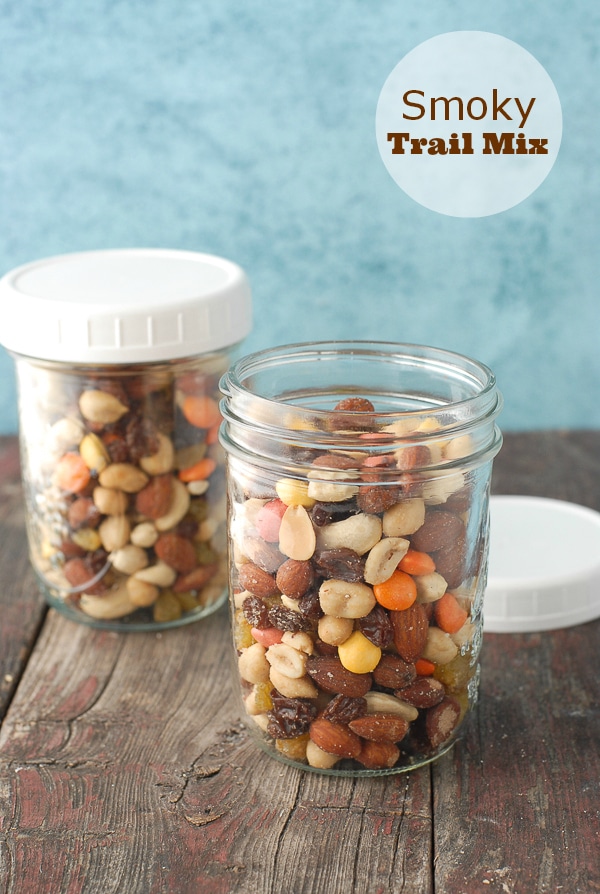 Are you a snacker? I think more than being a snacker I can be a grazer. I find myself on busy days eating small amounts of small foods rather than sitting down for three formal meals a day. I suppose both approaches land at the same end result.
Recently I was packaging individual snack size bags of Trail Mix for my son's class for their TCAP's (standardized school testing). As often is the case I had about 900 deliverables at once so despite wanting to create something fun, like a robot made from a juice box, two mini raisin boxes, an applesauce snack bowl and googly eyes, he talked me off the crafty ledge to say they really did not have much time to nosh.
I had the last day of the snack so took the extra goal of wanting it to be special. The 9 days of testing had been full of clementines and cheese sticks I'd understood so I wanted to do something different. The snacks were eaten first thing the morning so a form of protein was needed. It needed to be eaten quickly, without much pomp and circumstance (e.g. no utensils preferably) and have a bit of a treat involved. I purchased trail mix in bulk with healthy ingredients, a few M & M's scattered here and there but not enough to hype the kids up. I packed 1/3 cup servings into snack bags on which I'd written congratulatory messages to each student. Paired with some organic, gummy fruit snacks, the last test snacks were a hit, so reported my son.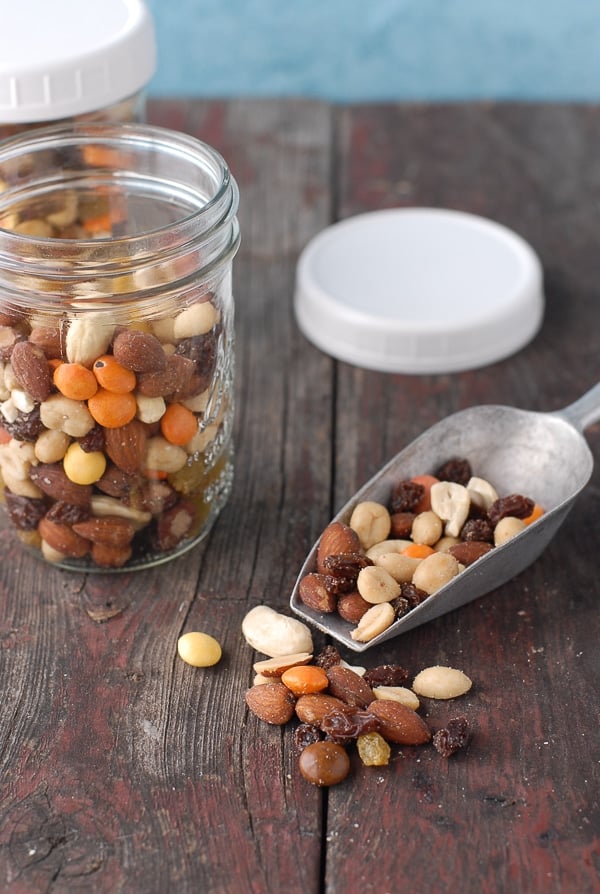 It gave me food for thought. With some car travel coming up (and my propensity to graze when overly busy), I'm always on the lookout for yummy snacks that give some nutritional help to unpredictable distances between meals and unpredictable sources of good gluten-free food other than what we pack ourselves.
There are a few snack items that I love. I rarely buy them or eat them however when I do I always wonder why it's been so long in between enjoying them. One of these is Smoked Almonds. I'm not sure which aspect I love about them the most; the delicious smoky flavor or the distinct texture of their crunch. Whichever doesn't really matter but they became the central ingredient in my personal Smoky Trail Mix combination.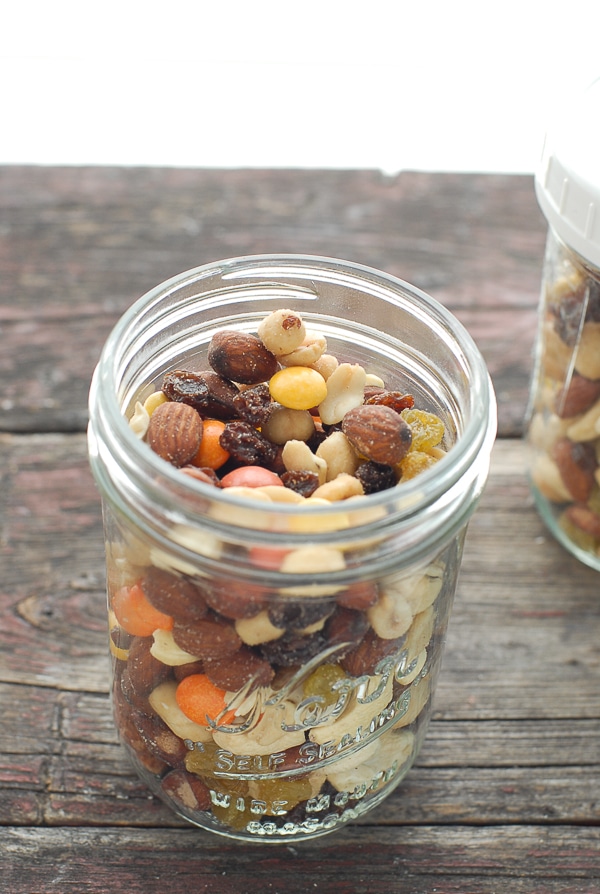 I think the divine quality about a good trail mix is the balance of salty, sweet and crunchy. I personally love a diversity of flavors in a single bite, and that every bite has a bit of a different flavor profile. This mixture layers on plump Thompson Seedless raisins (the 'normal' raisins), sweet golden raisins, raw sweet cashews, roasted peanuts and a bit of chocolate via M & M's or natural Sunspire chocolate drops as I used (they are naturally flavored with no artificial flavors, colors or preservatives; found in the baking or bulk food section of most grocery stores which offer natural food options). To say this mix did not stay around my house long would be a severe understatement!
Recipe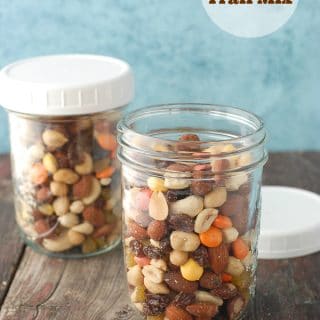 Smoky Trail Mix
Trail Mix is a perfect snack when on the go or for traveling. This versions takes it up a flavor notch with smoked almonds as the central ingredient. The mix to sweet, salty and crunchy can't be beat. If not a lover of the smoky almonds, regular almonds may be substituted. Gluten-free.
Print
Save Recipe
Recipe Saved!
Pin
Rate
Servings:
4
cups of trail mix
Ingredients
1

cup

Smoked Almonds

1/4

cup

Golden Raisins

1/2

cup

Thompson Seedless Raisins

3/4

cup

Raw Cashews

3/4

cup

Roasted

, Salted Peanuts

1/2

cup

M & M's or Sunspire Chocolate Drops
Instructions
In a large mixing bowl, place all ingredients and mix to fully combine.

Store in sealed jars or containers for use.
Nutrition
Calories:
1094
kcal
|
Carbohydrates:
54
g
|
Protein:
106
g
|
Fat:
51
g
|
Saturated Fat:
12
g
|
Cholesterol:
263
mg
|
Sodium:
228
mg
|
Potassium:
2168
mg
|
Fiber:
7
g
|
Sugar:
24
g
|
Vitamin A:
60
IU
|
Vitamin C:
1.2
mg
|
Calcium:
164
mg
|
Iron:
6.1
mg