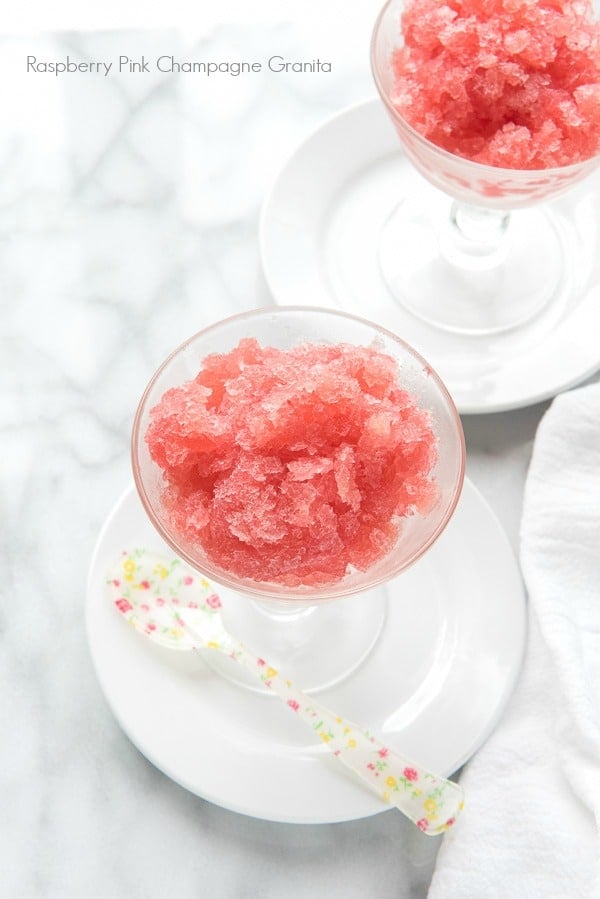 Ever since I made the Red White & Blue Sports Drink Popsicles for July 4th, I've been sort of obsessed with icy foods and drinks. At the heart of the summer it's almost impossible to feel fully hydrated and I feel like I'm visiting the freezer for crushed ice in water all day long. Unlike dairy-based frozen desserts which can make you thirsty, juice or water based desserts really do help with a sweet summer cool down. Adding champagne to that formula takes it all up a notch still!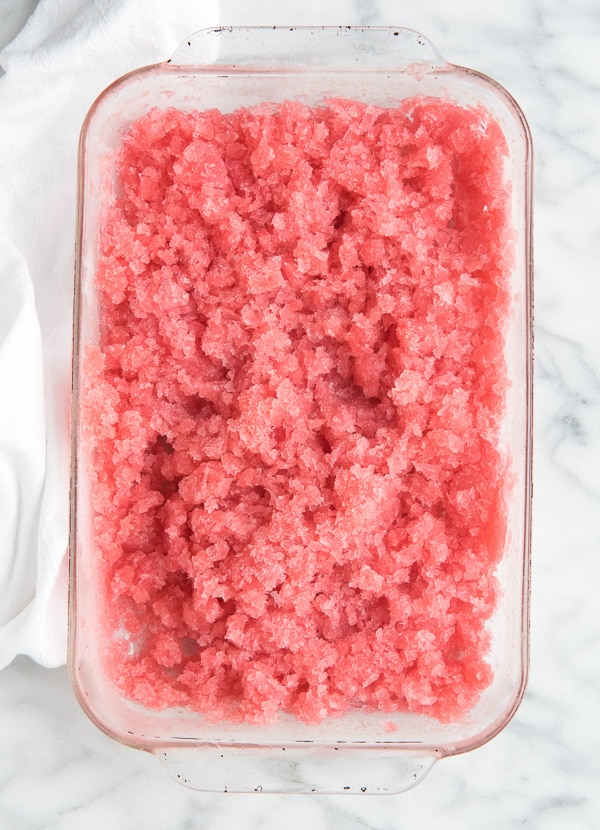 I decided to couple ruby red summer-ripe raspberries and pink champagne into a luscious granita. For those who may not have tasted or made one, it is a simple dessert made from sweetened liquid, frozen and raked with a fork during the freezing process to result in a snow cone textured dessert. The alcohol prohibits a hard freeze making a satisfying icy-slushy texture.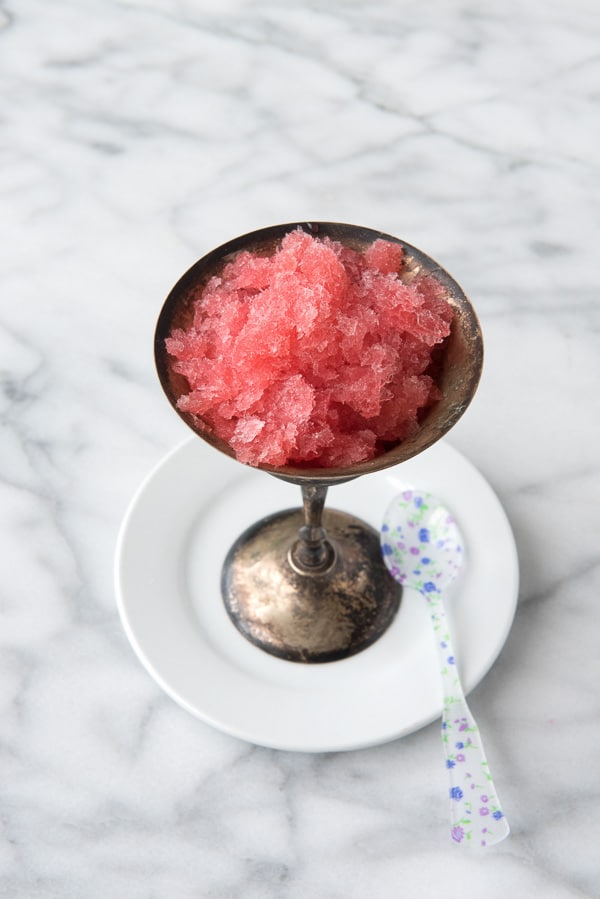 The end result is visually beautiful deep pink dessert with the heady perfumed flavor of raspberries as well as champagne. It's a sophisticated quencher for a hot summer's night as well as an elegant end to a celebratory dinner. Granita is an easy dessert to make in fact I make it in the evening and let it sit in the freezer overnight. The champagne lengthens the freezing time so making it and leaving it alone for 8-10 hours leaves it ready to be raked and served.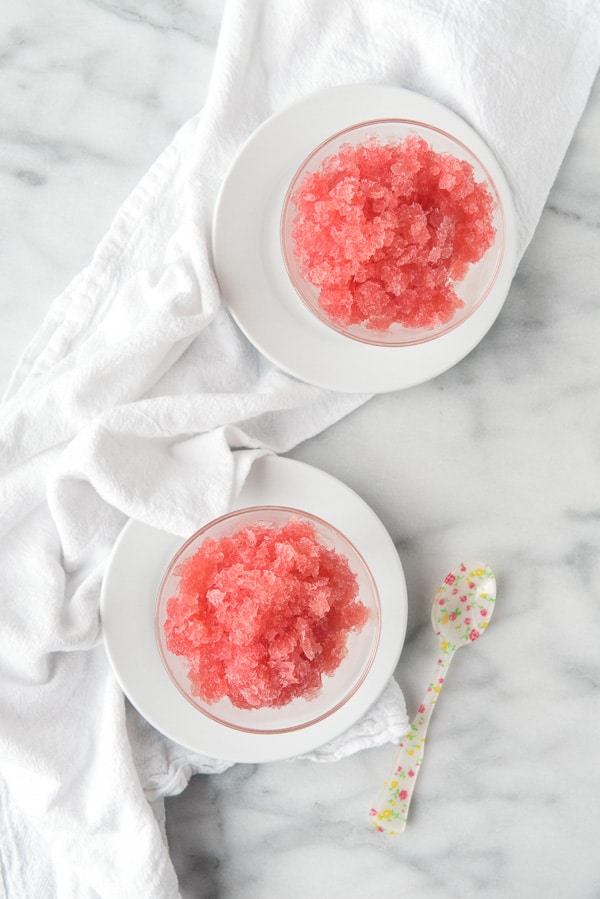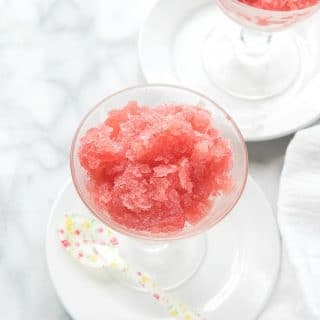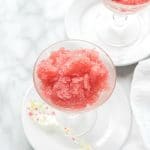 Raspberry Pink Champagne Granita
Granita has an icy-slushy texture that is a great finish to any meal whether in the heat of summer or after an elegant dinner. Raspberries add a perfumed quality to the pink champagne making this recipe extra special! The alcohol slows the freezing process so it does well to stay in the freezer all day or overnight. Once frozen (it will not hard freeze), a simple rake of a fork creates ice crystals that melt in the mouth with loads of flavor.
Ingredients
½

cup

Granulated Sugar

1 ½

cup

Water

1

cup

ripe Raspberries

, fresh or frozen and thawed

1 750

ml

Rose Brut Champagne or Rose Sparkling Wine

2

tablespoons

freshly squeezed Lime Juice
Instructions
In a medium saucepan, combine the sugar, water and raspberries and bring to a boil over medium-high heat; stirring to dissolve the sugar and mash the raspberries. Once the mixture comes to a boil, turn off the heat. Use an immersion blender to pulverize all the raspberries and allow to cool fully (about 1 hour). Alternatively allow the mixture to cool slightly, pour into a blender and puree, return to the saucepan to cool fully.

Once cooled, pour the mixture through a fine mesh sieve (strainer) using a spatula to push the mixture through leaving the raspberry seeds in the sieve into a freezer-proof 13x9 inch pan. Scrap the outside of the sieve into the pan as well.

Pour the champagne and the lime juice into the pan and stir to fully mix. Cover and place in the freezer for 1-2 hours. Check the granite and if the mixture is beginning to freeze break up the ice with a fork. Cover and leave in the freezer for 8-10 hours until the mixture is fully frozen.

Remove the granita from the freezer and drag a fork through it to break up the mixture into ice crystals. Unlike a traditional granita, the alcohol content will prohibit it from hard freezing so breaking up the mixture should be easy. After grating into small crystals, spoon into serving dishes and serve immediately. Leftover granita may be stored in the freezer.
Nutrition Facts
Raspberry Pink Champagne Granita
Amount Per Serving
Calories 82
% Daily Value*
Fat 0g0%
Cholesterol 0mg0%
Sodium 7mg0%
Potassium 84mg2%
Carbohydrates 12g4%
Protein 0g0%
Vitamin C 4mg5%
Calcium 11mg1%
Iron 0.4mg2%
* Percent Daily Values are based on a 2000 calorie diet.