Between the bounty of summer fruit and Back-to-School demands No Bake Fresh Fruit Cobbler in Jars is a dessert or wholesome snack recipe you'll love! Chewy snack bars and fresh fruit salad are all you'll need. They are portable (great for school lunch boxes) as well as allergy-friendly and gluten-free.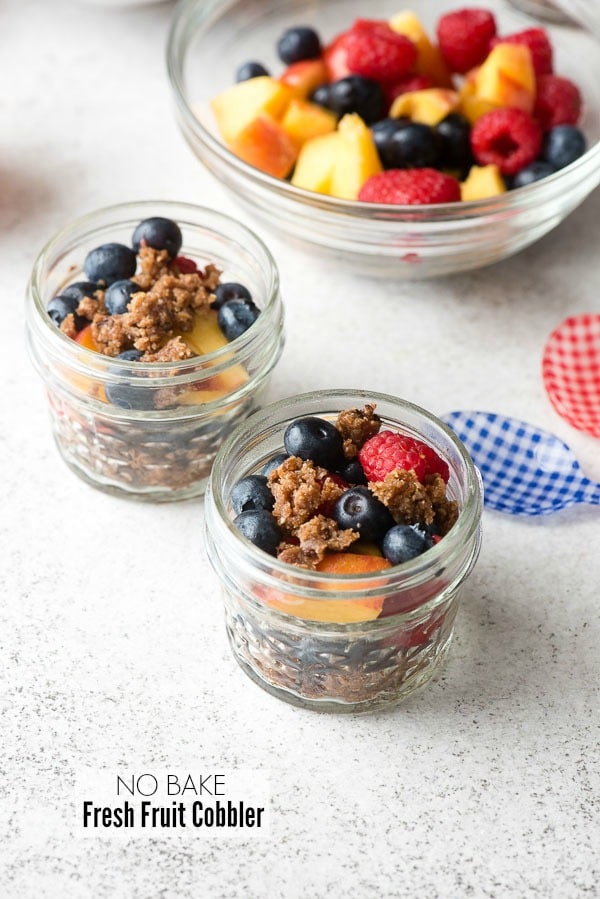 This allergy-friendly post is sponsored by Enjoy Life Foods. All opinions are my own.
We have become a big 'bar' family. Meaning bars for snacks. For a long time, there weren't great gluten-free options but now the options are numerous and fantastic. So now we are a picky bar family LOL! As school kicks into gear the bar situation becomes key for fast snacking between classes, something to eat in the car after school and before activities. And I even have an easy little No Bake Fresh Fruit Cobbler recipe using a bar!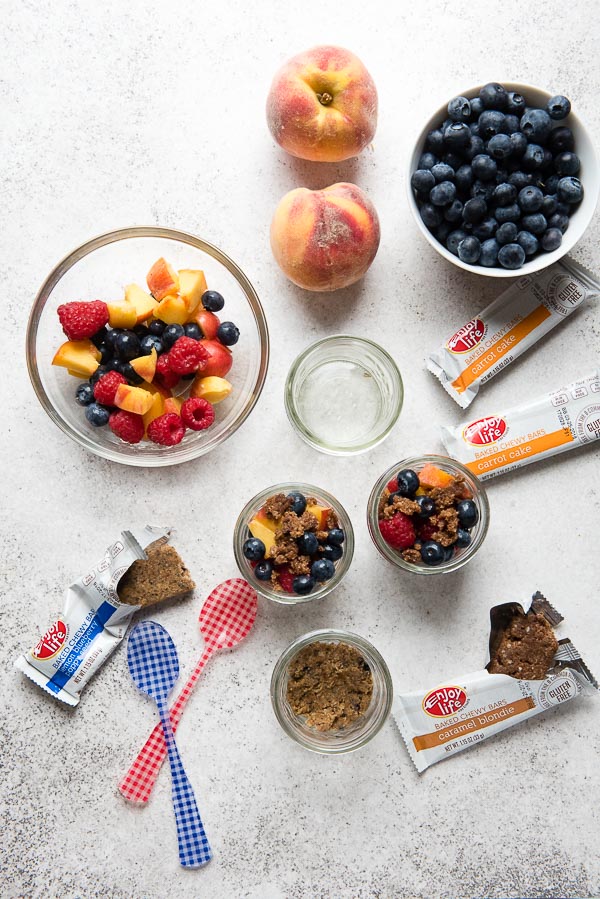 One of the bars we like to nosh on are Enjoy Life Foods Chewy Bars. I've shared their products with you before in recipes like Triple Chocolate Wacky Cake with Chocolate-Stuffed Raspberries, Chocolate Chip Cookie Stuffed Brownies and Double Chocolate Mint Waffle Cookies. These Chewy Bars are vegan, gluten-free, free of the top 8 food allergens, Non-GMO, Kosher, Halal and made with no artificial ingredients. They feature Enjoy Life Food's new Pure Life Balanced Dry Blend™ flour, which is made from sunflower kernels, cassava flour, sorghum flour and quinoa flakes. Most importantly, they taste great and my kids love them.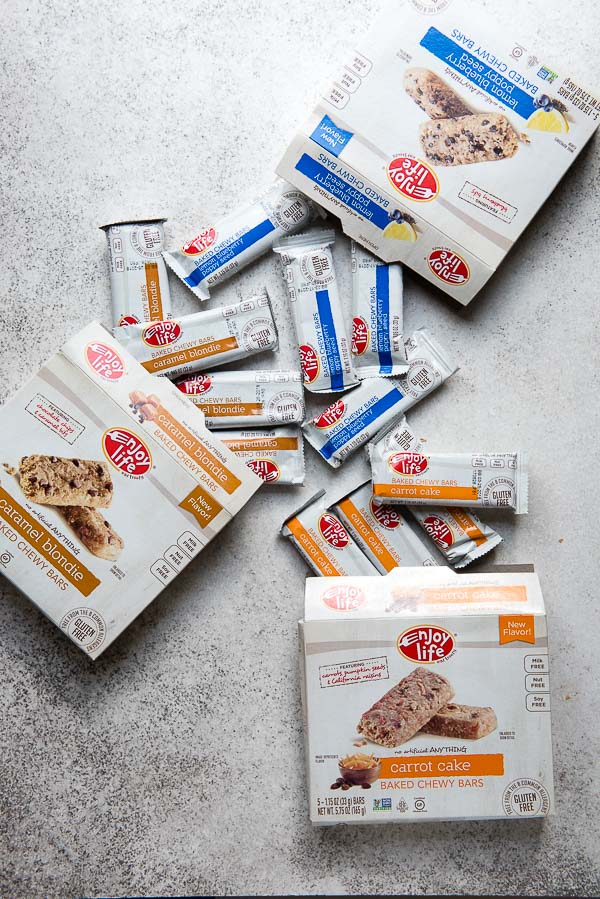 As my mind was turning over ideas for additional ways to incorporate bars into a different snack form three new Chewy Bars hit the scene: Caramel Blondie (dairy-free caramel bits with Enjoy Life Foods mini chocolate chips), Carrot Cake (shredded carrots, raisins and pumpkin seeds) and Lemon Blueberry Poppy Seed (lemon juice and blueberries). As the name indicates they are fantastically chewy, like your favorite cookie, making them a great choice for my recipe idea.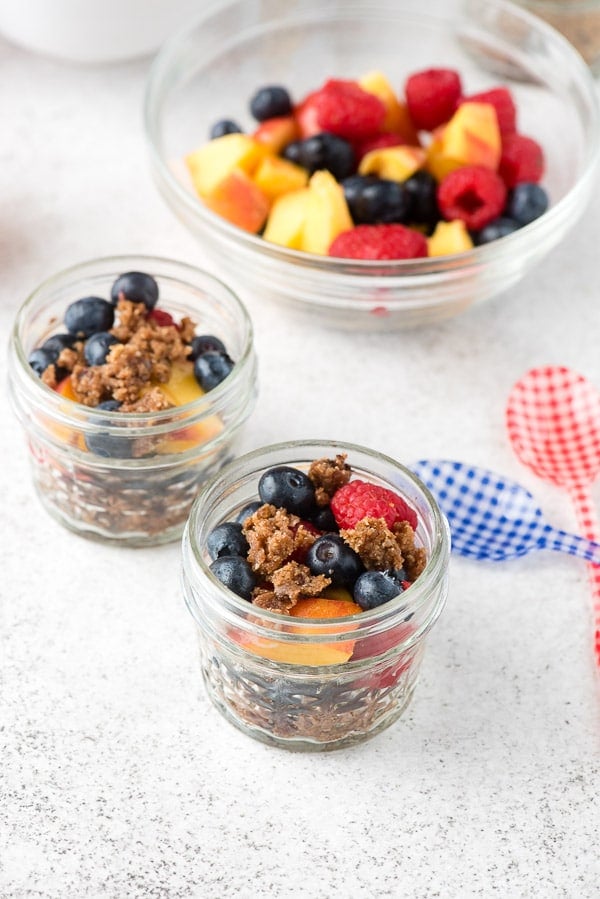 I love pretty much anything in a 4-ounce Jelly Jar and No Bake Fresh Fruit Cobbler is no exception. The jars are great for serving in for a rustic feel as well as easy to seal and pop into a lunch box for school. It's a fun way to get a daily serving of fruit along with the wholesome nutrients from the Chewy Bars! Any flavor you use works great. You can also use half of one flavor for the bottom crust and a different half bar for the topping. There's no way to get these wrong!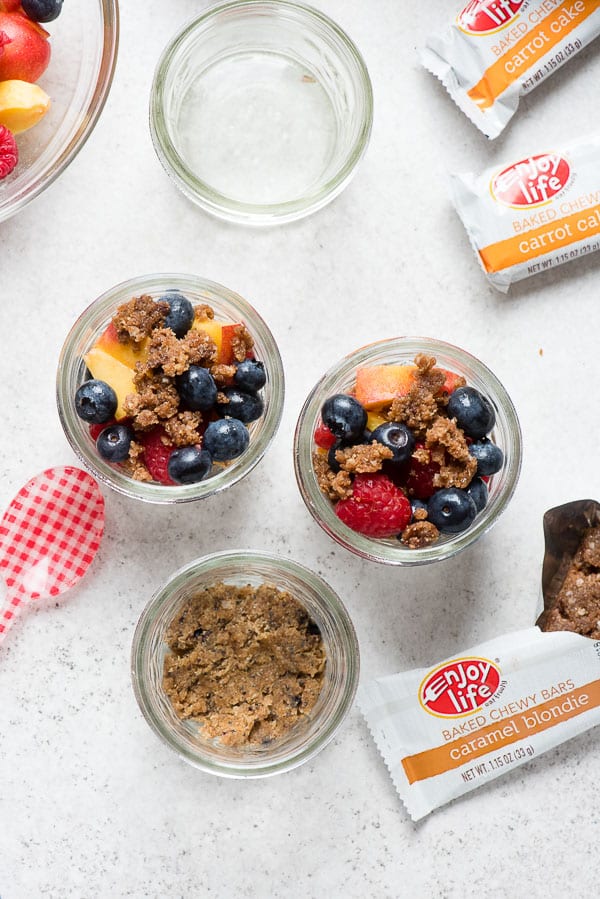 If you are already a Chewy Bar fan you'll love knowing these three new flavors are 15% larger than the original bars? Hungry to try them? Between August 1 and September 15, 2017 Enjoy Life Foods is offering 20% off single boxes of their 3 new Chewy Bar flavors! Hop over Enjoy Life Food's website and use the code CHEWYBLOG when checking out!
How to Make NO BAKE FRESH FRUIT COBBLER in jars
Recipe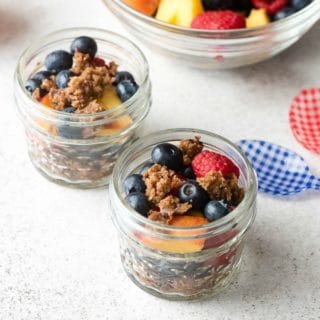 No Bake Fresh Fruit Cobbler in Jars
Chewy snack bars can make the best desserts with no effort. This recipe used on for a crust and topping with fresh fruit salad in 4-ounce jelly jars for a portable wholesome treat or snack.
Print
Save Recipe
Recipe Saved!
Pin
Rate
Instructions
Soften half of a chewy bar between your fingers, flattening it to form a crust to fit in the bottom of a 4-ounce Jelly Jar.

Fill with mixed fruit and crumble the remaining half on top. Serve or seal and refrigerate until serving.
Nutrition
Calories:
176
kcal
|
Carbohydrates:
29
g
|
Protein:
3
g
|
Fat:
5
g
|
Saturated Fat:
0
g
|
Cholesterol:
0
mg
|
Sodium:
13
mg
|
Potassium:
171
mg
|
Fiber:
2
g
|
Sugar:
12
g
|
Vitamin A:
180
IU
|
Vitamin C:
1.3
mg
|
Calcium:
26
mg
|
Iron:
1.5
mg