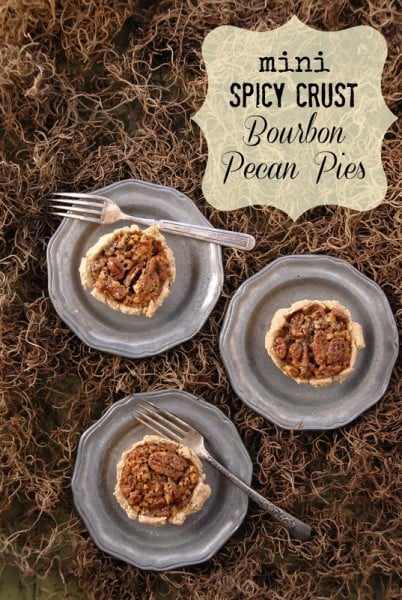 I wanted to sneak in one more Thanksgiving recipe before all cooks hit the kitchen for the few days of preparation! In our house the cooking goes on for at least two days and the turkey brining begins before that. I always marvel at the disproportion of preparation time and meal consumption time. I think last year I calculated most had cleaned their plate in about 20 minutes, leaving them catatonic in a tryptophan coma, waistbands undone, strewn on couches throughout the house.
Though everyone loves dessert it seems to get a bit short changed. We try to take a break in between the meal and dessert, often taking a stroll through our neighborhood or a light hike up into the foothills directly above our housing development. A bit of fresh air does wonders.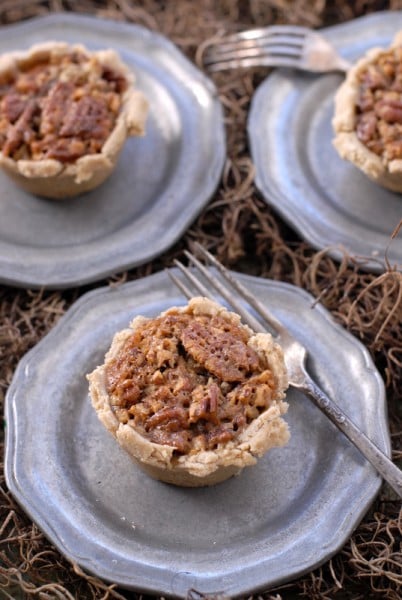 Everyone has a favorite pie recipe and I wanted to come up with something different. I liked the idea of a mini, personal pie and not one so behemoth it could not be eaten enjoyably in a short time. I decided to try a muffin tin size Mini Bourbon Pecan Pie with a Spicy Crust. I reprised a pie crust I created for an empanada recipe (with several preparation photos with the recipe steps) last year and in looking it over felt the ancho chile powder and cinnamon in the crust would be a fun unexpected contrast to the sweet, boozy pecan filling. I also like it because it is more rustic, bearing a texture similar to whole wheat crusts; more dense with a perfect structure for this type of dish. There is a Southwestern cuisine theme threaded through our Thanksgiving menu making this an apt addition.
To compliment the pie I made homemade Cinnamon Ice Cream from David Lebovitz' 'The Perfect Scoop'. I used the recipe verbatim so will not reprint it here but have listed a few others that are very similar from highly skilled sources that will deliver for you I'm sure.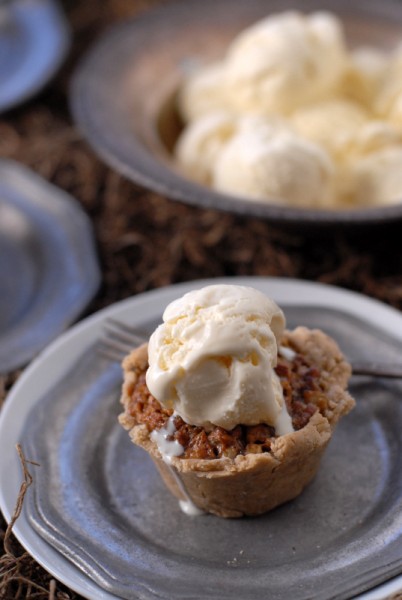 Recipe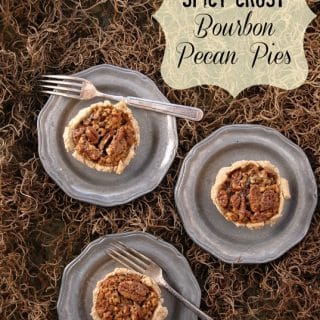 Mini Spicy Crust Bourbon Pecan Pies
These charming diminutive pies are the perfect size for one! Variations on the crust for both gluten-free and gluten results can be found in the Notes section below. Also there is a link in the post above which shows more preparation step photos for making the crust.
Print
Save Recipe
Recipe Saved!
Pin
Rate
Servings:
12
muffin tin pies
Ingredients
For the Crust:
1

cup

Brown Rice Flour

¼

cup

Sweet Brown Rice flour

¾

cup

sorghum Flour

2/3

cup

Cornstarch

¼

cup

Arrowroot Starch

2

tablespoons

Tapioca Flour

1 ½

teaspoon

Xanthan Gum

½

teaspoon

Cinnamon

1/2

teaspoon

Ancho Chili Powder

1

teaspoon

salt

1

stick unsalted Butter

(8 tablespoons), cold

1

Egg

, lightly beaten

1/3

cup

cold Water

(plus ¼ cup cold water in reserve)

2

teaspoons

Apple Cider Vinegar
For the Filling:
¾

cup

Dark Corn Syrup

¼

cup

Light Corn Syrup

¾

cup

granulated Sugar

6

tablespoons

unsalted Butter

, cut into tablespoons

3

large Eggs

, room temperature

2

tablespoons

Bourbon

Pinch of Salt

1 ½

cups

Pecans

(half of quantity chopped, remaining half of pecan halves)

Parchment paper
Instructions
Preparation of the Crust:
Mix the dry ingredients either using the dough attachment in a food processor or by hand.

Cut the stick of butter into small pieces (into tablespoons, then cut those into fourths) and incorporate into the dry ingredients using a food processor with dough attachment or a pastry cutter if doing it by hand. The end result should be crumbly.

In a separate small bowl, mix together the egg, and vinegar. Add to the dry mixture in the food processor, along with 1/3 cup of water and pulse until it has fully combined. Note: If the mixture seems overly dry you may add additional water in tablespoon increments until is stays together lightly (this may also be added when removing the crust from the refrigerator before rolling out instead if unsure). Remove from the food processor, form into a ball, wrap in plastic wrap and place in the refrigerator until chilled (about 30 minutes).
Preparing the Filling:
Preheat oven to 350. Prepare muffin tin by spraying with no stick cooking spray. Cut one inch wide strips of parchment paper, enough for the number of pies you are baking. These will be installed before baking to ease removal of mini pies after baking.

Over low heat, combine the dark and light corn syrup with granulated sugar in a medium saucepan. Stir to combine. Bring to a boil without stirring mixture (note: it may take a bit of time; when you see small bubbles you can proceed to the next step).

Remove from heat and add the butter. Stir until butter is fully melted into the sugar mixture.

In a separate mixing bowl, whisk together the eggs, salt and bourbon until fully combined.

Add egg mixture to the sugar-butter mixture. Using a whisk in an 'S' pattern until all ingredients are combine; do not over mix. Allow to cool.
Preparing the Mini Pies:
Roll out chilled pie crust so it is approximately 1/8 inch thick. Cut out a round of dough about 5 inches in diameter. Using a small bowl turned over as a guide works well.

Take the strips of parchment paper and place one in each muffin cup so there are a few inches extending on either side of a given cup (see not-so-fabulous iPhone pic below as example).

Place a round of crust on top of the muffin tin and form it into place with your hands. You can repair holes with more dough and just smooth is out with your fingers. Leave about ¼ inch outside the top of the muffin cavity as you would with a full size pie. Repeat for all muffin cavities.

Spoon 1 ½-2 tablespoons of the pecan mixture into each muffin cup. Briefly whisk the filling (is can separate as it sits) and pour in each muffin cup to fill to the top.

Place muffin tins on a baking sheet and place in the heated oven for 25 minutes. At this point the crust should be done and the tops of the mini pies dome-shaped. Remove for the oven and allow the muffin tin to sit on a cooling rack for about 20 minutes until close to room temperature. Remove the mini pies by gently grasping either side of the parchment strip for a given pie and lifting it out of the tin.
Notes
Crust Substitution options: Gluten Free: If you don't want to mix your own flour, substitute your favorite gluten-free flour blend for the first 6 ingredients in the same quantity.
With gluten: Substitute your preferred baking flour for the flours and starches (same quantity total) and omit the xanthan gum from the recipe.
'Don't want to make dough' gluten and gluten free bakers: Buy frozen pie crust, let it thaw and roll it out to use instead. Depending on how many mini pies you plan to make I'd plan on 1-2 for 6 mini pies and 2-3 for 12 mini pies.
Nutrition
Calories:
422
kcal
|
Carbohydrates:
65
g
|
Protein:
4
g
|
Fat:
16
g
|
Saturated Fat:
4
g
|
Cholesterol:
69
mg
|
Sodium:
267
mg
|
Potassium:
151
mg
|
Fiber:
2
g
|
Sugar:
35
g
|
Vitamin A:
285
IU
|
Vitamin C:
0.2
mg
|
Calcium:
27
mg
|
Iron:
1.2
mg
Homemade Cinnamon Ice Cream:
David Lebovitz: How to Make Ice Cream without a Machine
Simply Recipes: Cinnamon Ice Cream
The Urban Baker: Cinnamon Ice Cream