Mini Pumpkin Pie Cheesecakes in Mason Jars is a light, tangy and perfect single-serving dessert for Thanksgiving! Make-ahead and portable too.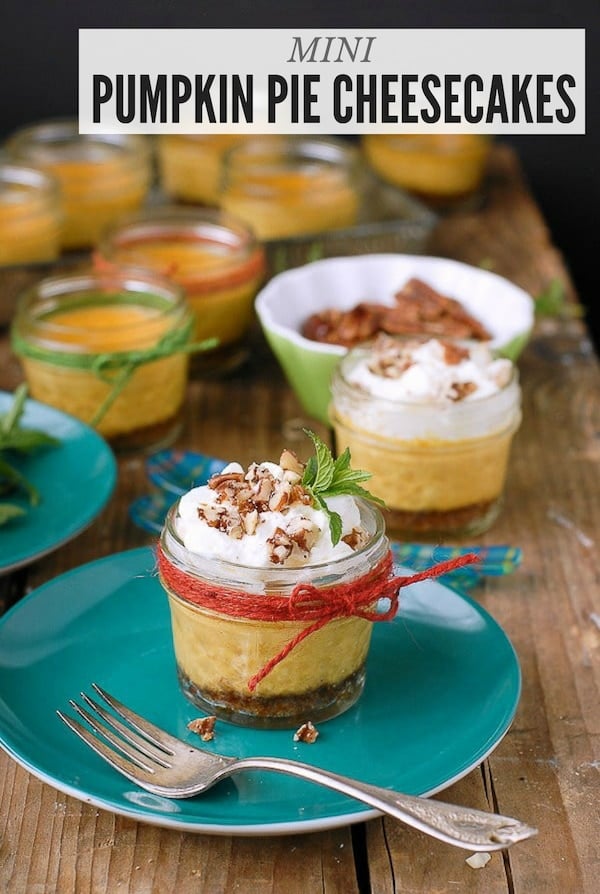 Thanksgiving is in the air signaling the time for friends, family, travel and favorite soul-warming foods.
As much as we love all of this it can become too much, am I right? Today I have two things to make your holiday season easier and more enjoyable!
First, a spin on a Thanksgiving classic recipe changed up that can be made ahead of time and will delight your diners: Mini Pumpkin Pie Cheesecakes in Mason Jars. It's a perfect unexpected individual dessert to cap off a holiday dinner.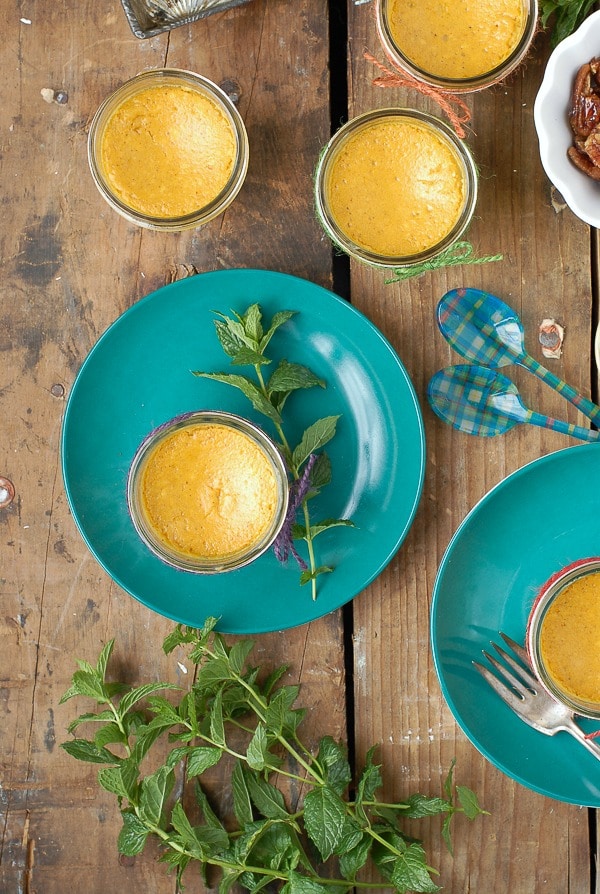 Mini Pumpkin Pie Cheesecakes are portable too making them perfect if you are having Friendsgiving or dining elsewhere.
Making these pumpkin pie cheesecakes the day before gives a break to all the hard-core cooking that happens on the holiday itself.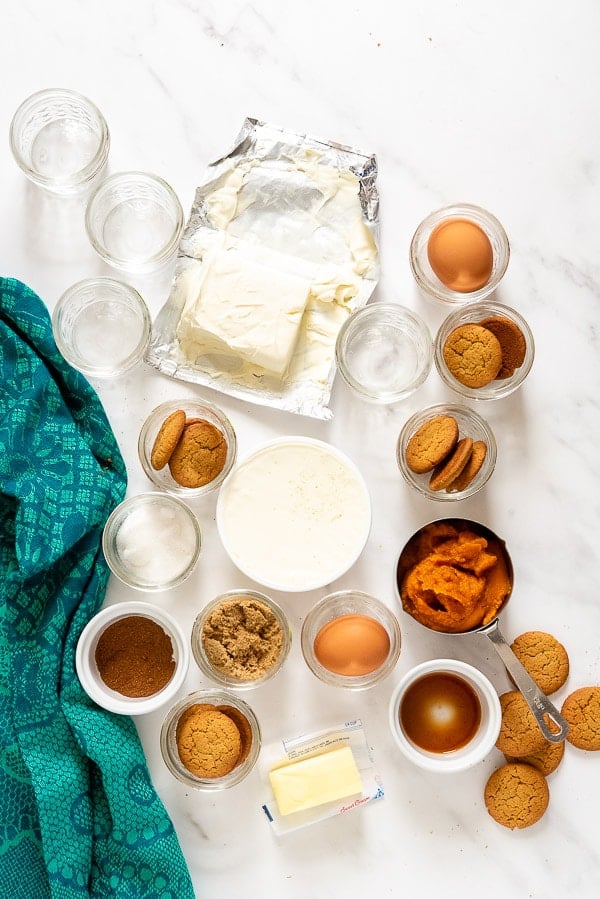 Mini Pumpkin Pie Cheesecakes
This little four-bite dessert is the perfect blend of pumpkin pie and cheesecake for a creamy, tangy seasonal dessert.
The pumpkin pie cheesecakes are a blend of cream cheese and mascarpone cheese making them familiarly tangy but also extra light and creamy thanks to the mascarpone.
If you are unfamiliar with mascarpone cheese, it is essentially a very thick cream that has the consistency similar to but a lighter than a cream cheese.
Creamy Mascarpone Cheese is the Secret Ingredient
Mascarpone's flavor is subtle but it allows these cheesecakes to have their creamy consistency and light texture vs a heavier cheesecake consistency.
These bitty desserts have the familiar seasoning of pumpkin pie, with a spiced-up ginger snap crust and the rustic sensibilities we love about Thanksgiving.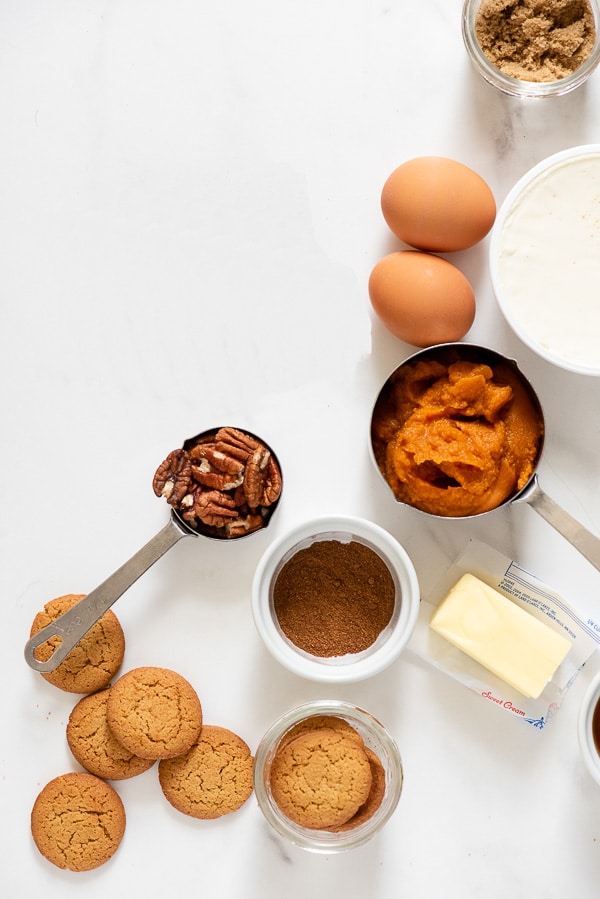 Make these Mini Pumpkin Pie Cheesecakes Ahead!
If you are traveling for the holidays, these can be made the day before and chilled with a traditional Mason jar lid and delivered as single serving desserts.
How to Make Mini Pumpkin Pie Cheesecakes – Step by Step:
Easy to prepare, they can be made the day before and served chilled or at room temperature. Served in 4-ounce jelly jars they are not only cute but a good four big bites, just about the right amount to appreciate the luscious flavors but without overwhelming the already stuffed stomach.
Preheat the oven to 325 degrees. Spray 4-ounce jelly jars with non-stick spray.
In a mixing bowl combine the ginger snap crumbs (gluten-free or regular), sugar and butter. Stir to combine (will resemble moist sand in appearance).
Spoon the crumbs equally into the 12 prepared jelly jars and tamp down (the bottom of a wine cork or back of a dining spoon work great).
Beat together the cream cheese, mascarpone cheese, pumpkin puree, remaining sugar and pumpkin pie spice until smooth.
Beat in the eggs one at a time until the mixture is fluffy and smooth. Stir in the vanilla extract.
Spoon the filling evenly into the prepared jars (fill to ½-inch below top of the jar).
Bake in a water bath (place jars into a 13-inch by 9-inch baking pan, fill halfway up the jars with water) for 30 minutes. Remove from pan and allow to cool to room temperature.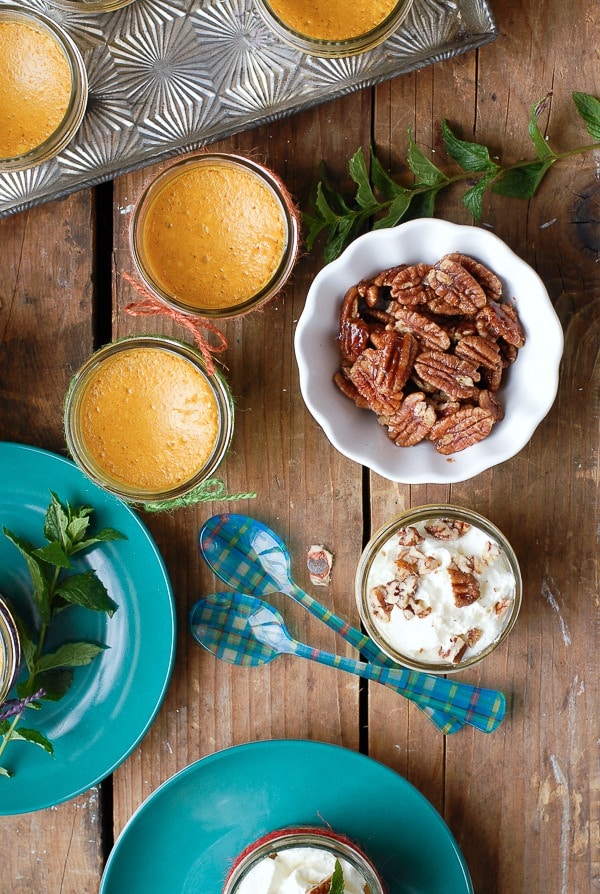 Why Use a Water Bath for these Mini Pumpkin Pie Cheesecakes
Cooking the cheesecakes gently, on a slightly lower temperature and in a water bath, allows them to be creamier and not to crack!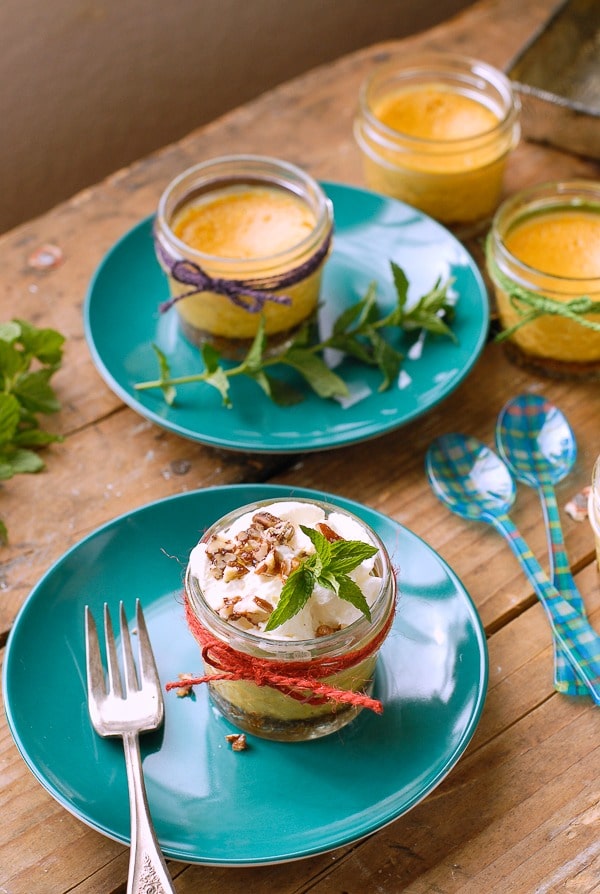 If you've made this Mini Pumpkin Pie Cheesecake recipe please RATE THE RECIPE below!