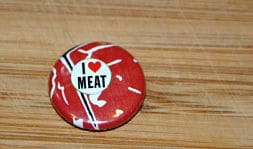 The culmination of our summer CSA share is a pig roast at our CSA farm.

We look forward to it each year as celebration of fall and the bounty we have all enjoyed.
I am a carnivore; well an omnivore really.

But I do like meat.

I like the feeling of being sated that I have when eating meat.

I don't like too much meat and I like good quality meat.

I like to know my sources; no prophylactic antibiotics, no steroids, no animals-eating-animals Andromeda Strain kind of stuff.
The movie Food Inc. really made me step back further.

We live in the land of CAFOs (Concentrated Animal Feeding Operation) but I avoid meat from them.

It gives me the willies to see all of them lined up shoulder to shoulder with no room to roam.

Reminds me of being on the Tokyo subway where they employ a 'pusher' to jam passengers into every square inch of the subway cars at rush hour.
After Food Inc. I only buy meat from farmers locally.

I have become one of those annoying consumers peppering waiters with questions about their meat sources.

Asking Whole Foods for the name of the farm of origin on the rare occasion when buying from a brick and mortar grocery store (by the way they are happy to oblige on any sources and you can look up the farms online with satisfying results).
Despite all of this I have found myself facing a bit of an internal struggle.

How do I feel about eating animals I know?

I watch piglets from spring until fall weekly happily romping in the muck to arrive in the most luscious outer worldly form at the fall pig roast.

The meat unquestionably is the best pork I've ever had in my life, prepared by the chef from a local restaurant, delicately celebrating every second of this animal's life in the cooking.
I once asked our farmer if it was weird for her to eat animals she knows.

Though the engagement of shepherding an animal from birth through its death is intense she said, where it had been weird to eat animals she knows, it is now strange to eat animals she does not know.