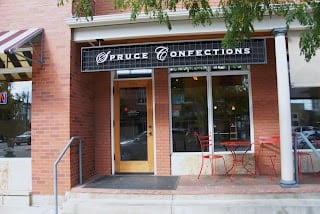 As we continue to enjoy mid day temps in the 80's I'm reminded of a favorite off-the-beaten-path haunt.

Spruce Confections is a well established and loved coffee shop in Boulder but my choice is the North Boulder location.

Nestled in the more newly developed end of north Broadway, NOBO, it's a hip place.
The front door opens to a generous wood counter where the barista-cum-server is happy to indulge your beverage whim and can help you to freshly prepared delicacies from the in-action kitchen bustling directly behind them.

I find the enormity of their professional bowls and mixers fascinating.

It's like taking a culinary tour while pouring indecisively over the vast choices of baked goods.

They also serve freshly made soups, gelato, prepared food and cold drinks.
It is nothing less than intimate (which is not secret code for 'overly crowded' though it can be busy).

Fun red bistro tables line the outside front (see photo below) so you can watch the passersby from the Holiday neighborhood.

The inside features an ample couch and tables on one side and the front windows on the opposite side are lined with artistic and vintage mismatched tables and chairs, amplifying the charm of venue.
The piece de resistance is the outdoor seating.

There is a sizable stone patio to the east with tables, chairs and umbrellas (you'd never guess we still need them as Halloween décor abounds but we do).

It's quiet, relaxed and has easy, free parking.

It's a great place to meet a friend or to set up your laptop and while away the hours.
Favorite nosh:

Bhakti Chai (a local brand of chai that cannot be beat) and a macaroon with chocolate drizzle.

Heaven.