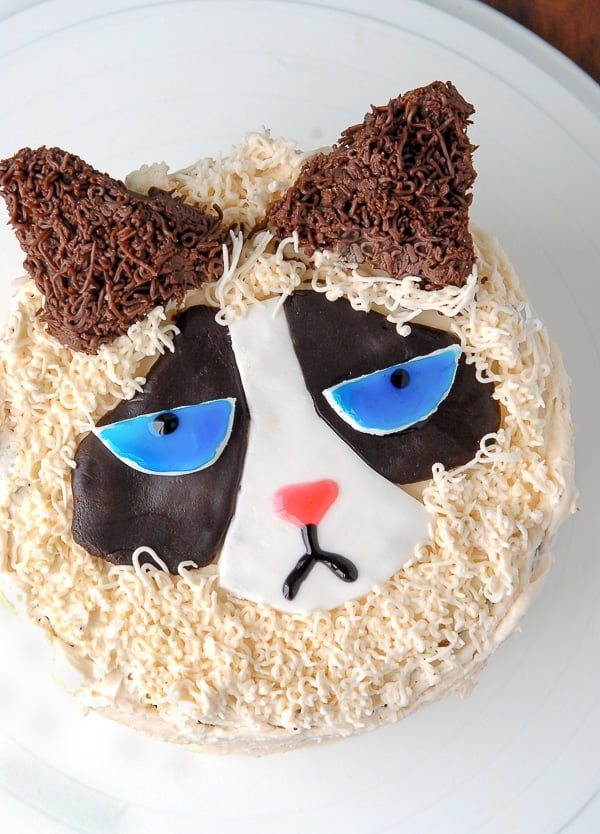 I'm feeling very sheepish about this blog post. It really was never intended to be.
Last month my son turned 12 and suffice it to say he's obsessed with Grumpy Cat. In the event you've missed Grumpy Cat (and maybe the viral odyssey of whether 'the dress' is blue and black or white and gold), whose real name is Tardar Sauce, she is a petite Siamesey looking cat sporting an under bite and feline dwarfism, leaving her with a permanent scowl. In most cases we'd feel pity for the poor dear but Grumpy Cat is said to be worth $100 million (though her ex-waitress owner claims it's less), has over 7 million 'likes' on her Facebook page and can be seen everywhere from the Wall Street Journal to the premiere of the Disney movie Cinderella, complete with a mini set of Mickey Mouse ears on. Her dour expression originally went viral when her owner crafted her photo into memes with such joyous quotes as 'I had fun once; it was awful'. The rest is history.
I generally make my kids' birthday cakes which began from us being gluten-free, however has become (mostly in son's case) out of necessity from their requests. Though I secretly hoped something mainstream like chocolate cake with chocolate frosting might be on the menu this year, I was NOT surprised that his choice was a Grumpy Cat cake. *sigh*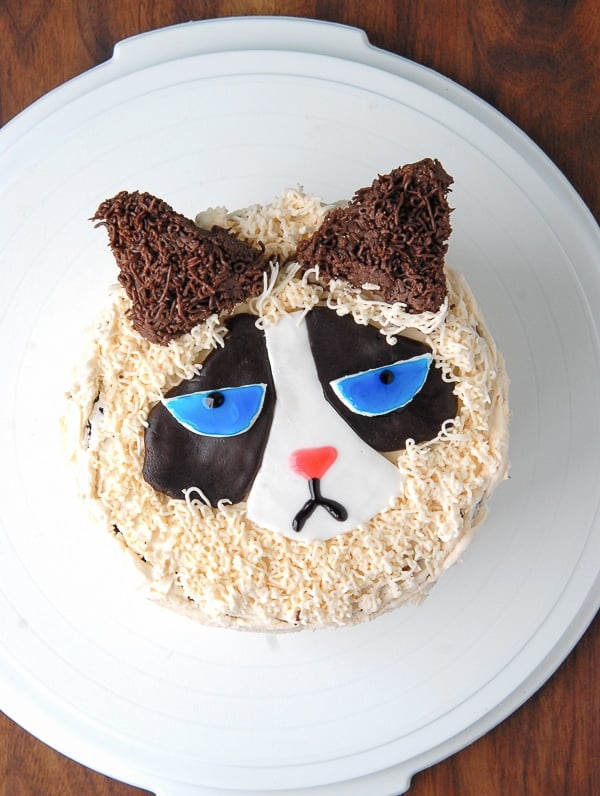 Though I do bake, my cake decorating skills are still in the nubile stages. I was able to craft a likeness of Lumpy Space Princess from Adventure Time one year but of course she's a purple amorphous creature so my challenge was to create believable lumps. Grumpy Cat is another story with her telltale face and fur. I began to plot, crafting ideas from various cake decorating shows I've watched on TV. In the midst of this my son popped up with a video from a You Tube show called 'Nerdy Nummies'. The hostess decorates all sorts of cakes and 'surprise', Grumpy Cat was one. She is worth the watch herself being the most quirky, darling person I've seen cooking in a long time.
Suffice it to say I used some of my own tactics and adapted some from the video to create a most well-loved Grumpy Cat Birthday Cake. Probably the biggest surprise has been that it was not only my son who was delighted. I've received so many emails asking how I made the cake and about specific details I'm sharing that today. And though my son loved the cake, I think even more exciting for him was that after I posted a shot of it on social media, Grumpy Cat started following me on Twitter.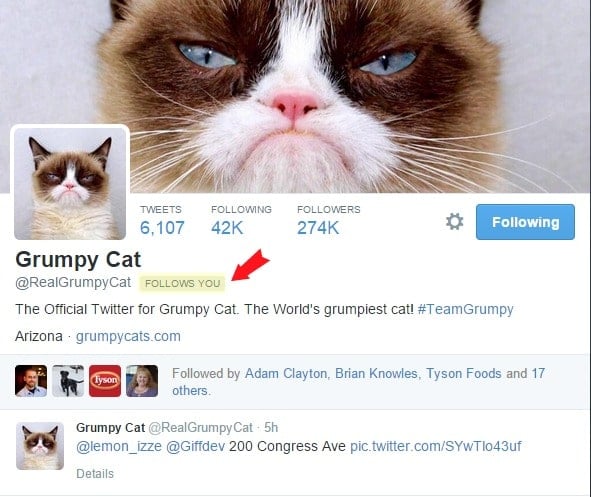 Grumpy Cat's birthday is April 4th so sharing this cake in her honor seemed appropos!